This seasonís NFL trade deadline could be more active than in past seasons as weíve just seen Mohamed Sanu and Emmanuel Sanders traded on Tuesday and at least four other recent trades as we near the deadline. While it may complicate things, FFToday will keep you up to date as to the implications of these mid-season moves. In the meantime, weíre just over the halfway point of the fantasy regular season, so keep plugging away.

Bye Week - Baltimore and Dallas

Truths

"The truth, it is a beautiful and terrible thing, and should therefore be treated with great caution." - J.K. Rowling (Dumbledore)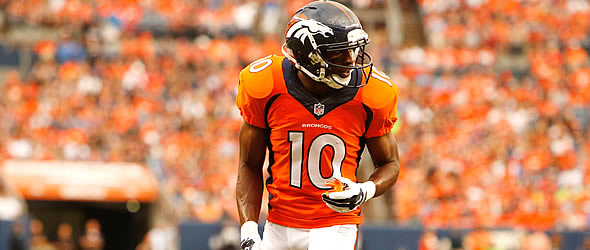 1) Over the past three games, Kirk Cousins is averaging more fantasy points than Aaron Rodgers, Russell Wilson and Lamar Jackson.
Fact. Heís No.2 at 29.6 FPts/G including a league-leading 10 TD passes and only Deshaun Watson is in front of him. But I think heís at the highest point heíll be all season and this might be a great time to ďsell high.Ē Two things are working against him for Week 8 Ė the Vikings are heavy favorites over Washington which means Minnesota will likely be running the ball a lot against the 23rd-ranked RB fantasy defense, particularly late. Second, Adam Thielen is very likely sidelined with a hamstring injury. Thielenís replacement is Olabisi Johnson. ďWho?Ē is a reasonable response.
2) Donít get too excited about the addition of Sanders, it wonít make Jimmy-G a fantasy-worthy starter.
True. In the 49ers run-first-play-defense and win strategy, Jimmy Garoppolo is averaging just 15 fantasy points over the past three weeks (ranking 29th) and an equally anemic 17.1 for the season. Sanders isnít that good and wonít make a five-point per game difference which is what it would take to make Garoppolo a top-12 starter (22.1 FPts/G).
3) Melvin Gordonís return has ruined multiple Chargers fantasy options.
Unfortunately true. Melvin owners have seen him produce just 8.8 FPts/G, good enough for 31st at the position. Thatís not what you expected when you drafted him. Meanwhile, Austin Ekeler dropped from No.1 earlier this season to ninth over the past few weeks. And in an effort to get the running game going, Philip Rivers and Keenan Allen have forgotten each other. Allen ranks seventh overall for the season, but just 70th over the last three weekends (10 catches, 112 yards and zero TDs) and Rivers ranks 13th. Not coincidently the Chargers have lost three in a row.
4) Trade Lions wideout Marvin Jones immediately.
His value will never be higher and the odds are very good he wonít give you another big game. Over the past seven years (89 games) Jones has produced just eight 100-yard receiving games and six games with two-or-more touchdowns and five of those games overlapped. Heís not going to give you a repeat performance this season. What do I always say Ö sell high.
5) Auden Tate is averaging more FPts over the past three games than Mike Evans, Jarvis Landry and Brandin Cooks.
True. As long as A.J. Green is sidelined Tate is a viable fantasy option. Iíd like to see him catch a higher percentage of his targets, however. Heís caught just 22-of-42 for the season. Three other 42-target receivers around the league (Sanders, Diggs and Sanu) have caught 30, 30 and 33 balls, respectively. Up your game Mr. Tate and you will help the 37-percent of fantasy teams where you are owned, though perhaps not Sunday, because Cincinnati travels to the west coast to play the Rams.
Lies
"Half the lies they tell about me aren't true." - Yogi Berra
1) Adam Schefter thinks Tom Brady is leaving the Patriots soon.
His reasoning is flawed, however. Schefter said Bradyís house is for sale, his trainerís house is for sale and his contract can be voided after this season. Sorry, but Iím not buying it. Brady is not going to play for the Jacksonville Jaguars or the Las Vegas Raiders. But when he retires he will leave the Boston area for California. Heís a California kid. He and Gisele will fit there. And it probably takes a lot longer to sell a $35 million estate in Boston than in California. So they are getting an early start. Until then, heíll be a Patriot for the rest of his football life.
P.S. - if Bill Belichick is smart heíll ride into the sunset alongside his quarterback Ö perhaps if his team goes 19-0 this season after one more ring.
2) Sammy Watkins (19.4 FPts/G) and DeSean Jackson (17.7) are elite fantasy wide receivers.
False. They have the ability to score big at any time, but they canít get on the field often enough to be elite. Watkins has played four of seven games and Jackson just two. Bill Parcells was famous for saying the most important ability is availability. Watkins (hamstring) might return in Week 8, but will find the going tough with backup Matt Moore under center. Jackson (abdomen) still doesnít have a clear timetable for return and the Eagles are in complete disarray.
3) Remember in preseason when every pundit said it was Travis Kelce, Zach Ertz, George Kittle in Tier 1 and then all the rest?
Not so much. For the season Kelce ranks sixth, Kittle seventh and Ertz ninth. Hunter Henry (18.6 FPts/G), Darren Waller (17.5) and Austin Hooper (17.5) lead the position. Henry is the one Charger playing well during the teamís three-game losing streak. Without Antonio Brown, Waller is the Raiders No. 1 target and Hooper is dominating while opponents key in on Julio Jones and Calvin Ridley.
4) If losing Kerryon Johnson has left a huge hole in your lineup there arenít many options at this point but making a trade.
Here are a few options besides trading. Ty Johnson (6-percent owned) should pick up the early-down work as he did last weekend where he say 10 carries. J.D. McKissic (2-percent owned) should be a viable option in PPR leagues as the receiving back for the Lions. Stafford has always liked throwing to his backs. Remember how useful Theo Riddick was from 2015-18. Alexander Mattison (25-percent owned), the backup to Dalvin Cook, could see extensive playing time in Week 8 if the 14.5-point underdog Redskins play as expected. Houstonís Duke Johnson is only owned in 62-percent of all leagues.
5) There is nothing out there to help you through disappointing play from the likes of Jared Goff and Carson Wentz or bye week quarterbacks Lamar Jackson and Dak Prescott.
Three of the most generous defenses to opposing quarterbacks could help make your Week 8 lineup selection easier. The Steelers Mason Rudolph (7-percent owned) has cleared concussion protocol and gets the 30th-ranked Miami Dolphins Swiss cheese pass defense. The Dolphins have allowed 16 touchdown passes and intercepted just one ball all season. Mason threw two touchdown passes in each of the two full games he played (San Francisco and Cincinnati). Teddy Bridgewater (18-percent owned) goes up against the 29th-ranked Arizona Cardinals who have allowed 17 touchdown passes and picked off one pass. Bridgewater has seven TD passes in the last three games as heís grown into the job of leading the Saints in Breesí absence which should last one more game. Finally, Tennesseeís Ryan Tannehill (6-percent owned) faces off against Tampa Bay who is ranked 28th against opposing quarterbacks. Heís coming off a 312-yard, two-touchdown games versus the Chargers.