This may be the toughest weekend to date with a lot of talent on bye and numerous injuries just as we get set for the second half of the season. Three very productive offenses (Atlanta, Los Angeles Rams and New Orleans) will be watching from the sidelines this Sunday … and the Cincinnati Bengals too. Only Week 10, when six teams are idle, may be more difficult to set a complete lineup.

Truths

"In questions of science, the authority of a thousand is not worth the humble reasoning of a single individual." - Galileo Galilei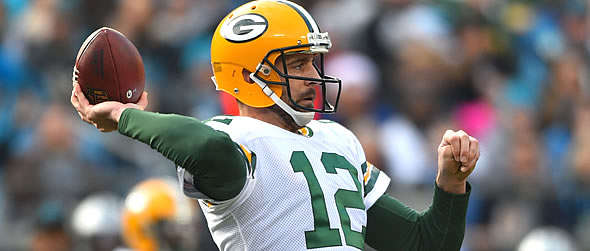 1) First impressions shouldn't be lasting impressions.
Remember early in the season when Aaron Rodgers and Kirk Cousins were disappointing fantasy owners? It's week nine and I'll bet those owners are a lot happier … if they didn't trade them. Rodgers and Cousins are ranked No. 1 and No. 5, respectively over the past three weeks. Reacting too quickly is just as bad as reacting too slowly on a player.
2) The minute Kerryon Johnson went down, Matthew Stafford stepped it up to a higher level of production.
True. Johnson was injured in the Minnesota game and Stafford ended up throwing for 364 yards and four scores. Last weekend he threw for 342 yards and three scores. He's averaging 31.5 FPts/G over the last two games. With Oakland next up on the schedule (allowing the most to opposing QBs at 27.8 FPts/G), Stafford should be a great option once again.
3) The difference between the fantasy world and the real world is perfectly illustrated in Andy Dalton's benching for Week 9.
Over the past three weeks, Dalton has averaged 22.1 FPts/G, enough for 13th overall and ahead of Daniel Jones (21.6), Josh Allen (21.1), Philip Rivers (20.8), Jared Goff (19.4) and Carson Wentz (18.8). The other five quarterbacks' jobs are safe. Of course, the other five have won a football game this season. Dalton's replacement, rookie Ryan Finley, could have streaming value over a couple of games in the second half of the season with matchups against Oakland (Week 11) and Miami (Week 16).
4) What was a mess of an RBBC in the San Francisco backfield has finally cleared up with the return of Tevin Coleman.
In the preseason Jerick McKinnon, Matt Breida, Tevin Coleman, Jeff Wilson and Raheem Mostart made figuring out what was going on in the 49ers backfield almost impossible. Coleman has made the decision easy averaging 18.9 FPts/G over the past four weeks. With Breida questionable due to an ankle issue for Thursday against Arizona, Coleman should be a workhorse Thursday and the No. 1 option even when Breida plays.
5) Russell Wilson will continue to be an elite fantasy quarterback.
In fact, Wilson should get better. Over his eight-year career, in Games 9-12 he does his best work. He's 22-6 with 59 touchdown passes, just 10 interceptions and a stunning 112.2 QB rating. Also good news is that he only faces San Francisco once, as the Week 17 second matchup is after most fantasy seasons have ended.
Lies
"Wrong does not cease to be wrong because the majority share in it." - Leo Tolstoy
1) The top fantasy running back over the last three weeks will be available in Week 9.
Wrong. The No. 1 from Week 6-8 was Saints backup running back Latavius Murray (79.6 points). He's the perfect example of why you handcuff running backs. In this case, when Alvin Kamara went down, Murray performed beautifully. That doesn't always happen. No one filled in adequately for Kerryon Johnson last Sunday (Ty Johnson led the team with 38 combined yards). Injuries will likely play a large role down the stretch and into the fantasy playoffs, so being prepared should be your priority, if not now, at least when the bye week portion of the schedule ends in Week 12.
2) Ranked 21st overall for the season, Raiders' quarterback Derek Carr doesn't hold much fantasy value.
False. Actually Carr has produced two excellent games since their Week 6 bye, producing 22.7 points against Green Bay and 26.3 points against Houston. The return of Tyrell Williams to go along with tight end Darren Waller in an upgraded passing game and a running game behind Josh Jacobs has made the Oakland offense more diverse and consistent. The Raiders have scored 24 points in four straight games. Four of the next five games are against teams in the bottom half of points allowed.
3) Titans' Ryan Tannehill is another quarterback without fantasy value.
Again false. Check Tannehill's last two starts. He's posted 24.3 and 21.4 fantasy points, respectively. What's more, he and the Titans have one of the best fantasy playoff schedule for QB points allowed facing Oakland (ranked 32nd) in Week 15 and Houston (ranked 28th) in Week 16. If you can get by Week 14 with your current starter, stashing Tannehill as a playoff option could be useful.
4) You can't trade the "hot" Stefon Diggs.
Sure you can! The return of Adam Thielen (hamstring) in Week 9 and a tougher schedule for the Vikings on the horizon (Dallas and Denver are both top-five against opposing wide receivers and the Seahawks and Chargers during the fantasy playoffs both top-10) make Diggs a "sell-high" option after he posted three consecutive 100+ yard games. Remember, "sell-high" doesn't mean sell at a discount, make your opponent pay through the nose for your star receiver.
5) Brandin Cooks will be back right after the Rams' Week 9 bye.
Unlikely. Once you have a propensity for concussions they have a higher probability of coming back. He's had four in less than two calendar years; one in Super Bowl 52, one last season and two this season. It's possible he plays in a few weeks, but it's also possible he doesn't get back on the field this season. Cooks is off to see a second specialist. I'd pick up Josh Reynolds if I needed receiving help.