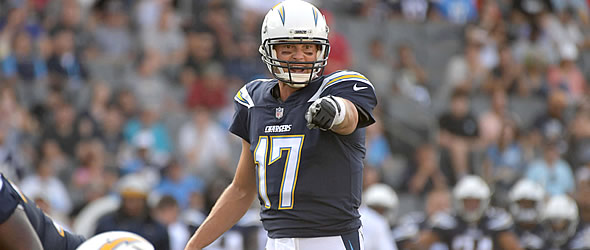 Rivers in Los Angeles
Rivers has spent his entire pro career with the Chargers and quietly amassed some pretty good numbers for a quarterback with such an ugly throwing motion – 59,271 yards, 397 touchdown passes, 95.1 quarterback rating and a 123-101 career record. However, 2019 was a difficult and disappointing season for the former North Carolina State star as the team had Super Bowl aspirations and went 5-11 and he threw 20 interceptions (nine on deep throws) against just 23 touchdowns, his fewest since 2007.
He's known as a stand-up guy, a good character attribute, but not a good physical attribute when you are behind a porous Chargers' offensive line. He's about as mobile as a sloth and getting slower which led to 66 sacks for the past two season. Meanwhile, his arm strength continues to diminish after 7,591 passing attempts. Hence, the team decided not to spend the approximately $25 million required to bring him back for another season and let him walk in free agency.
Rivers in Indianapolis
After 16 seasons with the Chargers, Rivers will join his new team for the 2020 season - Indianapolis. However, it's just a one-year deal, so for Rivers, it's amass wins for the Colts or ride off slowly into the sunset.
The good news is that offsetting the quarterback's lack of mobility is he'll be standing behind the best offensive line he's ever known. Quenton Nelson, Anthony Castonzo, Ryan Kelly, Mark Glowinski and Braden Smith all played 16 games and more than 1,000 snaps and ranked No. 3 in PFF's offensive line rankings for 2019. In addition, despite the short time he'll have to learn the offense due to the coronavirus pandemic, Rivers goes into the season familiar with his head coach Frank Reich (his OC in 2014 and 2015) and OC Nick Sirianni (his QB coach in 2014-15 and WR coach in 2016-17).
Expectations for 2020
While Rivers had very good weapons in Los Angeles (Keenan Allen, Mike Williams, Hunter Henry, Melvin Gordon and Austin Ekeler), the Colts can line up almost equivalent skill position talent. Behind Rivers will be up-and-coming Marlon Mack and pass-catching Nyheim Hines. When healthy, T.Y. Hilton is an elite receiver, while 2019 second-round pick Parris Campbell should improve in his sophomore season. Meanwhile, many mock drafts have them adding a wide receiver in the first round in 2020. The tight end position is manned by Jack Doyle and either Mo Alie-Cox or their own free agent Eric Ebron (16 TDs in two seasons in Indy).
The Colts defense was pretty good last season until the calendar turned to December yielding just over 20 points per game over the first 11 contests yet their record was just 6-5 because the offense struggled averaging 22 points per game. Jacoby Brissett averaged only 196.1 yards per game in 2019 and that was not enough to keep opposing defenses honest.
Reich and Sirianni will trust Rivers to throw more than they did Brissett, though not deep down the field. Despite his diminishing arm, he is still a bigger threat than Brissett. This combination should produce more wins for the Colts, but it doesn't bode well for Rivers' fantasy value.
In the two season under Reich in San Diego, Rivers threw almost as much to his backs and tight ends as wideouts (656-567 or 53.7-46.3 ratio). That's a bit too much dumping off to be a top-10 fantasy quarterback. By contrast, the top-10 fantasy quarterbacks in 2019 posted a 59.4-40.6 percentage WR-to-TE/RB target ratio. Add in the best run-blocking OL and Mack's talent and Rivers won't be letting it fly as often as he has in the past (averaged 582 attempts the past five season).
Rivers has averaged between 20.4 and 22.4 FPts/G the past seven seasons and he's likely to continue at that level, but unfortunately that isn't top-10 production. The bottom line is that the 2020 edition of Rivers will not be a plug and play quarterback and you will need another decent fantasy option to pick and choose and when to sit and when to use Rivers.