It's the second round of the playoffs and for most of you the cliché, "you got to dance with who brought you," is appropriate. Barring injuries, you should stick with what got you this far.



Truths

"Mathematics, rightly viewed, possesses not only truth, but supreme beauty." – Bertrand Russell
1) Those who threw out a "Hail Mary" in the first round of the fantasy playoffs with DeAndre Washington or Ty Johnson found out why it's called a "long shot."
Washington at least did some work, getting 15 touches, but could only produce 7.2 fantasy points. Johnson owners, hoping for a repeat of his 19.7 points against Las Vegas in Week 13 were disappointed by Adam Gase's strange affection for aging running back Frank Gore. Gore returned from a concussion to average 2.9 ypc. Of course, Johnson averaged 2.0 ypc against a Seattle defense that has been bad all season, so it wasn't just Gore. The Jets offense is historically bad and the only consistent fantasy-worthy player on the roster is Jamison Crowder … when healthy.
2) Minnesota rookie Justin Jefferson has become a more consistent scorer in the second half of the season.
Fact. As good rookie do, Jefferson has gotten better as the season has progressed. Averaging 15.1 FPts/G over the first eight weeks he was buoyed by games of 37.6 and 30.5 along with four single-digit games. Since Week 9 he's averaging 18.3 and produced just two single-figure games. He faces Chicago this week, who rank No.3 against opposing wideouts (behind only the Los Angeles Rams and Kansas City Chiefs), but he schooled them for 8-135-0 in their first meeting, so there should be no hesitation in starting him on Week 15.
3) In case you haven't been paying attention, the 49ers' Brandon Aiyuk is a player.
He's cranked out five consecutive double-digit games since Week 7, averaging 20.5 FPts/G. And that was against the likes of New England, New Orleans, Buffalo and Washington. With Deebo Samuel "sidelined for a while," according to Kyle Shanahan by a hamstring injury, Aiyuk should continue to produce. He's seeing a 33.1% target share over his last five games.
4) Without Antonio Gibson (toe) in the lineup, only J.D. McKissic is fantasy worthy, not Peyton Barber.
True. Despite the most rushing attempts on the team over the past three games (37), Barber is not a viable option. He's not part of the passing game and only has value when he scores which is rarely. He's averaging 6.6 FPts/G over the same three-game span. McKissic is a guaranteed double-digit producer without Gibson and can produce even when/if Gibson returns.
5) Running the football is a young man's game … at least in Baltimore.
True. Over the past three games the Ravens have turned the position over to J.K. Dobbins and Gus Edwards leaving 30-year old Mark Ingram and his fantasy owners out in the cold. Dobbins is averaging 13.6 FPts/G and Edwards 11.8 while Ingram has seen 16 touches and produced nine total fantasy points in his last three contests.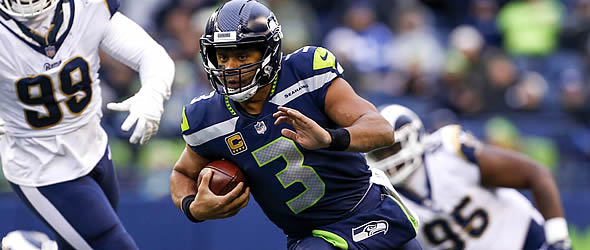 Lies

"There are no facts, only interpretations." – Friedrich Nietzsche
1) Since Week 10 Russell Wilson has been a fantasy-worthy quarterback.
Sadly no. The guy who was the early favorite for fantasy MVP after the first three weeks (37.1 FPts/G) has faltered at exactly the wrong time for fantasy owners. He's averaged just 21.0 FPts/G which ranks 18th among quarterbacks since Week 10. And with games against the improving Washington defense (No.10 against opposing fantasy QBs) and the league-leading Rams' defense, which allows just 17.9 FPts/G, it doesn't bode well for the Seattle star.
2) Jalen Hurts will reproduce his Week 14 heroics in Week 15.
Hurts' debut start was a success against the New Orleans Saints last weekend, but now there is video for defensive coordinators to study. And the Arizona Cardinals, the Eagles next opponent, know a thing or two about playing against running quarterbacks. They practice every single day against one of the best in Kyler Murray (who, incidentally, should have a very good day against an injured Eagles secondary). Additionally, the Eagles OL will start its 13th different version in 14 games. Compare what they are using now to their preseason expected lineup of; Jason Peters (future Hall of Famer), Isaac Seumalo, Jason Kelce and three-time Pro Bowlers Brandon Brooks and Lane Johnson. The Arizona defense has yielded just 14.6 FPts/G to opposing quarterbacks over the last three contests which ranks fourth-best in the league.
3) Chase Daniel can be productive against a porous Tennessee pass defense.
Ha-ha, that's a good one. Daniel has been "stealing" money as a backup quarterback his entire "career" and has never produced anything in his NFL life. He's never produced 20 fantasy points, He's never thrown for 290 yards in a game. He's never thrown more than two touchdown passes in a game. He has eight career touchdown passes and six interceptions. If Matthew Stafford doesn't play drop all Lions' receivers like a hot potato. In fact, if Daniels starts don't expect the running backs to do anything either. In no Daniels start has a runner every gone for more than 81 yards on the ground. I guess that's what happens when you have no passing threat.
4) Diontae Johnson can come back from his benching and continue to lead his team in targets.
Probably not. Although head coach Mike Tomlin said he "responded appropriately when being benched," it appears defenses have adjusted to the Steelers quick-release, short-passing game. Johnson's string of double-digit targets (5) ended Sunday night. He's probably a low-end WR2 at best as both he and Eric Ebron need to stop dropping passes. James Washington and Chase Claypool get an upgrade in the aftermath of Johnson and Ebron's catching woes because Pittsburgh still can't run the ball.
5) Breaking News: Texas files lawsuit against PA, MD, OH and AZ to overturn Cowboys losses and win the NFC East.
Thankfully false. Sorry, I tried all year to keep politics out of fantasy football, but it finally got to me. The Dallas offense will only be relevant as long as Dak Prescott returns under center next season. His presence makes the Dallas offense go, not running back Ezekiel Elliott, who was only great when the Cowboys had the best offensive line in the league. Over the past three seasons his productivity is directly related to his line's ability to open holes.
Ezekiel Elliott
Year
Yds Per Carry
Yds Before Contact
2020
3.9
1.9
2019
4.5
2.3
2018
4.7
2.8