We are now starting the second half of the NFL season, but there are still five more "bye weeks" to go. Additionally, we are being hit by more Covid-19 issues. We don't know whether Aaron Rodgers will return in Week 10 and on Tuesday added Nick Chubb and Dallas kicker Greg Zuerlein to the list. And oh so many injuries. At some point it will be time to trade depth for a better starting lineup heading into the playoffs, but we aren't there yet. Keep adding talent to your roster whenever you can.

Byes: Chicago, Cincinnati, Houston, New York Giants

Truths

"Most of the basic truths of life sound absurd at first hearing." – Elizabeth Goudge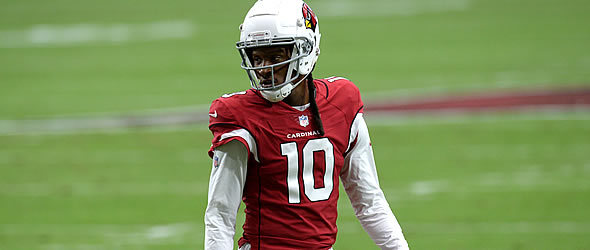 1) Sometimes a superstar has to give up statistically for a team to become a Super Bowl contender.
Exhibit A – DeAndre Hopkins. The Cardinals are a league-best 8-1, but Hopkins ranks 20th in wideout FPts/G (15.7) and he's only that high because of seven touchdown receptions (fourth among receivers). He ranked fifth overall last season at 18.2 FPts/G. He's averaging 6.1 targets and 4.4 receptions compared to 10 targets and 7.2 receptions in 2020. The addition of A.J. Green and rookie Rondale Moore have made life easier for Kyler Murray, but tougher on those who selected "Nuk." Other examples - Robert Woods and Stefon Diggs. It's no fun for fantasy owners, but it's certainly understandable. If they are on your roster your only option is deal with the reduced value or try to trade them before others understand the season long change in actual worth.
2) Rookie Pat Freiermuth is quickly becoming a TE1.
True. Freiermuth ranks No.3 over the past three weeks. His average targets-per-game has jumped considerably the past three games (6.7) and he's produced 16.2 FPts/G over that span. It's helped that Eric Ebron has missed time with a hamstring injury, but Freiermuth caught seven balls on seven targets the last time both tight ends were healthy at the same time. He's looking very much like the long-term solution for the question, "Where is our next Heath Miller?" Freiermuth has caught 82% of his targets which is better than any top-10 fantasy tight end through Week 9 or any tight end with at least 20 targets.
3) If your running back is "touchdown dependent," you will want to avoid the following seven teams: Pittsburgh, Buffalo, Carolina, Indianapolis, Tampa Bay, Arizona and New England.
Fact. All of those defenses average less than ½ a running back touchdown allowed per game. Additionally, the Bucs, Cardinals, Colts and Pats have yielded just one rushing touchdown over the last five weeks, so if they aren't pass-catchers, these five defenses should absolutely be avoided.
4) James Conner is one of those touchdown dependent backs … but not this weekend.
True. Conner ranks just 19th among backs despite leading the position with 11 total touchdowns. In his first eight games with the Cardinals, Conner averaged just 44.8 rushing yards. In Week 10, however, with Chase Edmonds injured, Conner should see a larger share of the workload as only second-year Eno Benjamin backs him up.
5) The Eagles defense against mediocre/bad quarterbacks has been outstanding, but put a quality quarterback in front of the team and they have more holes than Swiss cheese.
The Eagles allow an average 13.9 FPts/G against mediocre QBs (Jared Goff, Sam Darnold, Jimmy Garoppolo and Matt Ryan) and 28.3 FPts/G to superior QBs (Dak Prescott, Patrick Mahomes, Tom Brady, Derek Carr and Justin Herbert). Why is this significant? Because the Eagles face Teddy Bridgewater, Trevor Siemian, Daniel Jones twice, Zach Wilson and Taylor Heinicke twice over the next eight weeks (includes a bye week). If you are searching for a bye week or injury/Covid-19 fill-in, don't look at any of them when they face Philadelphia.

Lies

"False words are not only evil in themselves, but they infect the soul with evil." – Plato
1) Jalen Hurts is still a top-10 fantasy quarterback.
Not for long. As we have seen over the past two games, the Eagles have shifted gears to become a run-first team and he's averaged just 15.5 passing attempts over that span compared to 34.6 attempts the first seven games. It's resulted in a drastic drop in production from 27.4 FPts/G to 15.3. The Eagles offensive line has gotten healthy but they did face two of the bottom-five run defenses. The run defenses will get much tougher the next two weekends, but don't expect him to go back to consistently throw 35 passes a game as I believe management has seen the light.
2) Which one of these six quarterbacks over the past five weeks doesn't belong with the others? Tom Brady, Lamar Jackson, Josh Allen, Justin Herbert, Dak Prescott or Tua Tagovailoa?
It's a trick question. They are all top-six fantasy quarterbacks since Week 5. Those who guessed Tagovailoa should know he's No. 6 over that span averaging 25.5 FPts/G. Tua's next two opponents, Baltimore and Jets, have been very generous of late, ranking 28th and 30th, respectively, in QB fantasy points allowed since Week 5. (This assumes Tua's finger is better – he'll be a game-time decision.)
3) Dalvin Cook is still elite.
Sorry, but I'm going to have to say no, not this season. Sure, he still has the talent he had in 2019 and 2020, but he's simply not producing as consistently as in those two seasons. He's back to his 2018 level which was good, but not elite.
Fantasy Productiion
Year
0-12 FPts
13-24 FPts
25+ FPts
Fantasy Rk
2021
2
4
0
16
2020
0
8
6
2
2019
2
7
7
2
2018
5
5
1
18
* - minimum four games
4) Marvin Jones is still the Jaguars best fantasy receiving option moving forward.
False. I'm going to have to go with a surprise here and say Jamal Agnew. Jones has cracked nine fantasy points just once in his last five games. Laviska Shenault has surpassed nine points once in his last four games. Meanwhile, Agnew has double digits in three of his last four games. He also leads the receiving corps in targets over that span with 31 to Jones' 27 and Shenault's 21. Agnew has a great matchup this week against a Colts team allowing 41.8 fantasy points per game to opposing wideouts (28th).
5) D'Ernest Johnson, who played great as a substitute for Chubb and Kareem Hunt (calf) in Week 7 should be a great play in Week 10.
Perhaps, but don't go crazy for Johnson, who is rostered in just 41% of all leagues, as he goes up against Bill Belichick's Patriots. The brain trust in New England always devises a plan to take away one player from the opposition and if you were Bill, who would you take away now that OBJ is gone and their top-two backs are sidelined? That's right Johnson. Letting Baker Mayfield beat you with his arm (eight touchdown passes in eight games) has always been a great way to beat the Browns.