If you are reading this, congratulations are in order for avoiding the Week 15 Covid-19 minefield and moving on to the next round of the playoffs. In this round, the prizes increase, but so does the difficulty. The NFL just changed their health guidelines so that even if a player tests positive at the start of the week, it's easier for him to return to the field in the same week (one negative test instead of two for vaccinated players) making fantasy decisions that much harder. Do I start a healthy mediocre player or wait and hope my better starter can return by game-time?



Truths

"Comments are free, but facts are sacred." – Charles Prestwich Scott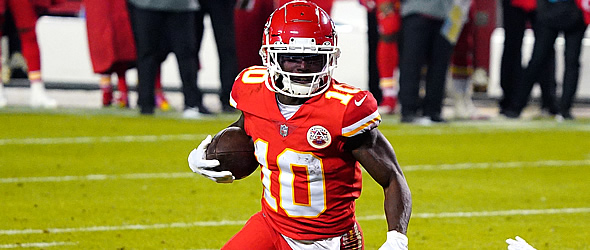 1) Get set for Week 16 being another round of Covid-Roulette.
True. Already a number of players have tested positive on Monday and Tuesday. Here's a scary one for those planning on starting budding star quarterback Justin Herbert. His backup, Chase Daniel, just tested positive. Better hope they weren't sitting in the quarterback room too close together. Others already testing positive include; Chiefs wideout Tyreek Hill, Travis Kelce, Cole Beasley and Marquez Valdes-Scantling (5-98-1 last Sunday).
2) Week 15 was a really bad one for elite running backs.
True. Of the top-10 PPR backs, one didn't play due to injury (D'Andre Swift) and the other nine all failed to reach their Week 1-14 average. Jonathan Taylor was the closest (24.0 average and posted 23 points), but Alvin Kamara, Najee Harris and Joe Mixon all produced horrible numbers … at least 10 points under their average. Really bad timing.
3) Tyler Huntley will never overtake Lamar Jackson, but he could be a valuable trade chip for many quarterback-needy teams this off-season.
After a solid game against Cleveland in Week 14 (27-of-38 for 270 and 1 TD, 45 yards rushing), Huntley posted 38.1 fantasy points against the Packers throwing for two scores and running for two more. Don't tell me there aren't a few teams who should offer a high pick or two for him, particularly with a weak quarterback class coming out of the college ranks. Pittsburgh (though they would never trade within the division), Houston, Atlanta, New York Giants and New Orleans come to mind.
4) Aaron Rodgers is in the middle of his latest MVP push in an attempt to repeat as winner.
Fact. Over the past four games he's thrown 13 touchdowns passes without an interception while averaging 325.3 passing yards. He also ran one in despite the toe injury. He will continue his run against Cleveland (career 2-0 with six touchdowns and zero INTs), Minnesota (54 touchdown passes vs. seven INTs) and Detroit (50 TDs against 8 INTs).
5) All the early season "Ja'Marr Chase is this year's Justin Jefferson" talk has disappeared.
Teams have been able to shut him down in the second half of the season. After producing 754 yards (107.7 yards per game) and six touchdowns in the first seven games, Chase has been limited to 284 yards (40.6 yards) and four touchdowns in the last seven. Teammate Tee Higgins has actually become the best Bengals fantasy wideout of late averaging 18.2 FPts/G over his last four starts (389 yards and two scores). By contrast, Jefferson started slower in 2020 (563 yards and three TDs over the first seven and finished faster 837-4 over the last seven).

Lies

"Repetition does not transform a lie into a truth." – Franklin D. Roosevelt
1) Cooper Kupp can't possible catch Calvin Johnson's all-time single season yardage record (1,964 yards).
It's unlikely he can do it in two games to equal Johnson's 16-game schedule, but the addition of a 17th game makes it possible, even reasonable. After 136 yards and two touchdowns Tuesday night against Seattle, Kupp has amassed 1,625 yards and 13 touchdowns - meaning he needs to average 113 yards per game over the final three. He's currently averaging 116.1 yards per game. Kupp also continues his march to be the all-time single-season fantasy receiver. He's scored 359 fantasy points leaving him just 26.3 points behind Randy Moss' 2007 season (100-1,366-11 for 385.3 points).
2) You can't sit Patrick Mahomes in the semi-finals.
Maybe you can. That may well depend on whether you have a quality backup. Under normal conditions the answer would always be no, but considering Tyreek Hill (102-1,178-9) AND Travis Kelce (83-1,066-7) have tested positive for Covid-19, all bets are off. The Chiefs receiving corps would be Mecole Hardman, Byron Pringle and Demarcus Robinson. And I challenge someone to name the replacement for Kelce (hint: Blake Bell – he's on the Covid list too). If the backup quarterback is say Jimmy Garoppolo facing a weak Tennessee team you can certainly make a case for the 49ers quarterback who has thrown for more than 295 yards and two scores in each of his last two road games.
3) The Dolphins running back Duke Johnson can get me to the fantasy finals after dominating this week in his second game of the season.
Sorry, but the party is about to end. After a four-carry, 18-yard effort in Week 11, Johnson exploded for 127 combined yards and two scores against the Jets in Week 15 to lead all fantasy running backs with 25.7 fantasy points. He won't repeat the feat. In fact, he probably won't get half those totals. You see, the opponent last weekend was the Jets who rank dead last yielding a whopping 33.9 FPts/G. His opponent this week, the Saints, are the best against opposing RBs, yielding just 17.6 FPts/G. Myles Gaskin should still get some work too.
4) Picking up QB Jared Goff (21-of-26 for 216 yards and 3 TDs vs. Arizona in Week 15), or RB Craig Reynolds (26-112) or WR Amon-Ra St. Brown (8-90-1) could be a winning play this weekend.
False. It's true that the Lions are set to face a very generous Atlanta Falcons' defense, who rank 31st in QB fantasy points allowed and 25th in both RB and WR points allowed, but it could depend on whether Goff, who just tested positive for Covid-19 on Monday, can produce a negative test before Saturday. More lenient rules make it more likely than over the first 14 weeks, but it's still a long shot. If he can't go, a Tim Boyle start shouldn't make anyone jump to the waiver wire. All three Lions' players are rostered in less than 30% of all leagues.
5) Miles Sanders will score a touchdown this season.
It's not looking good. It's been 11 games this season and he's yet to reach the end zone. In fact, he's produced a combined 864 rushing and receiving yards on 155 touches this season, but no touchdowns. The next most on the list is significantly behind Sanders – Tevin Coleman with 75 touches for 338 yards. He's quickly approaching Melvin Gordon's 2015 season (217 touches, 833 yards, zero touchdowns) and the "record-holder" since 2001 – Marcel Shipp in 2003 with 257 touches and 1,012 combined yards.