As I write almost every time after the first week of the season, be careful not to overreact to what you just saw. In many cases, it's the result of game situation. Make sure you can tell the difference between a one-game circumstance and a team's 17-game strategy.



Truths

"The truth does not change according to our ability to stomach it." - Flannery O'Connor
1) R-E-L-A-X.
Truth. Just as Tyreek Hill will not see 255 targets, or catch 187 for 3349 yards and 17 TDs (OK, maybe the 17 TDs), Aaron Rodgers, Aaron Jones and Davante Adams will return to normalcy. Because they play Detroit at home in Week 2. The Lions allowed a mediocre Jimmy Garoppolo to throw for 319 yards and a pair of scores, backup running back Elijah Mitchell to run for 104 yards and a score and Deebo Samuel to rack up 33.9 fantasy points with close to 190 yards and a touchdown. Your Packers' stars will be the stars you drafted, just take a deep breath and relax.
2) There were two Sunday morning surprise inactives which caused fantasy owners early consternation.
The smaller surprise was Zack Moss as a healthy scratch, but given that he had been beaten out for the top spot, the surprise was that Matt Breida was Devin Singletary's backup. It didn't really matter in a group that didn't figure to get enough work to support two runners anyways. The main confusion Sunday morning came when rookie running back Trey Sermon was inactive as a healthy scratch after he had been expected to get a fair share of the workload for the 49ers. Usually the Bill Belichick backfield leads the way in confusion (not in 2021 where its Damien Harris running and James White receiving), but it appears that Kyle Shanahan's backfield will be the one to cause headaches in 2021. Rookie Elijah Mitchell has earned the right to start off his 104-yard game, but how JaMycal Hasty and Sermon might be used is anyone's guess at this time.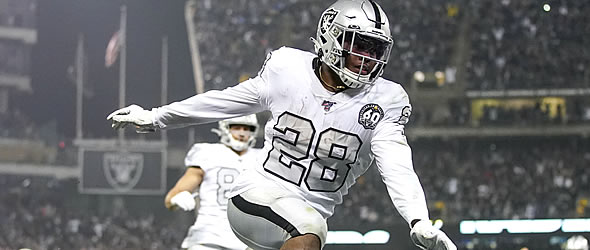 3) Josh Jacobs has no chance of reaching the 306 touches he saw in 2020.
In fact, there appears to be no way he matches his two-year average of 257 rushing attempts. Even taking into account his illness, his toe issue and the game situation (the Raiders were down 14-0 early), this backfield is going to be close to a 50-50 share. Jacobs will get slightly more rushing attempts and significantly less targets than Kenyan Drake and is likely to be extremely touchdown-dependent in 2021 as his rushing attempts total will struggle to crack 200.
4) The Ravens' backfield is also a mess.
True, but at least it's not coach-caused. With J.K. Dobbins, Gus Edwards and Justice Hill all injured during the preseason, Ty'Son Williams dominated the first half, but then Latavius Murray was featured in the second half. Add in Le'Veon Bell and Devonta Freeman waiting in the wings while learning the offense and confusion may reign here, too. At least for Week 2, Williams and Murray should both have fantasy value.
5) The Eagles offensive line stayed healthy and the young receivers proved worthy helping make Jalen Hurts a top-five fantasy quarterback.
As predicted over the summer, if the OL stays intact and DeVonta Smith was for real, Hurts could be a top-10 quarterback. Beware, however, they were playing the Falcons and a bottom-feeder pass defense. Let's see what happens after Week 2 against San Francisco, who were a top-10 defense against opposing QBs last season before we anoint him a great fantasy option, but the Eagles' offense certainly passed its first test.
Bonus truth No. 6 … start Justin Fields.
Andy Dalton offers nothing. No present and certainly no future.

Lies

"There are a terrible lot of lies going around the world, and the worst of it is half of them are true." – Sir Winston Churchill
1) The Pittsburgh Steelers offense can support three fantasy-worthy receivers.
False. Quarterback Ben Roethlisberger averaged almost 41 passing attempts per game in 2020, but his 32 attempts in the opener appears to be right on schedule for the "new" Steelers offense. If we subtract eight targets for the combination of tight ends and "others" that leaves about 24 targets for the three main guys; Diontae Johnson, JuJu Smith-Schuster and Chase Claypool. With Johnson being the "target-hog" I can't see both Smith-Schuster and Claypool being able to produce consistent WR2 numbers. In Week 1 they finished No. 34, 53 and 65. One of these rostered receivers is going to disappoint and at this point I think that's Claypool.
2) All those Ja'Marr Chase preseason drops will change how you see him.
Nope, at least not to his quarterback. Chase's "college buddy" obviously still has faith in his ability as he led the Bengals in targets (7), receptions (5) and yards (101) in a Week 1 27-24 win over Minnesota. But just like the Steelers' offense, the Bengals were balanced in the 2021 opener with 36 rushing attempts and 27 passing attempts. That's a big change from 2020 when Joe Burrow averaged over 40 passing attempts per game and Cincinnati may not be able to support three fantasy-worthy receivers either. The result may be that either Tee Higgins or Tyler Boyd won't get the workload they need to support their draft position.
3) Jared Goff really can be fantasy-worthy.
I don't think so, but if he is, it will only be through "garbage-time production." Yes, Goff threw for 338 yards and three touchdowns, but most of that production came in the late third and fourth quarter after they were already down 38-10. His first half saw him throw for 92 yards, a TD and an INT. The "garbage-time quarterback play" can be done, but it's a dangerous game to play because sometimes the team just sits the veteran quarterback to protect his health and lets a young quarterback get some playing time.
4) Rookie No. 1 pick Trevor Lawrence (332 passing yards, 3 TD passes) really is a fantasy stud.
Not yet. He's talented, but beware of reacting too much to this first game. First, he was playing the Houston Texans. Their pass defense isn't very good. Second, the game situation as they fell behind by two touchdowns in the first quarter, dictated much of the rest of the game and he was forced to throw 51 times. We will get a better feeling for what he can do in Week 2 against what should be a stout Denver pass defense.
5) Clyde Edwards-Helaire continues to be a disappointing first-round draft choice.
He didn't have a great first game, but I'm not ready to write him off. The Chiefs were down in this one, by double-digits, twice, and that means throwing the football. But there was some things you should like. No other running back saw more than one carry while CEH had 14. When they are holding a lead, that number will be 20+. And he did catch all three passes thrown his way for 29 yards (9.7 ypc). Better times are ahead for CEH.