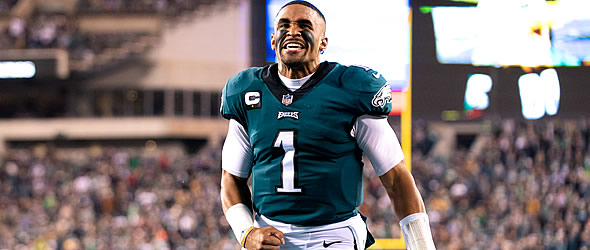 The Eagles and GM/Executive Vice President Howie Roseman are at a major crossroads this off-season. Do they continue to develop 23-year-old Jalen Hurts and hope he develops into a franchise-type quarterback, or look to obtain an elite veteran through trade? They could also trade up to get a college QB, but this yearís draft class isnít particularly strong with NFL-ready passers.

The Eagles are in the enviable situation that they could do any of the above.

Thatís because the Eagles own three first-round draft picks in the upcoming NFL Draft (April 28-30 in Las Vegas, NV). They own their own pick (No.19), plus obtained two more through shrewd trades. The Eagles own Indianapolisí top pick (No. 16) after sending quarterback Carson Wentz and his monster contract to the Colts. They also earned the No. 15 pick from last yearís draft when they moved down from No.6 to No. 12 with Miami (eventually trading back up to No. 10 to select DeVonta Smith).

So, the Eagles could attempt to trade for a top flight quarterback with an offer of up to three No. 1s and Hurts or they could use those picks to surround their young quarterback with talent.

If they were to look for an elite quarterback, who might that be?

Russell Wilsonís name has been mentioned frequently. It would likely cost the team most or all of those assets plus maybe a lineman like Andre Dillard. Of course, there is also the problem that when Wilson listed where he might like to go last season, Philadelphia wasnít one of the landing sites. Heíd see a distinct downgrade in targets from DK Metcalf and Tyler Lockett to Smith and Jalen Reagor. But things can change a lot in a year. The 4-11-1 Eagles turned into the 9-8 Eagles with a top-notch offensive line (ranked No. 4 by PFF). Assuming perennial All-Pro Jason Kelce returns along with blossoming Jordan Mailata and veteran Lane Johnson the 2022 Eagles OL should be elite again. Thatís certainly something Wilson hasnít had and might like to play behind.

The Eagles could also attempt to trade for Deshaun Watson. Watson is still dealing with his off-the-field legal issues, but the Eaglesí ownership, has, in the past, grabbed a star quarterback with questionable morals Ö remember Michael Vick and his dog-fighting issues? That actually worked out well as Vick turned his life around and won the tough Eagles fans over time. I canít see the Eagles going this route unless Watsonís legal issues magically disappear and the likelihood that all 22 accusations of sexual misconduct go away before next season seem very slim. Also, the Texans really need a quarterback too so why would they trade him if he is allowed to play? (Sorry Davis Mills is not the answer).

Aaron Rodgers keeps hinting he wants out of Green Bay, but thatís not a real option for Philadelphia. At 37-years-old, he likely only wants to play a year or two more and the Eagles need a longer-term answer. If he doesnít stay in Green Bay, I think Denver, Pittsburgh or maybe even San Francisco are better landing spots for Rodgers.

Therefore, if Roseman ends up with a veteran, it would probably be Wilson.

As fantasy owners, however, you might be saying to yourself, ďWhy do the Eagles need a new QB? Hurts ranked 10th in fantasy points (359.4) and FPts/G (24.0). Heís young. He can improve. I can win a fantasy championship with him, particularly as a ninth-round pick (current ADP around 95).

Unfortunately, fantasy isnít the real world. Roseman might think that itís Kelce and Johnsonís last chance at another parade. (And who doesnít want to see Kelce give another speech on the steps of the Art Museum like he did on Feb, 8, 2018. If you have never heard it, you can find here on YouTube. Warning: this is NOT the PG version).

Below is the NFL Combine Overview of Hurts from 2020 by Lance Zierlein:
ďLike Tim Tebow, Hurts is a winning dual-threat quarterback known for his strength, toughness and character. Hurts is a more accurate passer and better runner than Tebow, but is inconsistent as a decision-maker and tends to break the pocket when throws are there to be made. His deep-ball touch and intermediate accuracy improved this year so teams may see him as a developmental talent who will keep getting better in the right scheme. He'll struggle to beat NFL defenses from the pocket, but his ability to grind out yards on the ground and make off-schedule plays should make him a solid backup with upward mobility.Ē
Zierlein wasnít wrong.
Hurts made the fantasy top-10 with his feet (782 yards and 10 TDs) not his arm (3,144 yards and 16 TD passes). He overlooked open receivers. His arm isnít strong enough for the deep ball (something Wilson is among the leaguesí best at doing). Hurts was 26th in completion percentage (61.3). He was 19th in QBR rating (48.5).
Can Hurts improve? Sure. Heís only 23 with 19 career starts. But Justin Herbert is also 23-years old. Lamar Jackson and Kyler Murray are 24-years old. Age isnít the issue. Ceiling is the issue. And Hurtsí ceiling appears to be much lower than these other guys.
The question for Roseman is whether that ceiling is high enough that if he uses his draft capital on young talent he can win another championship before his elite OL gets too old? If he adds a second wideout and then improves the defense with an edge rusher and a CB or LB can he win a title?
My educated guess is that Roseman gives Hurts another year Ö but also trades one of his 2022 first round picks into 2023 draft capital (an earlier No. 1 plus another pick) in case Hurts has hit his ceiling. The next yearís draft class appears to be stronger at quarterback (Bryce Young, C.J. Stroud, Jake Haener and maybe even Jaren Hall).
In the meantime, I could see Roseman adding a veteran big body wide receiver (perhaps Allen Robinson, Mike Williams or JuJu Smith-Schuster) to pair with the smaller, speedy Smith and use both first rounders on defense.