Congratulations on making it to your league's semi-finals. While there could be a couple of owners in panic mode if they normally start injured Jalen Hurts (shoulder), Jonathan Taylor (ankle) or Tyler Lockett (finger), there are always options. Find them, play them and move on to the finals. Good luck.

Truths
"If you would be a real seeker after truth, it is necessary that at least once in your life you doubt, as far as possible, all things." – Rene Descartes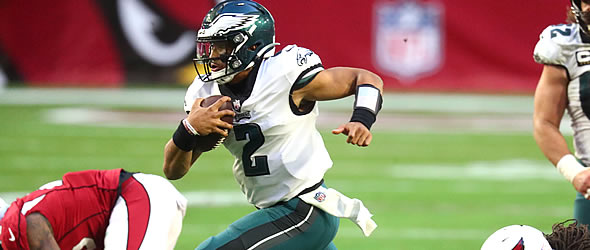 1) Jalen Hurts didn't throw a touchdown pass and tossed two interceptions… and still led all fantasy quarterbacks in points.
Fact. He did throw for 315 yards in a mediocre passing display, but it was his legs which won him the day, rushing for 90 yards and three scores. The strategy also landed him on the questionable list for Week 16 with a sprained shoulder. Given that the Eagles need just one win over their last three games to clinch home field advantage throughout the playoffs, I wouldn't expect him to play against Dallas on Christmas Eve. Gardner Minshew a.k.a. "The Moustache" could be a viable one-week replacement. He should have tight end Dallas Goedert back from the injured list to go along with A.J. Brown and DeVonta Smith.
2) Trevor Lawrence has been better than Patrick Mahomes since Week 11.
Also a fact. Lawrence has averaged 28.9 fantasy points over that span compared to 28 FPts/G for Mahomes. Strangely, Lawrence's worst game was against the Lions, who rank last in fantasy points allowed. The former No.1 overall pick has a tough playoff schedule the next two games with the No.8 Jets and No.3 Texans.
3) For running backs, volume usually equals success.
The following running backs saw more than a 75-percent usage rate in Week 15; Christian McCaffrey, Kenneth Walker, Dalvin Cook, Raheem Mostert, James Conner, Josh Jacobs, Derrick Henry, Saquon Barkley and Cam Akers. Six-of-nine finished in the top-13 and none finished lower than 28th meaning all could be started either at RB or flex.
4) Isiah Pacheco is the thunder, but Jerick McKinnon's lightning is the better play.
Pacheco has out-rushed McKinnon 42 attempts to 22 attempts over the past three games, but McKinnon has caught 17 balls to Pacheco's six and outscored the rookie by 78.6 fantasy points to 39.2 points. Andy Reid always saves his best plays for the passing game.
5) Josh Jacobs is fading just when we need him the most.
Unfortunately true. He peaked in Week 7, but since then his production has only been above one point-per-touch in one of his last eight games. He'll face Pittsburgh this weekend and should you make the fantasy finals has an ugly matchup with the top-ranked 49ers (yielding 16.9 FPts/G to opposing RBs).
Josh Jacobs
Week
Touches
FPts
FPts/T
1
11
8.3
0.75
2
20
9.1
0.46
3
18
14.7
0.82
4
33
34.5
1.05
5
26
30.3
1.17
7
23
36.5
1.59
8
12
7.4
0.62
9
20
11.7
0.59
10
27
22.6
0.84
11
27
19.0
0.70
12
39
48.3
1.24
13
28
23.0
0.82
14
29
19.4
0.67
15
24
13.0
0.54

Lies

"Why shouldn't truth be stranger than fiction? Fiction, after all, has to make sense." – Mark Twain
1) Justin Herbert is a much better option down the stretch than 49ers' rookie quarterback Brock Purdy.
False. In fact, over the past three weeks, Purdy and Herbert are both averaging 20.2 FPts/G. But while Purdy will face Washington (14th in QB fantasy points allowed) and Las Vegas (25th), the Chargers' quarterback has games against Indianapolis (19th) and the Rams (ranked 10th).
2) We are seeing a future star in Zay Jones, who ranks as the No.6 wideout over the past three games (16-202-4).
I would have to say no. He's still the No.2 guy behind Christian Kirk for the remainder of this season and the Jaguars have Calvin Ridley (suspended) waiting in the wings for next year. I have Jones as the third receiver on a team with an improving offense in 2023, so he's most likely a flex play next season.
3) Mike Evans has been an extreme disappointment this season.
Only so far as touchdown catches is concerned. He's just 112 yards away from his ninth consecutive 1,000 yard season. He, along with his struggling quarterback Tom Brady, just aren't getting into the end zone. Evans has three touchdown catches this season after 27 scores in his first two with TB12 and Brady has thrown just 20 touchdown passes all season after producing 83 in his first two years for the Bucs. It's been a total team offense disappointment, not an Evans issue.
4) If you don't have Travis Kelce you are giving away a touchdown worth in points at the position every week.
For the season, this statement is true (Kelce 19.5 FPts/G vs. No.2 Dallas Goedert 12.8), but since Week 11, Evan Engram is right up there with the Chiefs' All-Pro tight end. Engram is averaging 17.2 FPts/G over his last four games and 22.5 FPts/G over his last three contests. Did you know he's only rostered in 72-percent of all leagues? Engram also has a favorable schedule facing the 16th-ranked Jets and the 23rd-ranked Texans the next two weeks. Check to see if he's available in your league.
5) Dallas Cowboys management did the right thing trading Amari Cooper and signing Michael Gallup to a long-term five-year deal.
Not from a productivity evaluation. Cooper has posted a 67-932-7 line in Cleveland for an average of 14.4 FPts/G, while Gallup has produced a 31-339-3 line for 7.5 FPts/G. Even Noah Brown (40-533-3) has produced better than Gallup. Cooper is getting $20m for five years and Gallup $11.5m over the same timeframe. Meanwhile, the Cowboys appear to be looking to add wideout Odell Beckham Jr. at an unknown, but not inexpensive, price so money spent at the position could end up being close. Both draft picks they received for the trade (fifth-rounders) are long-term projects; OL Matt Waletzko and LB Devin Harper and currently on the IR.