The opening weekend of the season proved one thing… most teams need to get more work from their starters in the preseason. The games were sloppy and penalties were a plenty… except for the Kansas City offense which looking in peak form despite the loss of three-time All-Pro Tyreek Hill and the Bills drubbing of the Super Bowl Champion Los Angeles Rams.



Truths

"Three things cannot be long hidden: the sun, the moon, and the truth." – Buddha
1) No, Patrick Mahomes will not throw 85 touchdown passes this season (5x17).
Obviously true. The term is; "reductio ad absurdum," meaning to take an argument to the extreme. Carson Wentz also won't throw 68 touchdown passes and Saquon Barkley won't run for 2,788 yards. However, I might give you Justin Jefferson and 3,128 yards with 34 touchdowns. As Billy Crystal might say… "He looked marvelous." What I'm trying to humorously say is to temper your expectations after just one football game, whether good or bad.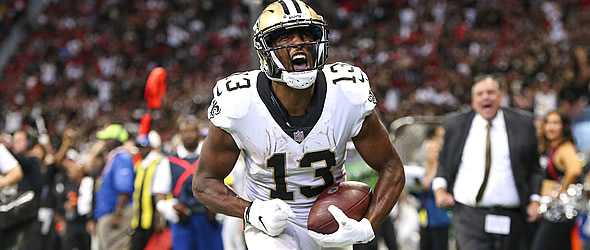 2) I'm now a believer in Michael Thomas.
True. Sure, he started slow, seeing just one target in the first half (incomplete), but in the second half he produced all 22.7 fantasy points by going 5-of-7 for 57 yards and two scores. Playing in his first game since Dec. 2020, he looked out of sync early, but by the end he looked like the "old" Michael Thomas toasting talented cornerback A.J. Terrell for both scores. All this while on a snap count which limited him to 36 of 61 snaps (61%).
3) The most important fantasy note from the San Francisco-Chicago game was the injury to Elijah Mitchell, not Trey Lance.
True. Mitchell injured his MCL and is expected to miss about eight weeks. Backup Jeff Wilson will be on top of the depth chart, but this is likely a case of a handcuff which isn't a handcuff. You are only a worthy handcuff if you can produce like the starter. In this case, expect to see more of Deebo Samuel in the backfield, which actually makes wide receiver Jauan Jennings (six targets, four receptions, 62 yards) the "handcuff" as he'll see a much larger role in the passing game.
4) The "don't expect this every week Emmy, for quarterbacks," goes to," Matt Ryan.
Fact. Ryan is too old to be dropping back 52 times, so expecting 352 yards is going to get you in trouble. Also nominated: Jets' Joe Flacco for 307 yards on 62 drop backs. He lost the award because he's only a fill-in until Zach Wilson is healthy and so not a long-term fantasy option.
5) The Seahawks' Geno Smith still isn't fantasy-worthy.
The Monday night crew talked him up profusely, but he's still not a fantasy-worthy option. Despite going 23-of-28, including hitting his first 13 passes in a row, he produced just 195 yards passing and two scores along with 14 rushing yards for 19.2 fantasy points.

Lies

"If I ever saw myself saying I'm excited going to Cleveland, I'd punch myself in the face because I'm lying." - You would think this is a Baker Mayfield quote, but it's actually outfielder Ichiro Suzuki.
1) Christian Watson dropping a "sure" touchdown pass from Aaron Rodgers on the very first play from scrimmage effectively ended his 2022 fantasy value right then and there.
Probably. Under normal circumstances this would be a "truth" as "A Rod" doesn't care much for rookies, but the Packers are extremely shorthanded at the position. Still, Rodgers does hold grudges. In fact, he didn't look at Watson again until 3:57 remaining in the third quarter – some 41 minutes later. I'm sure when Allen Lazard returns he'll be a target hog, but the rookie who looked best was Romeo Doubs, who caught 4-of-5 targets. Packers' management failed Rodgers once again this season by thinking they could fix the receivers room on the cheap instead of getting an elite veteran. I guess their thinking is the rookies will be ready by the time Jordan Love is called on to start. Tough luck Aaron!
2) Jalen Hurts haters will point to his 56.3% completion rate and say "see, he still can't do it even with a great receiver."
False. The Eagles offense put up 31 points while featuring A.J. Brown and the running game. They did it without using DeVonta Smith and barely looking at Dallas Goedert. Hurts also produced the two first downs to close out the game. For fantasy owners, Hurts produced top-five numbers (27.2 points). Eagles' fans should be more concerned about their defense, in particular their DC, who started playing it safe too soon and let the Lions back in the game.
3) We shouldn't be willing to give Trey Lance a pass in Game 1 (13-of-28 for 164 yards and 1 INT).
Wrong. I saw the ridiculous conditions in Chicago and I'm discounting all the results on both sides. Lance will play at home against the Seahawks, who will be coming into the game off a short work week and traveling, so we should see a better example of Lance's potential this week.
4) "Tight end" Taysom Hill isn't a thorn-in-the-side of Jameis Winston.
False. Every time Hill gets a chance to run the wildcat offense in the Red Zone he's taking potential fantasy points away from Winston. On Sunday, only one of Hill's five touches was in the red zone, but it was an 11-yard touchdown run. Winston produced 22.4 fantasy points, but Hill is a drag on his fantasy ceiling.
5) Chiefs' head coach Andy Reid has figured out how to use Clyde Edwards-Helaire (22.4 fantasy points).
Sorry, no. CEH scored twice on short passes from Patrick Mahomes, but the shovel pass score is a play the team usually designs for Travis Kelce. On the second score, no defender followed him into the flat and Mahomes saw him for an easy score. CEH was out-touched by Isiah Pacheco (12-7) and outrushed by Pacheco (62-42). My recommendation is "sell high" on Edwards-Helaire.