"Before anything else, preparation is the key to success," said Alexander Graham Bell. Hopefully, you are ready for the next two weeks where a great number of big-time stars will be on bye. Two high-scoring teams, the Chiefs and Chargers are on bye in Week 8 and six more teams in Week 9.
Byes: Kansas City, LA Chargers

Truths
"The true measure of a man is how he treats someone who can do him absolutely no good." – Samuel Johnson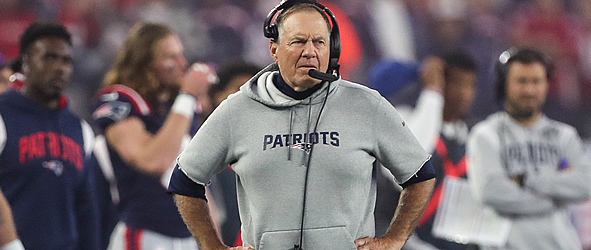 1) "If you have two quarterbacks, you actually have none."
Sorry Bill Belichick, but this old football adage is still true. Unlike every other position which can thrive from competition and depth, quarterbacks need repetition and confidence, neither of which you get sharing time with a backup. The starting quarterback has to be the leader in the huddle and not looking over his shoulder after a bad play. Notice when Dak Prescott was healthy, he immediately returned to the lineup even though Cooper Rush was 4-1 as a starter. Make a choice Bill and stick with it. Also, look to Indianapolis where Frank Reich has installed Sam Ehlinger as his quarterback for the rest of the season, not just next week. This is not a shared position.
2) JuJu Smith-Schuster has established himself as the No.2 receiving option for Patrick Mahomes.
Fact. He's cracked 100-yards in two straight games, 22+ fantasy points and scored in both games against the toughest of competition (Buffalo and San Francisco). It's interesting to note that tight end Travis Kelce didn't reach his season average (20.7 FPts/G) in either of those games. When defenses are determined to keep Kelce under control, Mahomes appears to turn to Smith-Schuster next.
3) If you have a No.1 receiver facing the Denver Broncos, you might sit him unless he's as strong as Davante Adams.
Second-year CB Patrick Surtain Jr. has shadowed each elite receiver and held them in check. Through the first seven weeks he held DK Metcalf (36 yards), Deebo Samuel (73), Brandin Cooks (54), Michael Pittman Jr. (59), Mike Williams (17) and Davante Adams (101) without a touchdown reception. Only Adams cracked 75 yards. This doesn't bode well for Christian Kirk in Week 8. Even if Surtain isn't on him every play, the Broncos have allowed just one wide receiver touchdown this season.
4) Tom Brady, Russell Wilson, Aaron Rodgers and Matthew Stafford all rank 20th or worse in fantasy points per game.
Of these four, I believe TB12 has the best chance to rebound quickly. Wilson is hurting, Rodgers' receivers can't get open and Stafford seems to be in a post-Super Bowl winning funk. Although Brady hasn't been good the past two weeks, he's at home for the next three games and he's averaged 14.7 FPts/G on the road and 23.4 points in Raymond James Stadium. He'll face the 29th-ranked Ravens' pass defense in Week 8.
5) Prepare now for Week 9 when a season-high six teams will be on a bye (Week 14 will also have six teams on bye).
Week 9 will see star running backs like; Nick Chubb, Saquon Barkley, Ezekiel Elliott, Najee Harris and Christian McCaffrey (his bye has shifted from Week 13 to next week after the trade) sidelined. This will make starting a strong running back tandem next week very difficult. Plan ahead.

Lies

"A liar begins with making falsehood appear like truth, and ends with making truth itself appear like falsehood." – William Shenstone
1) The loss of Tyreek Hill to Miami in free agency will hurt Patrick Mahomes.
False. Through seven games, Mahomes is averaging 28.5 FPts/G. That's better than 2021 when he averaged 25.9 FPts/G. He leads the league in passing touchdowns (20), on pace for 49 scores. Early on this season, he relied almost exclusively on Travis Kelce, but last week he used both Smith-Schuster and Marquez Valdes-Scantling to perfection.
2) Christian McCaffrey will be a better fantasy option now that he is in San Francisco.
I'm going to have to say no. He'll likely be more efficient, but he won't see as much work with the 49ers. Obviously, the 49ers have a lot more talent on offense than the Carolina Panthers' lineup. Deebo Samuel, George Kittle and Brandon Aiyuk will all get a portion of the workload. Additionally, the 49ers are thinking post-season run and the best plan for that is keep CMC's work limited by continuing to use Jeff Wilson for 7-10 rushing attempts per game. Add in 2-4 attempts for Samuel and McCaffrey's likely to have an upper limit of 18-20 touches per game including receptions.
3) Sam Ehlinger isn't likely to succeed where Matt Ryan couldn't.
Don't count Ehlinger out. He has the ability to run where defenses knew exactly where Ryan would be… planted in the back of the pocket. In preseason, the 2021 sixth-round pick was 24-of-29 for 289 yards and four touchdowns. He also ran for 71 yards and another score. In four years at the University of Texas, Ehlinger passed for 11,436 yards and 94 touchdowns (27 INTs) and rushed for 1,903 yards and 33 touchdowns. He should have a healthier Jonathan Taylor behind him and his next opponent, the Commanders have yielded 14 touchdown passes in seven games (second-most). The following two opponents, New England and Las Vegas, rank 21st and 32nd, respectively, against opposing fantasy quarterbacks.
4) Over the last three weeks, Saquon Barkley, Christian McCaffrey and Nick Chubb are top-10 running backs.
Actually no. They rank 11th. 12th and 14th, respectively. Surprisingly, the Raiders' Josh Jacobs leads all running backs the past three games averaging 33.4 FPts/G. Austin Ekeler is second at 32.3 points. No other running back is averaging even 23 FPts/G since Week 5. Jacobs's run could continue for a while as he won't see a top-10 running back defense until Week 14, though in Week 8 he'll play against the No.12 Saints which will be the toughest test until the Week 14 game (Rams).
5) Fantasy owners were never worried about Ja'Marr Chase's slump from Week 2-5.
OK, maybe they were a little concerned. After a great start in Week 1 against Pittsburgh (28.9 fantasy points), Chase averaged just 12.4 points during a four-game stretch. But he was still seeing 9.25 targets a game so we shouldn't have worried. Chase has produced 32.2 and 33 fantasy points the past two games on 21 targets. He's back!