This weekend should be easier on fantasy owners with the return of three explosive offenses (Miami, Philadelphia and Kansas City) while the only top-10 scoring team on bye in Week 11 is Indianapolis. Meanwhile, it seemed to be a light injury weekend with only Alexander Mattison (concussion) and Deshaun Watson (ankle) of any fantasy consequence.
Byes: Atlanta, Indianapolis, New England, New Orleans

Truths
"Talent sets the floor, character sets the ceiling." – Bill Belichick
1) There is more than one way to win a football game, but fantasy owners prefer the "Miami Theory."
The Miami Dolphins and the Pittsburgh Steelers both have identical 6-3 records, but to fantasy owners they are not the same. The Dolphins want to outscore their opponent and have five viable fantasy-worthy players: Tua Tagovailoa, Raheem Mostert, rookie Devon Achane, Tyreek Hill and Jaylen Waddle. The Steelers are 6-3, but do they really have any reliable fantasy options this season? Probably only the Pittsburgh D/ST, who rank 11th in sacks (27), third in fumble recoveries (8) and seventh in interceptions (10). PittsburghÖ please bring back the days of Ben Roethlisberger, LeíVeon Bell and Antonio Brown.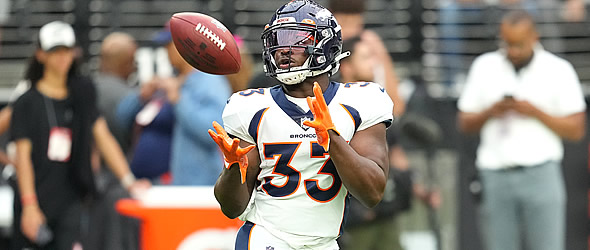 2) Denver has found a way to win ball games, but fantasy owners, for the most part, arenít liking the strategy.
True. Unless you have Javonte Williams on your roster, having Broncos in your lineup is not going to be a boon to your fantasy totals. Sean Payton has figured out the way for Denver to win is run the ball more (no matter how unsuccessful) and have Russell Wilson throw the ball less. Over his teamís three-game winning streak Wilson has averaged just 25.7 passing attempts versus 31.4 in their five losses. Furthermore, of those passes in wins, 26 have gone to the backs out of the backfield and only 34 to the two top receivers, Courtland Sutton and Jerry Jeudy. Itís hard to ďmake a livingĒ on 5.6 targets a game.
3) Fantasy owners should expect a larger role for the Ravensí Keaton Mitchell, but the score will have a major role in his total workload.
Fact. Mitchell saw 10 touches in a blowout win against Seattle, but just four touches in a tight loss to Cleveland last Sunday. Coaches always worry whether their rookies will be in the right place at the right time. After Sunday, when Mitchell still produced a solid 13.6 fantasy points on those four touches including a stunning 39-yards touchdown run, head coach John Harbaugh indicated he would be more involved in Week 11. But how much, in what should be another close game against the division rival Bengals? Iím thinking he takes over as the No.2 guy from Justice Hill, who averages 8.3 touches per game. That should be enough for Mitchell to have flex value, even more, if the Ravens can get out to a comfortable lead.
4) Josh Dobbs is still available in 47% of all Yahoo leagues.
True. The well-traveled quarterback who obviously picks up offenses quickly, has produced 28.5 and 27.8 fantasy points in his first two games after being traded to the Vikings. Included in that is 110 rushing yards and a pair of rushing touchdowns. Heíll likely get Justin Jefferson back either this week or in Week 12. Dobbsí should be a viable backup for many rosters with a nice schedule moving forward for opportunities to start.
5) Should the Baltimore Ravens make it to the Super Bowl, they will likely win it.
Fact. Since 2019 with Lamar Jackson at quarterback, the Ravens have a 16-1 record against NFC teams. Heís beaten all the NFC contenders; Dallas, Philadelphia, Detroit, Seattle and San Francisco and his only loss was to the New York Giants last season (donít worry Lamar, Iím sure they wonít be your opponent this season). If you have never faced Lamarís speed and agility, itís a tough time. Sure, the teams are different from year-to-year, but confidence doesnít waver.

Lies

"I love listening to lies when I know the truth," – The Joker
1) Tua Tagovailoa and Jared Goff have been top-10 quarterbacks over their past four games.
False. The two rank 12th and 14th, respectively. After averaging 322 passing yards and 25.4 FPts/G for the first five games of the season, Tagovailoa has averaged 248 yards and 20.8 FPts/G over his last four contests. The Dolphins should get Achane back shortly which should mean an even more balanced attack. Meanwhile, Goff has averaged 310 passing yards, but just 20.5 FPts/G over the last four games. The running game led by David Montgomery and rookie Jahmyr Gibbs and a strong OL has been very efficient and is likely to stay that way for the remainder of the season.
2) Austin Ekeler has been a relative disappointment.
False. Ekeler had two bad games and two missed games while dealing with an ankle injury, but heís scored 20 fantasy points or more in four of six games this season including the last three. If his fantasy owner is still disappointed, make him an offer. Ekeler and Christian McCaffrey should be the top-two running backs the rest of the way.
3) Adam Thielen is still a top-10 fantasy option.
Sorry, no. Thielen got off to that fast start (20.8 FPts/G over the first six games), but since the bye week, heís averaged just 11.1 fantasy points and hasnít caught a touchdown pass. The receiver hasnít changed, but his rookie quarterback, Bryce Young, has a ďcrisis of confidence.Ē
4) The value bubble has popped on the Ramsí Puka Nacua.
False. Nacua has struggled the past two games, but those were without a real quarterback under center for a game-and-a-half. Matthew Stafford should be back in Week 11 after missing time with a thumb injury. Nacua has averaged 20.8 FPts/G with Stafford under center for a full game and even when Cooper Kupp returned, Nacua has averaged a solid 16.7 FPts/G which would be 12th-best among wideouts for a full season. Heís not worth as much as he was to start the season with Kupp sidelined (which everyone understood), but heís still got plenty of fantasy value.
5) Zay Flowers is still a good fantasy option.
Sorry, Iíve got to say no. The bloom is off the rose. Flowers is seeing fewer targets - 40 for the first five games and 28 for the last five. A healthy Odell Beckham Jr. and Rashod Bateman have taken opportunities away from Flowers. OBJ had 11 targets through Week 5 and 24 targets from Week 6-10. Bateman has gone up from 12 through five to 17 over the last five. Flowers and Nelson Agholor have both seen their workload impeded by the return to health of Beckham and Bateman. Flowers still has a bright future, but may have to wait until 2024 to truly explode into a top fantasy option.
Bonus...
6) At least the New York quarterback Tommy DeVito is better than Danny DeVito.
Maybe. Danny ran the "Taxi" company way more efficiently than Tommy does the Giants' offense.