The way the average draft position (ADP) shakes out in the first round of fantasy football drafts is a fascinating annual study. Due to a variety of forces, certain positions get pushed up the board while others get pushed down.

In 2016, only three fantasy seasons ago, the first three selections in virtually every draft were all wide receivers: Antonio Brown, Odell Beckham Jr., and Julio Jones. This season, the top five picks are mostly running backs, with the first wide receiver (DeAndre Hopkins) not coming off the board until the sixth pick.

Although individual drafts can fall differently, of course, most fantasy players tend to stick closely to the ADP when drafting. It could be that they fear the mockery of their fellow drafters if they select a player too early, or perhaps they simply want to take the most valuable option with each pick. Either way, the readily available data about ADP and the proliferation of fantasy analysis has led to much less variation from draft to draft.

Since this is the case, drafters should make a detailed plan based on their draft position, listing players they want to target with each pick (and contingency plans if their targeted players are already gone).

Many fantasy owners have been expressing disappointment or even anger when they are slotted into the back half of the first round, seeing the ability to land one of the top five running backs as a huge advantage for the 2019 fantasy season. While it may well be an advantage, there are many paths you can take to end up with the best team. One of those paths is going wide receiver-heavy early in the draft, locking up three elite receivers right off the bat.

For the sake of the remainder of this article, letís imagine that you landed the 10th pick in your draft, in a 12-team league. And letís imagine that with those first three picks you chose to go for the best wide receivers available. You could end up with something like this:

1.10 Ė Michael Thomas, NO
2.03 Ė Tyreek Hill, KC
3.10 Ė Keenan Allen, LAC

That would certainly be a fantastic start, particularly if you can start three wide receivers. But obviously this strategy leaves you lagging a bit at running back. So how can you make it work on the running back side? What backs should you be targeting in the rounds that follow, to give yourself a shot to end up with the best team?

Below are 10 backs who are excellent targets in rounds 4 and later.
RB Targets in Rounds 4-6
The Ravens attempted the most rushes in 2018, with 547 attempts. Granted, 147 of those were Lamar Jackson, but that still means the offense dialed up a lot of running plays for their backs. Ingram steps in as the Ravens starter after being signed to a fairly lucrative contract this offseason.
During his time in New Orleans, Ingram showed he is a very efficient back. He has averaged 4.6 yards per carry or more over the past four seasons. He tied with Gurley for a very impressive 57% success rate on his runs, per Football Outsiders. In the Ravens dynamic rushing offense now led by Greg Roman, Ingramís efficiency should continue.
Further, Ingram will no longer be playing second fiddle to an elite back as he was in New Orleans, so his stats should improve based on snap count alone. Ingram has perhaps the best chance among backs being drafted outside the first three rounds to finish as a top-12 running back.
My 2019 projection: 240 rushes, 1,152 yards, 12 touchdowns; 40 receptions, 325 yards, 3 touchdowns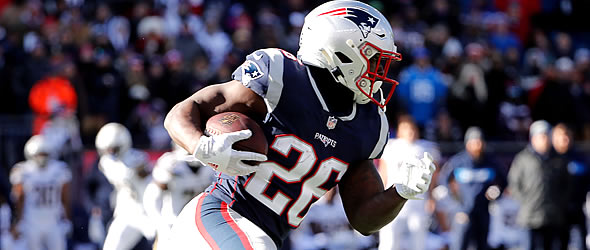 Although he does not offer much upside when it comes to catching the ball like his teammate James White, Michel is a dynamic back who improved as the season went on. Belichick leaned on him in their championship run, and Michel rewarded him with 6 touchdowns and 4.73 yards per carry during the playoffs. As the season wears on and the weather gets colder, Belichick typically relies on the run more, meaning Michel should be quite valuable in the most important weeks of the fantasy season.
In addition, there is reason to believe he may catch more passes, since the most efficient backs in the league keep defenses guessing by being involved in both the rushing and passing game (and Belichick loves to keep people guessing). Michel did catch 64 passes while in college, so he has the ability.
Perhaps most importantly, the Patriots are always an overall efficient offense that successfully moves the ball down the field, into scoring position. This means that all of their backs will be valuable and will get plenty of opportunity. In particular, Michel will get plenty of scoring opportunities in the red zone.
My 2019 projection: 272 rushes, 1,251 yards, 12 touchdowns; 25 receptions, 175 yards, 2 touchdowns
Chris Carson continues to surprise. As a seventh-round pick of the Seahawks in 2017, not much was expected. He made a name for himself in training camp and was off to a hot start as a rookie, but then got injured in Week 4 and was out for the rest of the season. Many forgot about him by the start of 2018, and then the Seahawks drafted Rashaad Penny in the first round. Carsonís time in the spotlight was thought to be over.
But he didnít go away. He grabbed the starting role over Penny and turned in an impressive season as the 17th most efficient running back among those with 100+ carries. While that is not jaw-dropping efficiency by any means, it means he is better than the average NFL running back.
But there are two even more crucial reasons to like Carson this season: his draft cost and his offense. On average Carson is being drafted in the sixth round, making him a good value. Last season he finished with 247 rushes for 1,151 yards and 9 touchdowns Ė in only 14 games. Thatís an average of over 17 rushes per game, at 4.7 yards per carry. On top of that he finished with 20 receptions, and this season Mike Davis and his 40 targets have moved on, meaning Carson is likely to see more receptions as well.
Beyond his value, the Seahawks offense is excellent at running the ball. They finished 2018 with 2,560 yards on the ground, the most in the NFL. They want to continue to ground and pound, so Carson should see plenty of touches. That makes him an excellent target in the middle rounds.
My 2019 projection: 272 carries, 1,278 yards, 10 touchdowns; 32 receptions, 262 yards, 2 touchdowns
Since itís impossible to know how Belichick will employ his backs, why not take both White and Michel if you start WR-heavy? Particularly in PPR leagues, White was an excellent value last year. He was drafted in the double-digit rounds and had by far the best year of his career, turning in a top-10 running back finish.
His previous high for targets in a season had been 86, and last season he was targeted 123 times. He turned those targets into 87 receptions for 751 yards. He was essentially a prolific slot receiver with running back eligibility. On top of that he added 94 rushes for 425 yards, and scored a total of 12 touchdowns. Those are remarkable numbers.
If fantasy players believed he would do it again, he would be drafted in the second or third round of drafts, but he is currently being drafted between the fourth and sixth rounds, making him a potential value.
Since the Patriots do not have high-end options at the wide receiver position, and have lost Rob Gronkowski, Whiteís importance in keeping the offense humming becomes even more crucial. I do not see his target share decreasing this season by much, if at all. Although he might lose some carries with the addition of Damien Harris, the bulk of Whiteís value is in his receptions anyway. The only area where regression seems especially likely is in his touchdowns, since scoring 12 times on only 181 touches is not sustainable.
My 2019 projection: 80 rushes, 360 yards, 2 touchdowns; 85 receptions, 722 yards, 6 touchdowns
Targets in Rounds 7-9
Guice was one of my favorite rookies coming out last year. Although it was clear Barkley was the superior back, Guice has rare qualities that could see him become truly special as well. He has unbelievable speed for a man of his size and strength, and also displays above-average contact balance and vision.
What is limiting his upside are questions about his role, with Adrian Peterson having been re-signed by the Redskins, as well as the poor outlook for the teamís offense as a whole. In addition, it is unclear at this point, since he has not had much NFL experience, whether he will be able to pick up on pass protections to enable him to be on the field for third down.
Those are all legitimate questions, and worthy of pushing him down the board. However, since he has been going in the seventh or eighth rounds of drafts, he is absolutely a risk worth taking. If things go right Ė if Jay Gruden cannot keep Guiceís talent off the field and if he can figure out protections Ė Guice could become a breakout star this season. If things go poorly, he still might be a serviceable option as a plug-in play with the right matchup.
My 2019 projection: 150 carries, 765 yards, 6 touchdowns; 18 receptions, 144 yards, 1 touchdown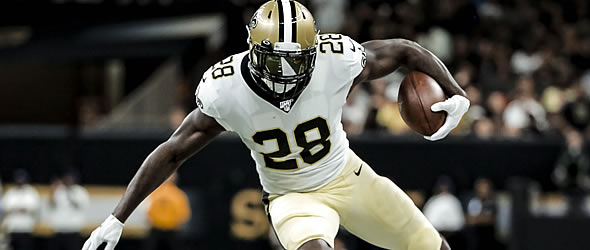 Murray is not the most efficient back, finishing in the middle of the pack among running backs with more than 100 carries in DVOA. And his red-zone success rate was only at 36% according to Sharp Football. But while he is not excellent at anything, he is serviceable on all three downs.
The reason he is a good target here in the middle rounds if you go WR-heavy is because of the offense he signed with this offseason. To this point in his career he has been with the Raiders and the Vikings, neither of whom has been known to be very good at running the ball. But this offseason he signed with the Saints, who have been one of the most successful running teams in the league under Sean Payton.
Last season the Saints finished with 471 rushes, fifth-most in the league. That is especially impressive since their quarterback, in contrast to the Seahawks and Ravens at the top of the list, never runs with the ball. In addition, Payton has long used two backs in a rotation to keep both fresh, and it looks like Murray will be in line to take over the Mark Ingram role. Although it is unlikely he does as much with that role as Ingram, since he is not as good of a runner overall, the volume should be enough to make him a valuable mid-round choice.
My 2019 projection: 160 carries, 736 yards, 7 touchdowns; 24 receptions, 194 yards, 2 touchdowns
Miles Sanders might have the most upside among any offensive rookie in the 2019 class. If he puts it all together, and figures out pass protection and how to protect the football, he could become a top-10 NFL running back. He has elite speed and elusiveness, and although he was not asked to catch the ball much in college, most believe he could grow into a good pass-catcher.
He is not there yet. He needs to work on ball security. He fumbled the ball way too much in college, with ten fumbles and seven lost fumbles during his college career. He is also reportedly a work in progress when it comes to pass protection, but most rookies are.
What he has that you canít teach are his speed, vision, contact balance, and elusiveness. If he can slow down his brain and allow those qualities to translate to the field, he could start to pop off the screen as soon as this season. I would guess he will slowly gain carries as the season moves along and the coaches start to trust him more, making him a potentially highly valuable player for the fantasy home stretch.
My 2019 projection: 130 carries, 676 yards, 6 touchdowns; 19 receptions, 182 yards, 2 touchdowns
Targets in Round 10+
It is difficult to assess how good Peyton Barber is, or how good he can be. He was not an efficient runner last year, putting up only 3.7 yards per carry and 4.6 yards per reception. Those are extremely poor numbers, and yet he was clearly the best back on the team. Perhaps he put up such poor numbers because the offensive line was simply awful, or perhaps the offensive coaching simply lacked the creativity to get the run game going.
Now Bruce Arians has taken over as head coach, and most are anticipating an improvement on offense as a result. Although Arians is known for hyperbole related to his own players, it is noteworthy that he has not only consistently praised Barber but also has said he will start. Many thought Arians would immediately name 2018 second-rounder Ronald Jones the starter, but he seems to like elements of each playerís games.
If Barber continues to start and see even 40% of the workload, he is a value where he is going in drafts, in the double-digit rounds. And while he will likely not win any fantasy teams a title, he could play an important role as a plug-in for bye weeks or injury.
My 2019 projection: 168 carries, 725 yards, 5 touchdowns; 28 receptions, 170 yards
Justice Hill is another intriguing rookie back. He was the fastest back at the combine, running a 4.4-flat. He showed incredible agility to go with that speed during his college career, leading to many long touchdowns. He ran for over 5.5 yards per carry in every collegiate season, and finished with 30 touchdowns.
Within the Ravens offense and alongside Lamar Jackson, Hill could find himself often one-on-one with a slower linebacker or defensive back. At first he will likely be used as a change-of-pace back or as a gadget player, but I believe he will grow into an important role in this offense. It is difficult to tell how things will shake out in any teamís depth chart in the preseason, but his athletic profile within the Ravens scheme makes him a late-round flier worth taking.
My 2019 projection: 85 rushes, 476 yards, 4 touchdowns; 28 receptions, 273 yards, 3 touchdowns
In his 2019 Rookie Scouting Portfolio, Matt Waldman was gushing over little-known prospect Darwin Thompson. He called him a ďfreakishly strong and balanced runner with breakaway speed, strong acceleration, and third-down skills.Ē He also called him a more powerful version of Tarik Cohen. Though he doesnít quite have Cohenís receiving skills, he is a good receiver. But itís his strength and contact balance where he exceeds Cohen, and which could lead to him eventually becoming the lead runner in Kansas City.
That might not happen this season, so redraft players must understand that this is not a pick to count on but rather a late-round flier with upside. But itís a worthy gamble in any draft to take Thompson in the late rounds, because he only has late bloomer Damien Williams and uninspiring Carlos Hyde in front of him for now. If he shows the explosiveness Waldman mentions in practice, Andy Reid will find a way to get him involved.
My 2019 projection: 105 rushes, 570 yards, 3 touchdowns; 20 receptions, 224 yards, 2 touchdowns