Dynasty fantasy football is not for the feint of heart. As with the stock market, there are wild swings in the relative value of players with various causes. It could be something a coach said to the media about giving a running back fewer carries, or a free agent signing of a receiver who might compete with your player for targets. Values can shift on injuries or ineffectiveness in the previous season, or for no apparent reason at all.

The ultimate swings in valuation come with each year's draft. The draft can take a player from a premium dynasty asset to essentially worthless. A few years back, I really liked what I saw out of running back Tre Mason in his rookie season - he produced 913 yards from scrimmage and 5 touchdowns. He had also been drafted in the third round, which is significant draft capital. I traded talent and picks to get him right after the season ended. Then in April, the Rams drafted Todd Gurley in the first round. Mason seemed to be on the verge of a major breakout, and within the first 10 picks of the draft, he was essentially a worthless fantasy product.

Most swings in valuation are not that extreme, but we see many such impacts due to the draft every year. For the rest of this article, I want to focus on the biggest winners coming out of the Draft, and then the biggest losers. Some will be the rookies themselves, who were drafted into perfect (or rough) spots. Others will be veterans who were positively or negatively impacted by the 2020 NFL Draft.
Winners
RB Jonathan Taylor, Colts – Taylor could not have asked for a better landing spot. The Colts are a young team with a great GM in Chris Ballard. They are methodically building a well-balanced, team that will begin competing in the AFC soon. They still need their long-term answer at quarterback, but Taylor will get to learn with Philip Rivers and run behind and excellent offensive line. Opponents will have a hard time stacking the box against him, with T.Y. Hilton, Parris Campbell, and rookie Michael Pittman, Jr. at receiver. Marlon Mack is still going to get some touches, but for dynasty Taylor is in a perfect position.
RB Clyde Edwards-Helaire, Chiefs – Edwards-Helaire also landed in the perfect spot for a player with his talents, getting the opportunity to play with the best quarterback in the game and within the brilliant offensive system of Andy Reid. Reid has a history of using running backs like CEH heavily, relying on them both to run the ball and catch the ball out of the backfield. He even made Damien Williams into a stud in their playoff run last season, and CEH is a far superior talent. The Chiefs also boast a solid offensive line and incredible weapons at receiver, which should open up the run lanes. He is also a top-notch dynasty asset.
WR Courtland Sutton, Broncos – Many will see Sutton as a post-draft loser, since the Broncos doubled up on rookie receivers in the draft. They took both Jerry Jeudy and KJ Hamler, which should totally change and open up the offense. It is certainly true that those receivers will receive significant targets. But it's also true that the Broncos had a complete lack of upside at receiver outside of Sutton. Before the draft the next receivers on the roster were DaeSean Hamilton, who has been a disappointment so far, and Tim Patrick, who is a role player at best. Now they will have three legitimate NFL receivers once the rookies get up to speed, but that will not take away from Sutton. He will remain the clear-cut No. 1 receiver on the roster for the next few years, even with Jeudy present. He has proven he has elite talent, but piling up stats against double teams is very tough. After Emmanuel Sanders was traded mid-season, Sutton averaged 18 fewer yards per game and 1 fewer reception. Teams were keying on stopping Sutton, and it had an impact. With the rookie receivers drawing attention, Sutton should see softer coverage – and he should take advantage.
QB Dak Prescott, Cowboys – Prescott isn't signed to a long-term deal yet, but assuming he stays with the Cowboys he hit the jackpot in the Draft. I was certain the Raiders were going to take the best wide receiver on the board when they picked 12th, but they went with speedster Henry Ruggs III instead. Ruggs may end up a good receiver for sure, but he is no Ceedee Lamb. Lamb was, in my opinion, in a tier of his own at his position in this draft. He is going to be a stud receiver in the mold of DeAndre Hopkins, and he fell into the Cowboys lap at pick No. 17 (Jeudy also went ahead of him to the Broncos at No. 15). Prescott now will have an even more ridiculous arsenal of talent around him, with Ezekiel Elliott, Amari Cooper, Michael Gallup, and Lamb. Prescott should jump further up the quarterback rankings given the newest Cowboys' addition.
WR N'Keal Harry, Patriots – After a disappointing, injury-plagued rookie season, Harry comes out a winner after the 2020 Draft as well. He was the first receiver taken last season, but many thought the Patriots might address receiver in the Draft after his poor rookie season (and since Edelman is getting old). However, they did not add any receivers, making Harry a prime candidate to have a rebound season in his sophomore campaign. His usage should rise, which could enable him to have a break-out season on 2020. Although he is an intriguing dynasty target, keep in mind that Belichick and his staff do not have a good history of developing wide receivers.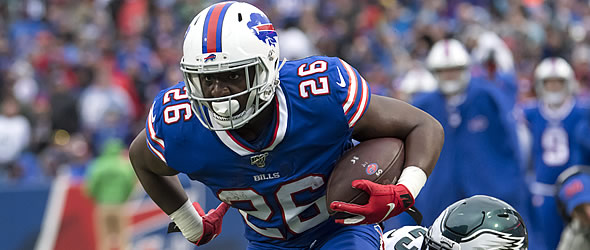 Losers
RB Devin Singletary & RB Zack Moss, Bills – Singletary seemed destined to get a shot at being a bell cow for the run-heavy Bills entering the draft, after Frank Gore left town. The dynasty community though perhaps Singletary would even get the goal-line work, making him potentially a top running back. However, the Bills drafted Zack Moss in the third round, and GM Brandon Beane spoke glowingly of his new RB. He emphasized that he would be used around the goal line, and that he profiles as an early-down back. It is unknown how the carries will be divided, but it sounds like it might be a true split. This is a huge blow to the dynasty value of Singletary, but it also hurts Moss. Since he is joining a team with a great back already on the roster, his upside is capped. Neither is likely to become a high-end dynasty option.
RB Aaron Jones & RB AJ Dillon, Packers – A similar story played out in Green Bay, with the Packers selecting A.J. Dillon in the second round. Dillon is a bit of an athletic freak, running 4.53 in the 40-yard dash and recording a 41-inch vertical – at 247 pounds. He is a bruiser and should get much of the goal line work. That, of course, saps a lot of Aaron Jones' dynasty value, since much of his great 2019 season was due to 16 rushing touchdowns. Dillon's value is capped as well, since he is fighting both Jones and Jamaal Williams for touches in the offense. They may both be effective, but both saw their potential in dynasty leagues fall significantly.
RB Darrell Henderson, Rams – Henderson looked like he might have a chance to become a workhorse, or at least a dynamic piece of the Rams backfield working alongside Malcolm Brown. But it appears the Rams had something different in mind; perhaps they did not like what they saw during Henderson's rookie season. Whatever the rationale, the Rams used a second-round pick on Cam Akers, an incredibly dynamic athlete out of Florida State. Akers has the look of a feature, three-down back in the NFL, so Henderson's stock has rightly plummeted. If he can carve out a complementary role next to Akers, perhaps as a change-of-pace option, that seems to be the best outcome he can hope for.
RB Marlon Mack, Colts – Perhaps there was no bigger loser coming out of the NFL Draft than Marlon Mack. He went from clear-cut No. 1 back to an afterthought, after the Colts drafted Jonathan Taylor. Many see Taylor as the best runner in the class, and a much better fit for the Colts offense than Mack. Once Taylor is up to speed, it seems likely that Mack will either be benched completely or relegated to a third-down option. Even that is in question, since Nyheim Hines has been effective in that role. The only bright side for Mack is that he's in the final year of his contract, so he could sign elsewhere next season and find a spot to lead the charge again.
RB Kerryon Johnson, Lions – Johnson, like Mack, saw an excellent young runner join his team. The Lions drafted D'Andre Swift in the second round, also a consensus top running back in this draft. Johnson dealt with injuries for two straight seasons, and that seems to have caused the front office to lose some trust in his ability to be their lead runner. Swift should take on a big portion of the running back touches immediately, relegating Johnson to a timeshare back without the upside he possessed prior to the Draft.

---
Kevin Scott has been playing fantasy football for 20 years and plays in over 30 leagues per season. He has made a profit in pay leagues for 11 years running. You can follow him on Twitter @kevinscottff.