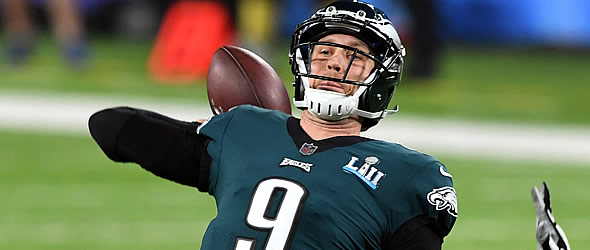 With ownership concentrated on Mahomes and Luck, taking a flier on Nick Foles in GPPs makes sense.
Note: Salary amounts are DraftKings pricing
Quarterbacks
H2H/Cash - Drew Brees vs. Philadephia - $6,700
Although Brees has four total passing touchdowns in his last four games and the Eagles hodge-podge secondary is playing much better over the past three, I feel comfortable playing Brees at home regardless of the matchup. Sean Payton has had two weeks to prepare for the Eagles, the Saints destroyed Jim Schwartz's defense when the two teams played earlier in the year, and starting left tackle Terron Armstead looks like he will return to the field. While I do like Patrick Mahomes at home against the Colts, Brees and the Saints at home against the Eagles is the matchup I prefer.
Other options to consider - Patrick Mahomes vs. Indianapolis & Andrew Luck @ Kansas City
GPP - Nick Foles @ New Orleans - $5,400
Finding a GPP quarterback play in a small field like the divisional round of the playoffs is often a tough task considering that the eight teams left in the playoffs are there for a reason. Either they earned a first-round bye due to the fact that they are one of the four best teams in the league, or they won their opening round Wild Card matchup and earned the right to continue playing. Of the eight QBs to pick from this weekend the one I will target in GPP is Nick Foles, based on his relatively low salary of $5,400, and his matchup against the No. 31-ranked Saints pass defense.
Other options to consider - Jared Goff vs. Dallas
Fade - Tom Brady vs. Los Angeles Chargers - $5,600
Brady reached the 20-point plateau just twice in his last nine games, finishing outside QB1 status for the first time in years. I am not excited to play him unless he has a cupcake matchup against a bad secondary, which is not how I would describe the Chargers.
Running Backs
H2H/Cash - Marlon Mack @ Kansas City - $5,800
The Colts know they are not built on offense to compete with the Chiefs. They also know that they have one of the better offensive lines and the Chiefs have been one of the worst run defending teams all season. I anticipate that Frank Reich will run early and often in this game to dominate time of possession and use his advantage in the trenches. Mack has at least one touchdown in each of his last five games, and at least 20 fantasy points in three of his previous four. All signs point to a strong game for Mack and a ton of volume.
Other options to consider - Ezekiel Elliott @ Los Angeles Rams
GPP - Sony Michel vs. Los Angeles Chargers - $4,700
I personally am not a big fan of Sony Michel from a fantasy or real life football perspective, as I felt that Nick Chubb was a far more talented back. But in the right circumstances, I have profited from Michel in DFS, including weeks like this were the game script suggests that the Patriots will need to run the ball heavily and use a short pass game against a tough Charger defense.
Other options to consider - Damien Williams vs. Indianapolis
Fade - Melvin Gordon @ New England - $6,200
I applaud Gordon for playing through his knee injury to help his team win their opening round game against the Ravens last week. Gordon managed to score a touchdown, but he was clearly limited in his lateral mobility and burst from the knee injury. I think he will play again this week and a touchdown is not out of the question, but with less than 20 touches I can't see him having a monster game against the Pats.
Wide Receivers
H2H/Cash - Amari Cooper @ Los Angeles Rams - $6,500
I would feel more comfortable with this pick had Cooper not run his mouth and claimed that he knew Aquib Talib and Marcus Peters inside and out. Sure, the Rams may have some bulletin board material and added incentive to limit Cooper, but it doesn't change the fact that they have been dreadful this year in pass defense. Look for Cooper to get around 10 targets in this game, with the possibility of more should the Rams go up big on the Cowboys and create a positive game script for more passes from Dak.
Other options to consider - Alshon Jeffery @ New Orleans
GPP - Mike Williams vs. New England - $4,700
The Patriots will have their hands full trying to stop the running game of Melvin Gordon and Austin Ekeler, and the short crossing passing of Keenan Allen and Hunter Henry. With Bill Belichick focusing on stopping the bread and butter of the Chargers offense, look for Mike Williams to test the McCourty twins deep and in the red zone. At $4,700 and with multi-touchdown upside, Williams is a perfect GPP play this week. It also doesn't hurt that the Patriots rank in the bottom half in the league in explosive passing plays according to Sharp Football.
Other options to consider - Golden Tate vs. New Orleans
Fade - Michael Thomas vs. Philadelphia- $7,900
Do I think Michael Thomas will be active in this game and garner a ton of passes from Drew Brees? Absolutely, but I also think he could be the focus of the Eagles secondary and deliver a game of fewer than 12 points which he's done in four of his last six games.
Tight End
H2H/Cash - Eric Ebron vs. Kansas City - $5,500
The gaudy yardage and catch totals that fans enjoyed earlier in the season are no longer there, but the red zone targets have been there for Eric Ebron, with the former Lions tight end catching a TD in each of his last two games. To make him even more attractive, Ebron gets to play against a Chiefs team that allowed the most points to opposing tight ends.

Other options to consider - Travis Kelce vs. Indianapolis
GPP - Dallas Goedert @ New Orleans— $2,800
Last week I touted Goedert as an inexpensive GPP play for owners looking to save money at tight end. Goedert came through with a touchdown, albeit on just two receptions for 20 yards. I prefer to pay up for Ebron against the Chiefs, but if you are looking for a sub-3k play, Goedert finding the end zone in what could be the highest scoring game of the week is not out of the question.
Other options to consider - Blake Jarwin vs. Los Angeles Rams
Fade - Zach Ertz vs. Houston — $5,700
For whatever reason, Ertz and Foles just don't gel quite as well as Ertz does with Carson Wentz. Add in the fact that the Saints are better at stopping tight ends (third fewest to tight ends) than wide receivers, and you have the recipe for Alshon Jeffery and Golden Tate garnering more targets than Ertz owners would like to see. I would rather save the money ago pair Goedert with a high-end wide receiver.
Defense & Special Teams
High Priced Option Worthy of the Cost: Rams ($3,000) vs. Cowboys
Well Priced with Upside: Chargers ($2,400) @ Patriots