Note: Salary amounts are DraftKings pricing


Quarterbacks
H2H/Cash - Ryan Tannehill vs. Houston - $6,500
It is still a shock to me that Ryan Tannehill has tremendous fantasy value in 2019. As one of the biggest Tannehill naysayers around, I never believed he would amount to much, and I correctly predicted his demise in Miami. Tannehill has found a home in Tennessee and looks to be their quarterback of the future. For DFS purposes, Tannehill continues to put up shockingly-good production for his price and should once again this week against a very beatable Texans secondary that was just lit up at home by rookie Drew Lock and the Broncos.
Other options to consider - Dak Prescott vs. LA Rams & Baker Mayfield @ Arizona
GPP - David Blough vs. Tampa Bay - $5,300
Blough proved in his first start in the NFL that he does have some talent and can make plays in the right matchup. He caught the Bears off guard and nearly completed the upset on Thanksgiving, with two passing touchdowns and 280 yards in the air. With Tampa Bayís terrible pass defense coming to town and a likely shootout in the Dome, Blough could be a sneaky source of points this week and wonít have a high ownership percentage. I donít have the guts to start him in my season-long playoffs, but I am willing to roll the dice on him in GPP with a Kenny Golladay stack.
Other options to consider - Ryan Fitzpatrick @ Giants & Derek Carr vs. Jacksonville
Fade - Aaron Rodgers vs. Chicago $6,300
If you take away his massive performances against subpar defenses like the Giants, Raiders, and Chiefs, Aaron Rodgers would have some very pedestrian numbers this season. Although he has averaged three touchdown passes at home against the Bears in the last five seasons, I am going to avoid starting him based on the tough matchup and the fact that he might be under siege by the Chicago pass rush.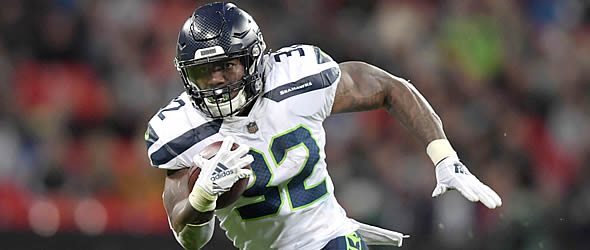 Running Backs
H2H/Cash - Chris Carson @ Carolina - $7,500
Carson is my number one running back of the week, based on a couple of reasons. First, the Panthers are decimated by injuries to their defensive line and cannot stop the run. Second, no other team in the NFC is more committed to the run than the Seahawks, and Carson may see close to 30 carries in this game with Rashaad Penny out with a knee injury.
Other options to consider - Dalvin Cook @ LA Chargers & Nick Chubb @ Arizona
GPP - Saquon Barkley vs. Miami - $7,700
Chances are if you drafted Barkley in your season-long league you missed the playoffs and are a little more than peeved at the second-year running back who did not live up to expectations. I get it, but if you are looking for someone to play in GPP and want to finally cash in on a monster Barkley game, this could be your week against a Dolphin team that gives up the second-most points to running backs.
Other options to consider - Ronald Jones @ Detroit & Phillip Lindsay & Kansas City
Fade - Joe Mixon vs. New England - $6,100
Mixon has been on a resurgence over the last month with five games of at least 17 fantasy points in his previous six, including last week's 30 point game against the Browns. While I still think he will get some volume against the Pats, the matchup is too dicey, and there are too many other running backs to target this week.
Wide Receivers
H2H/Cash - Chris Godwin @ Detroit - $7,700
This might be the best matchup any wide receiver has had this season. With Bucs heading to Ford Field to take on a terrible Lions defense, Godwin would have been a solid play with Mike Evans in the lineup. With Evans out and Jameis Winston chucking the ball downfield at the rate he has been, Godwin could be in line for an absolute mounter game.
Other options to consider - Keenan Allen vs. Minnesota & Robert Woods @ Dallas
GPP - Kenny Golladay vs. Tampa Bay - $7,200
Smooth Kenny G has a touchdown in each of his last two games and has not missed a beat with David Blough under center. The Lions get a plus matchup at home this week against a Tampa Bay secondary that is even worse than their own, making Golladay a solid start and an upside GPP stack with Blough.
Other options to consider - Allen Hurns @ NY Giants & A.J. Brown vs. Houston
Fade - Davante Adams vs. Chicago - $7,600
In staying with the theme of avoiding Packers this week against the Bears, I am fading Adams in all of my lineups this week. I don't think Adams is fully healthy and is salary is well out of synch with the production he has been providing fantasy owners.
Tight End
H2H/Cash - George Kittle vs. Atlanta - $6,200
The football world (not including the Saints fans) fell in love with Kittle when he did his monster catch and run with half of the New Orleans defense on his back and trying to rip off his helmet. Fantasy owners will fall in love with him when he comes through with a smash game this week at home against a Falcons defense that canít stop tight ends.
Other options to consider - Hunter Henry vs. Minnesota
GPP - Noah Fant @ Kansas City - $4,100
This one comes with an injury clause. If Fant is still limited with an ankle injury and canít play, owners should change to Kittle or Henry. If Fant is active, he may be the secret weapon the Broncos need to try and keep pace and upset the Chiefs at Arrowhead.
Other options to consider - Tyler Higbee @ Dallas
Fade - Austin Hooper @ San Francisco - $5,000
I crashed and burned with my recommendation to fade Cook last week against the 49ers, with Cook coming through with two touchdown receptions before leaving early with a concussion. I believe in the Niners' defense ability to stop tight ends, and I won't play Hooper again this year until I see he is back and fully healthy.
Defense & Special Teams
High Priced Option Worthy of the Cost: 49ers ($3,800) vs. Falcons
Well Priced with Upside: Rams ($2,900) @ Cowboys