Everyone knows that both Aaron Rodgers and Davante Adams studs last season. Rodgers led the league with 48 touchdown passes in route to his third MVP Award, while Adams finished as the number one wide receiver in fantasy with a season-best 18 receiving touchdowns.

Those two were excellent, but a closer look at Adamsí numbers reveals that we all just witnessed one of the greatest performances in the last 20 years. With 18 receiving touchdowns, 115 receptions, and 1374 receiving yards in just 14 games, Adams averaged an astounding 17.5 points per game in Non-PPR scoring.

Adamsí average was a full three points higher per game than Michael Thomasís record-setting season in 2019 when he caught 149 passes. In fact, at 17.5 points per game, Adams finished just half-point per game behind Randy Mossí NFL record 23 receiving touchdown season in 2007.

Bottom line: Adams was not just good last year - he posted one of the best fantasy seasons of all-time.

Who will lead the league in fantasy points at the wide receiver position in 2021? Will it be the old reliable options like Adams and Tyreek Hill, or will a new young stud like DK Metcalf, Justin Jefferson, or A.J. Brown take that next step and become the WR1? My money is on Adams repeating, but it would not surprise me to see a changing of the guard.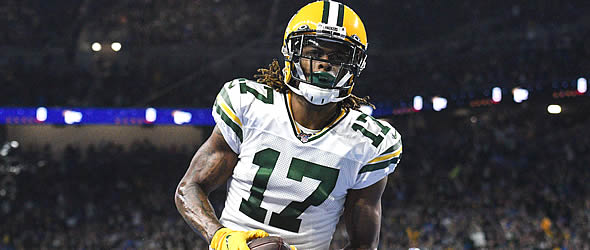 1) Davante Adams, GB: Considering that Aaron Rodgers is still his quarterback, the offensive scheme and supporting cast is relatively the same, and Adams is in the prime of his career, it is hard not to take Adams first overall. Not all targets are the same, and Adams excels in the most valuable of all targets - those in the red zone. Despite missing two and a half games, Adams led the league with 32 red zone targets that led to 14 of his 18 touchdowns. Sign me up.
2) Tyreek Hill, KC: I would be just as happy getting Hill if I could not land Adams, as Hill is a threat to score anywhere on the field and has the most dynamic quarterback in the game. Hill can beat you deep with his sprinter speed and take a quick hitch or bubble screen to the house. He also is more of a red zone threat than you may think, with the fifth-most red zone targets in the NFL in 2020.
3) Stefon Diggs, BUF: It might surprise some to see Diggs here at three, above other players like DK Metcalf and Calvin Ridley. Diggs led the league in receptions last year in his first season playing with Josh Allen. I anticipate with an entire offseason together, they will improve on their chemistry and increase the number of receiving touchdowns for Diggs. Of those three, he has the fewest question marks and the fewest threats of targets.
4) DK Metcalf, SEA: His size and speed combination is unmatched, and he boasts the best deep ball passer in the league. The only reason why he is not higher on my list is question marks surrounding Russell Wilson, changes to the offensive scheme to a more run-heavy approach, and an improving defense.

5) Calvin Ridley, ATL: The third-year breakout theory proved to be correct for Ridley, who set career-highs in targets, catches, and receiving yards while posting a respectable nine touchdowns in 15 games. With Julio Jones in and out of the lineup, Ridley was the WR1 for Matt Ryan in what turned out to be a disappointing season for the veteran QB. There are question marks regarding a new head coach and offensive coordinator, making Ridley less of a sure thing than Adams, Hill, and Diggs.
6) DeAndre Hopkins, ARI: Nuk looked like his old self with 32 catches in his first three games with Arizona, putting away any fears that he would struggle with a new system and quarterback. He would finish third behind Diggs and Adams in catches but only log a disappointing six touchdowns. You can count on close to 100 catches from Nuk in 2021, but unless Kyler Murray improves on his TD%, a double-digit scoring season from Hopkins may not be in the cards.
7) A.J. Brown, TEN: Highly ranked in the FFtoday.com Consistency Calculator, Brown caught at least one touchdown in nine games this season and continues to be a WR on the rise. I would not be surprised to see him ranked in the top three next season.
8) Mike Evans, TB: As the only player in NFL history to post seven-consecutive 1000-yard seasons to start his career, Evans has been a model of consistency with regards to yardage. His touchdown totals can be hit or miss, but it is clear that he is a favorite of Tom Brady and the Bucs pass offense should be among the best in 2021. He is not a flashy pick, but he has less risk than Justin Jefferson.
9) Justin Jefferson, MIN: Jefferson will likely go above Evans in most drafts this season because people love the sexy pick, and Jefferson was amazing as a rookie. He is an elite route runner for his age, and the connection with Kirk Cousins cannot be denied. I do think the Viking defense will be better in 2021, leading to fewer pass attempts by Cousins. Jefferson is a stud; just donít be shocked if he does not produce at the same per game pace in 2021.
10) Michael Thomas, NO: Thomas is one of my favorite bounce-back targets in the draft. After finishing as the WR1 in 2019, Thomas had a disappointing 2020 in which he dealt with injuries and a declining Drew Brees. If the team has any QB not named Taysom Hill under center, I anticipate an 85/1100/9 bounce-back year from Thomas.
11) Allen Robinson, CHI (FA): On a positive note, Robinson garnered the third-most targets last season, behind only Diggs and Hopkins. On a negative note, his dreadful quarterback play limited him to just six receiving touchdowns and a 67% catch rate. If the Bears keep Robinson and donít give him a better QB, I will move him out of my top 12. Conversely, if he leaves and goes to a better team, he could move closer to my top 5.
12) Julio Jones, ATL: The end is near for Julio. Yes, he is still a beast of a man who looks like a man playing among boys. But, his body looks to be breaking down, and Ridley appears to be doing to him what Julio did to Roddy White back in the day. Jones still has WR1 upside and could finish with 1300 yards and eight touchdowns, but donít expect him to complete for the top spot ever again.