QB Matt Ryan
(2017 QB Rank - No.14, 18.7 FPts/G)

Following his 2016 MVP season, there were high expectations for Matt Ryan and his QB4 average draft position was reflective of the overall expectation for his potential. But with the loss of Kyle Shanahan in the off-season, Ryan fell well short of his draft value. And even though he only missed the QB1 ranking by two spots, he was unreliable as a starter with only four weeks as a top 12 QB.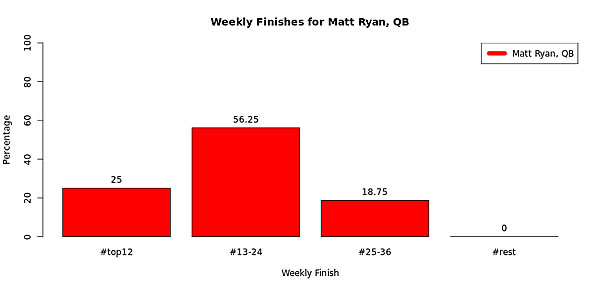 Compared to his 2016 season when he finished as a top 12 QB during 12 weeks of the season, Ryan let down most fantasy players who drafted him. And looking at his final season stats, itís clear to see why there was such a steep drop-off in production.
In 2016, Ryan posted career highs in completion percentage and a career low in interceptions, and not only did Ryan regress back to his career norms, he posted his worst completion percentage since 2011 which help contribute to his worst passing yardage total since 2010 and fewest touchdown passes since his rookie season.
Ryanís 18.7 fantasy points per game was his worst since 2009 so itís likely that 2017 was a slight outlier, however, his 25.7 points per game in 2016 also appears to be an outlier and the most likely outcome is closer to his career average in the 21 or 22 point per game range. His current ADP is QB12 in the middle of the 9th round. While heíll likely finish in that range, heís not a QB you need to take. My preference would likely be to pass of Ryan for later round quarterbacks even if heís due for positive regression.
RB Devonta Freeman
(2017 RB Rank - No.12, 11.9 FPts/G)
If you had expectations of a leap for Freeman into the elite tier of RBs, 2017 was probably a disappointment and with his lowest fantasy point per game average since becoming the starter, he definitely failed to live up to those lofty goals. But Freeman went a long way in helping his owners win weeks with six double-digit scoring weeks including two weeks over 20 fantasy points. And while weeks 6 through 13, likely upset owners with two missed games and another when he left early, Freeman never really busted when he played. Other than the week he left with an injury, he scored at least 5 fantasy points in every game he started.
Owners who drafted Freeman to be the workhorse anchor to their team almost certainly didnít enjoy his performance, but that has brought his ADP down into the 2nd round which fits his fantasy profile much better. His increased value in PPR leagues is somewhat overstated as his target count has decreased each of the last two seasons, but in both standard and PPR scoring heís a viable RB1 who can now be drafted as RB11 in the middle of the second round. If heís paired with another mid-RB1 or elite WR, heíll likely be perceived as a value as compared to last season.
RB Tevin Coleman
(2017 RB Rank - No.22, 11.2 FPts/G)
Oh how much fun this backfield could be if there was a true workhorse. You canít blame the coaching staff for splitting carries between the two backs, but drafters can wonder about the potential for either Coleman or Freeman if the other one werenít around. Coleman set a career high with 156 carries and maintained a 4 yards per carry average with the additional work. While it was a noticeable drop of nearly 25 fantasy points for the season, Coleman still managed a RB2 finish despite the overall scoring problems with the offense.
Entering 2018, itís likely that Coleman continues to get a bigger workload and entering the final year of his contract, itís possible that the team could utilize him without caution particularly if this is his last season with the team. Currently, heís being drafted as the RB31 which indicates that most drafters believe heís the premier handcuff with RB3 standalone value. But if the offense can rebound as a whole, it has sustained multiple RB2s and heís a strong candidate to benefit. At the back of the 6th round, Coleman is maybe the best bargain of the Atlanta RBs.
WR Julio Jones
(2017 WR Rank - No.6, 10.2 FPts/G)
Itís strange to say that a wide receiver who finished as the WR6 was a letdown, but for most, Julio Jones was just that. While his big weeks were huge, his lack of scoring limited his upside for the majority of the season.




The biggest concern with Jonesí season is how drastically Week 12 changed the final outcome. Even removing 20 points from his 38.8 point week (which still would have been his best week of the year), Jones falls from WR6 to WR15. So rather than being a WR1 for teams, Jones produced in the range of a WR2 and inflated his final points with an astronomical week.
But there are some positive takeaways. Particularly in standard scoring, youíre chasing touchdowns, but Jones managed a top 10 finish with only 3 TDs for the season indicating that he has high-end value even if touchdowns donít follow. He ranked 3rd among all receivers in total air yards and he had 19 total targets inside the 20 yards line. Jones can be drafted as the WR4 and has an ADP in the 2nd round. At that price, if he can score a few extra touchdowns, he could be a steal.
WR Calvin Ridley
(2017 WR Rank - NA)
Ridley fell a little further in the draft than most experts projected, but he was still selected in the 1st round and arguably went to one of the better landing spots. Early depth chart projections have Ridley ahead of Mohamed Sanu for the WR2 spot, putting Sanu in a primarily slot role. For the dynasty community, there were serious questions about Ridleyís age and his long-term probability to become a WR1, but for redraft, his route running and draft capital put him in a decent position to succeed in year 1.
In 2017, the WR24 scored 120.7 fantasy points in standard scoring leagues. Since 2000, only 25 wide receivers have scored this many points during their rookie season. Of this group, Lee Evans had the fewest targets with just 75. Ridley will likely need at least this many targets to become a WR2 and since 2015, Dan Quinnís WR2 has averaged 14.7% of the teamís targets which would have been 78 in 2017. If Ridley can manage that workload, he could be a WR3 with WR2 upside, but the most likely outcome is that Ridley will be a WR4 with flex value.
WR Mohamed Sanu
(2017 WR Rank - No. 37, 6.8 FPts/G)
Sanu set a career high in receptions in 2016 with 59 and subsequently bested that in 2017 with 67. While his yardage efficiency has dropped slightly from his time in Cincinnati, Sanu has been a viable second WR for the Atlanta offense since joining in 2016. As a fantasy asset, heís been mostly a spot start.
The WR37 finish is indicative of what Sanu truly was in 2017. He was slightly up and down in his usage, but most weeks he received at least 6 targets and turned that into baseline production. If he scored a touchdown, he was a high end WR3. If he didnít, he was a replacement level player. With the addition of Ridley and loss of Taylor Gabriel, Sanu should still be in line for 5 or 6 targets per game which will add up to replacement level flex value that could come in handy during bye weeks.
TE Austin Hooper
(2017 TE Rank - No.18, 4.4 FPts/G)
Even with more than double his rookie season targets, Austin Hooper was largely unusable in 2017. After starting off with a massive 128-yard, 1 touchdown game, Hooper failed to eclipse 6 fantasy points for the next six weeks. Hooper did manage to score double-digit fantasy points three times during the year, but his scoring during the other weeks made him nearly impossible to start.
If his workload increase from rookie to sophomore season is any indication, the Falcons plan on using Hooper as a legitimate 5th receiving option. Whether that has any fantasy value will be determined by Hooperís efficiency improvements. Entering draft season, he can likely be ignored, but he could be a decent in-season pick up if heís receiving 3 or 4 targets per game.