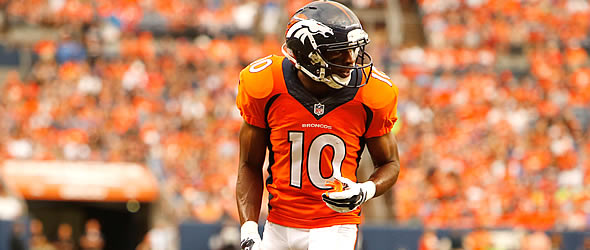 A trip to New Orleans and easy remaining schedule makes Emmanuel Sanders a buy-low candidate.




Week 9 Review



Let's start out by quickly taking a look at last week's undecided…



Hits:



(Sell) Philip Rivers: As expected, Rivers turned in a multi-touchdown game against the Titans and could have had a bigger game if it wasnít for Melvin Gordon and the defense accounting for 3 TDs. Rivers gets a baby soft schedule coming up and hopefully you picked him up in time.

(Buy) Doug Baldwin: Itís clear when you watch the Seahawks that Baldwin is an integral piece of the offense. It appears only Jimmy Graham and Baldwin are relevant in the pass game, and Baldwinís stock will only rise with the coverage attention Graham will be getting after a breakthrough game.



Undecided:



(Buy) Kenneth Dixon: Iíd be lying if I wasnít excited about his 9 carries last week. Iím not giving up yet as he could easily breakout against the Browns this week. Dixon is definitely worth rostering in 12 team leagues and if he doesnít do anything in this prime matchup Iíll finally take the ďMissĒ.

(Buy) Jarvis Landry: Meh. Landry had a quiet game against the Jets, and mostly because Jay Ajayi carried the offensive load. If this keeps up this week against the Chargers, than I will have to move him to the misses. Hold tight!



Misses:



(Buy) Mike Wallace: Outside of taking a slant 95 yards to the house, Wallace did almost nothing (3 catches for 29 yards). I said I would take the miss if he went off, and here we are.


Trade recommendations after nine weeks...




Week 10






The Bait:



Colin Kaepernick: Kaepernick got the New Orleans Saints and like everyone else who plays them, he threw for a over 300 yards and multiple scores. This isnít time to invest, this is time to sell. He gets a tough matchup against the Cardinals followed by the Patriots and then the Dolphins. Package him up with another player and ship him out the door.

DuJuan Harris: 142 yards and a touchdown is a solid game for a young player like Harris. Some might see this as a spring board to fantasy value the rest of the way. Not this guy. Carlos Hyde is regaining strength and the 49ers donít get the luxury of playing the Saints every week. Move on if you can.

Chris Ivory: 18 carries for 107 yards against the Chiefs? Impressive numbers to say the least. What I donít like about Ivory is his ineptness in the passing game. If the Jaguars were a team that benefited from clock killing scenarios, than I would be all over this bruiser. They arenít so Iím not. Game scripts will force the Jaguars to be in pass-friendly formations (3 and 4 wide sets) that donít suit Ivoryís skill set. Package him up with someone else and try to buy low into a higher ceiling player.

Buy-Low Candidates:

Emmanuel Sanders: The Broncos receivers have been largely a bust this whole year because of lackluster QB play. Enter the Saints defense, a team who let up nearly 400 passing yards to Colin Kaepernick making it easy to project Sanders for WR1 numbers. After this week, he gets a bye and the easiest schedule for receivers (KC, JAX, TEN, NE, KC). Given he has only turned out WR3/4 numbers for the past four weeks, you should be able to buy in at the basement floor. Do so and reap the rewards!

Le'Veon Bell: I never thought Iíd be featuring such a stud in buy-low, but let's do it. In five games after his three-game suspension, Bell has yet to log a rushing touchdown. This is no cause for concern, but it's an angle you should look to play up in your conversations this week in with the trade deadline looming in most leagues (if you have one in place). He is a workhorse back with elite RB1 upside so feel free to give up some premiere talent to land him. You won't be let down as his schedule gets extremely beatable after this week in Dallas.

I'm constantly wheeling and dealing so hit me up on twitter, the comments section, and/or email for advice.

As always keep those conversations active and hopefully you can land some premier talent!

---
Follow me on twitter @ZeroRBJoe for any questions about trades, lineups, or anything fantasy football related.