Breakout Weekend




9/16/10



Aggressiveness is a characteristic that tends to reward fantasy owners more times than not. In the NFL, an offensive line will sometimes hold up long enough to give the quarterback enough time to beat man coverage down the field and make the defense look foolish against a fierce pass rush. More often than not, though, when a defense brings the heat and forces the action, crisis management becomes the name of the game for the opposing team.

In that same vein, I hope to apply that same kind of pressure to the owners in all of my leagues by beating my opponents to the punch in regards to personnel moves. Sometimes, reaching a conclusion about a player too quickly is much like trying to blitz Peyton Manning – dangerous and painful. However, coming to a correct conclusion two weeks or two minutes quicker than your opponents is considered foresight. Fantasy owners can be a uneasy lot, knowing that one two-or-three-game losing streak can wreak irreparable damage to his/her team's chances to make a visit to the fantasy postseason. But just as it is in the NFL and in life, it's hard to land the big prize by playing scared. Thus, I will strive each week to help each of you become a smart blitzer, so to speak.
---
The first weekend of the fantasy football season every year is much like a first date, for as much as we know going in, honestly, there is so much more that we just hope works out for the best. It's been like this every year I've played fantasy football and I don't anticipate changing anytime soon.
Another aspect of fantasy football that never seems to change is the phenomenon of the Week 1 "breakout" player. Is he Michael Turner (circa 2008), a player that goes from a hopeful RB2 fantasy prospect to a pretty solid RB1? Or is he Frisman Jackson – a player who explodes onto the scene like the Browns' receiver did in 2005 (eight catches, 128 yards and a score in Week 1 of the 2005 season) only to never really be heard from again?
How do we separate the "here-to-stay" players from the flameouts? Every case offers its own unique characteristics, so it certainly doesn't hurt to take a few of the breakout players and see what they offer fantasy owners long-term. Let's take a look at the players who "exploded" onto the scene in Week 1 and access each player's chances at becoming the next Turner or the next Jackson. (I should note for the sake of time and space, I will limit myself to the ten players I will detail below. Certainly, there are other players such as Peyton Hillis, Hakeem Nicks or Austin Collie who deserve at least a mention, but I want to stick to the group of players that caught my eye the most this past weekend.) So, as opposed to strictly digesting a player's Week 1 stat line and his chances for success down the road, I'd like to also see if this was something we could see coming.
In other words, I'll use my final Big Board ranking as the "past", the Week 1 line as the "present" and my own opinion as the "future". To keep it fun, I'll introduce the "Turner-Jackson meter" to measure just how confident I am in the player's ability to produce for the rest of the season. I'll use a scale of 1 to 10, with the former meaning the player has next to no shot at maintaining his Week 1 momentum (Frisman Jackson) and the latter meaning he is a good bet to do so (Michael Turner).
Arian Foster
Past: PPR: #10 RB, #18 overall; Non-PPR: #10 RB, #20 overall
Present: 33 carries, 231 yards, three TDs; one catch, seven yards

Future: Let's just say Foster's breakout wasn't the surprise; it was more to the degree he broke out. Also keep in mind that Indianapolis is prone to playing run defense like it is on skates and that Foster won't be seeing 34 touches/week very often, so it probably goes without saying that his 16-game projections of 528 carries for 3,696 yards and 48 TDs may be asking a bit much. But my high ranking of him in the preseason was not based on what I thought he could do on the basis of one or two career-best weeks; barring injury, he is here to stay. With multiple dangerous threats in the passing game, Foster doesn't figure to face the stacked fronts Turner did in 2008 during his career-best season, so the Texans' RB could very well have a few more huge games this year.

Turner-Jackson meter: 9.5
Tony Scheffler
Past: PPR: #16 TE, #136 overall; non-PPR: #15 TE, #142 overall
Present: Six catches, 43 yards

Future: With Matthew Stafford lost for the next few weeks, Scheffler's immediate future is a bit dicey. Interim starter Shaun Hill is considered a "game manager" and will not be asked to go downfield near as much as Stafford, but that actually might benefit the ex-Bronco. Hill showed last season he can work well with a talented TE – he connected with Vernon Davis 22 times for 256 yards and three scores through five games – so it isn't as if Scheffler's production should fall off much minus Stafford. The Lions spent all offseason wanting to use the pass-catching TE in the same fashion the Colts use Dallas Clark, so don't expect a QB change to stop that way of thinking. Week 1 showed he will be used (seven targets), so find a spot on your roster for him if you have any questions about your current TE. I don't think a repeat (or slight improvement) of Scheffler's 49-549-5 line from 2007 is out of the question.

Turner-Jackson meter: 6.6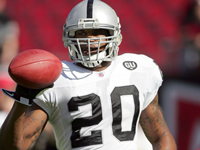 McFadden: Ripe to sell after Wk 2.
Darren McFadden
Past: PPR: #41 RB, #105 overall; non-PPR: #41 RB, #95 overall
Present: 18 carries, 95 yards; six catches, 55 yards, one TD

Future: McFadden's talent has never been in question; his biggest obstacles so far in his NFL career have been breaking tackles and staying healthy, the latter of which greatly contributed to my low ranking of him this season. For the first time as a Raider, McFadden has an OC in Hue Jackson that isn't opposed to thinking a bit outside the box in order to get his best players the ball. But as we know, one week does not a season make and McFadden has "exploded" before, only to see his season get bogged down weeks later due to an injury. However, his career-high six catches vs. the Titans does create some optimism in regards to his ability to carve out a Reggie Bush-type of role in this offense. HC Tom Cable does seem to favor a RBBC approach, so McFadden owners may be wise to sell after Week 2 vs. St. Louis, assuming Michael Bush must sit out another game. As much as Al Davis loves McFadden, Bush has two years worth of solid production that suggests he deserves at least an even split of the carries.

Turner-Jackson meter: 6.5
Legedu Naanee
Past: PPR: #49 WR, #133 overall; non-PPR: #54 WR, #136 overall
Present: Five catches, 110 yards, one TD

Future: This is a player that I have been waiting on since about the time LaDainian Tomlinson started singing his praises in Naanee's rookie year. The former Boise State standout was already having a decent fantasy game when the Chiefs' secondary took DC Romeo Crennel's orders to stop Antonio Gates a little too seriously, as three defensive backs bit on the TE's out route. As a result, Naanee scored from 59 yards out on one of the worst blown coverages you'll likely ever see in the NFL. Naanee will outperform Malcom Floyd from time to time, but don't expect it to happen regularly. Despite having the better day in fantasy in Week 1, Naanee saw eight targets vs. the Chiefs as opposed to Floyd's 12. But that should not deter owners from making a play for the 6-2, 220-pounder if he is a free agent in your league as he is in a few of my money leagues. In this offense and with a QB as good as Philip Rivers, no regular Chargers' starter should be on the waiver wire. He's a worthy WR3/flex candidate who is a pretty decent bet for 50+ catches and 5-6 TDs.

Turner-Jackson meter: 6.1
Mark Clayton
Past: NR
Present: 10 catches, 119 yards

Future: In all fairness, Clayton was traded to St. Louis the same day my last Big Board was due, so suffice it to say that predicting he would have a huge Week 1 (or season, for that matter) wasn't in the cards. Even then, it wasn't until the day after the Big Board went up that the Rams announced he would be installed as the "Z" receiver (Donnie Avery's old flanker position). Nevertheless, in Week 1, it showed that Clayton and QB Sam Bradford worked out together a bit in the offseason (both are Oklahoma alums). While it is clear from the preseason that Bradford trusts Danny Amendola, the Rams' first game is a pretty good indication the former Sooners have a good connection as well (16 targets). As with McFadden above, Clayton has never lacked for talent but has been beset by injury and inconsistency. Assuming good health, Clayton's fantasy prospects in St. Louis are surprisingly good, at least in PPR leagues. It became increasingly clear over the past couple of seasons that Clayton had lost the faith of QB Joe Flacco as well as Ravens' coaches and front office personnel. In St. Louis, he is the most talented receiver Bradford has, so while every week won't be a repeat of Week 1, Clayton has better staying power than one might think despite playing for a below-average offense.

Turner-Jackson meter: 5.9
Vince Young
Past: #22 QB
Present: 13-17 for 154 yards, two TDs; seven rushes for 30 yards

Future: We've seen this kind of performance before from Young – a low-yardage passing total buoyed by a pair of passing TDs and a healthy rushing total. The main difference with Young late last season and in Week 1 is that he is taking advantage of defenses down the field more often than he ever did earlier in his career. With Chris Johnson almost always commanding an eight- or nine-man front from defenses, it could be argued that no QB will see the kind of easy reads that Young is likely to benefit from so long as CJ stays healthy. While posting a solid line (especially from an efficiency standpoint) against a good pass defense like Oakland is impressive, Young's immediate fantasy future is that of a backup in 12-team leagues. He's probably not going away anytime soon, but he's probably also not going to singlehandedly deliver owners a fantasy title either.

Turner-Jackson meter: 5.0
Brandon Jackson
Past: NR
Present: 18 carries, 63 yards; two catches, 12 yards

Future: Admittedly, Jackson didn't exactly "break out" last week, but if ever there was a predictable future "explosion", Jackson might be it. First off, the Packers' Week 2 matchup vs. the Bills already figured to be one in which Jackson would get some play as a flex option in deeper leagues, but that all changed with one drag-down tackle of Ryan Grant in the second quarter of Green Bay's Week 1 win over the Eagles. In that moment when Grant sustained season-ending ankle and leg injuries, Jackson went from a serviceable bench player in PPR leagues to a legitimate RB2 candidate in 12-team leagues, if not 10-teamers as well. Jackson clearly has the trust of HC Mike McCarthy to be the every-down back. In fact, the coach even told the Milwaukee Journal-Sentinel last month that Jackson was a "complete back" and that "if we had to play all three downs with him, I wouldn't even blink". While it is always nice to hear the coach speak in such glowing terms, Jackson's durability record and lack of game-breaking talent suggest he may only be the waiver-wire pickup of the week and not the year. This is not a case of an elite talent that has just been waiting for a chance to burst onto the scene. I would acquire him (if I could) this week and use him this weekend in a tasty matchup vs. Buffalo before seeing what he could bring me back in a trade. I get the sense that once rookie James Starks comes off the PUP list, the Packers will evolve into a RBBC backfield.

Turner-Jackson meter: 4.5
Josh Freeman
Past: #20 QB
Present: 17-28 for 182 yards, two TDs; two rushes for 34 yards

Future: The best thing a front office can do for its young QB is surround him with receivers capable of making big plays. It is already pretty clear Freeman and the Bucs are enamored with rookie Mike Williams, who commanded nine of the 18 targets Tampa Bay receivers saw in Week 1. But getting back to Freeman, keep in mind that he and most of his offense are just in the beginning stages of their career and, thus, their development. Freeman's ability to run will make him useful in fantasy – much like Young or David Garrard - until he becomes more accurate and comfortable in the pocket, but his reliability in fantasy will be just about what one would expect from a second-year QB who has made 10 career starts. As such, he'll likely need at least another year with his young receiving corps before he becomes an every-week consideration in larger leagues.

Turner-Jackson meter: 3.3
Brandon Lloyd
Past: NR
Present: Five catches, 117 yards

Future: Based entirely on his time as a Bronco, one might get the idea that Lloyd is a fairly reliable receiver. (In three career games over the past two seasons with Denver, Lloyd has caught at least four passes in each game, posting at least 95 yards in two of the three contests.) But much as I referenced above how the beginning of a new fantasy football season is like a first date, Lloyd is like the ex that continues to tempt you even though you know it will end badly. Now on his fourth team, the eight-year veteran has kept the same M.O. throughout his career: he'll make the highlight-worthy catches and drop the easy ones. While he does have a bit of history with QB Kyle Orton (both played for Chicago in 2008), it's going to be hard to believe that Lloyd has found his perfect team and scheme fit in Denver. He's worth adding in 12-team leagues, but he's also deserving of a quick hook if he can't follow it up in the next week or two. In other words, spend your free agent dollars or waiver priority somewhere else if you can – history says counting on Lloyd is likely an exercise in futility.

Turner-Jackson meter: 2.5
Evan Moore
Past: NR
Present: Three catches, 87 yards

Future: One of my favorite late-season bloomers last season, Moore just won't go away, even with the change at QB and the addition of Benjamin Watson. However, it is hard to like (or recommend) any player that is playing for such a wretched offense and a mistake-prone QB like Jake Delhomme, so it is difficult to imagine Moore consistently producing in the same way that a receiving TE like Tony Scheffler will in Detroit. Touchdowns will be few and far between, but Moore is a dependable enough receiver to turn in a few more useful stat lines like he did in Week 1. It needs to be said that Cleveland won't get to play the Bucs every week and let's not forget that with HC Eric Mangini roaming the sidelines, no Browns player is ever a truly "safe" play in fantasy.

Turner-Jackson meter: 2.0
Hot Reads
I don't plan on making this a regular feature of the Blitz, but there were a few nuggets I felt like I needed to comment on regarding the events of Week 1:
* I must admit that year after year, I'm surprised how many teams do not show up for the first game of the regular season. Certainly, the caliber of opponent can play a large role in whether or not a team appears "flat" or "unprepared", but I must admit the performances of the Bengals, Niners and Jets (offense only in New York's case) this past weekend was inexcusable.

In Cincinnati's case, it was a complete team loss. I saw nothing resembling the aggressive defense that was promised in the offseason. Despite owning one of the best CB trios in the league, the Bengals' CBs consistently played too far off of Randy Moss and Wes Welker. If ever there was a time to get physical with the Patriots' WRs, especially Welker, Week 1 was the time given the unsure status of his knee. Sure, the Pats did a good job of featuring Welker, but at no time during the game did I see Johnathan Joseph, Leon Hall or Adam Jones challenge Welker off the line of scrimmage, thus it is hard for me to suggest he is "back". As a result, I'm not on the "he's back" bandwagon until I see a DB actually challenge him consistently.

On offense, the Bengals did not even come close to imposing their will on the injured Patriots' front seven, nor did they seem all that committed to testing New England's young CBs all that much either. It's already apparent Jermaine Gresham is a physical mismatch for just about any defender and Jordan Shipley is going to be a stud in the slot for some time. However, while a team like the Pats seem to know how to make sure every key player gets involved, a team like the Bengals seems to struggle doing the same because they are more committed to a philosophy (being physical in the run game) than they are in exploiting a weakness in the defense or featuring their best playmakers (Chad Ochocinco, Terrell Owens and the two rookies mentioned above). I'd even argue that Bernard Scott is a better fit in the "new" Bengal offense than Cedric Benson. All things considered, it probably wasn't such a bad thing for the Bengals to get humbled like they did by the Patriots because, for most of the first half anyway, Cincy appeared to be reading its own press clippings.

While the Bengals actually mounted a bit of a comeback in the second half of their Week 1 game with the Patriots (thanks in large part to New England's soft second-half defense), it could be argued the Niners never left San Francisco. Say what you will about Pete Carroll as the Seahawks' new coach and convincing his team they could win, but I highly doubt another team this season will be able to hold the Niners' offense to six points and 49 yards rushing. It's a sad day when a team must hold a team meeting after the first regular season game, but it was probably a necessary move. Interestingly enough, San Francisco believes a big part of its problem has to do with poor communication as a result of OC Jimmy Raye's tendency to "garble" his play calls. With the problem hopefully being ironed out this week, expect a much better showing vs. the Saints at home in Week 2, with a tough, physical yet convincing win over New Orleans a distinct possibility.

For every bit as impressive as the Jets' defense was, their offense was that bad. Throughout most of the second half I found myself thinking how incomprehensible it is that an offense can look so bad after going through months of passing camps, mini-camps and training camps. There is nothing wrong with a conservative game plan so long as the defense is good enough to make it stand up. But outside of a few runs from LaDainian Tomlinson, there wasn't a single part of the offense to get excited about all game long. Worse yet, I've long found it hard to defend an offensive coordinator who doesn't attack the weakness of the defense he is facing. With the Ravens top three CBs either out for the season (Domonique Foxworth) or still recovering from ACL surgery (Fabian Washington, Lardarius Webb), it had to cross the mind of OC Brian Schottenheimer to take a few shots downfield or, at the very least, make sure his receivers tested the Baltimore DBs with some double moves. Watching the Jets' game plan vs. the Ravens, it was as if the Ravens still had Chris McAlister and Samari Rolle in their prime guarding Jerricho Cotchery and Braylon Edwards.

Honorable mention for the Week 1 blues goes to Chiefs' offense. It would be too easy to spend a great deal of time on the most egregious error – deciding to give Thomas Jones and Jamaal Charles an equal number of carries (11) – so I will digress. But there is really no good reason why Charles cannot handle 12-15 carries and 3-5 catches every game, with Jones coming in as the "closer" given that he is so unlikely to fumble (13 lost fumbles in 2,580 career touches – a rate of one lost fumble every 198 touches). Another beef I had has to do with the lack of trust in QB Matt Cassel. One of the first things OC Charlie Weis said upon arriving in Kansas City was that his goal was to "fix the quarterback". While I am somewhat relieved that HC Todd Haley acknowledged that the weather conditions played a large role in the play-calling on Monday night, it doesn't excuse the fact that Charles, Dwayne Bowe and rookie Dexter McCluster – three dynamic playmakers – combined for a whopping four catches and 30 receiving yards. Nothing short of the "Fog Bowl" can really excuse that level of inactivity. Yes, getting the win is what is important, but seeing Cassel go 10-of-22 for 68 yards is probably not what Weis had in mind when he wanted to "fix the QB".
* An article from the Wednesday edition of the New York Post caught my eye. In short, HC Rex Ryan acknowledged (in retrospect) that he should have used CB Darrelle Revis to "shadow" Anquan Boldin, who went off for seven catches and 110 yards on Monday Night Football. He instead opted to leave Revis on the left side throughout the game instead, but it was his reasoning that blew my mind: he didn't want to wear Revis out with all the extra running that he would need to do pre-snap as a "shadow" because receivers rarely stay on one side of the formation for more than a few plays at a time. Now, I'm certainly not the end-all and be-all of football knowledge or defensive execution, but this rationale strikes me as insane (to be kind) for a player that is being asked to backpedal, sprint, cut and jump on roughly 30 pass plays and asked to help support the run on another 30 or so. If Revis is in good enough shape to last through 60 plays without much work in training camp or preseason action, it's a good bet that pre-snap running isn't going to wear him out.
* A final subject I will touch on regarding Week 1 is the state of panic many fantasy owners feel when the final Monday Night Football game has come to an end and their team(s) is/are 0-1. It's only natural to look at the limited number of opportunities we have as fantasy owners to steer our teams to the postseason – for those owners who begin their fantasy playoffs in Week 14, every week counts as 7.7% of our regular season schedule – and believe that if a certain player didn't deliver in Week 1, he needs to be given his walking papers from our team(s). In most cases, we must ask ourselves if we could have seen a certain player disappointing in Week 1 (Mike Sims-Walker going head-to-head with Champ Bailey, Joe Flacco facing the Jets' vaunted pass defense, etc.) and go from there.
A Week 1 loss in fantasy stinks; take it from someone who spends as much time at this hobby as anyone. But one week does not shake the confidence I have in the teams I drafted, so I've learned to only make a move if I can easily explain why the transaction is a necessary one. For example, in one league, I'm making the difficult call to cut ties with Julian Edelman for Naanee. I won't know until after this article hits the site whether or not I landed Naanee, but my rationale for the move is simple: Naanee has a starting job and may have it all season long in a very good offense while Edelman (who is dealing with a bum ankle right now) needs an injury to Wes Welker to become a possible every-week starter for me. I've been saying for months now that I have a feeling Welker is a poor bet to make it through the season, but that also doesn't mean I can sit back and wait for it to happen either. There was a time not too long ago that Vincent Jackson was just a big, raw receiver himself. Even though I don't like Rivers this year as much as I have in years past, he is still one of the league's elite QBs and HC Norv Turner is still one of the better play-callers in the NFL.
The Blitz will return next week with some touch/target analysis for just about every player worth owning in fantasy leagues.

Suggestions, comments, musings about the article or fantasy football in general? e-mail me.