All Out Blitz: Volume 58




12/6/12



Aggressiveness is a characteristic that tends to reward fantasy owners more times than not. In the NFL, an offensive line will sometimes hold up long enough to give the quarterback enough time to beat man coverage down the field and make the defense look foolish against a fierce pass rush. More often than not, though, when a defense brings the heat and forces the action, crisis management becomes the name of the game for the opposing team.

In that same vein, I hope to apply that same kind of pressure to the owners in all of my leagues by beating my opponents to the punch in regards to personnel moves. Sometimes, reaching a conclusion about a player too quickly results in making a bad situation worse. However, coming to a correct conclusion two weeks or two minutes quicker than your opponents is considered foresight and can often lead to fantasy championships.

Fantasy owners can be a uneasy lot, knowing that one two-or-three-game losing streak can wreak irreparable damage to his/her team's chances to make a visit to the fantasy postseason. But just as it is in the NFL and in life, it's hard to land the big prize by playing scared. Thus, I will strive each week to help each of you become a smart blitzer, so to speak.


---

For those of us that spend any amount of time with this hobby, we learn pretty quickly that advice is relative. One of the oldest fantasy clichés is "never sit your studs". As we begin the fantasy playoffs, I'd like to give you a recent example of my latest dilemma with that conventional wisdom.

In my biggest PPR money league, I selected Brandon Lloyd and Mike Wallace to be my regular starting receivers during my draft. Unlike others who owned those two receivers, I was generally happy with their production through the first half of the season. However – and this is one of the few times you will ever see me use an absolute term – I never got to the point where I was satisfied or content with them. Over the course of the season, I was able to scoop up Josh Gordon, Danario Alexander and Cecil Shorts off blind-bid waivers to protect me in case of injury. As it turns out, I very much doubt I will play either Lloyd or Wallace in the fantasy playoffs and it had nothing to do with either player getting hurt.

Yes, I get it. Lloyd and Wallace aren't your traditional "studs". And maybe the cliché is meant more for the Calvin Johnsons and Arian Fosters of the world. And in those cases, I'm in total agreement. But that's the problem with this kind of thinking in the fantasy football world: where do you draw the line? Who are "the studs"? How long does a player have to underperform before he loses his "stud" status?

One of the reasons I qualified for the playoffs in this league was because, two weeks ago, I made the very difficult decision to bench Wallace and Lloyd and start Alexander and Shorts. No one told me that Alexander and Shorts had achieved stud status just like no one told me that Wallace and Lloyd were no longer studs. (In fact, Shorts was just starting to achieve some degree of consistency and Alexander was merely a talented yet injury-prone shot-in-the-dark that only desperate managers would even consider adding.) Sometimes, half of the battle of making the fantasy playoffs each year is figuring out why certain players that should thrive end up struggling and making the difficult decision to sit them. Sometimes, it comes without much warning (Lloyd – a reliable WR2 in PPR before the bye and virtually invisible after it) while other times it is more predictable (Wallace – first a holdout, then problems with drops and finally injuries at QB).

"Never sit your studs" at its very core is a foolproof advice because it doesn't have to account for who the studs are and absolves you of any blame if they don't meet expectations. The goal of fantasy football is to win your league title, not dodge ridicule. I still recall a championship game I lost back in 2006 when I played Willie Parker in an impossible matchup vs. Baltimore because he was a "stud" instead of playing the matchup with Ron Dayne vs. a historically bad run defense in Indianapolis because I subscribed to the "never sit your studs" advice at that time.

Perhaps the fantasy football lesson to be learned here is that while it is good to be happy with your starters at a certain position, it is never a good idea to be satisfied with what you have. In other words, from the moment your draft ends until the time you submit your final lineup in Week 16, a redraft owner needs to analyze and re-evaluate his/her team and see if a waiver-wire darling is waiting to be scooped up. The search for talent shouldn't end as long as there is another game to be played. As for an answer to the "never sit your studs" wisdom, that is a relative statement. As with most questions in fantasy football, it depends on a number of factors including league scoring and number of teams, bench options and upcoming opponent(s). This is one reason why I spend an inordinate amount of time on the matchups during the summer: if I've already prepared for some or most of the factors that will influence player performance before my draft and early in the season, then I should be in the best shape possible to eliminate most of the difficult lineup decisions I know I will have to make late in the season.

On to the analysis of the Week 13 games:

Saints-Falcons

Drew Brees threw five interceptions in this game. I hate to say it, but those types of games will happen from time to time. (I vividly remember Peyton Manning's six-pick game against the Chargers a few years ago.) Instead, my focus is more on the curious use of Darren Sproles, who might have as well been invisible for 2-3 series at a time (despite leading the Saints' backfield with 36 snaps). He seemed to be an afterthought in the first half until they entered the red zone, when it became apparent he was the only option on three or four of the final five plays. It was that series – as much as any other one – that determined the game since New Orleans came up empty on that drive.

The Falcons ran the ball eight times for 98 yards in the first quarter – five times for 71 yards on the first drive alone – and somehow only finished with 124 yards rushing on 23 carries, with three of carries coming on kneel-downs from Matt Ryan. While it is important for a team to establish an identity and make sure to keep its best players heavily involved in a game each week, it seems a bit strange when an approach or play is working so well that a play-caller would abandon it. In this game, the running game helped Atlanta jump out to a 14-0 lead after four possessions. In most cases, this topic wouldn't have been worth a write-up here, but when a team that isn't particularly good at running the ball is having success at doing it against a team that has no prayer of stopping it, why not continue?

Fantasy implications: Sproles appeared to see much more action in the second half and looked to be bothered by the hand injury as he did drop a pair of passes he typically catches. He's still the best weekly bet of any New Orleans RB and probably a low-end RB2 at best now in PPR because his usage has been erratic for most of the season. The Falcons play the Panthers, Giants and Lions during the fantasy playoffs – none of which possess the Swiss-cheese run defense of the Saints. All of them would be considered neutral matchups at best for an average featured RB, but with Jacquizz Rodgers now seeing about as many snaps as Michael Turner, it is hard to trust either one as anything more than a low-end flex.

Vikings-Packers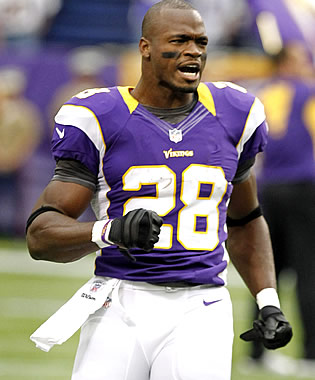 Without Harvin, it will be the Peterson & Rudolph show the rest of the season in Minnesota.
It's easy to conclude from the box score that Christian Ponder had one of "those" games. But it was clear in the first half that he had no intention of throwing the ball to a receiver – almost as if he had been instructed to avoid them – as all four of his first-quarter attempts went to Kyle Rudolph (three) or FB Jerome Felton. It wasn't until a pass in the direction of Devin Aromashodu with just over nine minutes remaining in the first half that a receiver was even targeted by Ponder. And it wasn't until Jerome Simpson's 17-yard catch with about 2:50 left in the game that a wide receiver actually caught a pass. While Ponder's two interceptions were the result of him forcing passes, I didn't actually see his intended receiver gain separation on any his throws until the Simpson catch.
Fantasy implications: This was a game that was yet another reminder of the lack of talent the Vikings have behind Percy Harvin at receiver. I think it is safe to say one major reason why Ponder isn't going to get benched anytime soon is because the coaching staff realizes it too. Jarius Wright has some ability in the slot, but beyond that, it appeared to me that Ponder was instructed to tuck it and run if his first read (usually Rudolph) wasn't available. Now, with Harvin out for the season, it looks like it will be the Peterson-and-Rudolph show from here on out.
Cardinals-Jets

Excluding the so-called elite signal-callers that can sometimes make something out of nothing, a working definition for the average NFL quarterback is one that can maximize the opportunities he is given and minimize his mistakes. No one should be expecting Ryan Lindley to be an average quarterback this season and, given what is in front of him, that transition won't be happening anytime soon. Conversely, in his fourth season, we should be seeing tangible signs of progress from Mark Sanchez. Not only is that not happening, but Sanchez is getting worse. To be fair, most football people knew Sanchez wasn't going to have the necessary weapons to help disguise his flaws, but a quarterback can always opt to throw the ball away as opposed to forcing it into coverage and Sanchez routinely makes you (and probably the coaching staff) wonder what he thought he saw on a handful of plays every week.
Fantasy implications: I think we know that Greg McElroy is not the answer, but given what we know about him from his days in college, he should at least be able to do more of the "minimizing the mistakes" part of the quarterback position than Sanchez has proven he is capable of. Of course, the team announced it would go back to Sanchez for Week 14, proving once again that a big contract will almost always win the day over a slightly better option. As for Lindley, it appeared to me he overcompensated for last week's four-interception performance. After starting the day with a beautiful 23-yard throw down the left sideline to Larry Fitzgerald, the rest of the day was filled with rushed decisions and bad reads. Whether or not it was done to save the rookie's confidence or avoid a locker-room riot, John Skelton will take back the controls of this offense until Kevin Kolb returns. Bump the value of all of your Cardinal WRs up slightly, but this situation isn't going to improve dramatically until the offseason.
Texans-Titans

What became immediately obvious in the first game of the Dowell Loggains era (the new OC) is that Jared Cook is going to be much more involved. By my count, he was targeted at least once on 11 of the team's 15 drives and it was apparent he was the first read on a number of the plays. The second-most targeted player was rookie Kendall Wright, who saw half of his 10 targets in the fourth quarter. While one game is a ridiculously small sample size, I suspect the rest of the season will be geared more towards the passing game and less towards the running game. If not for evaluation purposes, the Titans' defense – and particularly their safety play – is bad enough where the offense will probably be forced to put Jake Locker into more 45-attempt games like he had against Houston.
It's not going to get much play from casual fans, but the losses of RT David Stewart and LG Steve Hutchinson cannot be good for Chris Johnson or this Titans offense in general. While Johnson has surprisingly received most of his work on carries "up the middle" and his best average is to the left, three of his four rushing touchdowns have been to the right. After a nice little stretch of games leading up to the Week 11 bye, CJ2K averaged less than 4.0 YPC over the last two weeks (Jags and Texans).
Fantasy implications: Kenny Britt is probably going to be the featured player in the passing game again at some point, but it may not happen this season since he is not yet displaying the freakish athleticism that made him such a matchup nightmare in 2010 and early in 2011. Wright and Cook could and should push 8-10 targets every week. Based on what I saw in this game, Cook is ready to be a top-ten TE down the stretch (again) like he has been each of the last two seasons. The matchups look good for Johnson in the fantasy playoffs, but he's going to continue being hit-or-miss simply because he doesn't visit the end zone enough and can't save his off days as a runner with a short-yardage score since he isn't the goal-line back. He's a RB2 the rest of the way.
Patriots-Dolphins

After appearing to favor his ankle a bit in New England's Thanksgiving Day win over the Jets, I saw no such issue with Aaron Hernandez in this game. In fact, Hernandez appeared to be the favored option in the second half and was used a bit like Rob Gronkowski at the goal line. On the other hand, Brandon Lloyd has completely fallen out favor – or so it seems – in Tom Brady's pecking order.
It is really hard to get a gauge on the Dolphins over the last month. In Weeks10 and 11, the offense basically pulled a no-show in losses to Tennessee and Buffalo. Then, just when it appeared as if Miami was ready to live up to its preseason billing, it uses its best matchup players to beat the Seahawks and does a fine job of bending but not breaking vs. New England. One observation I made last week: Charles Clay should be a bigger part of the offense. On a team lacking actual playmakers – especially those that can do damage over the middle of the field – the Dolphins don't have the luxury of bringing him along slowly if the intent is to win games. Brian Hartline will prove to be a fine second receiver when he gets a stud receiver opposite him and Daniel Thomas looks as good as I've seen him in the NFL. But I'm having trouble rationalizing the lack of use of Reggie Bush and Clay. While Davone Bess is a reliable chain-mover, he's not a dynamic playmaker. Bush and Clay can make a living in the middle of the field and make Ryan Tannehill's job much easier as a result.
Fantasy implications: As we already knew, Hernandez is a fantasy TE1 when healthy, but it was nice to see him targeted so heavily (13 times) and used in the manner he was in this game. Lloyd is now completely off the fantasy radar. For someone who liked the fit in New England, it pains me to think this offense has moved on from him, but it seems pretty clear that is has; I doubt the loss of Julian Edelman will change that. As Clay's 2-26-0 line should tell you, he's not a fantasy option yet either, although I do like him as a dynasty league stash.
Jags-Bills

Even if it came at the expense of C.J. Spiller's touches, I was glad to see a heavy dose of Fred Jackson in the rainy conditions in Buffalo. While I don't think HC Chan Gailey lied about his desire to see Spiller receive about 60% of the backfield touches going forward, I have my doubts about how strongly he believes what he said last week about Ryan Fitzpatrick is "going to be the guy". Rainstorm or not, it's hard to believe the coach has faith in his "long-term guy" when he attempts just 17 passes – his second game of 27 or fewer attempts over the last three and third straight game with no more than 180 yards passing. Would you like the most revealing statistic on Fitzpatrick? In five wins this season, Fitzpatrick has averaged 26 pass attempts and thrown for 163.8 yards per game. In seven losses, those numbers are 34.7 and 236, respectively.
Because Montell Owens – a Pro Bowl special teamer who is listed as a fullback – is likely to draw the start this week for the Jags with their top three backs all injured or out for the season, I wanted to share a few thoughts about him. Despite being 5-10 and 225 pounds, he is certainly quicker than you would expect a backup fullback to be (although given his abilities as a special teamer, the FB designation is misleading to begin with). He has good leg drive, able to identify the hole quickly and has good enough hands to be a plus in the passing game. I have no problem saying he played better than Rashad Jennings did before he suffered his concussion.

Fantasy implications: So now we know that Gailey doesn't think Spiller is a "mudder" even on the turf at Ralph Wilson Stadium. Regardless, what seems clear is that Spiller will see 16-20 touches going forward whether the Bills are ahead or behind for as long as Jackson is healthy. Fitzpatrick is a curious case and appears to be living on borrowed time as the long-term starter despite the fact he is enjoying a career year of sorts. With that said, I'd hate to count on him in the fantasy playoffs (vs. STL, vs. SEA, at MIA). As for Owens, I'd typically hate to recommend any third- or fourth-string RB based off eight carries, but I liked what little I did see of him and he has a favorable matchup against the Jets in Week 14. His contributions were even more impressive to me considering the fact he likely saw vey few practice snaps in practice last week. And the ones he did see this week likely doubled the number he saw in training camp and the first 12 weeks of the season combined.

Colts-Lions

When asked how involved Ryan Broyles was in the Lions' gameplan last week, Detroit HC Jim Schwartz answered "a lot". Now with Broyles (torn ACL) joining Nate Burleson and Titus Young on IR, Detroit is now down to Mike Thomas, Brian Robiskie and practice-squader Kris Durham at receiver. Thomas dropped a rather easy touchdown in Week 13 and was targeted on just four of Matthew Stafford's 46 throws – catching one – despite the fact he played 90% of the snaps. Thomas is primarily a slot option only while Durham and Robiskie are both slow-footed big receivers who are marginal-at-best talents. In this game, the Lions leaned heavily on TE Tony Scheffler as the other "receiver", a trend I would expect moving forward.
Trailing 23-14 to begin the second half, the Colts did something odd: run the ball. Five of Vick Ballard's nine carries for the game came on that first drive after intermission and led to a touchdown. Predictably, Indianapolis ran the ball just one more time in the third quarter as Donald Brown took the last three carries of the game by Colts' RBs. While score and situation have to dictate play-calling to a certain degree, there is rarely ever an excuse for a team to run five times on one drive and three times the rest of the half, especially in a game where a rookie QB throws three interceptions.
Fantasy implications: It is possible that Thomas was not "prepared" for such a large role in this game, but it is more likely the Lions never envisioned needing him as anything more than a fourth receiver either. While one catch is a pretty low bar to set, I doubt he'll see much more fantasy value now than he had before. The biggest fantasy beneficiaries of Broyles' absence figure to be Brandon Pettigrew and Scheffler since Calvin Johnson was already averaging over 15 targets the past four games. Ballard isn't exactly a dynamic playmaker to begin with, but it is strange to lean on him coming out of the locker room, watch him score on an impressive run and then not use him again for the rest of the game. His fantasy numbers were saved by the touchdown, but this kind of usage will keep him as no more than a flex going forward, even if Brown misses time with his ankle injury.
Seahawks-Bears

At some point, the traditional thinking in football must be challenged. The traditional thinking at the end of games is that a defense will surrender yards in order to keep the clock running. While not the most unsound of strategies, the passing games of today are refined enough that if a quarterback is not pressured (and knows he won't likely see pressure), offenses don't need much time to drive the field or very many plays to do it. Furthermore, a quarterback that may have lacked confidence can gain it very quickly with a drive in which he goes 7-for-7 and a touchdown. The most egregious recent example of this was a Bears game against the Tim Tebow-led Broncos last year. In that game, Chicago had Denver shut out through 3 ½ quarters, only to mindlessly give Tebow time to warm up. Why do I say "warm up"? Until his final three drives that ended up tying the game and ultimately winning it, Tebow was 8-of-24, but soft coverage enabled him to finish 13-of-16. Remember, the Bears were pitching a shutout…
Let's move ahead to this game. Russell Wilson, who is certainly no Tebow and doesn't need any help to begin with, had directed Seattle to scores on just two of his first nine drives. Only two of those drives went more than 36 yards and most of them lasted five plays or less. Holding a 16-10 lead with 3:40 remaining and needing only to keep the Seahawks out of the end zone, Chicago instead gives up a 12-play, 97-yard drive. On that drive, the Seahawks faced just one third down and one fourth down (on successive plays) before a missed tackle ultimately led to Golden Tate's go-ahead touchdown. What's worse is that Seattle did the same thing on Chicago's ensuing drive, somehow allowing Brandon Marshall – despite the whole world knowing he would be the target – to go up and grab a Hail Mary (relatively unchallenged) and run another 12 yards to set the Bears up for a game-tying field goal.
Fantasy implications: This is not a "the only thing a prevent defense does is prevent you to win" speech. It's more of a "if you play an aggressive game conservatively, it will come back to bite you" speech. In a game that saw 24 total points through about 57 minutes, how do two stingy defensive teams give up 10 points over the course of about 30 seconds? If coverage "busts" can happen against prevent-style defenses, then it doesn't make a ton of sense to use them. Football is a violent thinking-man's game, but tends to be coached by people afraid of "the big mistake". Until this thinking changes – and coaches realize that fewer defensive mistakes will happen at the end of games when quarterbacks feel pressure – end-of-game scenarios like the one that played out in this game will remain a big part of deciding fantasy matchups week in and week out.
Panthers-Chiefs

The level of competition (Philadelphia and Kansas City) hasn't been the greatest over the past two weeks, but I really like what I'm seeing from Cam Newton and the way Carolina has allowed him to be the offense once again. When I say I like what I'm seeing from Newton, I mean I like how OC Rob Chudzinski has shown good variation in terms of getting him on outside runs as well as inside and is getting him on the outside a bit on passing plays. To borrow an analogy from boxing, Newton is not a jabber, he is a knockout artist. Newton's game isn't dink-and-dunk and probably never will be. Despite all of the resources the Panthers have poured into their backfield lately, all the money and talent in the world doesn't do much good if the line is unable to block consistently for them. I'm still not crazy about Newton's footwork on short and intermediate routes, but if there was ever a situation in which an offense could adopt the Raiders' old vertical-game philosophy, this might be the one. Much like the Redskins have shown in recent weeks (and Carolina displayed early last year), defenses that are not disciplined and lack an elite cover corner can and usually will get burnt by the zone-read and the play-action that goes along with it.
Fantasy implications: Looking ahead to the fantasy playoffs, it is hard to say Newton has a great matchup this week against the Falcons until you realize he enjoyed one of the finest games of his season against them. Beyond Week14, Newton and Greg Olsen should enjoy a lot of success against a Chargers' defense in Week 15 that could be missing LB Donald Butler. In Week 16, Newton faces the Raiders – enough said.
Niners-Rams

If I was to identify one area in which I am confused when it comes to San Francisco, it would be the lack of a deep passing game. Much of the offseason theme was to acquire players that could stretch the field (Randy Moss, Mario Manningham) to augment the only player (Vernon Davis) it had who could do get deep before their arrival. Even though the arm strength of Alex Smith wasn't a big issue, the insertion of Colin Kaepernick was supposed to help stretch the field even more – horizontally as well as vertically. The problem is that despite a 66.7% accuracy rate (per Pro Football Focus) on balls thrown 20+ yards down the field, Kaepernick has only thrown "deep" nine times. It is anyone's guess as to whether or not he is being instructed to play it close to the vest as a passer or if it is more a function of the scheme (likely the latter since Alex Smith threw "deep" just 18 times before his injury). But an athlete with a big arm like Kaepernick is wasted when an offense only uses half of his abilities.
It's hard to understand how a team that got roughed up by the Jets in Week 11 has been able to beat and tie a team in the Niners that offers much more offensive versatility. Truth be told, the Rams likely don't score in this game were it not for Kaepernick's decision to drop 25 yards (no exaggeration) behind the line of scrimmage in order to avoid a sack – drawing a safety – and a silly option call that led to a rushed pitch that resulted in a fumble. Still, let's give credit where it is due: the Rams are no slouch anymore and good teams usually take advantage of other team's poor decisions.
Fantasy implications: Kaepernick will be just fine down the road in fantasy, but owners may need to take a step back from believing they've landed the next great QB until the play-calling catches up with the immensely-talented signal-caller. Throwing the deep ball is not a good way to sustain offense, but the regular threat of it allows a team to run the rest of its offense that much easier. It's likely the Niners will allow Kaepernick to play out the rest of the season in a Smith-suited offense and wait until the offseason to reinvent the playbook. The Rams' defense will be one to reckon with in fantasy in the coming years, but while they possess a great pass rush, I hardly trust them to be a great option outside of game against pathetic offensive lines. I don't like them as an option at Buffalo this week or at Tampa Bay in Week 16, but they might make a good below-the-radar option in Week 15 against the Harvin-less Vikings.
Bucs-Broncos

E.J. Biggers may have started out the season as the third corner and is probably not a household name to most, but he's a NFL veteran. So when a four-time NFL MVP (let's call him Peyton Manning) gets a shot at choosing between him and try-hard undrafted rookie free agent Leonard Johnson, Manning – and other quarterbacks of his ilk – will almost always try to pick on the kid until he proves himself. And Johnson – a favorite of draft analyst Mike Mayock (as a Cover 2 CB) – is really stretched as a CB when he is asked to play man coverage, particularly when his man is Demaryius Thomas. While Thomas burned more than just Johnson in this game, it was clear the plan was to force-feed him the ball against a number of Bucs' defenders that probably won't see much time in the secondary next season. (One or both of Johnson/Biggers will likely be reserves and Ronde Barber could retire.)
Fantasy implications: Thomas has started to pull away from Decker in fantasy, but I'm hesitant to believe Manning is starting to favor Thomas. As it turned out in this game, matchups in the red zone (first against Johnson, then against LB Lavonte David in the slot) really dictated that Thomas get the ball in those situations. What the second touchdown – and his rare presence in the slot – did indicate to me is that Denver (or maybe Manning) might be ready to allow Thomas to transition into that Brandon Marshall or Calvin Johnson clone in the coming weeks. You see, through 13 weeks, Thomas has run only three more routes out of the slot than Matt Willis (36-33) and less than half as many as Decker (per Pro Football Focus). I am also compelled to say that I feel Jacob Tamme's incredible stat line was due to the absence of Brandon Stokley, so while Tamme has seemingly been more involved of late, a repeat of 9-89-0 is unlikely when Stokley is active. A big reason that Tamme was so heavily involved was because he and Stokley serve the same purpose in this offense, so it stands to reason that the absence of the one will benefit the other in fantasy.
Bengals-Chargers

San Diego hasn't been able to close games out all season (four double-digit blown leads) and the running game – once a staple of Norv Turner teams – is a big reason why. Surprisingly, Ryan Mathews deserves very little of the blame for that. The fact of the matter is that the offensive line has been deteriorating over the course of the last five years and very little has been done to address it. For reasons beyond my comprehension, San Diego has not used a first- or second-day pick on an offensive lineman since 2009, when it acquired both of its starting guards. Otherwise, only three selections have been made to fortify that group. Unsurprisingly, only little-used 2012 C David Molk has taken a snap with the team this season (he's now on IR), although 2011 sixth-rounder (and recently re-signed) Stephen Schilling could make the start at LT this week – the third player to man that position this season. Teams simply cannot go three entire drafts without being able to land a starter on the offensive line and expect to compete, especially against a team that leads the lead in sacks and has a wealth of defensive line talent like the Bengals.
It's easy to get caught up on a player during a "hot streak", but don't make that mistake with BenJarvus Green-Ellis. One quick look at his game log reveals that while he has ripped off three consecutive 100-yard games, he has done so against the worst three teams in the AFC West. In fact, "Law Firm" has only eclipsed 4.0 YPC four times this season (the season opener and the last three games). While Kansas City and Oakland's run defenses have been in the tank for a while now, San Diego's has just recently joined them as NT Aubrayo Franklin has dealt with injuries over the past month. His absence was apparent in this contest as Green-Ellis made his living in between the tackles.
Fantasy implications: Why do I talk about the offensive line more than just about any other fantasy analyst out there? Because it is important. I know it isn't a glamorous position ripe with statistical analysis, but that doesn't mean it doesn't affect fantasy owners. For example, in the four games LT Jared Gaither played this season (before going on IR), Philip Rivers averaged 234 yards passing with a 6:3 TD-to-INT ratio. In the other eight games, Rivers averaged 254 yards with a 12:12 TD-to-INT ratio. Similarly, Mathews averaged 76 yards rushing in those same four games and 53 in the other six. Enough said. As for Green-Ellis, expect a slight dip in production against Dallas in Week 14, another 100-yard game at Philadelphia in Week 15 and a disappointing day in Pittsburgh in Week 16.
Browns-Raiders

After a brief stretch in which it appeared he was falling a bit in the pecking order, Josh Gordon has reclaimed the top spot in the Cleveland passing game. In recent years, that designation hasn't exactly meant much, but things are about to change in that regard. It's not just that he is coming off his first 100-yard game either, it's what he did in the two previous games and the fact that he is being used on short and intermediate routes now on a regular basis. In fact, the only ball thrown in his direction that he didn't catch in this game was a deep shot that was severely underthrown by Weeden.
Brandon Myers doesn't exactly possess great athletic measurables, but with a catch rate of 78.4%, it doesn't matter much to Carson Palmer when Denarius Moore is getting benched for drops or Darrius Heyward-Bey continues to play a bit role in this offense. The truth is that just about every football team needs a player like Myers, who is unlikely ever to produce a highlight-worthy run-after-catch but will almost always keep the chains moving.
Fantasy implications: Football is going to mean something again in Cleveland real soon; the offensive talent on this team just jumps off the screen at times. Gordon is going to be a big part of that and there is no time like the present to take advantage of it. In Week 14, he should avoid the coverage of the Chiefs' Brandon Flowers before drawing Washington's weak secondary in Week 15. Even a Week 16 date against Denver shouldn't be daunting since Champ Bailey, like Flowers, typically stays on the left side of the defensive formation, away from Gordon. Depending on your point of view, Myers is either the most reliable option Palmer has or makes a mockery of PPR scoring and "garbage time". Why do I say that? Six catches, 73 yards and one touchdown from Myers' 14-130-1 line last week came as a result of the Raiders' meaningless final drive, which will happen when Moore isn't playing, Marcel Reece is dealing with an injury and the team has two rookie receivers split 14 targets. In no way am I trying to diminish what Myers did last week – or has done most of the season – just understand a good chunk of his production comes as a result of Oakland's inability to play defense anymore.
Steelers-Ravens

No fourth-quarter touches for Ray Rice…really?
Since Baltimore doesn't seem to care about consistently feeding its running back, let's shift our focus instead to the other team's back. Jonathan Dwyer has been chameleon-like this season, changing his profile on a number of occasions. In the preseason, he looked slim, trim and more explosive than he ever was at Georgia Tech. The next time we saw him receiving consistent touches, he was slow and looked overweight. A month later, he appeared to be somewhere in between, which brings us to last week. While he didn't look as poor as he did early in the regular season, I saw very little burst from Dwyer and his two big runs were the result of him running into a pile (showing a lack of vision) and bouncing to the outside when Pittsburgh was unable to get any penetration and failed to set an edge. Based on what I've seen over the last month, Isaac Redman must have really been in pain early in the year because he is clearly the best option in this backfield so long as Rashard Mendenhall continues to nurse his injuries.
Fantasy implications: At some point, we all get tired of Rice's lack of consistent touches. The sad part is that we can count on this phenomenon occurring 3-4 times every year. It's this kind of oversight that allows an offense led by a third-string quarterback and third-string running back to defeat a much more talented team. Dwyer was less than impressive in this game against a defense he probably should have been able to produce against. However, HC Mike Tomlin has at least opted to start Dwyer again this week while giving Rashard Mendenhall an opportunity to "redeem himself at some point". Dwyer is a flex option only and every other Pittsburgh back is bench or waiver-wire material in most leagues…for now.
Eagles-Cowboys

We spoke about the incredible debut of Bryce Brown (and the way he carries the ball) last week. His talent was evident once again as was his inability to tuck the ball away. Rather than discuss that again, let's instead talk about the return to DeMarco Murray and the emergence of Dez Bryant as a (dare I say) trustworthy top receiver in this league. Murray wasn't close to 100% in this game and probably won't be the rest of the season, but Murray at 80% appeared to be immeasurably better than Felix Jones with two bad knees. Just like I discussed here a few weeks ago, the draw and delay game is a good fit for this Dallas team since the interior of the line isn't going to blow many defenses off the ball and Murray has the speed to make something happen if he is able to make the first man miss. Admittedly, a return to the field against the Eagles was a convenient one for Murray considering their defensive woes. But while he certainly did not fully trust his foot, he displayed good vision on his runs and gave the Cowboys a nice short-range outlet in the passing game to free up Jason Witten to run more intermediate and deep routes.
I clearly don't understand Dallas' offense as much as I would like because the Cowboys have too many games where Bryant doesn't touch the ball early (his first target was right before the two-minute warning in this game) and Witten doesn't see a target for multiple drives until he becomes the only option during the two-minute drill. Still, the option routes and sight-adjustments that seemed to befuddle Bryant early in the season have not been an issue for some time now and the results have shown up in the box score: an average of 119 yards and 1.5 touchdowns over the last four games. His after-the-catch abilities have never been a question. Now that the mental part of his game appears to be catching up with the physical part a bit more, he's closer to fulfilling his top-five receiver potential now than he ever has been.
Fantasy implications: The real test for Murray figures to come over the next two weeks against the Bengals and Steelers. His contributions in the passing game will almost always make him relevant in PPR leagues, but he's probably a low-end RB2 at best over the next two weeks. However, he has a dream matchup in Week 16 vs. the Saints. Bryant's turnaround has been dramatic since it appeared that he wasn't capable of making the right decision in a pressure situation earlier this year. Whether or not Dallas has opted to remove the "mystery" of his routes or he has rededicated himself to learning from those situations isn't something we'll know until after the season, but there's little doubt he's playing as well as he ever has.
Giants-Redskins

It may have been just his 12th game as a professional, but in Robert Griffin III's first game against a repeat opponent, New York paid him the ultimate compliment: the entire offensive and defensive strategy was devoted to slowing him down. By now, most of us know that Washington's weakness on defense is stopping the pass, but the Giants went to great lengths to run the ball in order to eat up the clock as much as possible and reduce the number of possessions. And were it not for nine penalties and a number of near misses in the passing game, it would have worked. But the larger point is that opposing teams are already showing him that much respect.
As with most diverse offenses – as this one has become – the key to slowing it down boils down to taking away one or two key players. While it would probably take too much time to detail everything needed to slow down the Redskins, we've already seen what works: when defending the zone read, opponents have to be able to eliminate one part of it so both QB and RB aren't tearing up the defense. Alfred Morris is a pounder and more of a breakaway runner than I thought he was in the preseason, but I'd be much more willing to let him rack up 30 carries as opposed to watch RG3 get to the outside, which means the DE needs to allow Morris to run past him as opposed to letting RG3 run around him. Approaching RG3 in this manner will limit his abilities as a runner while allowing the defense to get a shot or two on him if/when he makes the wrong read. Secondly, the only time this offense is not a quick-hitting one in the passing game is when it uses play-action, meaning every pass defender must get a good jam on the receiver. Thankfully for opponents, the only real passing game weapon Washington has at the moment is a hobbled Pierre Garcon. Once defenses bracket him and observe "my rules" in defending the zone read, Washington will become entirely dependent on Morris.
Fantasy implications: The phrase gets said way too much in the media with other quarterbacks, but RG3 is unlike any other QB I have ever seen. It's not that he doesn't have a weakness; it is just that he isn't overly weak in any one area. And through scheme and athleticism, his weaknesses are greatly masked by his incredible strengths. In fantasy, for now, RG3 is going to have a slow game or two the remainder of the season because opponents will try to copy the Giants' offensive and defensive approach and limit the number of possessions Washington gets. But as we have already known for some time, you better have another incredible QB option if you are going to bench him against Baltimore, Cleveland or Philadelphia during the fantasy playoffs.

Suggestions, comments, musings about the article or fantasy football in general? E-mail me or follow me on Twitter.

---
Doug Orth has written for FF Today since 2006, appeared in USA Today's Fantasy Football Preview magazine in each of the last two seasons and served as a weekly fantasy football analyst for 106.7 The Fan (WJFK – Washington, D.C). He is also a member of the Fantasy Sports Writers Association.