For the first time in several years, peace exists in the NFL. There is no threat of a lockout – either by the players or the officials – while the new rookie wage scale has led to a number of drafted players to sign their contracts in time for mini-camp. While rookie holdouts give the media something to talk about during training camp, there are ultimately bad for business because they stunt the overall growth of a young player that needs every advantage he can get in order to contribute as quickly as possible.

Although dynasty owners have already started the process of evaluating the new wave of players set to make their NFL debut, most redraft owners are only in the initial stages of formulating opinions about the kind of fantasy impact this rookie class will have. Draft preparation is quickly evolving into a year-round job and owners – dynasty, keeper or redraft – can quickly find themselves behind their competition if they haven't started the process of becoming "the smartest guy in the draft room" by now.

In a league where very little stays the same from year to year, rookies represent the greatest of all unknowns. Running backs continue to steal the show when it comes to immediate contributions, but we have all been witness to incredible seasons from rookies at quarterback, wide receiver and tight end in recent years. While we can only speculate on which rookies will deliver the most impact this season, there are some guidelines we can follow and questions we can ask in order to help us identify the players who have the best shot at becoming the next big thing. The following questions give us a good starting point:


Is he in a position to succeed? For a RB, does he have a good line to run behind and an OC that likes to run the ball? What is the likelihood of a consistent workload? For a QB, does he have a good pass-blocking line and 2-3 quality options in the passing game? For a WR or TE, does he have a good QB throwing him the ball? Does he operate opposite a star WR or is he being counted on to carry the passing game?


What are his most obvious obstacles? This question goes hand-in-hand with the first question, but the successful fantasy owner cares just as much about why a player will likely fail as he/she does about how/why a player will thrive. For example, how much do we penalize Tavon Austin for his lack of ideal size? Is natural talent along with a huge void for a playmaker at receiver going to be enough for Aaron Dobson to overcome a huge step up in competition and make an immediate impact in New England? Does the fact that Eddie Lacy was drafted ahead of Johnathan Franklin have much/any impact on which player will be the better fantasy performer?


Is he an offensive building block, complementary piece or role player?


How is the "fit" with his new team and does his style mesh with what the team is trying to accomplish or is the offense going to cater to his talents? (Unfortunately, we can't take for granted that personnel departments always do this for themselves – need can be a terrible evaluator of talent.) Does the return of zone-blocking guru Alex Gibbs to Denver help or hurt Montee Ball? Are Tyler Eifert's deep-ball skills a good fit in Cincinnati's West Coast offense? Can we trust OC Todd Haley will get the most from Le'Veon Bell in Pittsburgh?


Certainly, there are always going to be more questions than answers at this point of the year. But to establish a baseline for a rookie, I think this gives us a pretty good start. Over the next two weeks, I will evaluate the likely top rookies from this class – covering the back half of my top 20 this week and the top half next week – and attempt to detail their situations in an effort to answer whether or not they are worthy of your consideration in fantasy. At the very least, I hope to provide each of you with my early assessments on each player (complete with player strengths and weaknesses, mostly from a fantasy perspective) before I really buckle down on player evaluations in July and August using Preseason Matchup Analysis.

Note: The rankings below are for the 2013 season only and are ranked in order of likelihood of fantasy impact. (For example, QBs like Geno Smith or EJ Manuel may accrue more fantasy points given the nature of their position, but the chances of them impacting a fantasy team are slimmer than say, a potential fantasy WR3 in a three-WR league, because the WR may end becoming an every-week fantasy starter.)

Players who just missed the cut (in no particular order):

Geno Smith, QB NY Jets – In New York, the question isn't if Smith will win the quarterback competition, but when. The bigger question is if Smith – who played in West Virginia's up-tempo spread attack – is a system fit in OC Marty Mornhinweg's West Coast offense. So why doesn't he make the Top 20? Simply put, it's hard to find what Jets' skill-position player is going to threaten the defense. Chris Ivory was a solid, low-cost trade acquisition, but Dustin Keller left for Miami, Santonio Holmes (Lisfranc) is far from a lock to be ready for training camp and Stephen Hill did little in his rookie year – outside of Week 1. Jeremy Kerley proved to be a solid slot option last season while little-known TE Hayden Smith was a standout in practices last season – according to ex-GM Mike Tannenbaum – but that hardly qualifies as a cast of stars ready to take Broadway by storm.

Tyler Wilson, QB Oakland – While no owner should want to start a Raider quarterback this fall, any signal-caller that has a good shot at landing a permanent starting spot in his team's lineup needs to be on the radar in fantasy. Matt Flynn will enter training camp as the likely favorite, but Wilson is only one forgettable college season removed from being considered a potential top-10 NFL Draft pick. Wilson's star faded during the 2012 season at Arkansas for a number of reasons, not the least of which was a poor offensive line. To his credit, Wilson continued to show resiliency and toughness in the pocket despite the punishment he absorbed. He won't have a great line to work with in Oakland initially either, but a re-emphasis on a power running game and a pair of talented young receivers will help. Flynn was not acquired to be the long-term answer, so it is very possible Wilson could surpass him on the depth chart during training camp.

Denard Robinson, RB Jacksonville – The Jaguars must have been pretty convinced that "Shoelace" is going to make the switch from college quarterback fairly quickly (or have a lot of trust in Justin Forsett, which is highly unlikely). Of course, it helps that he produced as a running quarterback in college and has looked like a natural running back in limited snaps at the position. Robinson is obviously going to be a project as a receiver out of the backfield and a blocker, but there is little doubt he has the playmaking ability to succeed as an "offensive weapon". Jacksonville has already suggested it will give him 10-15 plays initially, which is a pretty decent starting point for a fifth-round pick learning a new position. The Jags need as many explosive playmakers as possible and, with Maurice Jones-Drew getting older and coming off injury, Robinson isn't too far away from fairly significant fantasy value.

Knile Davis, RB Kansas City – Davis is an upright runner who was unable to play at all in 2011 and was ineffective in 2012. Critics also want to hold the fact that he managed only 3.4 YPC and fumbled eight times in 123 touches in his final year against him. I have little issue with the first concern since the entire Arkansas team was torn apart by the Bobby Petrino fiasco and he was coming off a serious ankle injury. The fumbling issue has merit, but can be corrected. In fantasy, owners tend to gravitate to the corner of Opportunity Road and Talent Drive, especially at the running back position. Davis' physical talent is undeniable, as he showed at the NFL Combine. He was a two-time team captain and obviously willing to pay the price, so he appears to have it together above the shoulders. In Kansas City – like Robinson in Jacksonville – Davis faces little in the way of true competition behind Jamaal Charles for a coach in Andy Reid that has traditionally gotten good production from his backs, especially in PPR leagues. Peyton Hillis' 7.3 touches/game from 2012 probably represents the ceiling for Davis in Year 1, but the rookie could easily find himself as the featured back if Charles was lost for a significant part of the season due to injury.

Latavius Murray, RB Oakland – The Central Florida product is a straight-line 223-pound back who packs a bit of a punch – making him a great fit as Oakland returns to the gap-blocking scheme that helped Darren McFadden thrive in 2011. Incidentally, he has been compared to McFadden by some for that very reason while others – such as NFL Films' Greg Cosell – suggests his playing style resembles DeMarco Murray's. The sixth-round rookie will likely begin camp third on the depth chart, but could easily ascend to the No. 2 spot behind McFadden if Rashad Jennings proves to be the plodding back he was in Jacksonville last season. The No. 2 spot in Oakland has been a solid source of low-cost fantasy production in recent years given how often McFadden is sidelined, so Murray could be more than useful in redraft leagues if/when "Run DMC" misses his usual 3-6 games due to injury.

Da'Rick Rogers, WR Buffalo – Rogers is the ultimate boom-or-bust player in redraft or dynasty leagues. Considered by many to be a first- to second-round talent by many during the draft process, Rogers could easily emerge as the WR1 in Buffalo in a year or two. (That's not a misprint.) In fact, one Bills scout compared him to Eric Moulds. Or, he could be out of the league before the start of the season (if new HC Doug Marrone is to be believed) if he commits yet another substance-abuse violation – the same thing that caused him to be dismissed from Tennessee. More talented than fellow rookie Robert Woods or veteran Steve Johnson, Rogers is a complete roll of the dice given his off-field history. However, his talent is such that he could force his way past Woods into the starting lineup before the end of the season if he has truly moved past his off-field problems.
And now, the bottom half of my top 20 impact rookies for 2013:

20. EJ Manuel, QB Buffalo

2013 Projected Role: Starting QB by midseason

Positives: Manuel has at least two key factors working in his favor if he hopes to become a starter in 2013: 1) the durability of Kevin Kolb and 2) top-notch physical tools. Kolb, who has never played more than nine games in his six-year NFL career – has proven to be an injury-prone backup-caliber quarterback at best, making him something of the ideal placeholder for a rookie quarterback that will need all the time he can get to develop. New HC Doug Marrone and the Bills' brain trust likely settled on Manuel as their top quarterback in the draft because they want to become an up-tempo offense that works out of the shotgun or pistol formation and wanted to make the read-option an important part of their attack. Manuel gives them that in a 6-5, 237-pound package and should help open up running lanes for C.J. Spiller initially.

Negatives: Manuel is a project, make no mistake about it. Marrone acknowledged at rookie mini-camp that Manuel needs help with his footwork and mechanics, although that shouldn't come as a surprise to anyone who watched him play or go through the draft process. The biggest concern with Manuel should be decision-making as a number of his other perceived weaknesses should get ironed out when Marrone and his staff work on Manuel's footwork and mechanics on a daily basis. Although Buffalo brought in some receiver upgrades in the draft (Woods) as well as through the undrafted rookie free agent market (Rogers) and has Johnson and Spiller to ease Manuel's transition, at least half of his likely supporting cast figures to be unproven when he cracks the starting lineup.

2013 Fantasy Assessment: If Manuel is counted on to carry the offense more than Spiller in 2013, the Bills are doomed to fail. Manuel has more than enough talent to be a future fantasy stud, but an up-tempo offense and the ability to run isn't enough to overcome the number of inconsistencies he showed in his game at Florida St. Even with his obvious physical talents, the mere fact that Manuel is likely to start at some point in 2013 doesn't make him a good (or likely consistent) redraft option. Manuel makes the top 20 list simply because he plays a position in fantasy where most leagues roster at least 24 of the 32 starting players, so there will be weeks in which his athletic ability will allow him to be a passable option.

Fearless late-May prediction (eight starts): 143-of-275 for 1,595 yards, 10 TD and 13 INT; 65 rushes for 325 yards and three rushing TDs

19. Terrance Williams, WR Dallas

2013 Projected Role: Cowboys WR3; role player.

Positives: Despite less-than-ideal track speed (4.52-40), Williams was one of college football's best field-stretchers in 2012 and joins an offense that doesn't mind taking shots down the field. While he has no chance at cracking the starting lineup in the near future, Dwayne Harris represents his only real competition for the WR3 role in Dallas behind Dez Bryant and Miles Austin. Bryant is a physical receiver who played all 16 games for the first time in his three-year career last year while Austin and his balky hamstrings remain a concern, meaning Williams has a realistic shot at drawing some starts in a very talented offense. The selection of Williams was likely the Cowboys' way of not only trying to create solid depth, but also bring back the dynamic three-receiver package that served the team so well back in 2011 when Laurent Robinson enjoyed a career year.

Negatives: For a college player that was so productive in his final college season (97 catches, 1,832 yards and 12 touchdowns), Williams is a bit too one-dimensional at this point of his career. The Baylor alum fell in the draft in part because he appears to lack quick-twitch explosiveness and a physical element to his game, which may mean his NFL upside is nothing more than a deep-ball specialist. Williams also has had his problems with drops (which carried over to Senior Bowl practices as well as rookie mini-camp), but seems to be much more consistent in that area down the field – likely meaning he suffers more from concentration lapses than bad hands.

2013 Fantasy Assessment: Williams offers some of the same qualities Robinson gave the Cowboys two years ago and is a better receiver than the team's last WR3 (Kevin Ogletree), so he has a shot to post a few solid fantasy lines this season. However, every skill-position player in the team's starting lineup is a good – if not great – receiver and will be above Williams in the passing-game pecking order, meaning Williams will likely produce a few "splash" games followed by 3-4 games with little to no statistical production. Bryant and Austin owners will probably value him the most in redraft leagues simply as insurance against injuries to whichever one of the Cowboys' receivers they own because he is a likely injury (to Bryant or Austin) away from low-end WR3 status in what should be a very productive offense.

Fearless late-May prediction (four starts): 34 receptions for 535 yards and three TDs

18. Zach Ertz, TE Philadelphia

2013 Projected Role: Eagles "move" TE; role player.

Positives: Ertz is a bit bigger than the prototypical "F" tight end, a position that Aaron Hernandez has helped popularize in recent years. But whereas Hernandez (6-1, 245) gets by more on speed, quickness and versatility for a man with his physical dimensions, Ertz is a field-stretcher in part because he has a good blend of traditional tight end size (6-5, 250) and "sneaky speed". While Ertz isn't going to serve as a ball-carrier out of the backfield like Hernandez famously did during the 2011 playoffs, Ertz was drafted by the Eagles to be that "moveable chess piece" that dictates defensive personnel and exploits favorable matchups down the field in new HC Chip Kelly's up-tempo offense.

Negatives: It's ironic that Stanford made its name in recent years by using two- and three-tight end sets and playing "smashmouth football", but has produced a pair of second-round players at the position in consecutive years that are more "rocked-up receivers" as opposed to complete tight ends. Just like Coby Fleener was on the field less than most people expected in 2012, Ertz figures to be third in line when it comes to snap count in 2013. Whereas Fleener only had to compete with fellow rookie Dwayne Allen for playing time, Ertz will need to overcome two very capable and complete tight ends in Brent Celek and James Casey. And while it shouldn't impact him long-term, Stanford's late graduation (which will limit his participation in OTAs) may also reduce his chances of making an early impact in the NFL.

2013 Fantasy Assessment: In what will likely be the first of many preseason mentions of the "Chip Kelly influence", Ertz figures to benefit from the new regime simply because tempo and volume of plays means more opportunity to create mismatches and generate fantasy production. Philadelphia is stocked with tight ends, so stellar rookie numbers will probably be hard to attain. However, Ertz is too good in the passing game not to be useful at least a handful of times in fantasy this season. Kelly loved to use his tight ends down the middle of the field at Oregon and it'd be a surprise if that aspect of his offense did not carry over to the NFL, especially since he has two players in Casey and Ertz that can thrive as downfield receivers. Casey (and Celek, if he remains with the team) will prevent Ertz from achieving fantasy TE1 consistency in Year 1, but he has the talent and is in the right offense for that kind of production down the road if Kelly remains in Philadelphia long-term.

Fearless late-May prediction (zero starts): 32 receptions for 455 yards and three TDs

2013 Projected Role: Cowboys RB2; role player.

Positives: Randle offers (or at least should offer) something Dallas has not consistently had at the running back position since Emmitt Smith – durability. The 6-0, 204-pounder does a solid job of using his blockers effectively and is an asset in the passing game, which may be the way Dallas tries to keep DeMarco Murray healthy more often. And it is in those two areas he serves the Cowboys best – as a dependable back in the event Murray again struggles to stay on the field and as a receiver in order to preserve the team's feature back. Randle also has the ability to dodge a penetrating defender in the backfield and has a little wiggle to make tacklers miss, traits that figure to come in handy behind Dallas' less-than-stellar offensive line.

Negatives: Randle possesses a few contradictory qualities that will likely relegate him to little more than a clear backup to Murray. He is an effective receiver out of the backfield, but is not a breakaway threat or all that elusive. Randle showed that he can run inside in college, but has limited power in his lower body and doesn't possess great balance, meaning he isn't likely to take the short-yardage and/or red-zone duties from Murray either. While durability and receiving ability are two of his most obvious strengths, Randle will be limited until training camp due to right thumb surgery. Although owner Jerry Jones told the Fort Worth Star-Telegram the team knew of the fifth-round pick's status prior to his selection, it obviously won't help him lock up the RB2 job in short order if one of his few strengths is compromised.

2013 Fantasy Assessment: Owners looking for this year's version of Alfred Morris or even Vick Ballard – a late-round RB steal who produces at a high level – probably aren't going to find that running back in Randle. It is almost as if Dallas decided to go in a completely different direction (slower and more durable) from Felix Jones (faster but injury-prone). In the end, Randle's rookie contributions could very well mirror Jones' stats last season (111 carries for 402 yards, 25 receptions for 262 yards), assuming Murray is forced to miss time due to injury again this season. Dallas smartly addressed its offensive line in the draft with C Travis Frederick, which can only help the running game. Still, Randle's value in 2013 figures to come down to how often he must start in place of Murray.

Fearless late-May prediction (four starts): 105 rushes for 440 yards and two TDs; 26 receptions for 180 yards

16. Cordarrelle Patterson, WR Minnesota

2013 Projected Role: Vikings WR2; complementary piece.

Positives: Patterson is the quintessential big-play receiver in a passing offense that will draw favorable looks almost every week due to the attention Adrian Peterson demands. The 6-2, 216-pound wideout is a fascinating blend of size, speed and elusiveness and may be the most elusive big-bodied receiver to come out in recent drafts. While expectations for him will be high in the long-term, the pressure on him to carry the passing game anytime in the near future should be relatively low as the team's second receiving threat behind Greg Jennings. Even though Patterson is proportioned much differently than the man Minnesota hopes he can replace one day (Percy Harvin), their games are not all that dissimilar. In regards to playing time, Patterson should see the field right away. While it is possible he's not an immediate starter, Jerome Simpson will not keep him out of the lineup for very long.

Negatives: There were two main reasons Patterson's elite physical skill set did not translate into a top-10 pick in April: 1) he is an incredibly raw receiver who played only one year at the FBS level and 2) evaluators had questions about his intelligence and/or ability to pick up an offense. Then, there is the small matter of Christian Ponder – a quarterback the Vikings needed to manage over the second half of 2012. Let's also not forget that Patterson lands in an offense coordinated by Bill Musgrave, which has fielded only one offense in four seasons as a play-caller that finished in the top half in yards (12th, 2003 Jaguars) or points (14th, 2012 Vikings).

2013 Fantasy Assessment: Because of the talent Patterson brings to the table, it would be an upset if he doesn't pass Simpson on the depth chart and start Week 1 – even as raw as he is. Patterson drew comparisons to the likes of Julio Jones and Dez Bryant throughout the draft process because he has that kind of talent, but he is not as polished as either player coming out of college nor does he have the same level of quarterback or offensive coordinator to work with. Patterson's rookie season should be filled with several teasers – games that make fantasy owners drool over the kind of player he could become, but how good he becomes down the road will mostly depend on how right (or wrong) scouts and general managers were about him above the shoulders. Owners should target him as a high-upside WR4 in 2013, but he may not have a true impact on fantasy until 2015.

Fearless late-May prediction (12 starts): 38 receptions for 590 yards and four TDs

15. Justin Hunter, WR Tennessee

2013 Projected Role: Titans WR3, complementary piece.

Positives: Short of landing with an established elite quarterback, Hunter probably couldn't have asked for a much better situation long-term. QB Jake Locker is certainly on the hot seat, but if there are two areas of his game that evaluators do not question, they are his athletic ability and arm strength. In a vertical, big-play offense like the Titans, Locker's strengths should suit Hunter well. Kenny Britt – the player Hunter will likely replace as the "X" receiver in 2014 – seems to always be either in the training room or trying to avoid jail time, meaning it is entirely possible Hunter could find himself in a featured role before the end of his rookie season. NFL Films' Greg Cosell – an avid film watcher – called Hunter the "most physically-talented wide receiver" in this year's draft class.

Negatives: Before Hunter can fulfill his massive potential, he's going to need to add weight since a 6-4, 196-pound player is considered lanky even by basketball standards. Until he bulks up, it is unreasonable to expect Hunter to be a short or intermediate threat in the passing game. Compared to A.J. Green before his 2011 ACL injury, Hunter appeared to struggle more mentally (12.1% drop rate) than physically in his final year of college – a surprise given that his hands were considered reliable before the injury. While his long-term outlook appears bright, there is always the possibility this is the year Britt turns his life around and/or Nate Washington remains in town. Along with second-year WR Kendall Wright, Tennessee already has three legit NFL talents at the position, so it is safe to say that Hunter doesn't have a clear path to a starting job right away.

2013 Fantasy Assessment: Hunter's rookie impact is going to depend largely on whether the "Z" receiver spot – the position Hunter will learn first – is there for the taking come Week 1. (It has long been suspected Washington will be traded or released this offseason.) A former winner of the high-jump competition at the 2010 USA Junior Championships, Hunter is very much like a less physical version of Britt. Assuming he grabs the starting spot before the start of the regular season, Hunter's 2012 floor should be roughly what Washington produced last season (46 catches, 746 yards and four touchdowns). However, Washington has enough left in the tank to remain on the roster, at least until Hunter establishes himself.

Fearless late-May prediction (11 starts): 40 receptions for 625 yards and four TDs

2013 Projected Role: Rams committee RB; complementary piece.

Positives: Stacy is what Isaiah Pead and Daryl Richardson are not: a tough inside runner that will fight for extra yards. The Vanderbilt alum has quick feet and good balance, yet is nimble enough to make a defender miss in the backfield. Those qualities alone make him the odds-on favorite for short-yardage and goal-line responsibilities in St. Louis from the start, now that Steven Jackson has moved on to Atlanta. Perhaps the most refreshing thing about Stacy is that he is a natural runner – with good patience and vision – and not an athlete a team hopes will develop those instincts. Stacy, who recorded 438 touches from 2011-12, did not miss a game over his final two seasons as a Commodore.

Negatives: On the downside of being what Pead and Richardson are not is the fact that Stacy doesn't have breakaway speed and is likely destined to be a committee back as long as either one or both players are around. While he is nimble, he isn't exactly elusive. The 5-8, 216-pounder also isn't going to much work in the passing game because he is somewhat average in most aspects as a receiver, although he will likely hold his own as a blocker. (Pead and Richardson figure to take care of most of the receiving work out of the backfield anyway.) Stacy was also a bit too loose with the ball in college (1.41 fumble percentage), which teams will not tolerate from a back they want to close out drives and games.

2013 Fantasy Assessment: The Rams went out and picked a couple of speedy, somewhat undersized complements to Jackson last year in Pead and Richardson. This year, Stacy represents the power the Rams will try to replace after the loss of Jackson. Let's be clear: no one back is going to replace one of the best backs in franchise history. In Stacy, however, the Rams should have a player that is a 12-15 carry/game back that can convert at the goal line as well as third-and-short opportunities. He's likely not going to spin on a dime or generate a ton of highlights, but he should be in line for more regular scoring opportunities than Jackson got for most of his career on a fast-improving St. Louis team. As such, Stacy makes sense as a bye-week flex option or high-upside RB4 in fantasy.

Fearless late-May prediction (two starts): 135 rushes for 585 yards and five TDs; 14 receptions for 100 yards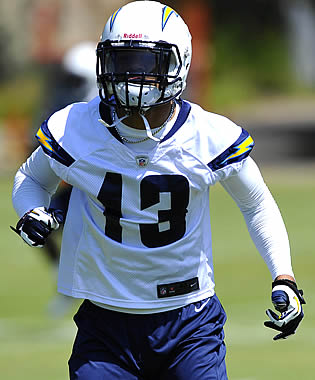 Keenan Allen's talent should allow him to crack the starting lineup at some point in 2013.
13. Keenan Allen, WR San Diego
2013 Projected Role: Chargers WR3, complementary piece.
Positives: Allen is a strong, competitive player with good ball skills who is not afraid to go over the middle of the field, much like the player he is often compared to – Anquan Boldin. While he projects as an outside receiver, he's more than comfortable in the slot and could make an impact there right away for the Chargers. At first glance, Allen appears to face a steep climb up the depth chart. However, Danario Alexander has a long injury history, Malcom Floyd has played one full NFL season in eight years and Vincent Brown missed all of last season. Allen is the type of player that can serve as a team's emotional leader and will endear himself to the coaching staff right away for his ability to block and find holes in zone coverage – the latter of which can often be a mystery to some young receivers.
Negatives: There were two key reasons why Allen lasted as long as he did in the draft. Talent evaluators knew before the Combine he wasn't going to post a jaw-dropping 40 time, but the bigger issue was the Grade 2 PCL injury he suffered to his left knee that was slow to heal. The injury cost him his final three college games and essentially sabotaged any ability he had to improve his standing during the draft process. The lack of game-breaking speed (even when healthy) will likely keep him from ever evolving into an elite receiver while his injuries – he also needed ankle surgery last offseason after getting injured playing basketball – throws his durability into question.
2013 Fantasy Assessment: Allen was considered a lock as a first-round pick after his 98-catch, 1,343-yard effort in 2011, so the Chargers have to be thrilled about landing him despite his recent run of bad luck. How quickly he fully recovers will likely determine where he starts on the depth chart at the beginning of the regular season, but he's at least the second-most talent wideout on the team (behind Alexander). Allen is more than capable of cracking the starting lineup at some point and could emerge as the team's top receiver at season's end (given that Alexander will be a free agent again after this year). The Cal alum has substantial hurdles in his way at this point and should be drafted as a WR4, but he could easily emerge as a quality WR3 option down the stretch in fantasy.
Fearless late-May prediction (eight starts): 45 receptions for 570 yards and five TDs
12. Tyler Eifert, TE Cincinnati
2013 Projected Role: Bengals TE2; complementary piece.
Positives: Eifert was considered the top tight end prospect for a number of reasons, not the least of which is his ability to stretch the field at a position few players can do that from – at any level. While he has more than enough speed (4.68-40), it is his body control, focus and ability to win the jump ball down the field that makes him a legitimate intermediate-to-deep threat. Despite possessing enough size (6-6, 251) to be an effective in-line tight end, Eifert has enough athleticism to move around all over the field in an effort to create mismatches outside or in the slot. The 2012 Mackey Award winner also finds himself in a low-pressure situation since A.J. Green will almost certainly be the focus of every gameplan for the foreseeable future.
Negatives: Despite his listed size, Eifert isn't overly strong and will need time to add weight, which may help him improve as a blocker down the road. Combined with a lack of burst off the line of scrimmage, Eifert may also be more of a zone-beater early in his career rather than a player who consistently gets open down the seam against man coverage. While Eifert did find a situation in which he can benefit from not being the primary option right away, Cincinnati is far from an ideal landing spot for immediate production. Like it or not, Jermaine Gresham is a two-time Pro Bowler that is tied to the team through the end of the 2014 season while Andy Dalton is far from a polished intermediate to deep thrower (as evidenced by his 20th-place finish in accuracy percentage on throws 20+ yards down the field, per Pro Football Focus).
2013 Fantasy Assessment: Regardless of how much of a disappointment Gresham has been, it is unlikely that Eifert will unseat him as a starter this year or end up playing more snaps. OC Jay Gruden also hasn't done a great job of using Gresham as a red-zone weapon and I believe there is ample evidence to suggest that he probably won't get the most out of Eifert either. Gruden has yet to show he is creative enough to showcase his players' strengths and it is also possible Dalton won't be able to accentuate one of his finer qualities – coming up with the jump ball down the field. He's a solid dynasty prospect, but owners may have to wait until 2015 to see a substantial return. In redraft, he's likely going to be a low-end TE2 at best.
Fearless late-May prediction (six starts): 36 receptions for 415 yards and four TDs
2013 Projected Role: Bills WR2; complementary piece.
Positives: While he doesn't figure to be "Mr. Electric", Woods should be able to put an end to the Bills' endless search for a capable second receiver. The USC product has above-average foot quickness and enough burst to be productive after the catch. He also has above-average hands and knows how to get open and/or "sit down" against zone coverage. Woods was considered one of the more pro-ready receivers in this draft in large part because of the pro-style attack he played in under HC Lane Kiffin and the fact that he has already established he is able to succeed in the short and intermediate passing game. Although he did sustain a concussion against Utah last fall, Woods appeared in all 38 career games while starting 37, so durability is not a concern.
Negatives: Woods is unlikely to make a huge impact in the NFL down the field, mostly because he isn't exceptionally fast nor does he have the leaping ability (or the same explosion) as other higher-ranked prospects in this class. He's also not as strong as he needs to be yet (although that should come in time), which leads to cornerbacks being able to hold him up at the line of scrimmage. But his biggest obstacle right now may be his likely quarterback. EJ Manuel has a load of talent, but it is really just guesswork at this point as to whether or not he will ever be anything more than a semi-accurate athletic quarterback. Manuel's development will be more than a one-year project, which will obviously rob Woods of the opportunity to max out his abilities during his rookie season.
2013 Fantasy Assessment: Woods appeared to have a clear path to the starting job up until the point where the team signed Da'Rick Rogers, who was considered to be a first-round talent if it weren't for his off-field transgressions. Woods is still almost certain to be in the lineup Week 1, but he will be pushed at some point by Rogers if he stays out of trouble. HC Doug Marrone's up-tempo offense may help Woods' owners recoup some of the statistical production they will lose as a result of Manuel's development, but the main reason why Woods finds himself as high as he does on this list is due to the fact that he is more pro-ready than Rogers and third-rounder Marquise Goodwin and a better player than T.J. Graham and Marcus Easley. His 2013 fantasy ceiling isn't incredibly high, but his floor is not all that low either. Owners should target him as a steady WR4 prospect this season.
Fearless late-May prediction (14 starts): 46 receptions for 575 yards and four TDs

Suggestions, comments, about the article or fantasy football in general? E-mail me or follow me on Twitter.

---
Doug Orth has written for FF Today since 2006 and appeared in USA Today's Fantasy Football Preview magazine in 2010 and 2011. He hosted USA Today's hour-long, pre-kickoff fantasy football internet chat every Sunday this past season. Doug regularly appears as a fantasy football analyst on Sirius XM's "Fantasy Drive" and for 106.7 The Fan (WJFK – Washington, D.C). He is also a member of the Fantasy Sports Writers Association.