In terms of pure fantasy impact, the average draft class seems to produce about six or seven players that are usable in redraft leagues. Quite frankly, I expect every player I talk about in the paragraphs below to emerge as every-week starters at some point during the 2014 season. Nearly all of them will be asked to start (or at least contribute heavily) right away and most of them have a pretty solid combination of talent and opportunity to meet the loftiest of realistic expectations.

We kicked off our preseason preparation a few days ago with the release of the bottom half of my top 20 rookies and will conclude our discussion about the incoming draft class this week with the 10 players I believe will have the most impact on the NFL this season.

Running backs tend to succeed in their rookie season much more often than quarterbacks, wide receivers and tight ends; they also play a position where it is becoming more and more difficult to find true impact players. Making this draft class a bit more challenging to rank from a macro point of view is the fact that as many as seven rookie receivers could make a strong case to be considered every-week starters in three-receiver leagues. Conversely, only one running back landed in what could be called an ideal situation (at least as far as 2014 is concerned), so the instant impact of this class figures to be receiver-heavy as a result.

While the position distribution of immediate-impact players changes from year to year, one thing that remains relatively constant is the way we evaluate the likelihood of who will succeed right away. The following questions give us a good starting point:

Is he in a position to succeed? For a running back, does he have a good line to run behind and a play-caller that likes to makes the position a focal point of his offense? What is the likelihood of a consistent workload? For a quarterback, does he have a good pass-blocking line and 2-3 quality options in the passing game? For a receiver or tight end, does he have a good quarterback throwing him the ball? Does he operate opposite a star receiver or is he being counted on to carry the passing game?


What are his most obvious obstacles? This question goes hand-in-hand with the first one, but the successful fantasy owner cares just as much about how/why a player will likely fail as he/she does about how/why a player will thrive. For example, can we expect Jordan Matthews to overtake Jeremy Maclin and/or Riley Cooper to become the lead receiver in Philadelphia as a rookie or will remain in the slot all season long? Does it help or hurt Kelvin Benjamin that Carolina jettisoned Steve Smith? Can Eric Ebron really become the next Jimmy Graham if he plays on the same team with the best receiver in the league?


Is he an offensive building block, complementary piece or role player?


How is the "fit" with his new team and does his style mesh with what the team is trying to accomplish or is the offense going to cater to his talents? Former Baltimore Ravens coach Brian Billick is fond of saying that need is a terrible evaluator of talent. Is the all-catch, no-block Jace Amaro really the player the run-heavy New York Jets needed? Will the Titans ask Bishop Sankey to run outside more often because of his less-than-prototypical size or will they recognize he is a proficient inside runner and let him run in between the tackles?


Certainly, there are always going to be more questions than answers at this point of the year. But to establish a baseline for a rookie, I think this gives us a pretty good start. At the very least, I hope to provide each of you with my early assessments on each player before I really buckle down on player evaluations in July and August using Preseason Matchup Analysis.

Note: The rankings below are for the 2014 season only and are ranked in order of likelihood of fantasy impact. (For example, quarterbacks like Teddy Bridgewater and Manziel may accrue more fantasy points given the nature of their position, but the chances of them impacting a fantasy team are slimmer than say, a potential fantasy WR3 in a three-WR league, because the receiver may end becoming an every-week fantasy starter.)

And now, your top 10 fantasy rookies:



10. Jace Amaro, TE N.Y. Jets (Draft Profile)

2014 Projected Role: Building block; starting tight end ahead of Jeff Cumberland who will be the "move" tight end in two-tight packages and could be used in the slot on occasion.

Why he will live up to this ranking and perhaps exceed it: With only Eric Decker a certain bet for consistent quality targets, Amaro has a real opportunity to become a significant part of the passing game before the start of the season. The Jets made a major statement by drafting Amaro, who needs significant work to become an average blocker but has all the tools necessary to be a matchup nightmare for opposing linebackers and safeties. The all-time FBS record-holder for single-season receiving yardage by a tight end has enough talent to establish himself as one of the 10 best options in the league at his position – strictly in the short and intermediate passing game – by midseason. Further helping Amaro's instant-impact cause is OC Marty Mornhinweg, who got a fair amount of production out of an average talent like Cumberland last season and was a key part of the offensive staff with the Philadelphia Eagles when Brent Celek and L.J. Smith were enjoying some of their finest seasons. Since Decker should draw the most defensive attention and because the Jets should boast a better rushing attack than they did in 2013, Amaro could end up doing what he does best a lot, namely catching everything in his general direction and picking up first downs.

Why he won't: Despite all their offseason additions (RBs Chris Johnson and Daryl Richardson as well as Decker), Amaro's ability to use his unique size (6-5, 265) in motion and in the slot is only going to be useful if either second-year QB Geno Smith or aging veteran Michael Vick can deliver him the ball. While it is too early to draw too many conclusions about Smith, Vick has rarely ever made his tight end a consistent part of the offense (Alge Crumpler in his early days in Atlanta and Celek for a short time with the Eagles would be the exceptions). Amaro's current shortcomings as a blocker also work against him, something that could cost him playing time this season and cannot be overlooked considering how much HC Rex Ryan wants his team to run the ball.

2014 Fantasy Assessment: Mornhinweg never got a chance to work with Dustin Keller, but the former Jet consistently grabbed between 45-65 passes in his heyday in New York. Amaro's rookie season could push the high point of that range given the lack of credible receivers on his team and his ability to work in the slot. Again, rookie tight ends rarely enjoy immediate success, but Amaro is really only a tight end in name only at this point of his career. Working against him, however, is the possibility that he'll two different quarterbacks throwing him the ball and the Jets' desire to pound the rock. Still, the Jets knew when they drafted the Texas Tech standout that he was a work in progress as a blocker, but had the ability to be special in the passing game. Expect Mornhinweg to do everything in his power to make sure that happens. In short, Amaro belongs in the low-end fantasy TE1/high-end TE2 discussion.

Fearless early-June prediction (14 starts): 45 receptions for 505 yards and four TDs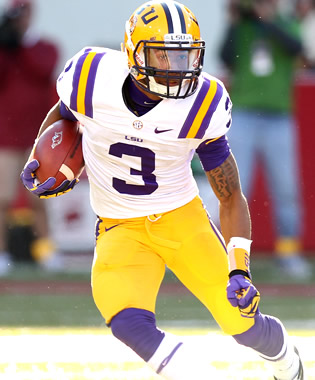 With Nicks moving on in free agency, Odell Beckham's spot on the depth is secure. Rare for a rookie.
9. Odell Beckham Jr., WR N.Y. Giants (Draft Profile)
2014 Projected Role: Likely starter opposite Victor Cruz; will remain outside with Rueben Randle as Cruz moves inside in three-receiver packages.
Why he will live up to this ranking and perhaps exceed it: Shortly after the draft, Carolina Panthers GM (and former Giants executive) Dave Gettleman suggested Beckham was the best route-runner in the draft "by far". It's a key point as New York makes the transition from ex-OC Kevin Gilbride's option route-heavy offense to new OC Ben McAdoo's West Coast attack. The all-purpose threat from LSU is about as smooth as they come out of the draft in terms of his route-running abilities and should provide the big-play threat that was lacking all too often with Hakeem Nicks pulling a disappearing act and Randle often not on the same page as QB Eli Manning. The fit is a good one in New York since Beckham will not only benefit from the attention Cruz attracts, but also because he possesses many of the same attributes that has allowed the 2012 Pro Bowler to become one of the top receivers in the game. Last but not least, Beckham's explosiveness (38 1/2-inch vertical) and huge hands (10 inches) should quickly make him a frequent target on deep throws and in the red zone.
Why he won't: The major concern with the No. 12 overall pick – and it is a small one, relatively speaking – was the number of times Beckham could not turn big plays into touchdowns in 2013. It is rare to see a player consistently make the first defender miss as often as Beckham did and turn a short hitch into a big play only to get caught from behind. The second issue is Manning, who took a serious step back last season, may be on the decline and probably not the greatest fit in the new offense. Even with the multitude of setbacks the Giants had up front and at the running back position, it is hard to put much faith in a quarterback coming off a season in which he threw a career-high 27 interceptions in an offense he was so familiar with (Gilbride was the Giants' play-caller from 2007-13). The other reason Beckham could make a smaller impact than expected would be if Randle puts it all together and thrives in an offense that defines his routes as opposed to one he played in last year, where he and Manning had to read the coverage the same way.
2014 Fantasy Assessment: Mario Manningham and Jerrel Jernigan aren't going to threaten Beckham's place on the depth chart, so how much Beckham produces in his first year will depend on how much improvement Randle makes in the new offense and whether or not Manning can bounce back. Beckham is going to be on the fantasy radar; that much is not in question. The first-team All-SEC selection made his name as a deep threat at LSU and could easily enjoy the same role in New York, but is also extremely dynamic in the open field in the short and intermediate passing game. As the second receiver (at best) in the pecking order on an offense that desperately wants to be balanced, Beckham isn't likely to carry fantasy teams this season. However, it should come as no surprise if he finishes among the top 40 receivers in standard and PPR leagues. As such, he should be targeted as a high-upside WR4.
Fearless early-June prediction (four starts): 46 receptions for 580 yards and five TDs
8. Jordan Matthews, WR Philadelphia
2014 Projected Role: Complementary piece; likely to start in the slot and has a great chance to bump Riley Cooper from the starting lineup before the end of the season.
Why he will live up to this ranking and perhaps exceed it: Regardless of the college offense he played in, it would be foolish to think the Southeastern Conference's all-time leading receiver isn't capable of contributing in the NFL right away. However, the real reason to like him in fantasy is because he will have a prominent role in an offense that wants to improve on its 13th-place finish in terms of plays run (1,082). HC Chip Kelly's offense is sophisticated, fast-paced and requires smart receivers – a combination that a Vanderbilt alum who just happens to be Jerry Rice's cousin should be able to handle. Matthews isn't a great athlete per se, but is very efficient in the way he moves and has a number of desirable attributes working in his favor - long arms (33 ¼ inches – comparable to those on NFL left tackles), huge hands (10 3/8"), toughness and versatility (experience in the slot and outside). Despite a breakout season of sorts in 2013, Cooper probably shouldn't be expected to hold off a charge from the more-talented Matthews all season long.
Why he won't: Matthews would have been higher on this list if this was the 2013 version of the Eagles, but the 2014 edition features enough competition for touches that Matthews will probably endure his fair share of slow games. (Of course, another injury to WR Jeremy Maclin would change that very quickly.) Beyond Maclin and Cooper, the Eagles are going to make getting second-year TE Zach Ertz a priority and added RB Darren Sproles to a backfield that already had LeSean McCoy. So while Matthews is an improvement over Jason Avant in the slot, he shouldn't be expected to post much more than the 38 catches the new Carolina Panther recorded in 2013. Matthews also doesn't generate a lot of separation on his routes despite being a film junkie and good route-runner, so Kelly may ultimately decide to keep him in the slot in order to utilize his size (6-3, 212) and fearlessness over the middle of the field.
2014 Fantasy Assessment: Maclin has not exactly been durable in his career and Cooper is not exactly an overwhelming talent, so another injury to the former or a midseason depth-chart change involving Cooper could vault Matthews into every-week starter status in fantasy. Predicting if and when those kinds of events will happen is tricky business and not something around which many owners want to hitch their wagon. Still, the likelihood one of the two will occur at some point in 2014 is pretty good. In such a scenario, Matthews could be a veritable beast in Kelly's offense. As it stands now, however, he could just as easily be sharing snaps with Ertz in the slot. In all likelihood, Matthews' breakout season will be 2015, especially if Maclin decides to go elsewhere after his one-year deal expires. As a result, treat the rookie as a high-upside WR4 with the potential to ascend to a low-end WR2 discussion before the end of the season.
Fearless early-June prediction (six starts): 48 receptions for 600 yards and five TDs
7. Terrance West, RB Cleveland (Draft Profile)
2014 Projected Role: Complementary piece to begin the season, possibly in a split backfield with Ben Tate; stands a great chance of overtaking Tate before the end of the season.
Why he will live up to this ranking and perhaps exceed it: Many fantasy owners will probably dismiss West as being a product of a better-than-average back that simply took advantage of mediocre FCS competition. Even if that was the case – which I do not believe it is – West is a physical and punishing runner whose best attributes are patience and vision, making him a great fit in a zone-based running scheme. New OC Kyle Shanahan – much like father Mike – knows a good fit for his rushing attack when he sees it. With Cleveland likely breaking in a rookie quarterback (Johnny Manziel) at some point this season and facing the possibility of being without top WR Josh Gordon for most of the season, Shanahan & Co. figure to rely very heavily on the ground game to make the offense go in 2014. Beyond the aforementioned positives, the other key point to be made is the lack of durability Tate has shown in three seasons, meaning West is probably closer to become a feature back than it actually appears at the moment.
Why he won't: Competition, pure and simple. Tate is an above-average back with more explosiveness than West who has already proven himself in this kind of offense, meaning he is the favorite to be the lead back at the start of the season. However, Tate isn't the only potential obstacle. Undrafted free agent Isaiah Crowell was arguably the most talented running back available in the draft and gives the Browns the kind of dynamic burst out of the backfield that neither Tate nor West can, although Crowell's off-field issues kept him from getting drafted – meaning he faces long odds of making the team, much less stealing significant touches from Tate or West in 2014.
2014 Fantasy Assessment: The only thing – and I mean the only thing – keeping West from being in the top five on this list is the talent Cleveland now has at his position. Given the fact the Browns traded up for him and will lean on the running game under Shanahan, West is a very good bet to produce flex-worthy numbers even when Tate is healthy. However, it is not hard to imagine a scenario in which Tate suffers an early injury and Crowell either doesn't make the team or Shanahan is unwilling to trust him, meaning West could easily become the next Alfred Morris – a player that he shares a lot of similarities with from a skills perspective. As such, the Towson product needs to be considered a must-handcuff for Tate and one of the higher-upside fantasy RB3s available in redraft leagues.
Fearless early-June prediction (six starts): 155 rushes for 705 yards and six TDs; 24 receptions for 200 yards and one TD
6. Kelvin Benjamin, WR Carolina (Draft Profile)

2014 Projected Role: Building block; will assume the top receiver role previously held by Steve Smith.
Why he will live up to this ranking and perhaps exceed it: The departure of Smith leaves a 60-70 catch void in the Panthers' offense that no other receiver on the roster can be expected to fill. As a result, Benjamin will be asked to immediately become the team's go-to receiver, perhaps more than any other wideout in this class. With the likes of Jerricho Cotchery, Jason Avant, Tavarres King and Tiquan Underwood competing against him, the Florida State standout is pretty much assured of a starting job right away. Benjamin reminds Carolina GM Dave Gettleman of a young Plaxico Burress, so it's not hard to see what the Panthers have in mind for him – using his 6-5 and 240-pound frame to win high-point throws all over the field, but particularly in the red zone. Another reason to like Benjamin is the fact that QB Cam Newton can extend plays and accentuate the rookie's ability as a downfield receiver with his rocket arm. Of course, the presence of TE Greg Olsen will ensure that Benjamin will not be the sole focus of every opposing secondary.
Why he won't: Size at the receiver position is only a good thing if it is accompanied by speed, work ethic and consistency – all knocks against Benjamin that allowed him to slip all the way from being a potential top-10 pick to the end of the first round. Ideally, he would get the chance to pick up the pro game (as well as the Panthers' offense) from a player like Smith for at least one year, but Carolina waved goodbye to most of its receiving corps in the offseason. The offensive line is also probably going to put a cap on just how much Benjamin can do as well, since the retirement of LT Jordan Gross sent into motion a series of changes that will weaken a front five that wasn't overly dominant or deep to begin with. It stands to reason if Newton is on the run more often, he's going to struggle with pinpoint back-shoulder and other high-point throws. Granted, Benjamin's size will help matters, but it is just as likely that Newton leans more heavily on Olsen on more short and intermediate throws in those situations where he is feeling the heat from the pass rush.
2014 Fantasy Assessment: In terms of immediate production for someone with Benjamin's qualities, it's hard to think of a better landing spot than Carolina. His size alone should make an annual threat for 6-8 red-zone scores and he is a good position to succeed with solid veterans like Cotchery and Avant helping him along on the field and WR coach Ricky Proehl – a longtime NFL receiver – on the sideline to speed up his learning process. Ultimately, how quickly Benjamin succeeds at the pro level will depend almost solely on how much he wants to be great because there just aren't many cornerbacks physically equipped to handle a player like Benjamin. It would be unrealistic to project him to match Smith's catch total from last season (64), but his size and natural athletic ability could give him a shot at improving on the Smith's final receiving yardage mark (745) and touchdowns (four). His top-dog role in the offense means he needs to be considered as a fantasy WR3 candidate.
Fearless early-June prediction (16 starts): 52 receptions for 680 yards and seven TDs
5. Eric Ebron, TE Detroit (Draft Profile)
2014 Projected Role: Complementary piece; likely to be featured as the "move" tight end on all downs and kick out to the slot on occasion in three-wide packages.
Why he will live up to this ranking and perhaps exceed it: Because new OC (and former New Orleans Saints assistant) Joe Lombardi has made no bones about what he wants to do with his first-rounder. Much like the Jets and Amaro above, the Lions understand Ebron isn't going to be a dominating blocker on run downs; his addition is all about giving Detroit another downfield offensive weapon so opposing defenses can't focus solely on WR Calvin Johnson. Ebron is also in the unusual position of being a top pick that will not be the primary concern of the defense; Johnson draws so much attention, WR Golden Tate is one of the better second receivers in the league and RB Reggie Bush can turn any dump-off pass into a big gain. Detroit will probably try hard to be more balanced than it has in the past, but any offense that is led by QB Matthew Stafford and Johnson is a good bet to throw the ball at least 600 times. The fact that Lombardi wants Ebron to be his new Jimmy Graham – and has the speed and athleticism to fill that role - should provide fans and fantasy owners with all the information they need about his ceiling.
Why he won't: Like Amaro, Ebron is a below-average blocker at this point of his career. In other words, it is going to be hard for the Atlantic Coast Conference's all-time leading receiver at the tight end position to be a three-down player. Perhaps Lombardi makes that less of an issue and allows Ebron to work almost exclusively out of the slot just as he did at North Carolina. Although Stafford is in many ways a great fit because he has the kind of arm that will highlight Ebron's ability to get downfield, Stafford's decision-making has a lot left to be desired at times. The Lions will throw the ball enough as noted earlier, but now have an embarrassment of riches of players with the ability to catch 60 passes. Ebron may not need much time to enter that conversation, but Lombardi's priority will probably be to make Johnson, Tate and Bush hit that number before Ebron does in 2014.
2014 Fantasy Assessment: Lombardi's assertion that Ebron will be doing the same kinds of things Graham does for the Saints will probably send fantasy owners into a frenzy, but a more realistic expectation is for Ebron – like several of the rookies we've discussed in this class already – to be a red-zone stud in his rookie year more than a player who ends up with 70-80 catches. There are enough mouths to feed already that weekly consistency may be hard to come by for Ebron in 2014 as well, so it seems like a longshot that he'll finish among the top 10 fantasy tight ends this season. Don't lose sight of the possibility that he will probably realize his top-five upside in short order (maybe as soon as 2015), but don't count on him to be anything more than one of the higher-upside TE2s available this year.
Fearless early-June prediction (10 starts): 51 receptions for 730 yards and six TDs
4. Brandin Cooks, WR New Orleans (Draft Profile)
2014 Projected Role: Building block, perhaps filling the role left behind by Darren Sproles.
Why he will live up to this ranking and perhaps exceed it: HC Sean Payton is one of the most creative and aggressive play-callers in the league, Drew Brees is one of the best quarterbacks in the league and Cooks was one of the most dynamic playmakers available in this draft. There's also a pretty sizeable void to fill in the passing game after the Saints traded RB Darren Sproles to the Philadelphia Eagles, leaving Cooks – as well as a handful of other players – to fight for the 60-70 catches Sproles usually posted every year. Cooks can play inside or outside despite his diminutive size (5-10, 189), be the clear-out receiver on one play thanks to his impressive speed (4.33) and the featured receiver on the next because he is fearless and can turn just about any short pass into a big play. TE Jimmy Graham will almost always be the primary focus of opposing defenses while WR Marques Colston appears to be declining a bit, meaning "Sonic Boom" (Cooks' high school nickname for his track exploits) has a chance to emerge as Brees' second-favorite option.
Why he won't: For most of the time that Payton and Brees have both called New Orleans home, the Saints have been a spread-the-wealth kind of offense when it comes to the passing game. Running backs routinely catch at least 150 passes and as many as four receivers can be fantasy-relevant depending on the week. And, of course, Graham is pretty much a solid bet for 80-100 receptions. Colston may be on the decline, but is still right there with Graham in terms of being one of Brees' favorite red-zone targets while Kenny Stills is more than just a deep threat. So, it should go without saying that Cooks could get squeezed out of the gameplan in any given week despite actually being the most complete receiver the Saints have. The 2013 Biletnikoff Award winner is highly unlikely to ever be a dominant red-zone force (and probably won't be as long as Graham and Colston are around), so his value in fantasy will come as a result of volume and/or his ability to turn the short throws into a big play.
2014 Fantasy Assessment: If owners simply focus on Sproles' 2013 receiving totals and ignore the 34 fantasy points he generated as a runner, then Cooks would finish about 51st among fantasy receivers last season. However, that figure should only be used as a baseline for what Cooks is capable of, not what his ceiling should be as a rookie. For one, Cooks will not average under 10 yards/catch, he will run deep routes consistently (as opposed to the screens and flares Sproles executed) and get more of his rushing yards on reverses as opposed to toss plays. Therefore, Cooks might actually end up being the best bet of all the rookie receivers to post a 1,000-yard season in 2014. Where the Oregon State standout will likely fall short, however, is producing touchdowns on a regular basis – and not just because Graham and Colston will hog most of those opportunities. Cooks should enjoy significantly more value in PPR than standard if he operates as the new-and-improved Sproles, but his low touchdown-scoring potential probably means he should be treated as a fantasy WR3 in redraft leagues this season.
Fearless early-June prediction (five starts): 60 receptions for 820 yards and four TDs; 18 rushes for 90 yards and one TD
3. Sammy Watkins, WR Buffalo (Draft Profile)

2014 Projected Role: Building block; should begin the season as the lead receiver.
Why he will live up to this ranking and perhaps exceed it: Remember Andre Johnson in his prime? That's about the level of prospect the Bills got when they traded next year's first- and fourth-round picks to move up five spots to snag him. In terms of his ability after the catch, Watkins may possess the best blend of explosiveness and power to break through tackles of any receiver prospect in recent memory. As a result, concerns about E.J. Manuel being his quarterback should be quieted a bit simply because the two-time All-American can generate his own offense on the same quick-hitters he was used on so often at Clemson. In the likely event that Manuel makes a sizable leap from his first year to his second (when most players experience their biggest improvement), it only means that Watkins will be even more of a threat because he can move all over the formation and was one of the best deep-ball receivers available in this draft as well. Additionally, there is little doubt that he will be the go-to receiver right away in Buffalo. He should also benefit from the Bills' strong running game, which finished second in the league with 2,307 yards despite not having C.J. Spiller healthy for most of the season.
Why he won't: For Watkins, it is not a matter if he will produce, but rather if he fails to meet the incredibly high expectations many have set for him. It would have been preferable for the Clemson standout to land on a team with an established quarterback, so that is one potential knock that could keep his early numbers in check. Ball security was a bit of an issue in college and his route-running chops may need to be honed since he operated out of an up-tempo spread attack that featured him primarily as an extension of the running game, meaning he could have a bit of a learning curve to overcome. My main concern with Watkins, however, is whether his ability to power through tackles like a running back in the open field will open him up will lead him to be more injury-prone than the majority of NFL receivers nowadays that typically try to avoid contact.
2014 Fantasy Assessment: Watkins may not be quite at the level of A.J. Green or Julio Jones when they came out of the draft in 2011, but he's not far off. He is one of the few receivers that enters the league as a true "hands-catcher" and will make a living generating yards after the catch. The Bills should have no problem lining him up all over the formation – including out of the backfield on occasion – in order to get the matchup they want and make it as easy as possible for Manuel to feed him the ball as much as possible. Between Robert Woods and former Tampa Bay Buc Mike Williams, one of the two – if not both – figure to command enough attention that secondaries cannot focus all of their attention on Watkins. Let's also not forget the ground game, which could create enough big plays with a healthy Spiller that defending the rookie becomes a secondary priority. Even if Manuel only improves only a little over last season, Watkins belongs in the high-end WR3 discussion in fantasy.
Fearless early-June prediction (16 starts): 58 receptions for 845 yards and five TDs; 22 rushes for 125 yards and two TDs
2. Mike Evans, WR Tampa Bay (Draft Profile)
2014 Projected Role: Starter opposite Vincent Jackson; immediate-impact performer in the red zone.
Why he will live up to this ranking and perhaps exceed it: It's hard to dislike a 6-5, 232-pound former-basketball-standout-turned-receiver with 4.53 speed, freakishly long arms (35 1/8 inches) and a 37-inch vertical. Evans seems to enjoy physically dominating opponents and doesn't require much separation as a result, often using his size to wall off defenders and a combination of his wingspan and athletic ability to haul in overthrows. Even though he profiles to be a bigger version of Brandon Marshall, the first-team All-Southeastern Conference selection has a bit of Michael Irvin in his game in that he isn't afraid to use his hands to create more separation while the ball is in the air. Evans is deceptively fast, has a pair of quarterbacks who can get it to him downfield in Josh McCown and Mike Glennon and will benefit from the fact that defenses will have to play him honestly since Jackson will be on the other side of the formation. It's also not too much of a stretch to say that Atlanta, Carolina and New Orleans don't have one – much less two – cornerbacks capable of matching up with Jackson or Evans physically.
Why he won't: Much like the case with Watkins, it seems to be only a matter of time before Evans is a dominant force in the NFL. One area where Tampa Bay must show a bit of patience with him is as a route-runner since he only began playing football as a high school senior in 2010. Evans didn't really get a lot of help in that area either while at Texas A&M, where he didn't exactly run a full NFL route tree and actually generated a lot of his production as QB Johnny Manziel's default option when he was under duress – a situation that could actually be viewed as a positive given how often the behemoth receiver won those battles. About the only other area in which it is fair to nitpick Evans' ability to contribute as a rookie is the fact that Jackson will probably be the de facto top receiver. Rookie TE Austin Seferian-Jenkins also cannot be ignored; he will typically enjoy the biggest mismatch – being paired up against a linebacker or safety – each week.
2014 Fantasy Assessment: The combination of McCown and Glennon probably doesn't excite present and future owners of Evans, but both quarterbacks proved last season they are capable NFL quarterbacks (especially Glennon, who didn't have much else to throw to outside of Jackson). The reason Evans gets the nod as the top receiver in redraft leagues is because he may quickly emerge as the Bucs' best option in the red zone on a team full of them. It seems likely that Jackson will lead the team in catches and perhaps receiving yards, but Evans could easily pace his position group in touchdowns. The rookie is going to draw the opponent's weakest (and probably shortest) starting cornerback in all likelihood to begin the season, meaning he could have a field day high-pointing balls near the goal line. Volume may be an occasional problem for Evans in what figures to be a run-heavy offense, which will probably make him a low-end fantasy WR2/high-end WR3 when all is said and done. If owners can grab him after the top 30 receivers go off the board, however, consider it a steal.
Fearless early-June prediction (16 starts): 58 receptions for 880 yards and seven TDs
1. Bishop Sankey, RB Tennessee (Draft Profile)
2014 Projected Role: Building block; should relegate Shonn Greene to a short-yardage, goal-line specialist in short order.
Why he will live up to this ranking: Beyond his status as one of the draft's true all-purpose running backs, the primary reason that Sankey should be the first rookie off the board in fantasy is because his primary competition are two aging plodders (Greene and Jackie Battle) and a scatback that isn't capable of handling much more than 100 touches (Dexter McCluster). Greene just underwent his second knee surgery in nine months in May and may end up getting cut while Battle simply isn't a viable threat. The University of Washington's all-time single-season rushing leader runs bigger than his size (5-9, 209) and has enough versatility to be flexed out as a slot receiver if the Titans ask him to do so. Furthermore, the Titans have assembled a wealth of talent on the offensive line over the past two seasons and brought in a coach in Ken Whisenhunt that showed last season in San Diego he wants to run the ball. If Whisenhunt was willing to run a balanced offense with Philip Rivers at the controls, there's a pretty good chance he'll do it in Tennessee with the injury-prone Jake Locker under center and behind a better offensive line. Consider that if Chris Johnson (who showed an increasing unwillingness to run inside as his Titans' career came to an end) was able to rush for 1,000 yards behind this line, which added nasty first-round OT Taylor Lewan in the draft, then a player like Sankey that excels at running in between the tackles should be able to enjoy a banner season in a division (AFC South) in which the run defenses he faces six times a year may not be all that great.
Why he won't: A lack of ball security is one way for any player to earn a quick hook in the NFL and it is a problem that the Pac-12's reigning rushing champ has dealt with in his career, although he did make a dramatic improvement in that regard in his final college season. Otherwise, there's really not much standing in the way of Sankey finishing among the top 15-20 running backs in fantasy, barring the unexpected rise of undrafted free agent Antonio Andrews. McCluster appears primed to take on the same kind of role Danny Woodhead assumed in San Diego last season while Greene or Battle might be expected to be the short-yardage and/or goal-line hammer, but Sankey could easily end up nudging all of them out of those roles since he is a better blocker than McCluster and probably as good of an inside runner – if not better – than either Greene or Battle at this point of their careers.
2014 Fantasy Assessment: Tennessee believes Sankey compares favorably to Tiki Barber and it wouldn't be shocking if he eventually evolves into the same total-yardage machine the former New York Giant turned out to be. Sankey is the lone running back from this draft that can realistically expect to enter camp as the lead back (at the very least) and expect to earn a feature-back role at some point early in the season. In a day and age where running backs are sharing work more than ever, any runner that is even remotely close to a feature-back role is worth his weight in (fantasy) gold. Even if he splits goal-line carries with Greene or Battle and passing-down reps with McCluster right down the middle, the stage is set for Sankey to average at least 80-100 total yards and score at least 6-8 times.
Fearless early-June prediction (15 starts): 255 rushes for 1,130 yards and six TDs; 41 receptions for 315 yards and two TDs

Suggestions, comments, about the article or fantasy football in general? E-mail me or follow me on Twitter.

---
Doug Orth has written for FF Today since 2006 and has been featured in USA Today's Fantasy Football Preview magazine since 2010. He has hosted USA Today's hour-long, pre-kickoff fantasy football internet chat every Sunday over the past two seasons and appears as a guest analyst before and during the season on Sirius XM's "Fantasy Drive" as well as 106.7 The Fan (WJFK – Washington, D.C). Doug is also a member of the Fantasy Sports Writers Association.