The NFL stops for no man and we will be reminded of that once again in a few days when Week 6 action begins and Jamaal Charles is not on the field, unable to play more than five games for the second time in five seasons due to another ACL injury. In the three years between his injury-shortened seasons, Charles has continued to polish what is shaping up to be a Hall-of-Fame resume and consistently produced like few others ever have. The four-time Pro Bowler and two-time first-team All-Pro selection ends this season averaging 5.5 yards per carry over his career, which is the best mark by any player with at least 1,000 carries in NFL history.

Needless to say, neither the Kansas City Chiefs nor fantasy owners can expect to find Charlesí replacement the season and to suggest otherwise would be irresponsible. With that said, the fantasy season also stops for no one, no matter how important that person or player may be to the fabric of the current game.

Owners of the No. 2 overall running back in PPR and standard leagues looking for some kind of relief can be comforted by the fact that a handful of late-round or undrafted running backs are among the leading scorers at their position through five weeks. Devonta Freeman, Dion Lewis, Theo Riddick, David Johnson, Chris Johnson and Charles Sims are among the backs that were neglected on draft day that find themselves among the top 20 in PPR scoring. Of course, most of those players are already owned. That doesnít change the one constant in fantasy football: there will be change and turnover and new stars will emerge.

Like any NFL team that suffers a season-ending injury at any position, the first place to look is in-house. Fortunately for the Chiefs, they have at least two options that appear enticing. Unfortunately for owners, two suitable options means one giant headache when it comes to feeling good about which one is the best for them to fill their new void at running back. While the majority of this piece will be devoted to distraught Charles owners and how they can potentially overcome the loss of their first-round draft pick, the larger focus will be for any owner in need of immediate help at the running back position. Much like Kansas City will, Iíll begin by assessing the in-house options first: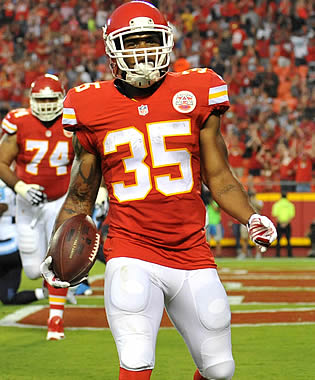 West could command 60% or more of the snaps.
Charcandrick West - By now, youíve become very familiar with the 2014 undrafted rookie free agent out of Abilene Christian whose first name can hurt your brain at first glance; heís also a player I highlighted as a ďbuyĒ last week. The folks at arrowheadpride.com did a fantastic write-up on West during the preseason as well. As I tend to do with any free agent I plan on investing heavily in, I watch all of his touches leading up to this point Ė including the preseason. Here are some of my impressions:
Likely the least explosive and slowest of the Chiefsí top three backs (hardly an insult considering the athleticism of Charles and Knile Davis) Ė although he has enough of both Ė that hasnít shown a knack for beating NFL linebackers/safeties to the edge yet, but is a decisive one-cut runner that plays with more toughness than some might expect from a 205-pound small-school back. Very little wasted motion, which makes him an efficient runner. Probably isnít going to ďwowĒ with multiple big runs every game, yet is more than a sustainer that possesses the vision to cut back when the weak-side defensive end or linebacker is undisciplined and/or crashes down too quickly. Can make the first defender miss and has a nice little jump-cut, but isnít the type thatís going to make multiple defenders miss very often. Has shown the ability to adjust to a poorly-thrown ball and possesses reliable hands in the flat. Better inside than outside runner at the moment.
Kansas City HC Andy Reid likes West in part because he shares many of the same qualities as Charles and doesnít have to change the playbook in order to get him his touches. Suffice it to say that while it is easy to tell the difference between the two players, itís also easy to figure out how he has endeared himself to Reid so quickly.
Knile Davis Ė I wouldíve considered it a longshot at best if someone wouldíve told me before the start of the season that Davis could be unseated as Charlesí primary backup. Iím fairly certain now after watching the two backs play on NFL Game Pass and reviewing offensive snap percentages that West is the clear lead horse in this race. Davisí size probably makes him the frontrunner for short-yardage and goal-line opportunities initially, but I wouldnít necessarily call that a given. I think there is a legitimate chance West could command 60 percent or more of the snaps in relatively short order. Owners making a move for Davis this week should probably expect him to be more of a handcuff whose value would skyrocket should West be sidelined for any length of time. For those that care, RB/FB Spencer Ware was promoted from the practice squad and will serve as the third back for now.

Before I go on, I found it notable (and obviously a bit ironic) during last weekís Fox telecast of the Chicago-Kansas City game that minutes before Charles suffered the injury, analyst John Lynch speculated that if Charles was to go down for any length of time, Davis would become the starter and the offense would change to cater to his strengths. That appears to be highly unlikely because Davisí only touches in Weeks 3-4 came as a kick returner while West relieved Charles.
Unfortunately, only one owner per league is going to be able to secure the services of West. Given the dearth of healthy and/or capable running backs in the league at the moment, the odds are strong there are at least 7-8 other owners in a 12-team league are currently looking for more help at that position. The goal of this exercise is not to be reactive and discuss backs who have already performed, but rather those that might be a bit under-the-radar and are in position to do so. Since a large number of leagues nowadays use the blind-bidding method for waivers and I feel this week is shaping up to be an important week on the wire, I will include what I would be willing to bid in order to secure the following playerís services. Of course, much depends on your league, so quickly browse through the bids that have won so far and let that play a major role in how much you bid for a player.
In the case of West, I would be willing to spend up to 75 percent of my remaining budget since RB2 candidates typically donít fall into our laps all that often. I anticipate his weekly floor being around 12 touches and his ceiling around 18, at least in the beginning. Reid has a long track record of getting strong production out of the running back position, so feel good if you are land both West and Davis and have the luxury of letting this thing play out.
Ahmad Bradshaw, Colts - West should be the consensus No. 1 add in fantasy leagues this week. Assuming someone like Duke Johnson isnít sitting on your waiver wire like he apparently is in roughly half of Yahooís leagues (please donít me started on large public sitesí ownership percentages), Bradshaw makes a very nice consolation prize. For any owner that has been forced to go up against Bradshaw as many times as Iíve had to over the last couple years, suffice it to say that the Colts know how to use him. (And for what itís worth, I frankly cannot understand why Kansas City did not pursue him.) Ultimately, I think itís unrealistic to expect Bradshaw to repeat last seasonís numbers simply because heíll be running behind Frank Gore instead of Trent Richardson this time. With that said, I donít see any reason why he canít repeat his passing-game catch and yardage totals while Gore handles most of the early-down work. While it would not surprise me at Bradshaw saw a bit of work this weekend against New England, it would shock me if heís not somewhat heavily involved (25 snaps perhaps?) by the time Week 7 rolls around. Given the fact the Coltsí opponent that week is New Orleans, Indianapolis could easily control that game and give owners a preview of how OC Pep Hamilton intends on managing Gore and Bradshawís snaps. For those that may underestimate the potential impact that Bradshaw could have, let it be noted the Colts averaged 32.2 points in the nine full games he played last year. In the 15 contests since Ė including the New England game when he broke his leg Ė Indianapolis has managed 21.6 points per game. Iíd be absolutely stunned if he doesnít perform to the level of a high-end flex in PPR leagues over the second half of the season.
FAAB Recommendation: Up to 25 percent of remaining budget
Javorius Allen, Ravens - Baltimore was one of many teams that could not afford to suffer injuries to key skill-position players the season, but that is exactly what has happened. While Steve Smith appears to be on the way back, the Ravens are perilously thin at running back with Justin Forsett battling an ankle injury and Lorenzo Taliaferro out for the season with a foot injury. While the team added a prospect I like in Raheem Mostert, heís merely roster depth having just joined the team this week. In case it wasnít already obvious by now, that leaves Allen as the only running back on the squad that is healthy and knows the playbook. Even if Smith makes it back and Forsett plays as expected this week, Baltimore has little choice but to rely on its running game as a way to keep its struggling defense off the field. Iíll be the first to admit that Iím not overly impressed with Allenís skill-set, but itís easy to see how quickly the fourth-round rookie could become an every-week fantasy starter with the Ravens beginning to run the ball more effectively over the last two weeks. Also, letís not forget Forsett turned 30 this week, so his ability to recover from injury and maintain his effectiveness all season long will be a question mark. Allen cannot be expected to produce like Forsett if he is asked to serve as the featured back, but I do think heíll be forced into that role at least once or twice this season.
FAAB Recommendation: Up to five percent of remaining budget. Since there isnít a ton of urgency in picking him up Ė as would be the case if Forsett was already ruled out for Week 6 Ė a lower bid should be more than enough to secure his services.
Robert Turbin, Browns Ė Like most people, Iím not going to pretend like I have an idea of whatís going on in Cleveland. Two games into the season, Duke Johnson - drafted in large part because of the similarities he shared with Giovani Bernard Ė had yet to see a target, much less a reception. Three weeks later, he has 25 of the former and 21 of the latter. Isaiah Crowell appears to be the main early-down back and has at least 10 carries in every game so far, although it seems his job status changes from week to week. Enter Turbin, who is a reasonable blend of Johnson and Crowell in that he is more than capable in the passing game (he was the primary third-down back during his time with the Seahawks) and has the power most would expect out of a 222-pounder. Itís really anybodyís guess as to whether or not the Browns want a featured back to emerge (or even a lead back, for that matter), but the player most suited for that role right now is probably Turbin. (Let me make it crystal clear that Johnson is the best talent of the three.) The good thing about the fourth-year Utah State product is that should an injury strike the Cleveland backfield, he has the skills necessary to adequately replace either Johnson or Crowell. That in and of itself has to be worth something to the team as well as fantasy owners, so stashing him now is a low-risk, medium-reword bet that could eventually become a low-end flex option.
FAAB Recommendation: Lowest bid possible. I assure you 99 percent of fantasy owners do not have Turbin on their radar right now.

Other backs that should be owned in all leagues but may have slipped through the cracks: Theo Riddick, Lions (15th in overall PPR scoring through five weeks); Chris Thompson, Redskins (33rd); Khiry Robinson (37th and a potential high-end RB2 should the injury-prone Mark Ingram get hurt)

Continuing the theme of potentially overlooked waiver-wire finds, Iíd like to identify a few more at receiver and tight end before calling it a week. I touched on the some of these players last week, but feel it would not hurt to mention them again.
WR Brandon LaFell, Patriots Ė This one should be rather obvious and itís actually hard for me to believe he is available in as many leagues as he is considering how close he is to returning to the field after finishing as the WR22 in PPR formats last season. None of the outside receivers (such as Aaron Dobson) have stepped up to support Julian Edelman or Rob Gronkowski, making it quite likely that LaFell has a starting job waiting for him. He is eligible to return to game action in Week 7 and should be a more than serviceable WR3 shortly thereafter.
WR DeVante Parker, Dolphins Ė Itís always risky trying to predict whatís going to happen after a midseason coaching change, but Iím firmly in the boat that believes interim HC Dan Campbell will push the teamís first-round draft choice this spring into the starting lineup (or be encouraged to do so by the front office). Itís not as if Parker doesnít have the talent to take advantage of the opportunity and few teams have utilized more three-wide sets than Miami thus far. The No. 14 overall pick is going to have a long future in the NFL and probably spend most of those years as his teamís top receiver. The Dolphins will be doing themselves an injustice if they donít find a way to let him average at least seven targets for the rest of the season. (And if you donít want to take my word for it, read what Jarvis Landry told the Palm Beach Post earlier this week.) Keep in mind the rookie missed most of the spring and camp due to his offseason foot surgery, so his breakout may require a bit more patience. Still, Iíd be willing to bet quite a bit that former HC Joe Philbin is going to look even more ridiculous when people get to see what Parker can do with 40-50 snaps per game over the next two-plus months.
WR Stefon Diggs, Vikings Ė Many players could have been something in the NFL had they just been able to stay healthy. Iím almost 100 percent certain Diggs will be really good if he is able to overcome his injury-prone past. Heís earned two compliments (one from former college teammate DT A.J. Francis and another from current teammate Mike Wallace last week) over the last few months that many players donít receive in their career. For those that donít know much about the Maryland alum, Diggs was a consensus five-star recruit and lived up to that acclaim as a freshman in 2012 - the only season in which he managed to stay healthy for most of the year Ė totaling 1,896 all-purpose yards and finishing second to Duke's Jamison Crowder for ACC Rookie of the Year. At worst, the rookieís six-catch, 87-yard debut in Week 4 should have enabled him to steal slot duties from Jarius Wright. (It should be noted his Week 4 catch total tied a team record for the most by a player in his first game.) Perhaps the Vikingsí run-heavy offense wonít allow more than one receiver to be consistent in fantasy this season, but if Wallace and/or Charles Johnson are limited by their injuries in any way this week against Kansas City, donít be a bit surprised if Diggs has another solid fantasy line. That may be enough to forge a timeshare with Johnson.
TE Austin Seferian-Jenkins, Bucs Ė In case any of you need a reminder about the state of the tight end position, there are three that have played three games or fewer that still rank within the top 27 in PPR scoring. It should come as no surprise that one of them is Antonio Gates, fresh off his scintillating debut on Monday Night Football. Another one of them is Crockett Gillmore, who posted the majority of his 37.1 fantasy points against Oakland in Week 2. And finally, there is Seferian-Jenkins, who has been out with a shoulder injury since Week 2. Most of us will remember ASJ got the majority of his production in extreme garbage time in Tampa Bayís Week 1 debacle against Tennessee, but it is worth noting the Titans have yet to give up another touchdown to the position since. (In case youíre wondering if thatís an impressive achievement, Tennessee held Gary Barnidge to one scoreless reception in Week 2. Barnidge, as you well know, hasnít been stopped since.) Tampa Bay is on a bye in Week 6, making this week a perfect opportunity to slip in a $1 bid or scoop him off the wire in hopes that five weeks will be enough recovery time to get him back on the field (his original timetable was 4-6 weeks). Jameis Winston is 13-for-30 throwing in Mike Evansí direction and 20-for-38 when targeting Vincent Jackson, suggesting his big arm has yet to find its range. In the short time they were able to work together, Seferian-Jenkins corralled seven of his 10 targets.
TE Richard Rodgers, Packers Ė Admittedly, Rodgers does not possess the upside of Seferian-Jenkins and is unlikely to see more than 5-6 targets very often this season, but owners can take solace in the fact he plays in one of the best offenses in the league. Lately, Rodgersí lack of upside has resulted in three double-digit fantasy-point performances which have come mostly as a result of finding the end zone. As Green Bay continues to fight through injuries in its receiving corps (Randall Cobb and Davante Adams, most notably), thereís going to be opportunity for a big target like Rodgers. As has been the case for years, all most owners can ask for from the tight end position is 4-5 catches and a decent shot at a touchdown every other week. As long as Cobb and Adams are playing at less than 100 percent, Rodgers has a reasonable chance of achieving that level of production.
TE Jacob Tamme, Falcons Ė Just about everything I said about Rodgers above can be said about Tamme, including being productive while the Falcons' receiving corps is nursing its injuries. Of course, Peyton Manning's former caddie should be a fairly popular add this week following his eight-catch effort in Week 5, but don't be so quick to chalk it up as a fluke. Julio Jones is dealing with a hamstring – a notoriously tricky injury that only gets better with extended rest. Leonard Hankerson missed a fair amount of time last week with a rib issue, leaving Devonta Freeman and Tamme (not Roddy White) as the primary targets for Matt Ryan. With two pretty good fantasy efforts already under his belt in four tries, it is reasonable to think he could emerge as a regular (not every-week) fantasy starter sooner than later.

---
Doug Orth has written for FF Today since 2006 and been featured in USA Today's Fantasy Football Preview magazine since 2010. He hosted USA Today's hour-long, pre-kickoff fantasy football internet chat every Sunday in 2012-13 and appears as a guest analyst on a number of national sports radio shows, including Sirius XM's "Fantasy Drive". Doug is also a member of the Fantasy Sports Writers Association.