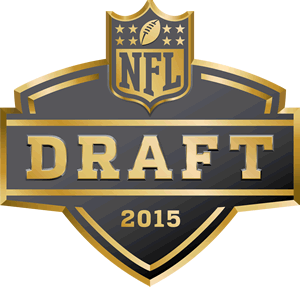 3.04 OAK – TE Clive Walford

Walford didn't play football until his senior year of high school, which suggests he isn't come anywhere close to reaching his ceiling yet. With this selection, Oakland now has Amari Cooper and Walford as its likely go-to options for Derek Carr by the end of this season (as opposed to James Jones and Mychal Rivera). Walford has a chance to be this draft's most complete tight end and give the Raiders a downfield threat at a position where that quality is fairly hard to come by. As with most rookie tight ends, not much should be expected in Year 1, so his redraft value is low. In dynasty, he should be a solid early-to-mid second-rounder.

3.05 SEA – WR Tyler Lockett

After addressing their need for a dominant receiver with the Jimmy Graham trade, the Seahawks select a player that may be the best slot receiver in this draft (although he is not limited to inside work). Lockett stands only 5-9, but creates incredible separation and is not afraid to work the middle of the field. Lockett is a very good route-runner and will be able to hit more than a few big plays with Russell Wilson's ability to extend plays. Despite all his positives, Lockett is a late-round redraft prospect at best and profiles as a late second-round pick at best in rookie drafts.

3.06 HOU – WR Jaelen Strong

An absolute steal that could have easily been a first-round, Strong is a nice mix of Anquan Boldin and Alshon Jeffery. The Arizona State standout doesn't play quite as fast as he times and is reportedly dealing with a wrist injury, but the Texans have to be thrilled to get him to fill the void left behind by Andre Johnson's release. Strong has WR1 upside in the real game, although he'll likely settle in as a long-term WR2 with DeAndre Hopkins establishing himself as the main threat in the passing game. While Strong has an outside shot to be a low-end fantasy WR3 in redraft leagues this year, he should probably be considered a WR4 given the Texans' quarterback situation. In rookie drafts, he should be a very good option at the end of the first round.

3.09 ATL – RB Tevin Coleman

Coleman wasn't going to be a great fit for a lot of teams because he doesn't possess much power or elusiveness for a 205-pounder, but Atlanta was one of the few exceptions. New OC Kyle Shanahan usually knows exactly what he wants in his running backs and the Indiana standout makes a ton of sense as a one-cut runner that is one of the best big-play backs in the draft. It should be an interesting battle to see whether Coleman or 2014 draft Devonta Freeman claims the starting job because the winner of that competition could easily be a fantasy RB2 in 2015. As Shanahan's hand-picked selection, the early odds favor Coleman. As a result, he is at worst a flex option that warrants a fourth- or fifth-round pick in early redraft leagues and worthy of a mid-to-late first-round pick in rookie drafts.

3.12 KC – WR Chris Conley

It often seems as if the Chiefs are using a different draft board than every other team; despite great size (6-2, 210), Conley struggles mightily catching the ball. With that said, Conley's combine numbers alone pretty much thrust him into the third round and, if there is a block of clay that a team like Kansas City wants to take some time to develop, there aren't many better choices that were still available than Conley, who should be able to deliver big plays on the few occasions Alex Smith goes deep. For the time being, Conley can be left undrafted in redraft leagues and should be considered a third-rounder in rookie drafts.

3.13 CLE – RB Duke Johnson

One of the most elusive backs in this draft, Johnson finds one of the worst landing spots for his immediate fantasy value. Isaiah Crowell is at least as talented as Johnson and more suited for a heavy workload as a bigger back, meaning the leading rusher in the history of the "U" will begin his NFL career as a change-of-pace back. There's a solid chance Johnson can quickly work his way into a Giovani Bernard role (with Crowell playing the role of Jeremy Hill), but it is impossible to say if the Browns can have anywhere near the same success the Bengals did using that approach with Josh McCown and/or Johnny Manziel as their quarterback and virtually no other threats in the passing game. Based on talent alone, Johnson warrants a mid-round (7th-10th) pick in redraft leagues as the likely handcuff to Crowell and a late first-round pick in rookie drafts.

3.21 CIN – TE Tyler Kroft

A bit of a Zach Ertz clone with slightly better blocking skills, Kroft spent most of his time at Rutgers as a slot receiver before moving in-line on a more regular basis last season. However, he has a shot at immediate playing time in Cincinnati given how injury-prone Tyler Eifert has been as a pro so far. If Eifert stays healthy, then Kroft will probably be little more than a red-zone specialist in Year 1. Assuming Eifert is good to go in 2015, Kroft can be left undrafted in redraft leagues and is probably little more than a late third-round pick in rookie drafts.

3.22 ARI – RB David Johnson

If the Cardinals' fan base was looking for Andre Ellington's power-running complement, they didn't get it here. Johnson had an impressive combine and is 224 pounds, but isn't a power back and had over 1,000 touches in college. Instead, he is a gifted receiver with good speed that doesn't really seem to offer Arizona anything different than it already has on the roster. On a more positive note, the Northern Iowa standout figures to be Ellington's handcuff, which is notable since he significantly wore down as a feature back a season ago. Johnson is probably no more than a late-round redraft pick and a mid-to-late second-round pick in rookie drafts.

3.23 PIT – WR Sammie Coates

Coates is one of the several "body-beautiful" receivers in this draft, but like Breshard Perriman, he is an unpolished route-runner that drops too many balls. Furthermore, he is clearly blocked by Martavis Bryant as the big speed receiver who can be a quality red-zone option for Ben Roethlisberger. To his credit, the Auburn alum can seemingly get behind any defense and played big in big games as a Tiger. Also working in Coates' favor is the Steelers' track record for hitting on receivers. I have doubts about Coates making much of a Year 1 impact and tend to believe he is worth no more than a late second-round pick in rookie drafts.

3.25 STL – QB Sean Mannion

As far as third-round quarterbacks go, Mannion is about as good of a pick as the Rams could have made at the position. The Oregon State product is about as pro-ready as he can be after spending four years with former Beavers HC Mike Riley that is a film-room junkie and profiles similarly to Mike Glennon. Mannion doesn't move particularly well, so St. Louis will have to do a good job of protecting him in the event that Nick Foles either gets hurt in 2015 or leaves via free agency in 2016. With that said, he can make all the throws and should give the Rams some sense of relief as a well-prepared backup this season. He should be left undrafted in redrafted leagues and probably can be had in the third or fourth round of rookie drafts.

3.28 DEN – TE Jeff Heuerman

Heuerman didn't get much of a chance to show his skills on the Buckeyes' national championship team due to injuries, but is the type of chain-moving type of tight end that Peyton Manning has used with much success over his career. The problem is by the time Heuerman can start squeezing Owen Daniels and Virgil Green for playing time, the legendary quarterback could be retired. As a result, Heuerman can be left undrafted in redraft formats and left until the late rounds in rookie drafts as well.

3.30 GB – WR Ty Montgomery

Montgomery did a little bit of everything at Stanford, so it shouldn't come as a surprise if he starts out as a bit of a gadget player on offense and returns kicks as a rookie. At 6-0 and 220, the Packers could even give him a few snaps in the backfield. With that said, it is unlikely he will enjoy much redraft value given the plethora of talent in front of him at receiver (Jordy Nelson, Randall Cobb and Davante Adams), but fourth receivers with the Packers often find their way into fantasy value. It is a role he'll probably fight Jeff Janis for in camp. Montgomery warrants a third- or fourth-round pick in rookie drafts, but can be left undrafted in yearly leagues.

3.31 WAS – RB Matt Jones

Jones brings impressive size (6-2, 230) to a backfield that lacks it behind Alfred Morris and further signals that HC Jay Gruden wants his team to build his offense around a powerful running game. Jones tends to get what is blocked and doesn't offer much in the way of a big-play potential, so the odds are that he will slot in as a third running back in Washington behind the winner of the Silas Redd/Chris Thompson camp competition. The Florida product can be left undrafted in yearly leagues and in most rookie drafts that do not last more than four rounds.

---
Doug Orth has written for FF Today since 2006 and appeared in USA Today's Fantasy Football Preview magazine in 2010 and 2011. He is also the host of USA Today's hour-long, pre-kickoff fantasy football internet chat every Sunday. Doug regularly appears as a fantasy football analyst on Sirius XM's "Fantasy Drive" and for 106.7 The Fan (WJFK – Washington, D.C). He is also a member of the Fantasy Sports Writers Association.