Last week in Stretch Run Saviors, we discussed players available in the majority of leagues and capable of having an impact during the fantasy playoffs if certain events worked in their favor. This week, we'll touch on the players I believe should carry the majority of owners to their league championships, assuming, of course, the rest of his fantasy supporting cast is pulling their weight.

Below you will find a number of players - broken down by position - I believe have multiple factors working in their favor to bring home the goods. For example, "the obvious" grouping takes into account past production and upcoming schedule, but doesn't necessarily include the top five options at the position (what good would that do?). "The somewhat obvious" is a cluster of players who may be considered a back-end starter in most cases but may able to step it up over the final three weeks of the fantasy season. "The less obvious" are primarily players who have been matchup-based starters, while "the are-you-kidding-me crowd" is a combination of underachievers who may surprise or supposed overachievers who may be able to continue their recent pace.

Quarterbacks

The somewhat obvious: Matt Ryan (@LA, SF, @CAR), Kirk Cousins (@PHI, CAR, @CHI), Philip Rivers (@CAR, OAK, @CLE)

The Falcons will have a choice on how they will dissect opponents the rest of the way, as the Rams, 49ers and Panthers are all either in freefall and just about there. With Julio Jones dealing with turf toe and Mohamed Sanu nursing a groin injury, OC Kyle Shanahan may opt to run the ball more often. If he chooses to keep things pretty much the same (Ryan has attempted between 33-35 passes in every game since Week 6), then Ryan shouldn't struggle to reach 250 yards and two scores in most of his upcoming contests. His ceiling is obviously much higher than that.

Cousins benefits from volume much more than Ryan does, but the real reason he shows up on this list has to do with the relative strength of his opponents against the run and those same teams' relative weakness figures to have stopping all of Washington's passing-game weapons. Even if Jordan Reed doesn't return (I don't think it is a given he will and certainly not at 100 percent), the Eagles, Panthers and Bears are all struggling in the secondary and don't have near enough quality defensive backs to match the Redskins' plethora of options at receiver.

Rivers has been consistently underappreciated in fantasy for some while now, probably in large part because the Chargers haven't been able to make it to the playoffs very often and his supporting cast continues to suffer serious injuries every season. He's not helping his cause this year by throwing more interceptions than usual, but there is no question in my mind I want him starting for me over the final three weeks of the fantasy season. Carolina may be on the verge of checking out and doesn't have much talent in its secondary (especially if S Kurt Coleman remains out this week) beyond stud rookie CB James Bradberry. Rivers threw for 359 yards and four scores in a Week 5 win over the Raiders and Cleveland is, well, Cleveland.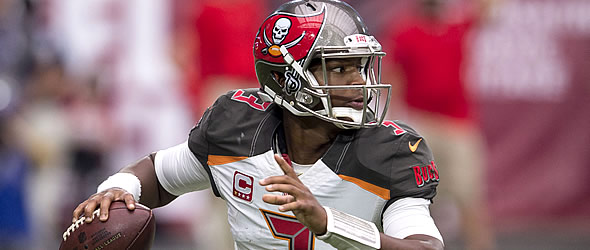 Jameis Winston has three potentiel shootout games right in the middle of fantasy playoff time.
The less obvious: Jameis Winston (NO, @DAL, @NO), Tyrod Taylor (PIT, CLE, MIA)
New Orleans ranks right in the middle of the pack against fantasy quarterbacks and Dallas is 12th, so Winston isn't going to have it easy as some might expect based on the reputations of his upcoming opponents. All three games could have a shootout element to them, however, and neither the Saints nor Cowboys have a defensive back capable of stopping Mike Evans. Like the Falcons above, the Bucs could easily just decide to ride the ground game and trust their improving defense down the stretch, but that doesn't seem all that likely given Doug Martin's struggles so far and the caliber of offenses they'll be facing.
Taylor has thrown for more than 200 yards in only four of his 12 outings this season, although we can attribute some of that to the lack of Sammy Watkins for most of the season and the Bills' run-heavy ways. It also helps that Joe Flacco's former backup has run for at least 30 yards in each of his last seven games and scored a rushing touchdown in five of his last six. With Watkins back (we think), no stud cornerbacks to take him away, a solid ground game and three home games during the fantasy playoffs, Taylor could finally be poised to take off like he did for parts of last season. Pittsburgh hasn't allowed more than two touchdowns to any quarterback all season, so this week may not be his week, but all bets are off against the Browns and Dolphins.
The are-you-kidding-me crowd: Trevor Siemian (@TEN, NE, @KC), Colin Kaepernick (NYJ, @ATL, @LAR)
Siemian's appearance here obviously assumes his foot will allow him to go this week and, even then, it would take a pretty dire situation for me to consider him now, but here's what he has working for him: the Titans have surrendered at least 22 fantasy points to quarterbacks (assuming six points per passing touchdown) in each of the last seven weeks. (Included in that group are Cody Kessler and Matt Barkley.) Neither of those quarterbacks have near the weapons Siemian does and the Titans may be able to run the ball well enough that Denver may actually need to score some points this weekend.
Hopefully, none of you needed Kaep to power you into the playoffs. (Who knew HC Chip Kelly was so averse to throwing the ball in the snow?) Assuming you are willing to enjoy the thrill ride Kaepernick can provide again, his remaining slate includes a defense that gave virtually no effort in a Week 13 home game and hasn't picked off a pass since Week 8 (Jets), the friendliest defense versus quarterbacks the season (Falcons) and a team in the Rams who will probably be ready to pack it in after giving their all in Week 15 against Seattle. It's almost impossible to figure out when Los Angeles will bring it and when it won't, but considering the team has dropped seven of eight and got its only win in that time against a Bryce Petty-led offense, I'm willing to believe Kaep can make it 3-for-3.
Running Backs
The obvious: David Johnson (@MIA, NO, @SEA), Ezekiel Elliott (@NYG, TB, DET), Le'Veon Bell (@BUF, @CIN, BAL), Melvin Gordon (@CAR, OAK, @CLE), LeSean McCoy (PIT, CLE, MIA)
The somewhat obvious: Latavius Murray (@KC, @SD, IND), Devonta Freeman/Tevin Coleman (@LA, SF, @CAR), Jacquizz Rodgers/Charles Sims (NO, @DAL, @NO), Darren Sproles (WAS, @BAL, NYG)
Shortly after the toe injury that sidelined him for two weeks, I speculated Latavius Murray may have been limited over the first month of the season because of it. Whether or not it was that or just convenient timing, Murray has been a relative beast in the six games since his return. Four games with at least 20 touches, with no fewer than 16 in the other two. At least 71 total yards in each of his last five, with at least three receptions in four of those. At least one touchdown in four of his last six outings, with multi-score games in three. Kansas City will be by far the most difficult of his next three challenges, although versatile backs like Murray have more than held their own the versus the Chiefs and the forecast calls for frigid temps in Arrowhead Stadium for the Thursday night game that kicks off Week 14. The Chargers (fourth in most points allowed to RBs) and Colts (11th) will not provide the same resistance in what could be high-scoring affairs. It should also be noted Indianapolis will be without top tackler LB D'Qwell Jackson for the remainder of the season.
Freeman has seemingly settled into a nice 15-20 touch groove, but we should probably continue to see more Coleman moving forward considering Week 14 will be his third week back from the hamstring injury that cost him three games. As noted above, Atlanta could very well choose to rely even more heavily on the ground game with Julio Jones battling turf toe, and the Falcons have the schedule to do it if they want. (The Rams can't score, the Niners can't stop the run and the Panthers were already starting to show a few holes defensively even before losing LB Luke Kuechly to a concussion in Week 11. They could also be without top pass rusher Mario Addison and top S Kurt Coleman) I don't question whether or not the Falcons' backs will finish strong, so my only concern if I owned one or both of them would be picking the right one each week, as was the case early in the season.
Unlike the Falcons' duo directly above, the division of work in Tampa Bay behind Doug Martin figures to be a one-man show. Jacquizz Rodgers has apparently earned in "an expanded role" for doing about as much with his eight touches last week (50 total yards) as Martin did with his 18 (68 and a score). Paired with HC Dirk Koetter's suggestion that Sims' role could be reduced prior to his knee injury in early October, it's probably safe to assume Rodgers is at the very least Martin's handcuff and quite possibly the change-of-pace back Sims was at this point in 2015. Sims could catch a bit of a break in that he may be asked to give the Bucs' injury-ravaged receiving corps some help - not suggesting a position change but focusing more on his ability to run receiver routes. At any rate, Martin's inability to produce in three weeks since his return, Sims' likely rust from such a long layoff and the potential shootout nature of each of the Bucs' next three games would seem to suggest any back capable of catching passes is going to have a shot to be a high-upside flex. I think that player will be Rodgers, but owners are advised to take a wait-and-see approach before using my hunch and starting him.
What do you get when a team has virtually no one it trusts at receiver, an inconsistent running game and a floundering defense? If that same team has Sproles on it, well, a lot of him. The 33-year-old has been a wonderful PPR asset in five of the last six weeks as it becomes apparent the Eagles either have no use for or no idea how to use Ryan Mathews. The lack of quality receiver options and otherwise stagnant offensive attack will continue to thrust Sproles into action as Philadelphia faces an offense that figures to make it play catch-up this week (Washington) followed by the No. 1 run defense in the league (Baltimore) and a pretty solid defense in its own right (Giants). All three games will likely feature a lot of Sproles for obvious reasons, so the only question will be whether or not Philadelphia chooses to avoid that reality in the first half of each contest by letting Mathews and/or Wendell Smallwood run into walls, or if the Eagles give Sproles a realistic shot at 10-12 targets as their best means to move the ball.
The are-you-kidding-me crowd: Lamar Miller (@IND, JAC, CIN), Todd Gurley (ATL, @SEA, SF)
It's hard to believe we've gotten to this point with two first-round picks from this summer, but congrats to the few owners who made it to the fantasy postseason with one or both of these players. The good news is that it should get better for both next year, and both have a realistic shot of finishing this season out on a semi-high note. I noted the Colts' struggles above, while the Jags and Bengals probably aren't going to be able to control game script against the Texans. Miller has a realistic shot at 15 PPR points at least two of his next three games, so long as he can avoid the injuries that have plagued him lately.
No one wants to hear it - especially his owners - but Gurley has the most (San Francisco) and second-most forgiving (Atlanta) fantasy defenses against running backs left on his schedule. (Feel free to bench him against the Seahawks.) Offensive line woes have been blamed for the bulk of Gurley's woes this season, but the front five isn't appreciably different than the one that allowed him to thrive as a rookie for the first part of last season. He's running with less conviction (can you blame him?) and the touchdowns that fueled his value after his first four full games have dried up considerably. The Rams also haven't done a great job of letting him carry the offense either and appear to be more concerned about potentially preserving him for next season at this point (could you blame them?). There is a real chance the last 17 games is the new normal for Gurley going forward (16.8 carries for 59.5 yards and 12.6 PPR fantasy points), but I don't think we'll know for sure until he fails in two gift-wrapped matchups near the end of this fantasy season. As one of the more talented college backs I have ever seen, I hope the Rams get this right soon for Gurley's sake.
Wide Receivers
The obvious: Antonio Brown (@BUF, @CIN, BAL), Mike Evans (NO, @DAL, @NO), Larry Fitzgerald (@MIA, NO, @SEA), Michael Crabtree (@KC, @SD, IND), Doug Baldwin (@GB, LAR, ARI)
The somewhat obvious: Stefon Diggs (@JAC, IND, @GB), Sammy Watkins (PIT, CLE, MIA)
I'll keep it short with Diggs. As long as he continues to remain a high-volume target in Minnesota's short passing game, he's going to be a PPR asset. The good news is Jacksonville is the only remaining opponent that has the talent at cornerback to serve as a bit of a speedbump.
Watkins is going to be a huge injury risk for the remainder of the season and perhaps the rest of his career (hopefully not) given his troubles to this point. If there is one encouraging thing about last week's three-catch, 38-yard effort against Oakland, it was that he played a season-high 49 snaps. The Steelers have actually been one of the better defenses against receivers so far this season, although bigger-bodied receivers like Watkins have enjoyed success against them. The Browns haven't stopped much of anything and the Dolphins just got gutted by the Ravens' receivers in Week 13. Whether that means anything going forward or the Bills even try to get much going through the air over the next three weeks (Buffalo winters can be brutal) is another issue, but the path is clear for Watkins to explode down the stretch if he can stay healthy enough, especially considering the only other legit competition for targets in this offense is the improving Marquise Goodwin.
The less obvious: Jamison Crowder/Pierre Garcon (@PHI, CAR, @CHI), Dontrelle Inman (@CAR, OAK, @CLE), Kenny Britt (ATL, @SEA, SF)
Jordan Reed has missed Weeks 6, 7 and 13 so far this season. In those games, Crowder has posted lines of 3-52-1. 7-108-0 and 3-42-1, while Garcon has countered with 6-77-0, 2-22-0 and 7-78-0. It makes sense, as Reed absorbs a lot of short and intermediate routes, which is primarily where Crowder and Garçon make their living too. Crowder also seems to be a favorite red-zone target of Cousins, so when Reed is absent, Crowder is a great bet to find the end zone. If Reed is going to be as limited as I believe he will be for the remainder of the season, Crowder and Garcon should feast. Philadelphia, Carolina and Chicago boast three of the most uninspiring secondaries in the league at the moment, although each has a good enough run defense to make Washington throw. The only concern in each game might be the struggling offenses each of those teams brings to the table, which could allow the Redskins to go conservative midway through the third quarter.
Inman may have the least imposing remaining matchups of any receiver I discuss this week. Robert McClain, Leonard Johnson, T.J. Carrie and Briean Boddy-Calhoun are the most likely cornerbacks to spend the next three weeks trying to stop Inman, and it just so happens Travis Benjamin and Tyrell Williams are both far from 100 percent. The 27-year-old slot receiver has already been coming on a bit with touchdowns in each of the last two games, but one could easily say he has been putting up WR3 numbers in PPR for the last six weeks. Last week's five targets were his fewest since Week 6 and it's fair to question just how much better Benjamin and Williams are going to feel without more rest and/or surgery, so Inman's involvement in the offense doesn't figure to dip.
Britt has seen no fewer than six targets since Week 4 and is on pace for 1,140 yards receiving, which is mind-boggling on several different levels. He's going to be scary to trust in such a dreadful offense (both of his catches last week came on the two-minute drive that led to the Rams' only touchdown in a blowout loss to the Patriots), but the fact of the matter is he has set a pretty nice floor as a WR3 and offers week-winning upside. Want better news? Atlanta has already lost top CB Desmond Trufant for the season and San Francisco ranks sixth in terms most points allowed to receivers. Britt has already produced WR3 or better numbers against the Seahawks and Niners as well.
The are-you-kidding-me crowd: Ted Ginn Jr. (SD, @WAS, ATL), Taylor Gabriel (@LA, SF, @CAR)
There's no question some receivers just aren't going to earn our trust almost regardless of what they do or for how long they've done it. Ginn has seen at least six targets in six of his last seven games, scored a touchdown in each of his last three and tallied at least nine PPR fantasy points in every game since Week 6. That's a safe floor for a receiver who can probably still be added off most waiver wires, and his ceiling is pretty high based on the last three weeks (19.1 average). Casey Hayward (Chargers) and Josh Norman (Redskins) figure to spend most of their time on Kelvin Benjamin over the next two weeks, while Atlanta's secondary shouldn't strike much fear into any receiver with Desmond Trufant out. Given Carolina's struggles in the secondary, each of the next three weeks could be high-scoring affairs against above-average offenses. I'm not betting on Ginn to continue his touchdown streak much longer, but three more double-digit scoring efforts could very well be in the cards.
In the same way it is hard to trust players like Ginn who have let us down many times before, it is just as difficult to put a ton of faith into 5-8, 165-pound wideouts no matter how good they are or how many big plays they create. Gabriel was stopped at the Kansas City 1 last week, keeping him from what would have been his fourth touchdown in the last three games. Even with his five-catch, 44-yard "dud" last week, the Abilene Christian product is 11th in fantasy points per game over the last three and five weeks, living in the same fantasy neighborhood as T.Y. Hilton in both cases. With Julio Jones and Mohamed Sanu now hurt, who do you think benefits against a pretty soft schedule? Exactly. OC Kyle Shanahan is smart enough not to pepper Gabriel with 15 targets, but he's already shown he doesn't need that many in order to thrive. A bump up from his usual five or six to eight or nine could be the difference in lifting him from the low-end WR1 he's performed like over the last month to a midrange WR1 level. Am I predicting that? Of course not. However, I do think he can be a WR2 the rest of the way given the current circumstances.
Tight Ends
The obvious: Travis Kelce (OAK, TEN, DEN), Jimmy Graham (@GB, LAR, ARI), Eric Ebron (CHI, @NYG, @DAL)
The somewhat obvious: Kyle Rudolph (@JAC, IND, @GB), Antonio Gates (@CAR, OAK, @CLE), Tyler Eifert (@CLE, @BUF, SD)
The ceiling is low for Rudolph given how little time Minnesota spends in the red zone and how quickly the ball has to come out of Sam Bradford's right hand, but his floor in PPR leagues is pretty high considering he is averaging over eight targets and five catches per game over his last four outings.
After rolling into the Chargers' Week 11 bye with three straight double-digit fantasy-point performances, Gates followed a zero-target game with four catches for 37 scoreless yards last week. (Not exactly the kind of roll owners are hoping for from their top tight end on the brink of the fantasy playoffs.) Here's a bit of a pick-me-up: The Panthers (fourth), Raiders (14th) and Browns (first) rank in the top half of most fantasy points allowed to tight ends, and we already know it's a priority of Philip Rivers to help Gates break Tony Gonzalez's tight end touchdown record (he is two shy of tying Gonzo's 111 career TDs). I'm not sure the old man will get the three scores he needs during the fantasy playoffs or even over the final four games, but I'd bet good money on him tying the mark.
Eifert has found the end zone in each of the last two weeks in highly challenging matchups with A.J. Green sidelined despite the fact Baltimore and Philadelphia have surrendered a total of four receiving touchdown to tight ends this season in non-Eifert games. So what should we expect against this week against the Browns, who rank third in terms of most points allowed to the position, or versus two other defenses that rank in the middle of the pack? You might want to hope he came back too late for his owner to make the fantasy postseason. I don't think we can assume Eifert will end the fantasy season on a five-game scoring streak, but I sure wouldn't rule it out either.
The less obvious: Cameron Brate (NO, @DAL, @NO), Zach Ertz (WAS, @BAL, NYG), C.J. Fiedorowicz (@IND, JAC, CIN), Vernon Davis (@PHI, CAR, @CHI)
In what has been almost a complete reversal of fortune from last year, New Orleans is holding its own against tight ends while Dallas stinks at it. With that said, Brate is easily Jameis Winston's second-favorite target at the moment and the Bucs don't have anyone else at receiver who can take that title from him. The running game isn't setting the world on fire either, so expect Brate to continue picking up whatever passing-game scraps Mike Evans allows him to eat.
I'm not exactly sure what we can attribute Ertz's strong finishes each season to (a substantial increase in targets makes a huge difference), but another one seems to be in the works. Even though the Eagles certainly had plenty of reason to force-feed him the ball earlier in the season, the absence of Jordan Matthews in two of the last four weeks has forced the Eagles' hand a bit. I have my doubts Ertz will be of much use versus the Ravens next week, but neither the Redskins nor the Giants have done particularly well containing tight ends. (Ertz's recent roll started in Week 9 versus New York.) I can't say I trust any offensive player from Philadelphia all that much in fantasy right now, but tight ends who see 11-plus targets in two of the last three weeks probably need to be started in all leagues.
Since Week 4, Fiedorowicz sits in between Greg Olsen (fifth) and Brate (seventh) in total fantasy points among tight ends. It is very notable since he has only scored three times over that nine-game stretch, which means he's getting a lot of regular work in between the 20s. The Colts (eighth) and Bengals (first) rank inside the top 10 of most fantasy points allowed to tight ends, so Fiedorowicz could easily be a midrange TE1 in those contests. Jacksonville has been among the best defending the position, although I'm not exactly sure the Texans' plan in their second meeting with the Jaguars will be to have Brock Osweiler challenge their up-and-coming corners. In other words, I wouldn't avoid starting him if he's gotten you to this point.
Although Kirk Cousins doesn't force him the ball nearly as much, Davis might as well be an older version of Jordan Reed. Davis has been extremely efficient with his targets (36 catches in 43 chances) and offers about a 10-point floor in PPR leagues when Reed is not playing. Philadelphia is a daunting matchup this week and Chicago isn't much better during fantasy championship week, but tight ends have become a central part of the Washington offense and that won't change just because Reed may or may not play.
The are-you-kidding-me crowd: Ryan Griffin (@IND, JAC, CIN)
Outside of perhaps really deep leagues, I'd love to know what Griffin's ownership percentage is. What I can tell you is Fiedorowicz might be a fantasy star right now were it not for Griffin. While it is too much to say he is fantasy-viable at the moment, Osweiler's unwillingness/inability to hit big plays downfield has led him to regularly pepper his tight ends with between 10-15 targets per game. Especially for a second tight end, Griffin has set himself a pretty nice floor and outperformed some highly respected players at his position over the last month (Gates, Ebron, Olsen). The same positive matchups that apply to Fiedorowicz obviously carry over to Griffin as well, so owners looking for a bit of a Hail Mary to replace someone like Rob Gronkowski should be able to get at least 6-10 points from Griffin.
Kickers
I'm going to skip the subsections and explanations for these final two sections. I will only list options that I believe could be available and are good enough to power you through the rest of the postseason, or in the case of the defenses, at least two games (listed in order):
Matt Prater, Detroit (fantasy's top kicker over the last three and five weeks; he has multiple field goals in six straight games and plays in only one more potential bad-weather game)
Sebastian Janikowski, Oakland
Dustin Hopkins, Washington
Brandon McManus, Denver
Defenses/Special Teams
Redskins (PHI, CAR, @CHI)
Steelers (@BUF, @CIN, BAL)
Bucs (NO, @DAL, @NO)
Dolphins (ARI, @NYJ, @BUF)
Lions (CHI, @NYG, @DAL)
Falcons (@LA, SF, @CAR)

---
Doug Orth has written for FF Today since 2006 and been featured in USA Today's Fantasy Football Preview magazine since 2010. He hosted USA Today's hour-long, pre-kickoff fantasy football internet chat every Sunday in 2012-13 and appears as a guest analyst on a number of national sports radio shows, including Sirius XM's "Fantasy Drive". Doug is also a member of the Fantasy Sports Writers Association.