For the majority of owners, the fantasy playoffs begin next week. In some high-stakes leagues like the The Fantasy Championship, the postseason begins this week and the league champion is decided next week (although the postseason continues through Week 16 as owners compete for the $200,000 grand prize).

Regardless of when the fantasy postseason starts in your league or the position you are in to begin the playoffs, we can all benefit from players with favorable matchups the rest of the way or those who are play away from shifting the balance of power in your league. I identified potential league-winning picks back in late August in the TFC and FFPC and still stand by most of the selections I made then. However, it goes without saying time has a way of changing things, meaning what once looked unfavorable now looks good and vice versa. The loss of a player like Atlanta Falcons CB Desmond Trufant for the rest of the season removes a corner capable of limiting the production of all but the most elite receivers in the league, while the emergence of players like Michael Thomas and Davante Adams alters the targets and matchups for players such as Brandin Cooks and Randall Cobb.

Every season tends to produce at least a few players who put fantasy teams on their back over the final 3-4 weeks of the season and carry them to a title. A late-season injury to a current starter tends to be the most common path for these rags-to-riches stories, but that is usually only half the battle, as the situation must be at least somewhat conducive to success and it certainly helps if the schedule cooperates. Obviously, I am of no service to you if I only provide players that are 100 percent owned, so the purpose of this article will be to identify the players available in most leagues. Many analysts will try to do this kind of thing next week, but most owners in competitive leagues tend to look a week or two ahead and not leave it to chance and hope their waiver-wire pot of gold is sitting there for them the very week they need it.

Below is a list of players available in at least 75 percent of Yahoo leagues. I arrived at that number in order to avoid the no-brainer adds such as Kenneth Dixon, Sammy Watkins or C.J. Fiedorowicz - all of whom, quite frankly, should have been on someone's roster weeks ago. I'd also just as soon try to avoid the narrowing the scope so far as to tell owners to stash Kenjon Barner when a player like Dixon or Ameer Abdullah is still available. I listed the players by position and in the order of significance.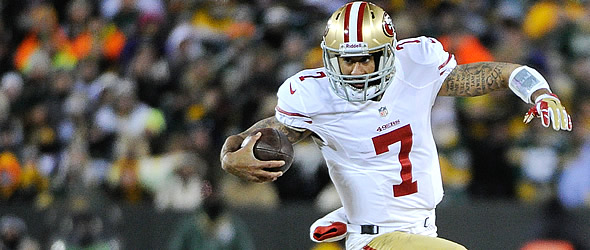 Since the start of November, Colin Kaepernick has been the second-best QB in fantasy football.
Quarterbacks
Colin Kaepernick, San Francisco 49ers
Remaining fantasy schedule: @CHI, NYJ, @ATL, LA
In regards to Kaepernick, I'm sure I've heard it all in terms of why owners don't want to play him in fantasy. If you don't like what he stands for or care for his methods, to each their own. Here's what I do know: Since the start of November (after his first two starts), Kaepernick has been the second-best quarterback in fantasy football, behind only Aaron Rodgers. He's been slightly better than Marcus Mariota and Drew Brees, and he's been significantly better than Tom Brady and Dak Prescott among many others. In other words, hasn't Kaepernick essentially been what most of us expected he would be in a Chip Kelly offense over the last month? We've seen this phenomenon time and time again: average to below-average quarterbacks in reality who can run thrive in fantasy football because they consistently add 5-15 points every week to their passing numbers - many of which come in garbage time - and the result is often a 30-point day in fantasy. His remaining schedule is hardly daunting to say the least and it isn't a stretch to say he is the majority of the San Francisco offense right now. I was able to snag him in a league or two in which I had been relying on Eli Manning most of the year and highly doubt I'll go back to Eli now.
Running Backs
Ameer Abdullah, Detroit Lions
Remaining fantasy schedule: @NO, CHI, @NYG, @DAL
As will be the case with most of the running backs below, they do not have clear path to playing time yet or cannot be considered a sure thing to return from injury this season, as is the case here. We basically had one game to see what Abdullah was capable of before he went down with a foot injury in Week 2 and thrived in that spot, accumulating 120 total yards and a touchdown against the Indianapolis Colts. In the weeks since, Detroit has received virtually nothing from his replacements and been forced to rely on Theo Riddick's 10 carries per game and his handful of touches as a receiver out of the backfield as its ground game. At the very least, Abdullah gives the Lions a plus-version of Riddick who is capable of running between the tackles and near the goal line. Obviously, all we know now is the scheduled checkup on Abdullah's foot "went well" and that he has a chance to make it back before the end of the season. Serviceable RB2s typically don't fall from the heavens every week, so owners in deeper leagues need to find room for the second-year back in the event he can contribute sometime before Christmas, and he is a perfect IR stash for owners in leagues that have a spot or two designated for such players. In the worst-case scenario for your fantasy teams, he can be dropped in a couple of weeks when he is ruled out for the rest of the regular season. In the best-case scenario, owners have another flex option during the fantasy playoffs and one no other owner can use (because you had the foresight to add him first). Thousands and likely millions of dollars in prize money has been won in fantasy football leagues over the years by playing keep-a-way.
Shane Vereen, NY Giants
Remaining fantasy schedule: @PIT, DAL, DET, @PHI
I'm not sure I can remember an 8-3 team with such a disappointing offense. The running game was never meant to be the strength of this team, but the up-tempo passing attack was supposed to carry the Giants while all the new talent on defense gelled. Well, the team has essentially thrived in spite of the offense. Be that as it may, Vereen was actually the one good thing this offense had going for it in September, and it is entirely reasonable to believe he could step right back into the same breather back/third-down role he left following his Week 3 triceps injury as early as Week 14. Rashad Jennings disappointed in a great spot last week versus Cleveland and the Giants don't seem to want to rely too much on rookie Paul Perkins yet (pass protection is a concern with him), although his use last week was curious to say the least. Vereen is probably the back Eli Manning feels most comfortable with and likely the one New York believes its passing offense fits the best. Owners thinking about stashing Vereen should expect a serviceable flex player capable of rounding out a fantasy lineup, not a RB2 capable of performing like a RB1. With that said, someone with Vereen's skill-set has a very good chance of being useful during the final three weeks of the fantasy season (assuming he is cleared to return by Week 14), especially given the mix of teams with strong run defenses or the likelihood New York will be playing from behind.
Rex Burkhead, Cincinnati Bengals
Remaining fantasy schedule: PHI, @CLE, PIT, @HOU
Burkhead had the misfortune of being selected in the sixth round by the same team that invested a second-round pick into Giovani Bernard the same year. The Bengals added Jeremy Hill in the next draft, pretty much slamming the door on any hope Burkhead had of establishing a somewhat meaningful offensive role in Cincinnati. Bernard (ACL) is out for the year now and Hill has turned in four straight games with fewer than four yards per carry, so there may be an opportunity forthcoming for the Nebraska product. In no way am I suggesting Burkhead is on the verge of overtaking Hill on the depth chart, but let this serve as a reminder that Hill came very close to suffering a significant ankle injury last week and career special-teamer Cedric Peerman is the only other back on the depth chart. Burkhead is a more impressive player than he appears to be at first glance, and while he isn't exactly someone a team would want to put into the feature back role, he can be an effective combo back if given the chance. That alone is worth something at a position where there are seemingly never enough good options at this point of the season.
Alfred Morris, Dallas Cowboys
Remaining fantasy schedule: @MIN, @NYG, TB, DET
While the first three running backs listed above all have some degree of standalone value now, the remaining ones do not and need an injury to a player in front of them in order to be worthy of a start. The reason they are included is because each of them would arguably be RB2s at worst if the back in front of them got hurt, and most likely high-end RB1s. Morris is such a valuable handcuff that I held onto him all season in a deeper league in which I didn't own Ezekiel Elliott. While Elliott has shown no signs of slowing down (and I don't expect him to), running backs can be lost for multiple weeks without warning and it would be silly for owners - especially those who own Elliott - to leave it up to something as trivial as waiver priority or what's left of their blind-bidding dollars to secure an asset that should cost next to nothing at the moment. Elliott owners should hope they never have to use Morris, but most should be able to find room for a player that provides as much peace of mind as he does. Best case scenario: Morris burns a spot on the bench while Zeke goes crazy every week. Worst-case scenario: Morris posts low-end RB1 numbers after Elliott suffers a multi-game injury this week and allows his owners to survive in the playoffs until the rookie returns.
DeAngelo Williams, Pittsburgh Steelers
Remaining fantasy schedule: NYG, @BUF, @CIN, BAL
Everything I just said about Morris above basically applies to Williams, who is likely back this week after sitting out the last three games due to minor knee surgery. Although I have repeatedly said Le'Veon Bell's injuries have been flukier more than anything else thus far in his career (thanks, Vontaze Burfict), the fact of the matter is he will continue to be a bit of an injury and/or off-field risk until he proves that he is not. To their credit, the Steelers are using Bell as a receiver more than ever (over seven catches per game), so the odds of him missing time the rest of this season appear slim. Still, Williams - even at age 33 - has proven multiple times he can be effective for multiple weeks with heavy workloads, and Pittsburgh will not hesitate to use him in a workhorse role yet again if Bell should miss time. Both Morris and Williams have been owned in all of my leagues all year - I dropped a significant amount of my blind-bidding dollars to get Williams in the two leagues he was dropped a few weeks ago - so consider this a reminder to make sure neither slipped through the cracks in your leagues. Players so close to guaranteed RB1 production are always valuable, even if their actual fantasy value is nil right now. One week can really change everything.
Jalen Richard, Oakland Raiders
Remaining fantasy schedule: BUF, @KC, @SD, IND
Among the many favors NFL coaches do not provide fantasy owners are regular updates on their depth chart. If you do a quick search across your league(s), there's probably better than a 50-50 chance DeAndre Washington is owned and Richard is not. Washington was a healthy scratch last week after playing four snaps in Week 11. If he is about to explode onto the fantasy scene, it won't be because the Raiders intended for it to happen. Richard, on the other hand, has logged between 12-18 snaps in each of the last four weeks, suggesting he has clearly moved ahead of Washington and would be the back to own if Latavius Murray was forced to miss time. Jamize Olawale frustratingly continues to steal snaps and touches from both players and likely would be more active if Murray couldn't play, but Richard would certainly have a pretty clear path to RB2 value if it happened. The undrafted rookie free agent falls this low on the list for two reasons: 1) he wouldn't be featured in the event of an injury to Murray and 2) outside of the Colts in Week 16, I also wouldn't characterize his upcoming matchups as being overly favorable, but he belongs here because he has big-play ability and runs behind one of the better lines in the league.
Akeem Hunt, Houston Texans
Remaining fantasy schedule: @GB, @IND, JAC, CIN
Of the running backs we'll discuss, Hunt is easily the one that is the most off the fantasy radar. In theory, he is behind the injured Alfred Blue on the depth chart, although I'm not sure that should have ever been the case or if it is now. At 5-10 and 190 pounds, Hunt isn't ever going to become a featured back, but he is the kind of well-rounded combo back that tends to be a good fit as a complementary back in a committee, not to mention one who adds a bit of explosiveness to what has become a "small-ball" offense. The Texans love Lamar Miller, but he has battled through his share of injuries this season. Should he miss his first game in four years sometime this December, Houston would be smart to lean more on Hunt than Blue, especially considering how much Brock Osweiler has struggled. Given Osweiler's ineffectiveness downfield so far, it is rather surprising the running back position hasn't been targeted just as heavily as tight ends C.J. Fiedorowicz and Ryan Griffin. Be that as it may, Miller still is on pace for about 40 catches and one would think Hunt would see the bulk of that work in the passing game should Miller be sidelined. In such a scenario, Hunt would also get at least half of the early-down work as well, which would put him squarely on the flex radar. The upside here is much more limited than it is with any other back mentioned above, so keep that in mind when considering how he could fit into your future plans.
Wide Receivers
Taylor Gabriel, Atlanta Falcons
Remaining fantasy schedule: KC, @LA, SF, @CAR
Ted Ginn Jr., Carolina Panthers
Remaining fantasy schedule: @SEA, SD, @WAS, ATL
Marqise Lee, Jacksonville Jaguars
Remaining fantasy schedule: DEN, MIN, @HOU, TEN
I'm going to pair these top three together for the simple fact they should already be owned in the majority of leagues, not just on 25 percent of them. Gabriel has by far the most upside of the bunch given the offense he plays in and his remaining schedule. Over the last five weeks in PPR scoring (with his bye week included), the Cleveland Browns castoff is 13th among receivers in total fantasy points and seventh in fantasy points per game. In standard leagues, those ranks are sixth and second, respectively. Whether or not we like his current "niche" role in this offense or not, his high-upside targets aren't going to decrease anytime soon simply because the defense's other options each week are to disrespect the running game and/or Julio Jones. Yes, he'll be hard to trust going forward, but he has earned the right to be considered a flex option in all leagues at the very least despite his consistent lack of volume.
Although he doesn't possess the upside Gabriel now does, Ginn's involvement in the Panthers' offense has increased significantly since Week 5. He has at least six targets in all but one game since then and at least five catches and 40 yards in all but two. While I'll be the first to admit that doesn't sound all that impressive, Ginn is a big-play threat who doesn't need a lot of opportunities in order to put points on the board. With no fewer than nine PPR points in any of his last six games and Kelvin Benjamin not exactly displaying the same kind of dominance that made him such a hot name in September, Ginn could be a bit of a high-upside stabilizing force for a fantasy team looking to tie up a loose end at the receiver position.
Lee is already enjoying a career season, which sums up part of the reason owners have been slow to warm up to him in 2016. He's never stayed healthy for any length of time as a pro, so he's not trustworthy. Blake Bortles has torpedoed the Jaguars' offense to a large degree, but owners need to realize he is leaning on Lee now about as much as he is Allen Robinson. Granted, that doesn't mean nearly as much this year as it did last year, but there has been a lot more good than bad for Lee this season. The reason he finds himself behind Gabriel and Ginn is the remaining schedule. While he'll likely see his fair share of targets going forward, Jacksonville's next three matchups are about as difficult as one could ask for in succession for wide receivers.
Marquess Wilson, Chicago Bears
Remaining fantasy schedule: SF, @DET, GB, WAS
Under normal circumstances, a player like Wilson shouldn't be considered a viable fantasy option for any number of reasons, most notably the fact that Matt Barkley (or David Fales) will be his quarterback for the rest of the year. However, Chicago's offense is in such disarray right now that third and fourth options (at best) previously are now primary weapons, and Wilson has never lacked in the talent department. Durability is another matter entirely, but owners only need him to make it a quarter of the season this time. While Alshon Jeffery is eligible to return in Week 15 from his PED suspension, there's no guarantee he has established any kind of chemistry with Barkley or if Chicago even wants to trot him out there with draft position and developing youngsters probably more of a priority over the last three games of the season than winning. Wilson has dabbled with fantasy relevance before and shouldn't be overlooked now just because his situation is somewhere between bad and awful. A player capable of being a lead receiver on any NFL team is generally worth at least a flex start in deeper leagues and volume should be on Wilson's side going forward, as the Bears are hopelessly banged-up on both sides of the ball, so they will be throwing the ball. The remaining schedule also very much works in Wilson's favor. Owners shouldn't expect a repeat of his Week 12 line (8-125-1 on 11 targets) anytime soon, but he is more than capable of setting a floor around 4-6 catches and 55-75 yards if he continues to see 7-8 targets per game, which seems perfectly doable.
Malcolm Mitchell, New England Patriots
Remaining fantasy schedule: LA, BAL, @DEN, NYJ
It is rare Tom Brady finds a connection with a receiver, much less a rookie, so it is definitely notable when he starts to sing the praises of any of his wideouts. Playing time is going to be hard to come by in New England this season because the Patriots probably aren't going to move Chris Hogan down the depth chart anytime soon, and New England already has Julian Edelman and Danny Amendola more than capable of playing outside as well as inside. However, with Rob Gronkowski ailing and Martellus Bennett still far from 100 percent, there is room for potential targets for a player like Mitchell. Is there risk with him? Of course. The minute the offense approaches something resembling full strength, he is liable to become an afterthought again. But what if Gronk and The Black Unicorn are limited in some way for the rest of the regular season? Brandon LaFell had his moment in the sun in 2014 in the role Mitchell occupies and the rookie is better now than LaFell ever was. In the event Gronk and Bennett can't get healthy over the next month, I'd be willing to say Mitchell could approach low-end WR3 value in deeper leagues in three of the next four games (Week 15 at Denver being the exception). Owners can always do worse than bet on good talent in great offenses led by Hall-of-Fame worthy quarterbacks.
Breshad Perriman, Baltimore Ravens
Remaining fantasy schedule: MIA, @NE, PHI, @PIT
Mike Wallace owners wanting to know where his early-season touchdowns have wandered off to need look no further than Perriman. Granted, he has only scored twice (both in the last three weeks) and isn't a full-time player yet (he's been in the mid-20s the last two weeks after seeing no fewer than 32 in any game since Week 4), but it seems pretty clear to me Perriman is starting to earn Joe Flacco's trust. Whether that turns into anything significant this year or not is another story, but the process is starting now. If Baltimore hopes to be anything more than a one-and-done team in the playoffs, it could very much use Wallace and Perriman scaring defenses vertically while Steve Smith works the middle of the field. The Ravens also realize 2016 probably isn't going to be their year in terms of winning a Super Bowl, so doing what they can to further Perriman's development this season should be one of the priorities. Last year's No. 26 overall pick is really only a deep-league consideration this year since Flacco isn't playing well consistently enough to make any receiver a must-start, but the schedule should allow for a role player like Perriman to hit another deep shot or two before the season comes to a close.
Tight Ends
Vernon Davis, Washington Redskins
Remaining fantasy schedule: @ARI, PHI, CAR, @CHI
The general consensus seems to be Jordan Reed is day-to-day and will be listed as questionable for Week 13. That may very well be the case, but I can't believe any player who needs to catch passes for a living who has roughly 30 percent range of motion in his shoulder is going to be very effective for the rest of this season. As such, I'd be stunned if he plays full-time snaps anytime soon and shocked if he is productive in any game the rest of the season. Kirk Cousins may not be willing to lean on Davis quite as much as he does Reed, but HC Jay Gruden uses him in much the same way and the matchups will be favorable for Redskins' tight ends in Weeks 15 and 16. I may not be willing to give Gruden credit for much, but he has figured out how to utilize the tight end position in Washington. At a position where it is difficult to find more than 6-8 players who were actually worth starting in a given week in fantasy, playing Davis in those weeks - especially if Reed is as limited as I think he will be - could pay off in a big way.
A.J. Derby, Denver Broncos
Remaining fantasy schedule: @JAC, @TEN, NE, @KC
While the Jamie Collins trade was certainly the most shocking deal of the season, Derby to Denver was a close second in my book. The Patriots' sixth-round pick last season was highly impressive this summer and seemed like a logical candidate to move up the depth chart in 2017 if/when New England moved on from Martellus Bennett. Denver acquired him for a fifth-rounder in late October and he's already started to make an impact. In case we need a reminder, HC Gary Kubiak helped Owen Daniels become a two-time Pro Bowler, simply because the tight end in his offense almost always runs a short, high-percentage route across the middle of the field, usually putting him directly in the sightline of the quarterback. Defenses typically will let a quarterback have a three-to-five yard pass because it plays into the defensive mindset of keeping everything in front of the linebackers and safeties. At any rate, Trevor Siemian profiles much more like the quarterbacks Kubiak had in Houston than Peyton Manning, so it is reasonable to assume as soon as he has someone he trusts at tight end again, Kubiak will have his next Owen Daniels. While I wouldn't want to make the mistake of comparing Derby to Gronk, it was a few of Derby's Gronk-like qualities that made the trade to New England's biggest non-AFC East rival so surprising to me. Derby is definitely a dynasty asset in my eyes, and I wouldn't be overly shocked if he becomes a low-end fantasy starter by the end of this season given his combination of skill and schedule.
Ladarius Green, Pittsburgh Steelers
Remaining fantasy schedule: NYG, @BUF, @CIN, BAL
In my experts' dynasty league, I added Green roughly two minutes after he was dropped by the previous owner back in late August despite the fact I already own Rob Gronkowski and Kyle Rudolph. In other words, I think very highly of his fit in the Steelers' offense. While I still don't believe Green will be able to work his way into must-start status by the end of this year, the fact that it is remotely possible speaks to how gifted he is. (Remember, he didn't log his first practice with the team until Oct. 25, as he missed the entire offseason due to concussion concerns and ankle surgery.) Beyond Antonio Brown and Le'Veon Bell, Pittsburgh lacks another option who can threaten the defense over the middle or down the field, so there is a void for Green's services. HC Mike Tomlin told reporters this week that he expects Green will see more snaps moving forward, which admittedly may not mean all that much when you consider his season-high snap count is 14. Nevertheless, when he is capable of getting 67 yards on two catches like he did Thanksgiving night, he probably doesn't need to be a full-time player to be useful in fantasy. Green could be a reasonable play in Weeks 13 and 15, so owners playing the position week-to-week may want to consider him then. For what it's worth, I fully anticipate he will be a top-eight tight end in 2017, health permitting.

---
Doug Orth has written for FF Today since 2006 and been featured in USA Today's Fantasy Football Preview magazine since 2010. He hosted USA Today's hour-long, pre-kickoff fantasy football internet chat every Sunday in 2012-13 and appears as a guest analyst on a number of national sports radio shows, including Sirius XM's "Fantasy Drive". Doug is also a member of the Fantasy Sports Writers Association.