It's been said more than once - including several times by me - that touchdowns are the lifeblood of fantasy football. Unfortunately for most, touchdowns are fickle by their very nature and can be highly unpredictable, even for the most talented of players. NFL history is littered with players who showed a "nose" for the end zone one year, only to "lose their way" the following season. In many ways, touchdowns are football's equivalent to the home run in baseball. Some players are just naturally more talented/bigger/stronger than others, while others take full advantage of their supporting cast. Just like some sluggers are a virtual lock for 40 homers per season, some players are almost guaranteed to score at least 10 touchdowns if they can stay healthy all year.

For the vast majority of players, it's not that easy though. Sometimes, even the most dominant players of a generation find it difficult to pay homage to the latest dance craze or play duck, duck, goose (or duck, duck, gray duck for Minnesotans), as was the case Monday night. However, a lack of touchdowns isn't the only reason players start the season out in a less than ideal fashion. Identifying which players are that season's "slow starters" and which ones just aren't going to live up to their draft value as early as possible is sometimes just as important as identifying potential values during the draft or on the waiver wire.

The task this week will be to figure out which players fall into which category. For the sake of time and space, I'm going to limit the scope of this piece to quarterbacks, running backs and receivers who finished inside the top 50 at their positions in PPR leagues in their last (at least mostly) full season. Players must be outside of the top 20 at their position this season and played at least four games in order to "qualify." Some of these will be more open-and-shut cases than others, so forgive me in advance if I don't go into equal detail about every player.

Just to be clear, the totals you see under each player's name below is his production from this year versus the production he accumulated through the same number of games last year (or in some cases, 2015).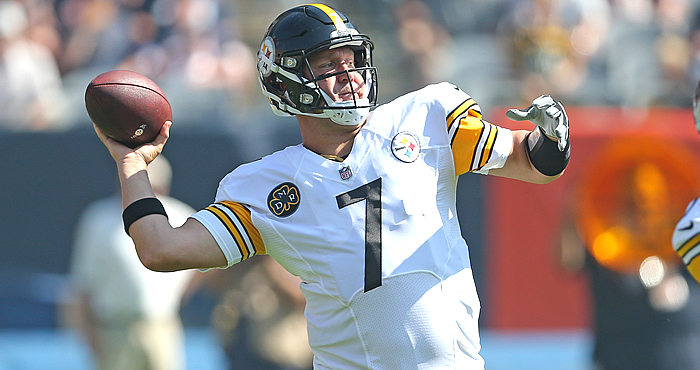 Keep the faith with Roethlisberger? He probably isn't a QB1 but we can be confident his "spike" weeks are coming.
Quarterbacks
†Same number of games: 2016 vs. 2017
Team
Year
GP
Cmp
Att
Yard
Pa TD
Int
Att
Ru Yd
Ru TD
FPts
FPts/G
PIT
2017
5
120
195
1,269
6
7
8
-4
0
70.4
14.1
PIT
2016
5
126
192
1,496
15
4
4
18
0
139.7
27.9
Analysis: This was supposed to be the long-awaited season in which Big Ben finally had all of his weapons at his disposal, free from injuries (including his own) and suspensions. Instead, he is forcing the ball to Antonio Brown more than ever (12.8 targets per game for a 16-game pace of 205, which would beat Brown's previous career high of 193 in 2015) and the offense appears disjointed. His connection rates with Martavis Bryant and Le'Veon Bell are about the same as they have been, so the biggest differences from last year through five games are: 1) he has been sacked nine times this year after taking 17 in 14 games last year, 2) he has played one more road game in 2017 (by now, most of us are well aware of his dramatic home/road splits) and 3) he hasn't had the luxury of picking apart what were somewhat challenged secondaries at the time (like he did to the tune of nine touchdowns versus no interceptions against the Chiefs and the Jets in Weeks 4-5 last season). In fact, Cleveland is perhaps the only opponent this season he probably should have dismantled, but that game was not at Heinz Field and Bell had been with the team less than two weeks back in Week 1.
Keep the faith? Yes, but there will be his usual peaks and valleys along the way. My Preseason Matchup Analysis grid warned of a slow start, but Roethlisberger should be primed for a moderate rebound with upcoming games against the Bengals (at home), Colts (road), Titans and Packers (both at home). Whether or not Big Ben eventually finds a groove with Bryant, the offense is much too talented to not kick this thing into high gear in the near future against a favorable schedule. With the ever-increasing number of quality quarterback options available and his well-documented injury history though, I wouldn't want Big Ben as my QB1. But we can be confident his "spike" weeks are coming.
†Same number of games: 2016 vs. 2017
Team
Year
GP
Cmp
Att
Yard
Pa TD
Int
Att
Ru Yd
Ru TD
FPts
FPts/G
ATL
2017
4
88
135
1,109
5
5
6
26
0
65
16.2
ATL
2016
4
101
140
1,473
11
2
12
47
0
125.6
31.4
Analysis: Ryan was a model of efficiency last year. His 9.3 yards/attempt was the highest mark from any quarterback since Kurt Warner (9.9) steered the ship for "The Greatest Show on Turf" in 2000. Owners hoping Ryan was going to repeat that level efficiency were only fooling themselves, especially considering the change at offensive coordinator from Kyle Shanahan to Steve Sarkisian. It should also be noted Ryan began 2016 with games against the Buccaneers, Raiders, Saints and Panthers - all of which had significant questions in the secondary to start that season. After averaging 31.4 fantasy points (six points per passing touchdown) over that stretch, Ryan's per-game mark dipped to a much more reasonable 23.5 over the remainder of the fantasy season. Instead, he is currently performing at about the same level and pace he managed in 2015.
Keep the faith? If you are hoping for last year's production again, then no. If you are expecting slightly better than pre-2016 Ryan, then yes. In all honesty, anything compared to last year would be a slow start for Ryan. With that said, business should start picking up for him in short order, as Miami, New England and the New York Jets don't exactly constitute a murderers' row of pass defenses at the moment. The urgency to include Julio Jones more heavily into the game plan - particularly in the red zone - is going to have to pick up some point (more on that later), even if recent history tells us expecting Jones to become a regular visitor to the end zone might be a bad bet.
Running Backs
†Same number of games: 2016 vs. 2017
Team
Year
GP
Att
Ru Yd
Ru TD
Target
Rec
Re Yd
Re TD
FPts
FPts/G
ATL
2017
4
29
183
0
19
13
153
1
52.6
13.2
ATL
2016
4
40
129
4
15
13
181
0
68
17
Analysis: Devonta Freeman's huge contract extension right at the end of the preseason should have been a pretty clear signal Coleman probably wasn't going to see his role increase from last season. Coleman scored four touchdowns in his first four games last year, including three inside the 10, in a bit of a fluky manner. Freeman finished 2016 with 50 red zone carries, including 27 inside the 10 and 17 inside the 5. Coleman went 21, 11 and three, respectively. Once the short touchdowns dried up in 2016, Coleman made up for it almost immediately by consistently hitting big plays and finding pay dirt on a handful of those. While he is proving against this year he can make those explosive plays on a regular basis, it's hard for any player - no matter how talented - to consistently thrive with a reduced workload (at least when compared to Freeman's) via the big play. With that said, he's doing more with less so far this year (6.3 YPC this year, 4.4 in 2016), and the only real difference statistically is the three-touchdown drop-off.
Keep the faith? Yes. Coleman hasn't exactly been a disappointment, especially for a runner who is only slightly more involved than most backup running backs. Trying to predict when Coleman is going to take at least one of his two big plays per game - usually one carry and one reception - to the house probably isn't worth the trouble, but he has been consistent enough in his limited role that he will continue to be a high-upside flex play - and probably even a low-end RB2 in deeper leagues - most weeks. Coleman is far from a disappointment and is actually enjoying his finest year as a pro; the only thing that's missing are touchdowns at the moment.

LeGarrette Blount
†Same number of games: 2016 vs. 2017
Team
Year
GP
Att
Ru Yd
Ru TD
Target
Rec
Re Yd
Re TD
FPts
FPts/G
PHI
2017
5
56
323
1
3
3
21
1
49.4
9.9
NE
2016
5
106
389
5
3
3
4
0
70.3
14.1
Analysis: I'm hesitant to even include Blount here, as no one in their right mind was expecting Blount to repeat his 18-touchdown season with the Patriots. I'm choosing to include him here to provide readers with a five-game comparison as much as anything. In all honesty, he has been much better than I expected (and certainly given how bad he looked in the preseason). After averaging 3.9 YPC with New England last year, Blount boasts a 5.8 YPC as an Eagle thus far.
Keep the faith? Yes. Blount is performing about as well as any rational owner selecting him in the double-digit rounds could have expected. Wendell Smallwood looms as a threat to his workload, but he's hurt at the moment and Blount isn't really doing anything to lose his role in the offense. While I doubt he maintains his efficiency all season long, it's reasonable to believe the 12-14 carry range he seems to have established so far will continue for the foreseeable future.

DeMarco Murray
†Same number of games: 2016 vs. 2017
Team
Year
GP
Att
Ru Yd
Ru TD
Target
Rec
Re Yd
Re TD
FPts
FPts/G
TEN
2017
5
56
273
1
13
10
39
0
45.2
9
TEN
2016
5
93
461
3
27
24
172
2
115.3
23.1
†Same number of games: 2016 vs. 2017
Team
Year
GP
Att
Ru Yd
Ru TD
Target
Rec
Re Yd
Re TD
FPts
FPts/G
TEN
2017
5
43
187
1
1
1
10
0
26.7
5.3
TEN
2016
5
34
151
0
3
3
50
0
23.1
4.6



Analysis:

The Titans' running game as a whole has been a disappointment the season, so I decided pair Murray and Henry together. I rarely cite the work of other analysts for a multitude of reasons, but I donít consider ESPN's KC Joyner (a.k.a. The Football Scientist) to be a fantasy analyst per se. I respect his work and particularly value his good blocking rate (GBR) metric. According to Joyner, the Titans rank second in his GBR, which measures how often an offense gives its ball carriers quality run blocking. While Murray's efficiency (5.83 YPC over the last three games) has been on the rise over the last three weeks since he was obviously limited by a preseason hamstring injury, Henry's (3.84) has not. This is not to say I question Joyner's grading, but outside of Henry's 17-yard TD run versus Jacksonville in Week 2 and Murray's 75-yard scamper on an off-tackle play against Seattle in Week 3, I'm struggling to remember many times in which I have seen good blocking from the Titans this season, especially on runs between the tackles. Tennessee's commitment to the running game isn't as strong as it was last year and, as proof of that, look no further than the decreased number of rush attempts for Murray and Henry combined. Worse yet, opponents have attempted 149 rushes versus the Titans' 131, something that would have been unheard of last season.

Keep the faith? A very weak yes. There's no question this has been an odd start to the season for the Titans, who began with Murray hobbled for two weeks before completely falling apart against Houston in Week 4 and playing without Marcus Mariota in Week 5. I'm still a believer in the Tennessee running game, specifically Murray. The Titans' coaching staff appears to be seeing the same thing, as Henry has played a total of 29 snaps over the last two contests. Having said that, I traded Murray for Michael Crabtree a couple of weeks ago in one of the two leagues I drafted him because the offensive line just isn't doing anything to make me believe. It would be one thing if Murray and Henry were dancing in the backfield and wasting good blocking, but the Titans' offensive line seems to be losing at the point of attack much more often than I remember last year. Mariota is easily on pace to set a career high in rushing attempts, which I believe is as much an effort to utilize his athleticism more often as it is a realization the traditional running game just isn't working like HC Mike Mularkey wants it to right now. In short, I'm hopeful the Titans get things going in the running game - they should against the Colts this week - but I'm not overly optimistic at this point.
†Same number of games: 2016 vs. 2017
Team
Year
GP
Att
Ru Yd
Ru TD
Target
Rec
Re Yd
Re TD
FPts
FPts/G
NO
2017
4
42
170
0
22
15
125
0
44.5
11.1
NO
2016
4
54
222
1
19
16
125
1
62.7
15.7
Analysis: Outside of slightly fewer rushing attempts that were going to Adrian Peterson and slightly more targets, Ingram is basically only missing a pair of touchdowns from last year's numbers. In a bit of irony, Alvin Kamara has the one rushing and one receiving touchdown in this backfield through four games.
Keep the faith? Yes. Technically, it's hard to say Ingram is off to a slow start when so many of his numbers are similar to last year, but his outlook got much rosier with Tuesday's trade of Peterson to Arizona. But let's be realistic, as Peterson was only averaging 6.75 carries and 0.5 receptions per game, so it's not as if Ingram will go from 10.5 carries per game to 16-18. However, Ingram was a 1,000-yard rusher last year averaging 12.8 carries, so it's not as if he needed much of a bump in workload anyway. Referring again to my Preseason Matchup Analysis grid, matchups should not be much of a problem going forward, even if Buffalo (Week 10) and Washington (Week 11) continue to play the run at the level they have to this point.

Jonathan Stewart
†Same number of games: 2016 vs. 2017
Team
Year
GP
Att
Ru Yd
Ru TD
Target
Rec
Re Yd
Re TD
FPts
FPts/G
CAR
2017
5
77
251
0
9
6
44
1
39.5
7.9
CAR
2016
5
79
295
4
6
3
32
0
57.7
11.5
Analysis: I can pretty much repeat everything I just said in the first part of Ingram's summary. In fact, if Stewart had cashed in one or two of his four rushing attempts inside the 5 so far, he probably doesn't get a mention in this article. In fact, the only reason his numbers through five games last year look as good as they do is because he posted consecutive two-touchdown games in Weeks 3 and 4. He has rarely been much of a contributor in the passing game, so the fact he is on pace for almost 20 receptions is a bit of a bonus.
Keep the faith? Yes. Carolina's entire running game is struggling, as Stewart (3.3 YPC), Christian McCaffrey (2.8) and Cam Newton (3.1) are all averaging well below four yards per carry - generally considered the acceptable standard in the NFL. The workload has remained consistent, however, and that is a promising sign as the passing game appears to be thriving. For his career, Stewart averages a touchdown for every 35 rushing attempts, so he is "due" for at least two scores at this point. As a team, the Panthers have two rushing touchdowns through five games after running for at least 14 in each of Newton's "healthy" years, so there's even more reason to be optimistic about Stewart becoming a serviceable flex option in the near future. I wouldn't expect Stewart's breakout game to come against Philadelphia this week, but history suggests his time is coming.

Marshawn Lynch
†Same number of games: 2015 vs. 2017
Team
Year
GP
Att
Ru Yd
Ru TD
Target
Rec
Re Yd
Re TD
FPts
FPts/G
OAK
2017
5
57
194
2
8
4
38
0
39.2
7.8
SEA
2015
5
82
304
2
17
10
61
0
58.5
11.7
Analysis: The Beast Mode revival tour has been a bit of a disappointment to this point. Lynch had a strong opener and scored twice in the last four weeks to salvage RB2 value in most leagues, but with no more than 12 carries in any of his last four games, Lynch's owners are pressing their luck by continuing to start him. In his defense, Oakland's offensive line (4.08) is right about at the league average (4.04) in adjusted line yards per Football Outsiders after sporting a solid 4.39 average in 2016. As such, Lynch's 3.4 YPC isn't as bad as it looks, at least until you compare it to Jalen Richard's 5.3. Then again, the Raiders made it pretty clear during the summer they intended to use Lynch in the same way they did Latavius Murray last year (at least early this season while Lynch was getting back to football), even if they didn't come right out and say it.
Keep the faith? No. Although not to the degree of the Titans above, Oakland has had its own odd start to the season. The first two games weren't overly competitive, while two of the Raiders' last three opponents have stuffed the run this season better than most could have expected. Of course, QB Derek Carr exited early in Week 4 and did not play last week, throwing further doubt into what kind of team the Raiders really are. With that said, I don't see Lynch rediscovering his inner "beast mode" much more this season. This week's opponent - the Los Angeles Chargers - may give his owners a chance to sell higher than they could have a couple weeks ago, but upcoming games against Kansas City, Buffalo and Miami do not bode well for his chances to hold that potential increased value very long.

Jay Ajayi
†Same number of games: 2016 vs. 2017
Team
Year
GP
Att
Ru Yd
Ru TD
Target
Rec
Re Yd
Re TD
FPts
FPts/G
MIA
2017
4
76
261
0
9
7
23
0
33.4
8.4
MIA
2016
4
31
117
2
7
6
44
0
32.1
8
Analysis: Per Football Outsiders, Miami ranked 31st in "stuffed" percentage (runs stopped at or behind the line of scrimmage) and third in second-level yards (yards earned between five and 10 yards past the line of scrimmage, divided by total running back carries) in 2016, suggesting Ajayi was doing a lot to make his line look better than it was. This year, the Dolphins ranked 30th in "stuffed" percentage and eighth in second-level yards. It's a fancy way of saying there was a reason for Ajayi's inconsistency last year and it is playing out in a bigger way this year, in large part because Jay Cutler is doing next to nothing to make defenses fear the passing game. Since rushing for 122 yards and averaging 4.4 YPC in the opener, Ajayi has mustered a total of 139 yards on 2.9 YPC over the last three games.
Keep the faith? No, with a caveat. It's important to remember Ajayi's early numbers last year came before his rise to the top of the depth chart, so it is more than a bit troubling his fantasy production is roughly the same now as it was in 2016 despite 45 more carries. Remember HC Adam Gase's assertion Ajayi would play all three downs? That got scrapped after logging 64 snaps in the opener, as the former fifth-round pick hasn't played more than 46 since. Ajayi is in the weird place in fantasy in that his owners have really no reason to fear him losing his job anytime soon, yet they also have very little reason to believe he's going to turn his season around given his surroundings. Volume is on Ajayi's side, however, so it is quite possible he'll be the highly unpredictable fantasy property he was last year - minus the three 200-yard games. Gase has proven to be a smart coach time and again - first as a play-caller and last year as the man in charge - so he's on the short list of coaches I believe can fix this offense, even if it means benching Cutler for Matt Moore or something even more drastic.

Isaiah Crowell
†Same number of games: 2016 vs. 2017
Team
Year
GP
Att
Ru Yd
Ru TD
Target
Rec
Re Yd
Re TD
FPts
FPts/G
CLE
2017
5
62
194
0
11
7
57
0
32.1
6.4
CLE
2016
5
73
408
3
11
7
71
0
72.9
14.6
Analysis: HC Hue Jackson recently told The Cleveland Plain Dealer, "Anything that's going on with Isaiah, I take responsibility for. Until we get this guy in a rhythm of running, it's unfair for anybody to question what he's doing. We have not been in a situation where we can hand this guy the ball the way I think you have to hand a back the ball. All of those questions can be directed at me. Until we're able to do that can I tell you exactly what it is. I believe in Isaiah Crowell. No question. I have to get this guy the ball handed to him." No Brown interior lineman is grading any higher than 72.1 as a run-blocker, per Pro Football Focus. That's a problem for what should be a highly competent front five that added Kevin Zeitler and J.C. Tretter. But it goes beyond that. Whereas the metrics above suggest Ajayi does not deserve much of the blame in Miami, Football Outsiders has Cleveland ranked third in "stuffed" percentage and 26th in second-level yards, meaning Crowell & Co. aren't taking advantage of the opportunities they are getting to create big runs.
Keep the faith? Regrettably no. Metrics only tell part of the story. Most backs, especially ones as talented as Crowell, breaks off a big run every so often to boost what is usually an otherwise pedestrian average. How often they do so typically determines whether they have a successful season or not. Crowell was breaking off big runs in 2016 - in fact, over 20 percent of his rushing yards last year came on three of his 198 attempts - but they hasn't been a hint of those this year, so owners are naturally disappointed. The Browns are also making it nearly impossible for the 24-year-old to overcome his slow start with the extreme volume Jackson seems to want to give to his back, as Cleveland has held a lead for a total of 5:06 this season. Until that changes, Crowell probably isn't going to be of much use in fantasy.
Wide Receivers

Julio Jones
†Same number of games: 2016 vs. 2017
Team
Year
GP
Target
Rec
Re Yard
Re TD
Att
Ru Yd
Ru TD
FPts
FPts/G
ATL
2017
4
30
19
295
0
0
0
0
48.5
12.1
ATL
2016
4
35
22
488
3
0
0
0
88.8
22.2



Analysis:

If it seems like we've seen this movie before, it's because we saw a similar version last year. The major difference: Jones posted a 12-300-1 line against Carolina in Week 4 last season, essentially making this year's production pale in comparison to last year's. Prior to that explosion, Jones was ranked 38th among receiver in overall PPR scoring, which is exactly where he finds himself now. As many owners are probably aware, Jones finished the season eighth at his position. While he sprinkled in his fair share of duds along the way after the Panthers' game, he was mostly a joy to own the rest of the way (don't remind his owners last year about missing the first rounds of the fantasy playoffs though). Given his all-world talent, many considered last year's final line (83-1,409-6) to be a disappointment. His current 16-game pace this season? 76-1,180-0.

Keep the faith? Yes. Remember, Jones reached last year's numbers in 14 games. In my opinion, owners can choose to believe one of a few things when it comes to Jones: 1) he is allergic to the end zone, 2) the Falcons only use him when they absolutely need to or 3) Atlanta is going to realize at some point offense is just easier when the ball is thrown in Jones' direction. A safety over the top or a double team does not dissuade Roethlisberger from throwing to Antonio Brown in any situation, and it's not like the Falcons have other options like Martavis Bryant or Le'Veon Bell to lean on (even though Devonta Freeman, Tevin Coleman and Mohamed Sanu are no slouches). Jones' schedule doesn't get any harder - it might actually get easier - the rest of the way, so he seems as obvious as a bounce-back candidate as any player on this list, if only because his track record suggests he will.

Kelvin Benjamin
†Same number of games: 2016 vs. 2017
Team
Year
GP
Target
Rec
Re Yard
Re TD
Att
Ru Yd
Ru TD
FPts
FPts/G
CAR
2017
5
25
17
272
1
0
0
0
50.2
10
CAR
2016
5
38
21
308
4
0
0
0
75.8
15.2
Analysis: The arrival of Christian McCaffrey and loss of Greg Olsen was supposed to free up Benjamin to do his thing, especially in the red zone. Apparently, things don't always work out as planned. Although Benjamin missed most of Week 3 due to injury, it doesn't quite explain how a slim-and-trim behemoth like he is has seen 13 fewer targets than he did at this point last season, when he admittedly struggled in his first year back from ACL surgery. With that said, the only thing really missing from KB's actual counting numbers from last year to this year are the touchdowns, as he could have easily accumulated the four receptions and 36 yards he needs to tie 2016's production in the roughly three quarters of action he missed two weeks ago. As much as we want to believe sometimes that every team starts the season out on equal footing based on how much rest their players during the exhibition season, such is rarely the case. The Panthers stretched out Cam Newton's recovery time from offseason shoulder surgery about as much as they could and probably paid for it in their loss to the Saints. With that said, the first three games are beginning to look more and more like Newton's preseason. Devin Funchess is also in the midst of the best two-game stretch of his career and seeing a ton of targets (converting on 14 of the 17 throws in his direction over that time), which is another factor owners didnít have to account for last year.
Keep the faith? Yes. While some may be worried Funchess is starting to move past KB, I choose to believe Cam has grown enough as a passer to recognize which receiver has the better matchup on a given play. It goes without saying New England and Detroit probably were not expecting Funchess to beat them, or else we would have seen him face Stephon Gilmore and Darius Slay a lot more often. If Newton's play the last two weeks is indicative of what he will do the rest of the season, there will be enough to go around for every notable Panther pass-catcher. As opponents start to show more respect to Funchess, it's reasonable to believe it will Benjamin's time to shine. It's not as if KB isn't doing well in his own right, catching eight of the 10 passes thrown his way over the last two weeks while averaging 20 yards per reception. The Patriots and Lions were supposed to be to a Benjamin's toughest matchups and he aced them, so sit back and enjoy what should be a fun ride the rest of the way with him.

Amari Cooper
†Same number of games: 2016 vs. 2017
Team
Year
GP
Target
Rec
Re Yard
Re TD
Att
Ru Yd
Ru TD
FPts
FPts/G
OAK
2017
5
33
13
118
1
0
0
0
30.8
6.2
OAK
2016
5
47
26
456
1
0
0
0
77.6
15.5
Analysis: I ranked Cooper lower than most (based on some preseason comments for my adoring fans) in my Big Boards, although there is no way I saw what has transpired over the last four games coming. (Let's be honest, no one did.) His stat lines over the last three games would be a disappointment for Seth Roberts or Cordarrelle Patterson: 1-6-0, 2-9-0 and 1-8-0. Perhaps we should have seen it coming in Week 1 when he failed to convert on three straight red zone plays near the end of the first quarter, almost as if the team wanted him to prove it was his time to take over Michael Crabtree's place as the go-to guy near the end zone. Drops have obviously been a problem. While different sites use different criteria for drops, I've seen him charged with as many as six. That's a confidence issue.
Keep the faith? Yes. I suppose it's easy to keep the faith on a player who isn't on any of my rosters, but let's keep in mind that Cooper is only one of four receivers in NFL history to amass at least 150 receptions and 2,200 receiving yards over his first two seasons. We've seen what he can do. One can easily tell from his last year's five-game split Cooper didn't excel with efficiency at the start of last year either, but he came around to catch 62.6 percent of the passes thrown his way over the final 11 games. So owners must ask themselves: Can he look in the mirror and remind himself how good he is? Sometimes, it is that easy. Non-Cooper owners have to decide for themselves if they want to believe Cooper is in a bit of psychological or if his insanely poor production is the "new normal." It's an easy call in my mind. Convincing the current Cooper owner in your league to part with his second-round pick - in many cases - for a fringe starting running back and/or receiver may be the harder part.
†Same number of games: 2016 vs. 2017
Team
Year
GP
Target
Rec
Re Yard
Re TD
Att
Ru Yd
Ru TD
FPts
FPts/G
DEN
2017
4
30
18
247
0
0
0
0
42.7
10.7
DEN
2016
4
27
21
332
2
0
0
0
64.2
16.1
Analysis: Thomas did a great job of maximizing his opportunities early last season, catching an otherworldly 77.8 percent of his targets. If he carried that rate from last season over into this year and kept this season's YPC, he is probably another player who would not appear on this list. It doesn't help matters Emmanuel Sanders has six red zone targets to Thomas' two either. (Last year, both receivers finished with 18.) These things, especially with two such talented receivers, tend to level out over time. The real concern: even taking into account the fickle nature of scoring touchdowns, owners have a right to be concerned about his fantasy ceiling. Going back to last season, Thomas hasn't scored a touchdown in 10 straight games. Then again, considering how ridiculously open some of Denver's other receivers had been on Trevor Siemian's scoring passes this year, it really shouldn't be that much of a surprise Thomas has yet to catch one. In addition to his decrease in the efficiency, Thomas is 13.7 YPC so far in 2017 (last year's five-game split was 15.8).
Keep the faith? Yes. Thomas fell from the ranks of the elite - especially in the red zone - just about as soon as Peyton Manning's right arm became a shell of itself. (Is that even possible, literally or figuratively?) However, what Thomas lacks in efficiency these days, he tends to make up through volume, so even though his play has declined, his 120-plus targets figure to give him about an 80-catch floor. For what it's worth, Sanders is averaging 9.5 YPC but scored twice against Dallas in Week 2, so is he really having the better season? The point to be made here is that Denver's passing game has really only clicked once this season. Thomas probably will never come close to reaching the heights he once did with Manning at his quarterback, but if you drafted in him in the fourth-round area (where I had him ranked in the preseason), you probably weren't expecting him to be anything more than a high-floor WR2 anyway. He should be able to achieve that.
†Same number of games: 2015 vs. 2017
Team
Year
GP
Target
Rec
Re Yard
Re TD
Att
Ru Yd
Ru TD
FPts
FPts/G
PIT
2017
5
31
15
204
1
2
20
0
43.4
8.7
PIT
2015
5
42
22
440
5
2
21
0
96.1
19.2
Analysis: Expecting Bryant to blow the doors off of the fantasy world like he did at about the midpoint of the 2015 season was a lot to ask, even with all the offseason hype about his new-and-improved physique. What wasn't supposed to happen was JuJu Smith-Schuster seeing more snaps and running more routes than Bryant for three straight weeks this early into the season. The Clemson product has been an enigma to say the least so far, exceeding expectations in the most difficult on-paper matchup he had while falling short of 50 receiving yards in his other four games. In two of those four contests, he saw eight targets, so it's not as if he is in the doghouse. Per NFL Next Gen Stats, Bryant ranks fourth in the league in average target air yards (how far down the field they are being targeted on average) at 27.35, so it's not as if he's blowing easy opportunities.
Keep the faith? Yes, but let's just say I have my concerns. Players who miss a full season of football - especially those who sit out due to non-injury reasons like suspensions - rarely seem to hit the ground running, especially from a fantasy perspective. Whereas we can bet on the talent with a player like Amari Cooper, Oakland doesn't have any other options it loves like Pittsburgh seems to love Smith-Schuster. On the plus side, the rookie isn't exactly dominating the box score each week and has yet to see more than six targets in a game, so perhaps the Steelers see him as a well-rested, short-area complement to Bryant and probably as a better short-to-intermediate route-runner. The simplest explanation for the poor start I can come up with is that Big Ben and Bryant simply aren't hitting on the deep ball yet, which is always the risk owners run when investing a high draft pick into vertical receivers. Roethlisberger may not be among the best quarterbacks in the league anymore, but I'm willing to bet his connection with Bryant picks up as the season progresses.
†Same number of games: 2016 vs. 2017
Team
Year
GP
Target
Rec
Re Yard
Re TD
Att
Ru Yd
Ru TD
FPts
FPts/G
WAS
2017
4
24
13
186
1
0
0
0
37.6
9.4
CLE
2016
4
40
19
290
1
5
15
1
61.5
15.4
†Same number of games: 2016 vs. 2017
Team
Year
GP
Target
Rec
Re Yard
Re TD
Att
Ru Yd
Ru TD
FPts
FPts/G
WAS
2017
4
19
14
106
0
0
0
0
20.6
5.2
WAS
2016
4
28
18
196
2
0
0
0
49.6
12.4
Analysis: It's important to note some of Pryor's early production from his brief stint as a quarterback with the Browns. I struggled ranking Pryor during the preseason for two key reasons: 1) was he simply a top fantasy receiver in Cleveland last year because of extreme volume or 2) would HC Jay Gruden make me eat my words for questioning his competency as a play-caller? The early returns are in and the answers appear to "yes" and "no." Pryor hasn't helped his cause with a few drops, but I feel confident in saying most teams' supposed top receivers would suffer concentration lapses from time to time if they were seeing no more than five targets in their last three games. Pryor was always going to be a poor bet to match last year's production with the Browns simply because there are more mouths to feed in Washington, but the Redskins have somehow managed to take the ball away front the right arm of their $25-million quarterback an average of 7.7 times per game more than they did last season in an effort to put the ball in the hands of Rob Kelley and Samaje Perine. I understand why any coach a more balanced offense, but Gruden seems to be forcing it.
The bigger mystery to me has been the disappearance of Crowder, who was the source of plenty of lavish praise from his head coach over the summer. Somehow, despite moving up the depth chart with fewer proven receivers to keep happy and Jordan Reed battling injuries, Crowder has been utilized less so far. In 2016, Crowder led all Redskins with 16 red zone targets and seven receiving touchdowns. This season, he has two catches on four red zone targets for minus-four yards.
Keep the faith? Let's just say I'm more optimistic about Crowder that I am Pryor. As luck would have it, Gruden seemed to admit his oversight regarding Crowder's lack of involvement through the first quarter of the season on Tuesday, telling the Washington Post: "I think youíll see more of Jamison Crowder, hopefully. He is one of our best skill players. We have got to get him more involved in the offense. That is partly my fault, to get more balls targeted for him. Whether itís quick game, whether itís getting the ball out in space somehow, bubble screen, whatever it might be. I have got to get the ball to him in space more often and get him the flow early." While he is on pace to have his worst season as a pro, Crowder is at least converting the relatively few opportunities he's getting. Pryor is not. Unlike a number of the other players above, the responsibility for both players realizing their potential (fantasy and reality) lies with the play-caller (Gruden), who has to be willing to occasionally shed his desire to run a balanced offense in order to make sure he's engaging all the pass-catching talent he has at his disposal. None of Washington's receivers are on pace for 100 targets just one season after former OC Sean McVay found a way to get each of his top three receivers at least 99. At the moment, Chris Thompson is leading the team by a wide margin in receiving. While that might be acceptable in a place like Buffalo, Washington is far too talented at wideout to have a part-time running back pacing the team in receiving yards.
---
Doug Orth has written for FF Today since 2006 and been featured in USA Today's Fantasy Football Preview magazine since 2010. He hosted USA Today's hour-long, pre-kickoff fantasy football internet chat every Sunday in 2012-13 and appears as a guest analyst on a number of national sports radio shows, including Sirius XM's "Fantasy Drive". Doug is also a member of the Fantasy Sports Writers Association.