Because it is important to be positive around the holidays, I purposely gave you "The Dirty Dozen" last week. (In all honesty, I would argue it's more important around this time of the year to be smart about which matchups to avoid, which is why I did that one first.) Besides, what's better than to consume the All Out Blitz while you're waiting for dinner on Thanksgiving Day and watching the matchups I have highlighted work out just as they were supposed to? (Yeah, I thought so.)

Although football is the quintessential team game, the receiver/cornerback battle is often as individual as it gets at the skill positions. Without getting into too much of a philosophical discussion about how individual it is, we can generally assume that a defense will remain either a team that uses a "shadow" cornerback or opts to "play sides" and not change its method during the course of a game. Receivers tend to move all around the formation and many of the top receivers nowadays spend time in the slot, so the most any analyst can say with any certainty is that a certain receiver should see a lot of a certain receiver in coverage based on where he has lined up in the past.

While the receiver position will probably always remain the most difficult fantasy position to predict from week to week, we do have some tools at our disposal to evaluate just how difficult their upcoming matchups are. Pro Football Focus has many stats that can help us to make informed decisions about what receiver/cornerback matchups we should target and, this week, I am using their coverage grade (as opposed to their overall grade) as a tool to help discern what receivers should feast in that given week. Below is a list of the 12 cornerbacks who have been the most giving to fantasy receivers, ranked from the 12th-most charitable to the most charitable.

Note: The average number of coverage snaps for the 117 cornerbacks to qualify (as in the player isn't currently suspended, on IR, no longer employed, etc.) for PFF's rankings was 284 this week, so I chose to use that number to eliminate players who aren't or haven't been "full-timers". Below each write-up is the remaining schedule and the projected matchups each corner should see in coverage in that week. Please note while I do watch enough film to feel confident about my projected matchups, I am not so naïve to believe I've got each one pegged. Receivers move across the formation a lot nowadays, while most defensive coordinators seem to favor keeping their corners on one side of the formation.

Something else to keep in mind: some offenses have their receivers switch sides liberally, so it is entirely possible that two receivers play roughly the same percentage of snaps on the same side of the formation (or in the slot). In those instances, I have listed two receivers who stand to benefit.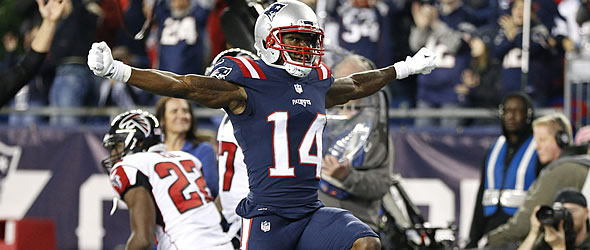 Brandin Cooks gets to pick on the Miami secondary in Weeks 12 and 14.
*** - Indicates corner that has been/will be used as a "shadow"
12. Trumaine Johnson, LA Rams (PFF Coverage Grade: 58.5) ***
Quite often in the fantasy world, owners get a bit scared when they see their receiver is expected to face a "shadow." It makes sense, because if a defensive coordinator assigns a corner to follow the opponent's top wideout, one would think it is because he is doing so in hopes said corner can/will shut him down. By no means has Johnson been horrible - his overall PFF grade is 80th out of 117 qualified corners - but it is probably becoming clear why the Rams' previous administration didn't want to sign him to a long-term contract and why there hasn't been any such talk from the current one either. For what it's worth, Johnson suffered a concussion in Week 6. The only outside receiver to "blow up" since that time - at least in his coverage some of the time - is DeAndre Hopkins, so perhaps he is (or becoming) more of a neutral matchup than one to target. It is clear, however, he is not one to fear.
Week 12: Michael Thomas (New Orleans)
Week 13: John Brown/Larry Fitzgerald (Arizona)
Week 14: Alshon Jeffery (Philadelphia)
Week 15: Doug Baldwin/Tyler Lockett (Seattle)
Week 16: Rishard Matthews (Tennessee)
11. Anthony Brown, Dallas (PFF Coverage Grade: 51.3)
Brown played well enough as a rookie - overall grade of 74.7 from PFF - to help the Cowboys decide to move on from their veteran cornerbacks this past offseason. The 23-year-old second-year player doesn't lack for athleticism - he ran a 4.35 and recorded a 35-inch vertical at the NFL Draft Combine in 2016 - but one has to wonder if technique or the potential threat of 2017 second-round draft pick Chidobe Awuzie taking his job is getting to him. Owners need look no further than Brown getting burnt on a straight go route by running back Kenjon Barner - who lined up on the left side of the formation in the first quarter - last week despite giving him about eight yards of cushion to see he is struggling. Whatever the reason, Brown spends 71 percent of his time on the left side of the defensive formation, making him someone owners should target anytime one of the receivers lines up mostly on the right side of the offensive formation.
Week 12: Travis Benjamin/Tyrell Williams (LA Chargers)
Week 13: Josh Gordon/Ricardo Louis (Cleveland)
Week 14: Ryan Grant/Josh Doctson (Washington)
Week 15: Demarcus Robinson (Kansas City)
Week 16: Robby Anderson (NY Jets)
10. Jamar Taylor, Cleveland (PFF Coverage Grade: 49.3)
Taylor was a bit of a revelation for the Browns last season, earning an 82.0 overall grade from PFF after three nondescript seasons with Miami. Although Joe Haden's injury history played a part, it's fair to assume Taylor's play helped convince Cleveland's brass it could part with the former first-round pick and use the ex-Dolphin to replace him. Instead, it has been free-agent addition Jason McCourty who has thrived and Taylor who has struggled. McCourty has only truly shadowed in three games thus far - although Week 12 against the Cincinnati Bengals and A.J. Green figures to be No. 4 - so he has spent 81 percent of his snaps on the right side of the defensive formation. Thus, owners will need to evaluate each week's matchup moving forward and decide whether or not the opponent has a "shadow-worthy" outside receiver. If so, they should feel reasonably confident plugging in the opponent's No. 2 wideout and taking their chances, assuming said receiver has a competent quarterback.
Week 12: Brandon LaFell (Cincinnati)
Week 13: Travis Benjamin/Tyrell Williams (LA Chargers)
Week 14: Jordy Nelson (Green Bay)
Week 15: Chris Moore/Jeremy Maclin (Baltimore)
Week 16: Josh Bellamy (Chicago)
9. Dre Kirkpatrick, Cincinnati (PFF Coverage Grade: 48.6)
(To my knowledge, PFF doesn't punish a cornerback for intercepting a pass and returning it 101 yards without scoring a touchdown.) All kidding aside, Kirkpatrick has somewhat surprisingly been in the league six years already. He's offered the Bengals hope in two of those seasons (2014, 2016), but he has struggled more often than not in every other one. While William Jackson spends most of his time at right corner and Darqueze Dennard plays a lot in the slot (both 69 percent of the time), and both are typically holding up their end of the bargain with coverage grades of at least 78.3, Kirkpatrick is getting victimized on the left side of the defensive formation. Because Cincinnati signed him to a five-year, $52.5 million contract extension this offseason, it's a good bet the Bengals are going to keep running him out there for the foreseeable future, so owners should try to take advantage of that as well.
Week 12: Ricardo Louis (Cleveland)
Week 13: JuJu Smith-Schuster/Antonio Brown (Pittsburgh)
Week 14: Josh Bellamy (Chicago)
Week 15: Stefon Diggs (Minnesota)
Week 16: Marvin Jones/Kenny Golladay (Detroit)
8. Kyle Fuller, Chicago (PFF Coverage Grade: 48.5)
By all accounts, Fuller started season out well, but as is the case with several corners across the league, offenses will opt to attack the young guy with less of a resume over his more veteran counterpart (Prince Amukamara). It also helps when the same corner has yet to make offenses pay for that strategy by coming up with at least one interceptions. Fuller hasn't done that yet, and it seems reasonable he'll be targeted early and often until that changes with Amukamara holding up on the other side. With that said, corners can't always control everything that happens in "their coverage." A prime example came in Week 10 on Davante Adams' touchdown catch when rookie S Eddie Jackson didn't play his responsibility like he was supposed to and failed to get over the top in time. But that was just the end to a very bad day for Fuller, whom Brett Hundley attacked 10 times (eight catches) for 127 yards. It is unclear how much more opportunity Fuller is going to have before he gets pulled, but he is going to be someone owners should target with receivers who line up more than half the time on the right side of the offensive formation.
Week 12: Torrey Smith/Alshon Jeffery (Philadelphia)
Week 13: Marquise Goodwin/Aldrick Robinson (San Francisco)
Week 14: A.J. Green/Brandon LaFell (Cincinnati)
Week 15: Marvin Jones/Kenny Golladay (Detroit)
Week 16: Josh Gordon/Ricardo Louis (Cleveland)
7. Terrance Mitchell, Kansas City (PFF Coverage Grade: 48.1)
Mitchell qualifies to be on this list only because he met the coverage snap requirement, as he has logged only six snaps over the last three weeks combined while Kenneth Acker and Steven Nelson have seen more playing time. With the Chiefs' surprising addition of Darrelle Revis on the eve of Thanksgiving, it's fair to wonder how much fantasy owners will get to take advantage of the Chiefs' horrible cornerback play opposite Marcus Peters. Then again, if Revis is the 2016 version of himself, we might as well just plug his name instead of Mitchell's into this list and continue treating whomever runs routes against Kansas City's right cornerback as a bit of a fantasy goldmine. Until we see proof otherwise, that is exactly the approach most owners should take.
Week 12: Deonte Thompson (Buffalo)
Week 13: Chad Hansen/Robby Anderson (NY Jets)
Week 14: Michael Crabtree/Amari Cooper (Oakland)
Week 15: Tyrell Williams/Keenan Allen (LA Chargers)
Week 16: DeVante Parker (Miami)
6. James Bradberry, Carolina (PFF Coverage Grade: 47.1) ***
Considering his almost immediate success as a rookie last year and the fact he has been asked to shadow Brandin Cooks, Marvin Jones, Mike Evans and Julio Jones this year (and did not give up a touchdown to any of them), Bradberry's name has to be the most surprising entry on this list. The Panthers are a heavy zone coverage team typically content with giving up the short stuff and letting the offense make a mistake as opposed to giving up something it shouldn't deep, at least on early downs. Jones roughed up Bradberry for four catches and 88 yards in Week 9, but the other three aforementioned receivers did not surpass 60 yards in the second-year corner's coverage. So while the numbers say owners should take advantage of the 72 percent of coverage snaps Bradberry plays on the left side of the defensive formation, I'm not entirely sure he is someone I'm necessarily hoping to see line up against my receiver in fantasy.
Week 12: Robby Anderson (NY Jets)
Week 13: Michael Thomas (New Orleans)
Week 14: Stefon Diggs (Minnesota)
Week 15: Jordy Nelson (Green Bay)
Week 16: Mike Evans (Tampa Bay)
5. Dontae Johnson, San Francisco (PFF Coverage Grade: 43.6)
Fans often like to talk about how often a quarterback must adapt to what seems to be constant turnover at offensive coordinator (Jason Campbell and Joe Flacco come immediately to mind). While learning new defensive systems and philosophies isn't quite as challenging as it is for their offensive counterparts, it would be ridiculous for anyone to assume most non-blue chip defenders can transition from one defense to the next every year without struggling too. Such seems to be the case for Johnson, who has played for four head coaches and four defensive coordinators in his four seasons in the league. Entering 2017, Johnson had logged six career starts, so while most observers will look at his time in the league and expect "senior" production, he's really just transitioning from his freshman to sophomore year in terms of his NFL experience. In other words, Johnson is still very much a complete wild-card when it comes to determining whether or not he has a long-term future in the league, and there is just as good of a chance he emerges into a capable NFL corner in December as there is he will remain a matchup to exploit. For those who believe he is in the latter category, he has spent 71 percent of his snaps at right cornerback this season.
Week 12: Paul Richardson (Seattle)
Week 13: Dontrelle Inman (Chicago)
Week 14: DeAndre Hopkins (Houston)
Week 15: Corey Davis (Tennessee)
Week 16: Keelan Cole/Marqise Lee (Jacksonville)
4. Kareem Jackson, Houston (PFF Coverage Grade: 40.7)
Jackson has been something of a tease for the bulk of his career, sporting an overall grade of 76.9 or better in even-numbered years since 2012 and 51.5 or lower in the odd-numbered years. Certainly his own injuries - as well as those to key personnel on the front seven - have contributed to his roller-coaster NFL career. However, the fact Houston was looking at - if not experimenting - with Jackson moving to safety over the summer is fairly telling in regards to what the Texans think about his ability to hold up at cornerback. Not all the blame should fall on Jackson' shoulders though, as any defense that loses its top two pass rushers - one a three-time NFL Defensive Player of the Year (J.J. Watt) and the other a double-digit sack artist (Whitney Mercilus) - the coverage is going to suffer. Still, we've seen enough from Jackson at this point of his career to reasonably assume he is going to remain a player owners can target in their matchups moving forward from the slot, where he spends 68 percent of his snaps (he spends another 30 percent of his snaps at right corner).
Week 12: Jeremy Maclin/Mike Wallace (Baltimore)
Week 13: Eric Decker/Corey Davis (Tennessee)
Week 14: Trent Taylor/Marquise Goodwin (San Francisco)
Week 15: Allen Hurns/Dede Westbrook (Jacksonville)
Week 16: JuJu Smith-Schuster/Antonio Brown (Pittsburgh)
3. Justin Evans, Tampa Bay (PFF Coverage Grade: 40.5)
Evans was drafted in the second round this spring to be an upgrade on J.J. Wilcox and Chris Conte at safety, so the fact he appears on this list is a pretty good indication something went terribly wrong. Veteran Brent Grimes has already missed three games, Vernon Hargreaves sat out Week 11 and usual slot CB Robert McClain, who also has missed two games, has been something of a liability in coverage for the last four years. Since Grimes has played 96 percent of his snaps this season at left corner and Ryan Smith is set up to occupy the other side if Hargreaves and McClain can't play this week or next, Evans will probably not be in a position to be taken advantage of again anytime soon - at least not in primary coverage.
2. Buster Skrine, NY Jets (PFF Coverage Grade: 37.6)
Doing my best DJ impression … moving up the charts from No. 10 last year to No. 2 this year, is this spunky little 5-9 slot corner from Chattanooga. One year on this list usually is enough reason for a team to find a replacement. Back-to-back seasons? I don't know, it's never happened as long as I've been doing this. To his credit, Skrine has been excellent in run defense (92.2, per PFF). But as we all know, slot corners who stop the run but get torched in coverage don't typically hang around very long in the league and fantasy owners do their best to exploit them as often as possible until the team has decided it has had enough. Per PFF, Skrine has never enjoyed an overall grade higher than 52.2 (2011; his rookie season) and this year's 38.1 mark is the worst of his career. Skrine spends 80 percent of his snaps in the slot, so owners can target his matchup each week with a high degree of confidence.
Week 12: Russell Shepard (Carolina)
Week 13: Albert Wilson (Kansas City)
Week 14: Cody Latimer/Emmanuel Sanders (Denver)
Week 15: Brandon Coleman/Ted Ginn Jr. (New Orleans)
Week 16: Keenan Allen/Travis Benjamin (LA Chargers)
1. Xavien Howard, Miami (PFF Coverage Grade: 35.0)
This wasn't supposed to happen. A young (24 years old) corner with nice size (6-0, 200) and good ball skills in college, Howard was a second-round pick last year out of Baylor who wasted little time securing the starting job opposite Byron Maxwell despite missing most of the preseason. He suffered a torn meniscus midway through his rookie year and never quite recaptured his old form. This offseason, he was "very impressive" during OTAs and considered a potential breakout candidate, but those hopes have become a distant memory. While counterpart Cordrea Tankersley hasn't been a shutdown force by any stretch of the imagination, his 72.6 PFF coverage grade makes him look that way by comparison. Howard spends 83 percent of his time at right cornerback, so owners can generally count on him facing the opponent's split end roughly four out of every five snaps.
Week 12: Brandin Cooks (New England)
Week 13: Demaryius Thomas (Denver)
Week 14: Brandin Cooks (New England)
Week 15: Zay Jones (Buffalo)
Week 16: Tyreek Hill (Kansas City)
Other corners who missed the list due to lack of coverage snaps (coverage grade in parentheses) or recent change in role: Phillip Gaines (33.6), K'Waun Williams, San Francisco (36.0), Kevin Johnson, Houston (36.4), Jeremy Lane, Seattle (36.4), Robert McClain, Tampa Bay (39.2), David Amerson, Oakland (39.2), Josh Shaw, Cincinnati (39.4)

---
Doug Orth has written for FF Today since 2006 and been featured in USA Today's Fantasy Football Preview magazine since 2010. He hosted USA Today's hour-long, pre-kickoff fantasy football internet chat every Sunday in 2012-13 and appears as a guest analyst on a number of national sports radio shows, including Sirius XM's "Fantasy Drive". Doug is also a member of the Fantasy Sports Writers Association.