Truths

I never gave anybody hell! I just told the truth and they thought it was hell.

- Harry S. Truman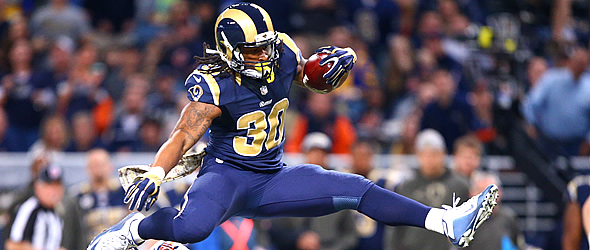 Todd Gurley's fantasy point totals have fallen every week since his high (28.3 FPts) in Week 7.




1) St. Louis running back Todd Gurley has hit the "rookie wall."



From Week 4-8, Gurley appeared to be the best running back in the league (566 rushing yards, 3 TDs). He's still getting into the end zone, but Gurley has been held to just 219 yards over the last four games as defenses dare the Rams to throw the ball with Nick Foles or Case Keenum. Gurley missed the end of his junior season at Georgia and all of training camp due to a knee injury so it's probably too much, too soon, to ask him to be ready to carry a team on his back for 12 games. It won't get much better in Week 13 as Gurley and the Rams face the tough Arizona Cardinals defense.



2) Cleveland quarterback Josh McCown lit up an inept Baltimore pass defense for 669 yards and three touchdowns in less than eight quarters this season.



The Ravens defense looks even worse when you consider only starting quarterbacks and not games Baltimore played against backups Michael Vick and Case Keenum. When facing a "starting" NFL quarterback, the Ravens are yielding 26.2 FPts/G. That's approaching New Orleans Saints ineffectiveness. Ryan Tannehill is next up for Baltimore and should be a solid option. The Ravens will face Russell Wilson, Alex Smith and Ben Roethlisberger in the fantasy playoffs and all three should be must starts.



3) In contrast to the Ravens, the Minnesota Vikings defense, the worst defense in the league as recently as 2013 (30 ppg), is currently yielding just 17.6 ppg.



The Vikings are ranked as one of the top-10 stingiest to opposing quarterbacks (3rd), running backs (7th) and receivers (10th). Even more surprising is that fantasy owners have yet to catch on and they are owned in about 35 percent of all leagues. When setting a starting lineup, avoid playing against this defense.



4) Philip Rivers is having one of his best seasons despite the Chargers' ugly won-loss record.



Unfortunately, Rivers can't control the defense (27.9 ppg) or injuries across his offensive line. What he has been able to do is adapt to the situation and he's ranked as the No. 4 fantasy quarterback (24.5 FPts/G). He's first in completion percentage (68.5) and second in passing yards (3,511) despite an offensive line down to just two starters. Not bad for the 12th quarterback off the board on Draft Day. On Sunday, Rivers became the 17th quarterback all-time to crack the 40,000-yard passing mark.



5) Despite a big question mark at quarterback heading into the season, the New York Jets have two Top-12 fantasy receivers.



True. Brandon Marshall (147.1 FPts) and Eric Decker (118) rank fifth and 11th, respectively. Together, the two starters have combined for 51 percent of the team's receptions. Marshall and Decker have been able to produce because quarterback Ryan Fitzpatrick has been a pleasant surprise with 20 touchdown passes through 11 games and because the Jets have very few receiving options behind them. Running backs Bilal Powell (22) and Chris Ivory (19) have more catches than No. 3 receiver Jeremy Kerley.



Lies



When the world has got hold of a lie, it is astonishing how hard it is to kill it. You beat it over the head, till it seems to have given up the ghost, and behold! The next day it is as healthy as ever.

- Edward G. Bulwer-Lytton




1) Fully-inflated footballs will kill Tom Brady's effectiveness.



Obviously laughable. Brady leads all quarterbacks in fantasy scoring at 27.9 FPts/G. Actually, Brady's production HAS fallen over the past four games (23.1), but it's due to significant losses of receiving talent; Dion Lewis in Week 9 (36 receptions), Julian Edelman in Week 10 (61) and Danny Amendola in Week 11 (49). He's also likely to be without Rob Gronkowski for a "few weeks" due to a knee injury suffered late in Week 12, so Brady's fantasy value likely has a limited upside for the next few games.



2) Martavis Bryant leads the league in FPts/G so he must be the league's best receiver.



To be sure, Bryant is a superior talent who has scored 13 touchdowns in 16 games over his first two seasons, but he benefits from defenses keying on Antonio Brown. If I was starting a team I'd certainly choose DeAndre Hopkins, Julio Jones, Brown and Odell Beckham Jr. among others before Bryant. Bryant's situation reminds me of Alshon Jeffery last season when he had Marshall on the opposite side of the field. Notice how Jeffery is struggling with Marshall in New York?



3) Doug Martin's fantasy value can only improve now that he doesn't have any competition for the starting role.



False. Martin is the "next" Jonathan Stewart. That's not the end of the world, but both running backs have a limited upside because of a quarterback who is going to steal goal line rushing attempts. Stewart has Cam Newton under center, who has scored seven times this season, six of them from inside the 5-yard line. Tampa Bay rookie quarterback Jameis Winston has scored four rushing touchdowns, three times inside the 5-yard line. If you want to be the No. 1 fantasy running back, you can't play with a running quarterback.



4) Cleveland tight end Gary Barnidge, currently third at the position, should continue to produce into the fantasy playoffs.



Only if Josh McCownwere the starting quarterback. Unfortunately, McCown suffered a broken right collarbone Monday night. In Johnny Manziel's three starts, Barnidge is averaging just 5.9 FPts/G versus 12.5 with McCown.



5) Peyton Manning will automatically get his starting job back when healthy.



It's always traumatic when a Hall of Fame player reaches the end of the line and Manning's level of play this season hasn't been anywhere near what we have come to expect. The Broncos have rushed for their two highest totals with Brock Osweiler as the starter and head coach Gary Kubiak can run the offense he wants with the 25-year-old under center. Denver was producing 3.77 ypc with Manning and that number has jumped to 5.13 ypc behind Osweiler. Sorry Manning owners, but unless Osweiler completely self-destructs, Manning won't be of any value in the fantasy playoffs.


---
Steve Schwarz served as the fantasy sports editor of The Sports Network and is the 2014 FSWA Football Writer of the Year.