30. It is the answer to the question what is the square root of 900? As a young boy, I thought that was the age people qualified as being old, but now that I just celebrated my 62nd birthday I don't think that's true at all. For fantasy football owners, however, the number 30 has just one meaning – it's the age, we are told, at which a running back's production and fantasy value is said to begin to fall.

Is that fact or myth?

With regards to the current batch of 30-year-old running backs, the adage appears to be true. In almost every case, as you will see in the box below, the running back at age 30 were less efficient than in his years up to age 29.


Even the 2015 rushing champion, Adrian Peterson, was not immune. Despite a great year after his return from a suspension, Peterson's "yards-per-touch" was down 9.1 percent. Considering only the fantasy-worthy backs on this list, Rashad Jennings and Danny Woodhead were the only two who improved after they celebrated their 30th birthday.

Another eight running backs will hit the "magic number" during this football season. What should fantasy owners do about the situation? In dynasty leagues should you trade them for cents-on-the-dollar? Should you avoid them altogether in redraft leagues?

Let's look at each player individually: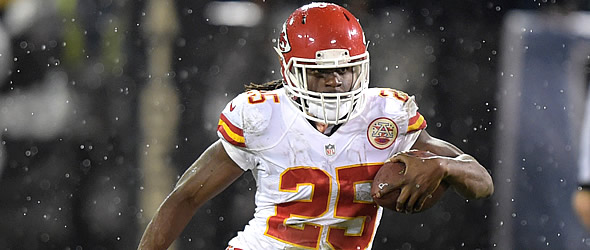 Charles won't turn 30 until late this season but after two knee injuries, owners need to be cautious.


Jamaal Charles, Kansas City

Charles is obviously the top name on this list, but a risky fantasy selection considering his injury history. He's returning from an ACL injury suffered last October (his second knee injury in four seasons) and has yet to be cleared for training camp. An elite fantasy option when healthy, he'll have to be closely watched in training camp and the exhibition season. If you decide to select him then Charcandrick West (634 yards rushing, 214 yards receiving, 5 TDs) is a must-handcuff even if you have to draft him a round-or-two early.

LeGarrette Blount, New England

The Patriots use LeGarrette Blount as their battering ram and the 6-foot, 250 lbs. running back has been very successful in that role. In three seasons he's averaged 4.6 ypc and scored 16 rushing touchdowns. Blount suffered a year-ending hip injury last December, missed all of spring OTAs, and will have to be watched as training camp begins. Dion Lewis (ACL) was the star in the New England backfield when he was healthy last season and predicting what Coach Bill Belichick has planned each week is always a nightmare. I recommend staying away as the Patriots' backfield is migraine-producing and impossible to predict.

James Starks, Green Bay

Starks signed a two-year deal to return to the Packers in March after putting together his most productive season (601 yards rushing, 392 yards receiving, 5 TDs). Still, he's limited by starter Eddie Lacy. However, if Lacy continues to struggle with his weight and production, James could see an even bigger role, but at the moment the backup is still only a "handcuff."

Tim Hightower, New Orleans

After an injury in 2011, Hightower missed almost four seasons before returning in 2015. He produced nicely over the final four weeks and likely helped more than a few fantasy owners win a title with 169 combined yards and two touchdowns in Week 16. However, he's purely running back insurance for a now healthy Mark Ingram (torn rotator cuff) in 2016 and likely behind C.J. Spiller and Travaris Cadet as a third-down back. Another "handcuff" only.

Arian Foster, FA

Foster led the all running backs in 2010 (329.8 FPts) and has finished top-5 in three other seasons, but was released by the Texans due to an Achilles injury. He expects to be ready for training camp and could be a valuable asset to both his new team and fantasy owners if he falls in the right situation. The Dolphins made a call during the off-season, but most teams will likely wait for him to work out sometime in July. He's worth watching.

Marshawn Lynch, FA

The punishing running back once again declared himself retired (June 6), but you never know with Lynch. If his Seahawks run into a plethora of injuries at running back this season I'm sure he'd answer a phone call from Coach Pete Carroll. If you are in a 20-25 round draft, he might be worth stashing in the last round.

Joique Bell, FA

Bell was one of the league's best at catching the ball out of the backfield and in 2014 even rushed for 860 yards. According to the Detroit Free Press he has a couple of offers in hand, but we won't know his value, if any, until we see where he lands.

Ahmad Bradshaw, FA

Bradshaw and Colts quarterback Andrew Luck had a nice connection in 2014 and the oft-injured back managed to score eight times (six receiving) along with combining for 725 yards. But 2015 brought Frank Gore to Indianapolis and limited Bradshaw's value even before a season-ending wrist injury. He's an unrestricted free agent and not much is known about his 2016 plans, but they don't figure to be with the Colts, who signed Robert Turbin, Jordan Todman and rookie Josh Ferguson to back up Gore.

---
Steve Schwarz served as the fantasy sports editor of The Sports Network and is the 2014 FSWA Football Writer of the Year.