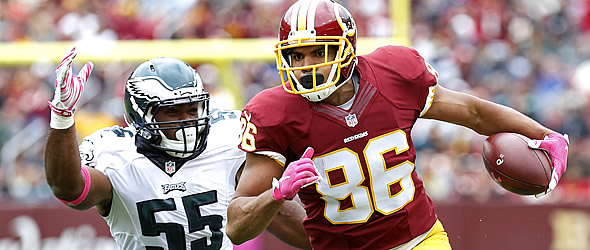 Maybe pulling the trigger on Jordan Reed or Travis Kelce in Round 4 isn't such a good idea.
I once won a fantasy league with Jim Kleinsasser as my tight end. It was 2003.

Your most immediate reaction should be, "who?"

He was a completely forgettable tight end who played 13 almost-invisible seasons for the Minnesota Vikings from 1999-2011. (Truth in journalism, I did catch Kleinsasser's "career" year – 46-401-4.)

What it means, however, is that a dominant tight end isn't needed to win your fantasy league. That should come in handy this season, because in 2017, there are no dominant tight ends.

A few years ago, the tight end position had two fantasy studs almost in a class by themselves, but if you check last season's tight end production, shown below in fantasy points per game from 2011-16, it should tell you all you need to know about drafting tight ends in 2017.
The lesson is - there is absolutely no reason to rush to get your starting tight end. It's a tier-less class.

The once great duo of Rob Gronkowski and Jimmy Graham, head and shoulders above the rest, have returned to the pack.

Gronkowski hasn't played a full season since 2011. Last season he produced the lowest yards-per-game since his rookie season (67.5 ypg) and posted just three touchdowns – a career-low. A guy who averaged 68-1002-11 from 2011-2015 posted 25-540-3 in 2016.

OK, he only played eight games last year you say. Take this. His yard per game production was down 14% per game from his previous five-year average and his per game TD production dropped 52%.

Is it possible the wear and tear of seven seasons is starting to catch up with him?

Some would argue that Martellus Bennett stole some of Gronk's thunder last season and now that Bennett has signed with Green Bay, Gronkowski will return to his previous production levels, but I'm not sold on that. The Patriots already replaced Bennett by acquiring Dwayne Allen from the Indianapolis Colts. Allen has been pretty good around the goal line (15 TDs last three seasons) although he was clearly beaten out by Jack Doyle last year.

And then there is his off-the-field lifestyle.

As he put it in his own book, "It's Good To Be Gronk," – "The good thing about the way me and my brothers party is that we don't sit on our butts or just stand around with drinks in our hands. We go hard! We don't do drugs; we don't need to. We have so much energy and are so fired up just to party among ourselves that whether there is alcohol or not, we jump at the chance to get wild."

Perhaps with all his success, fame and fortune he's lost that "edge." It doesn't take much to drop from All-World to very good.

Meanwhile, Graham simply hasn't been the same player since he was traded to Seattle. The Seahawks don't need him to dominate downfield with Doug Baldwin, Jermaine Kearse and Tyler Lockett at wideout. The former Miami Hurricanes tight end has been targeted just 6.26 times per game in two seasons with Seattle after seeing 8.75 targets from Drew Brees in New Orleans.

Further, over those same two seasons, Graham has caught only five "red zone" touchdowns on 30 targets whereas in just his final season in New Orleans he caught nine "red zone" touchdowns on 23 targets.

In all, 13 tight ends, from "Gronk" at the top (9.0 FPts/G) to Bennett at No. 13 (7.1) averaged within two points of each other.

That variance is similar to the difference between placekickers (Matt Bryant 9.9 FPts/G to Adam Vinatieri 7.8 FPts/G) and you never bother to pick a kicker until the last two rounds do you?

Why would you want to spend, what Fantasyfootballcalculator tells us, must be a second-round pick on Gronkowski (ADP 22.2)? You could just as easily use an end-of-the-fourth round selection on Jordan Reed (44.8) or a seventh rounder on second-year tight end Hunter Henry (86.8). Heck, if you are a real gambler take talented Tampa Bay Buccaneers' rookie O.J. Howard in the ninth round (111.6). He'll supplant Cameron Brate (57-660-8) and likely produce similar numbers.

It would seem to me that it's much more important for fantasy owners to lock in their running back, quarterback and wide receivers where the variances are far greater.

Picking Aaron Rodgers over getting stuck with No. 12 option Blake Bortles was worth 6.3 FPts/G last season. David Johnson versus No. 12 Jay Ajayi was worth 8.0 FPts/G and Antonio Brown was worth 3.6 FPts/G more than No. 12 Dez Bryant.

Based on all the above, this is the season to ignore tight ends until late in the draft.

For the latest FFToday tight end projections click here.


---
Steve Schwarz served as the fantasy sports editor of The Sports Network and is the 2014 FSWA Football Writer of the Year.