An eleventh hour fantasy miracle fueled by a Kurt Cousins Monday Night Football dud kept me alive in my season-long league of record.

My fantasy football euphoria lasted only for a few moments when I realized that my opponent in the championship game is blessed with more than a couple choice matchups in week 16, including Latavius Murray at home against the Colts, and Tom Brady and the New England D/ST home at Foxboro against the Jets.

Perhaps lightning can strike twice in consecutive weeks and I can pull out a victory when all seems lost.

Who knows, maybe a megalomaniac like Bill Belichick will go against conventional wisdom and focus on the run instead of the pass, despite the fact that the Jets are much easier to beat in the air than on the ground.

And it is certainly possible that Derek Carr and the Raiders passing game will torch the Colts in the air, leaving Murray and the ground game in the shadows on Saturday afternoon.

Regardless of the outcome, it has been a fun fantasy football season filled with breakout performances, fantasy duds and studs, and more than a couple nail biting finishes.

I hope you have fared well in both season long and DFS formats, and I appreciate all of my readers who have followed this column throughout the season.

Here are a few DFS plays that I am targeting this holiday week. There are a few surprises to follow, including Todd Gurley and Amari Cooper, two fantasy flops who may finally pay dividends for DFS owners this week.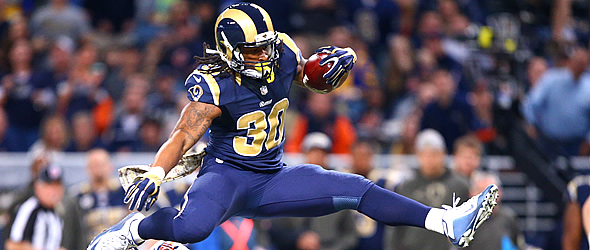 If there's ever a time to play Todd Gurley, this is the moment. The 49ers give up the most FPts to RBs.
Quarterbacks
H2H/Cash - Tom Brady vs. NY Jets ($7,700 on DraftKings)
Despite my wishful thinking in my opening to this article, I seriously doubt that Belichick will try to go with the contrarian play and run against the Jets when it is so easy to pass. I am not a fan of Bellicheat and the Pats, but there is no doubting the manís skill as a coach and his ability to expose the weakness of an opponent.
The Pats will pass early and often in this game, as Brady looks to rebound from his tough matchup last week against the Broncos.
A 400-yard, three touchdown line similar to what he did two weeks ago against Baltimore is not out of the question for Brady.
He is the most expensive quarterback on DraftKings this week, but I think he is worth it for owners looking for a return on their investment in cash games.
Another thing to consider here is the lack of worry with regards to negative game script. Belichick has a history of running up the score, especially against division foes, so the possibility of Brady working well into the fourth in a blowout is probable.
Other options to consider - Philip Rivers vs. Cleveland & Dak Prescott vs. Detroit
GPP - Cam Newton vs. Atlanta ($6,600 on DraftKings)
The Carolina Panthers looked like they took great pleasure in ruining the playoff hopes of the Redskins on Monday Night, limiting Kirk Cousins and the Redskins to one offensive score while stifling the Washington passing game.
Cam Newton and the rest of the Panthers would get even more joy playing playoff spoiler for the Falcons this week in Carolina.
Newton has been a fantasy disaster this year, with seven games less than 20 fantasy points after an MVP season in 2015. The offense looked to be back on track in Week 15 and should continue their success against a Falcons team that has allowed the second most fantasy points to opposing quarterbacks this season.
With an over/under of 52.5 points by the odds makers in Vegas, this game has the makings of being one of the highest scoring games of the week. I want to have a piece of action on this game, and a few shares of Newton in GPPs might be a great option for a high ceiling play.
Other options to consider - Ben Roethlisberger vs. Baltimore & Tyrod Taylor vs. Miami
Fade - Carson Palmer @ Seattle ($6,500 on DraftKings)
Contrarian players might view Carson Palmer on the road against the Seahawks as a sneaky play based on the fact that Palmer torched Seattle for 363 yards and three scores last season, and the Seahawks defense is not the same with safety Earl Thomas out for the year.
But I am not buying this narrative for the simple fact that Palmer was playing arguably the best football of his career last year, and is a shell of his former self in 2016.
Yes the Ďhawks are depleted in the secondary, but they have still only allowed 14 passing touchdowns on the season, and only Tyrod Taylor and Matt Ryan have had success at Century Link Field this year.
Donít buy into the contrarian play here and look to spend your money on safer quarterback plays this week.

Running Backs
H2H/Cash - Jonathan Stewart vs. Atlanta ($5,200 on DraftKings)
In DFS touches are king, especially when they come in the form of quality carries by a talented running back in an advantageous matchup.
Stewart is not flashy and he is certainly long in the tooth, yet there is no denying the fact that the Panthers have made it a point to refocus on the run game in the last two games (49 carries by Stewart in the last two weeks.)
20-plus carries against a Falcons defense that has allowed the 5th-most fantasy points to opposing running backs is a great value for a player who will cost you only $5,200.
The Panthers will look to control the clock and keep Ryan and the Falcons offense off the field. The 300 burger Julio Jones dropped on the Panthers in Week 4 is going to be front and center on the minds of the Carolina coaching staff.
J-Stew was inactive for that game, and the lack of a ground attack was a devastating blow to the Panthers. Ron Rivera and the Panther coaching staff will learn from their shellacking and come up with a game plan to stop it from happening again.
Other options to consider - Latavius Murray vs. Indy & Jordan Howard vs. Washington
GPP - Todd Gurley vs. San Francisco ($6,500 on DraftKings)
What do Ryan Mathews, Spence Ware, and Jay Ajayi all have in common? They all have scored more fantasy points that Todd Gurley, despite being drafted significantly later in season long leagues this year.
Heck, Dak Prescott has more rushing touchdowns on the season that Gurley, and he is a quarterback.
There is no sugar-coating the fact that Gurely has been a dumpster fire for fantasy owners, costing most of his owners a chance at the playoffs and fantasy glory. But that doesnít mean he canít have some value in DFS when given a choice matchup at home against a historically bad defense.
That chance is this week against a San Francisco defense that has allowed at least 100 yards or a score to every single team this year except, well, the Rams in week one. Donít be fooled by this fact, the 49ers always play well on the opening Monday night game and then stink the rest of the year.
Other options to consider - Kenneth Farrow @ Cleveland & Mike Gillislee vs. Miami
Fade - Thomas Rawls vs. Arizona ($5,100 on DraftKings)
I hope I am wrong about this pick, as I am faced to start Rawls this week in my championship game.
Rawls is a talented back that has shown great power and burst since returning from a leg injury that limited him most of the season. Unfortunately, the Seattle offensive line is one of the worst in the league and has done a poor job of opening holes and limiting tackles behind the line of scrimmage.
Although Arizona just allowed 130 yards on the ground at home to the Saints and three rushing touchdowns to the Falcons in Week 12, they are still a formidable front at stopping the run and will likely shut down Rawls this week.
I may be forced to play him in my season long league, but I canít stomach another 21/34/0 line from Rawls if money is on the line.
Wide Receivers
H2H/Cash - Emmanuel Sanders vs. KC ($6,000 on DraftKings)
Sandersí best game of the season was against Kansas City at home in Week 12. The Broncos made a point to avoid the Demaryius Thomas matchup against Marcus Peters, opting to attack the Phillip Gaines on the right side.
Although the cold weather can be a limiting factor to the passing game, look for Sanders to once again reach pay dirt with a score or two.
Other options to consider - T.Y. Hilton @ Oakland & Davante Adams vs. Minnesota
GPP - Taylor Gabriel @ Carolina ($6,200 on DraftKings)
A common worry that I have witnessed on twitter from Taylor Gabriel fans is a shared concern that the return of Julio Jones will hurt Gabrielís production against the Panthers.
I believe that this logic is flawed based on the fact that Gabrielís three best games came when Julio was on the field, forcing defenses to double team while allowing Gabriel to exploit single coverage from nickel and linebackers.
With Julio torching the Panthers for 300 and a score earlier this year, I would imagine that defensive coordinator Sean McDermott will make it a point of emphasis to shut down Jones.
Other options to consider - Malcolm Mitchell vs. Jets & Tyler Lockett vs. Arizona
Fade - Tyreek Hill vs. Denver ($5,900 on DraftKings)
I mentioned that touches are king in fantasy sports, as they directly correlate to fantasy points more than predicting touchdowns.
In the case of a dynamic player like Hill, one touch could be a monster fantasy day based on the fact that he can score from anywhere on the field.
Hill was a three-score monster against the Broncos in Week 12, scoring a rushing, receiving and special teams touchdown.
Defensive coordinator Wade Phillips will be focused on not letting Hill beat them again this week. There is a chance Hill scores again, but I am not interesting in spending nearly $6,000 on a player limited by touches against a defense like Denver.
Tight Ends
H2H/Cash - Kyle Rudolph @ Green Bay ($4,900 on DraftKings)
Injuries and bad matchups cloud the top tier of tight ends this week, leaving cash game players few options for high volume plays in advantageous games.
Kyle Rudolph against a Packers unit that ranks 11th in points allowed to tight ends this year. With Stefon Diggs possibly out with a hip injury, Rudolph and Adam Theilen will be the top two targets for quarterback Sam Bradford.
At $4,900, Rudolph is somewhat of an expensive option considering the fact that he has one touchdown in his last five games. But in cash games targets and volume is king, and Rudolph has been the beneficiary of double digit targets in three of his last four contests.
Other options to consider - Cameron Brate @ New Orleans & Lance Kendricks @ San Francisco
GPP - Charles Clay vs. Miami ($6,200 on DraftKings)
Clay has salvaged an otherwise disappointing 2016 campaign with a touchdown and at least 50 yards in his last two games, highlighted by a 7/72/1 line last week at home against Cleveland.
Sammy Watkins is still limited by his nagging foot injury and is more of a decoy than anything at this point in the season, and the Dolphins rank 10th on the season in points allowed to tight ends.
GPP owners looking for a high ceiling option may want to consider Clay, as he continues to re-establish himself as a vital part of the Buffalo passing game.
Other options to consider - Vernon Davis @ Chicago & Jack Doyle @ Oakland
Fade - Antonio Gates @ Cleveland ($4,400 on DraftKings)
Some DFS playerís eyes will light up when they see a green 32nd moniker next to Gates as the Chargers head north to play the Browns.
But I am avoiding Gates this weekend, as the future hall of farmerís usage has been too sporadic over the course of the season, with fellow tight end Hunter Henry eating into his touchdown totals.
Cleveland stinks against pretty much everything, especially tight ends, but I canít trust Gates when he has four or less targets in three of his last four games and hasnít scored since Week 10.

Defensive Play of the Week
New England vs. New York Jets ($3,600 on DraftKings)
The Patriots are likely salivating at the prospect of playing against Bryce Petty and the Jets this week. No team has allowed more points to opposing DSTs than the Jets, a team that for all intent and purposes has given up on the year.
Look for a similar stat line to last week's game against the Broncos when the Pats limited Trevor Siemian and the Denver offense to one field goal, while forcing a few turnovers and a possible score.