A buddy of mine and I recently got into a somewhat heated discussion over the concept of stacking players in DFS tournaments.

For those new at daily fantasy, stacking is a strategy where a person chooses a quarterback and skill position players from the same team with the goal of "multiplying" or doubling up on points for scoring plays between the two players.

There are multiple versions of stacking, including triple stacking with a QB, WR, and pass catching running back. You can also pair a defense/special teams unit with a running back, with the goal of the defense shutting down to opposing team and the corresponding tailback earning garbage time carries late that could result in fourth quarter TDs.

Regardless of the type of stack, most daily fantasy analysts promote the notion of using them in large tournaments and not cash games due to the boom or bust philosophy that is needed in GPP contests.

Owners looking for consistent points and safer plays in cash games should avoid stacks because you want high floor plays, not high ceiling tickets when playing against another person or small group.

This leads me back to my heated discussion with my buddy, as I presented a new idea of using what I call "Cash Stacks" for cash and H2H games.

The idea is simple. In a given week, if we as fantasy owners believe Antonio Brown and his hefty price tag is the safest and most sure point producer for wide receiver, wouldn't logic tell you that the guy throwing the ball to him is also a safe play?

After all, if we identify Brown to give at least 100 yards and a score, then Big Ben will also give us a floor of that passing amount, with a decent probability of him scoring fantasy points from Bell, James, Coates, or his other weapons.

My buddy vehemently argued that diversification is needed in cash games, as the threat of Big Ben delivering a stinker or getting hurt will torpedo your lineup. Don't put your eggs in one basket; find different guys in different matchups to ensure that one bad game won't kill your chances of winning.

I get the logic, and in most cases I think he is correct in avoiding cash game stacks. But I can't help but think that we have gone a bit too far as an industry in preaching stack avoidance in cash games, and I think the adoption of the "Cash Stack" has merit.

In certain matchups with certain top tier players, like Matthew Stafford and Marvin Jones this week against the Bears, I think a Cash Stack can give you an edge over the competition, especially in 50/50's and multipliers.

I present this idea simply in a beta form with no empirical evidence from past games to strengthen my argument. I do plan on putting this concept in to practice over the next month and will review my findings in future articles.

Until then, here are a few plays that I am targeting this week in DFS.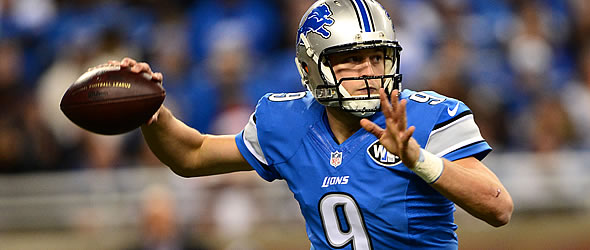 Bear Killer: Matthew Stafford torched the Bears for 703 yards and 7 TDs in two games last season.
Quarterbacks
H2H/Cash - Matthew Stafford vs. Chicago ($7,300 on DraftKings)
Stafford threw for 385 yards and three touchdowns last week on the road against the Packers, as the Lions were down early and forced to pass most of the game.
I predict a different game script this week against the Bears, with the Lions and Stafford building an early lead in the first half with touchdown passes to Eric Ebron and Marvin Jones. Stafford owns a solid recent history against the Bears, with seven passing touchdowns and just over 700 passing yards in his last two matchups.
Although the Bears defense added pieces from last season, injuries in the secondary and the recent placement of Kyle Fuller on IR made an already subpar defense even more terrible.
The likelihood of the Bears breaking out early and milking the clock away makes me hesitant to recommend Stafford in GPP formats. But his high floor and efficient play in the Jim Bob Cooter offense make him a cash play must this week.
Other options to consider - Cam Newton @ Atlanta & Philip Rivers vs. New Orleans
GPP - Trevor Siemian @ Tampa Bay ($5,400 on DraftKings)
The first two games of Trevor Siemian's NFL career netted wins for the Denver Broncos, but his 12 point average and one TD pass were not very attractive for DFS players. The former Northwestern University star found his groove week three against the Bengals with 312 passing yards and four TDs, including a few nice deep passes to Demaryius Thomas and Emmanuel Sanders.
GPP tournament players looking for a home run play at quarterback may want to invest in some shares of Siemian this week as the Broncos take on Tampa Bay, a team that has giving up the fourth-most points to opposing quarterbacks this season.
Both Matt Ryan and Carson Palmer managed to throw for over 300 yards and a couple of scores already this season, leading me to believe that Siemian and the Broncos passing attack will go after the subpar Buccaneers secondary on Sunday.

Other options to consider - Joe Flacco vs. Oakland & Derek Carr @ Baltimore
Fade - Matt Ryan vs. Carolina ($7,000 on DraftKings)
Matty Ice has been a consistent force for DFS owners through three weeks of the season, averaging 26 points per game on DrafkKings.
It has no doubt been a solid start for Ryan, however, his numbers have been a tad bit skewed by the fact that he has played three terrible defenses in New Orleans, Oakland, and Tampa Bay.
The Week 4 matchup against the Panthers will be the first big test for the Falcons offense, as the Panthers have allowed the 8th fewest fantasy points to opposing quarterbacks. Add in the fact that Ryan threw for 530 yards and only one TD in two games against the Panthers in 2015, and you have a recipe for a regression game for Ryan and the Falcons.
Running Backs
H2H/Cash - DeMarco Murray @ Houston ($6,800 on DraftKings)
The return of high profile players like Le'Veon Bell and Jamaal Charles will likely take up the spotlight for running backs this week, with numerous fantasy owners willing to fork out $7,500 for Bell despite the fact that he hasn't played in a game since November 1st of last season.
While I do not doubt the talent and opportunity of Bell, I would rather spend my money on a player who has been the most consistent fantasy running back this season and is reasonably priced.
Murray has been the model of consistency this year after averaging 25 points per game for the Titans. When he has struggled on the ground against tough run defenses like the Vikings, he responded with two passing touchdowns through the air.
When faced with less than stellar run defenses, Murray has shined by averaging an impressive 7.3 yards per carry in two games against Oakland and Detroit. His matchup this week against Houston is not the greatest, but the Texans have given up three rushing TDs on the year and JJ Watt will not be on the field.
Other options to consider - Melvin Gordon vs. New Orleans & Ezekiel Elliott @ San Francisco
GPP - Cameron Artis-Payne @ Atlanta ($3,400 on DraftKings)
Jonathan Stewart has been ruled out against the Falcons, opening the door for CAP to get another start this week for the Panthers at tailback.
Payne was not very impressive against the Vikings last week with just 47 yards on 12 carries. But when you look closer at the fact that Minnesota has yet to give up a rushing touchdown and the Falcons have given up the 5th most fantasy points to opposing backs, CAP this week could deliver a breakout GPP performance at a cheap salary of $3,400.
Other options to consider - Dwayne Washington vs. Chicago
Fade - LeSean McCoy vs. New England ($6,700 on DraftKings)
Bill Belichick has a history of focusing on taking away the best option of an opposing offense. For the Bills, LeSean McCoy has been the main bright spot in an otherwise dismal season, leading me to believe that the Pats will focus on the run and force the Bills to beat them in the air.
While I can see Shady having a decent game despite the hoodie's best efforts, I think there are better options for fantasy owners this week.
Other options to consider - Matt Forte vs. Seattle & Spencer Ware at Pittsburgh
Wide Receivers
H2H/Cash - Marvin Jones vs. Chicago ($7,300 on DraftKings)
In keeping with my theme this week of the Cash Stack, I think Marvin Jones is a solid high floor and high ceiling guy that is perfect for cash game players.
Jones has averaged 10 targets in each of his three games this season. And despite the coach speak from Jim Bob Cooter that he plans on getting Golden Tate the ball more, there is a definite connection between Stafford and Jones.
The Bears have been dismal this season, making even average quarterbacks like Dak Prescott and Brock Osweiler look like stars. Chicago has allowed nearly 500 receiving yards and three TDs to opposing wide receivers, and the Lions have been one of the most prolific passing attacks. Those two variables combined and the sheer number of targets Jones has received make me feel confident in him as a cash play this week.
Other options to consider - Brandon Marshall vs. Seattle & Allen Robinson vs. Indy
GPP - Travis Benjamin vs. New Orleans ($5,900 on DraftKings)
The New Orleans Saints have given up 647 receiving yards to opposing offenses this season, while only giving up two receiving touchdowns. That is a surprisingly low number of receiving touchdowns for WR's when compared to the number of yards.
Are the Saints just terrible between the 20's and tighten up in the red zone? Of course not, they are a sieve in all aspects of defense, and the majority of touchdowns are scored by opposing running backs.
This bodes well for Melvin Gordon owners this week, but I also can see Philip Rivers and the passing game move the ball at will and hit pay dirt at home. Travis Benjamin will receive near double digit targets and will patrol the middle of the field with Antonio Gates likely out.
Other options to consider - Will Fuller vs. Tennessee & Mike Wallace vs. Oakland
Fade - Odell Beckham Jr. @ Minnesota ($8,700 on DraftKings)
As an OBJ owner is season long leagues, I hope I am wrong in my prediction that Xavier Rhodes and the Vikings defense will shut down the Giants this week.
The Vikings have allowed only one receiving touchdown in three games and enter week four 3-0 after shutting down Cam Newton and the Panthers. The Giants will struggle to run the ball, forcing Eli and the passing game to move the ball in the air. The problem with this strategy is the Vikings excel at pass defense and rushing the QB, opening the door for a lopsided game with multiple turnovers by New York.
Other options to consider - Julio Jones vs. Carolina & Jeremy Maclin @ Pittsburgh
Tight Ends
H2H/Cash - Jason Witten @ San Francisco ($4,500 on DraftKings)
The Cowboys will likely be without Dez Bryant after the news broke earlier in the week that the the All Pro wide receiver suffered a hairline fracture in his knee against the Bears in Week 3.
The loss of Bryant will give underneath options in the passing game like Jason Witten and Cole Beasley more looks against the 49ers Week 4.
Tight ends have been effective against the 49ers this season, with Jimmy Graham and Greg Olsen each posting 100-yard games and a TD.
Other options to consider - Greg Olsen @ Atlanta & Dennis Pitta vs. Oakland
GPP - Coby Fleener vs. San Diego ($3,200 on DraftKings)
A preseason breakout favorite for many, Fleener was nothing short of a flop in his first few games of the season before breaking out with seven catches for 109 yards and score Week 3 against Atlanta.
According to local beat reporters, Brees and Fleener were not on the same page and are now just starting to build a rapport. At $3,200, he is a great value play in all formats, but I think he will excel for GPP players because of a high ceiling against an injury riddled Chargers linebacking corps.
It would not surprise me to see Fleener finish as the top TE this week.
Other options to consider - Cameron Brate vs. Denver and Kyle Rudolph vs. NYG
Fade - Julius Thomas vs. Indy ($4,400 on DraftKings)
Thomas is a game-time decision with an elbow injury in what appears to be a nice matchup against the Colts. Although the Colts did allow a touchdown to Eric Ebron Week 1 and Hunter Henry managed 76 yards in Week 2, the threat of Thomas being limited in this game even if he plays is too great.
Other options to consider - Rob Gronkowski vs. Buffalo & Gary Barnidge @ Washington
Defense/Special Teams
Play of the Week: Washington vs. Cleveland ($3,500 on DraftKings)
The Terelle Pryor revelation in Cleveland is exciting, but Browns are still a terrible offense that will present defensive scoring opportunities for the Redskins. I recommend starting the Skins in all formats.