As a die-hard San Francisco Giants fan who is still a bit frustrated that the even-year magic came to an end at the hands of Joe Maddon and the Cubs, I found myself torn last night as the Cubs and Indians battled for the World Series title in what might be the best playoff baseball game in history.

I was conflicted because part of me wanted to see the Cubs finally break their 108-year curse, but it pained me to cheer for the team that eliminated my beloved Giants. In the end, it turned out to be an exciting series and I was able to take solace in the fact that at least the vile Dodgers did not win it all.

Now you might be asking yourself why would I start my weekly fantasy football DFS article talking about baseball instead of something that pertains to DFS strategy?

The answer is simple: Reinaldo Albert Almora Jr.

Game 7 was filled with stellar pitching performances, critical defensive plays and blunders, and clutch hitting by both teams, including the game-tying two-run home run by Rajai Davis off of Aroldis Chapman in the eighth inning.

But one of the most important plays, and one that will not stand out in the box score, was a simple tag up base running move by Albert Almora Jr. in the 10th inning that led to the eventual game winning run for the Cubs.

Almora's heady play to take second base on a deep fly out by Kris Bryant was a subtle move that proved to be huge in the grand scheme of the game.

While watching the play, I started thinking about how in games like this unknown players come out of nowhere to do impressive things for their team. When predicting the outcome of the game, most people would have predicted a marquee name like Anthony Rizzo, Jason Kipnis, or one of the other big name players to deliver the decisive play, not someone like Davis or Almora Jr.

The same can be said when it comes to building our DFS lineups each week. We as fantasy owners spend so much time on the big name players when building out rosters that we often fail to realize the final players added to our tickets, the afterthoughts in which we spend our remaining budget on, can often times be the ones who are difference makers on our teams.

Keep that thought in mind this week and in future weeks when you put together your DFS rosters.

Here are a few players that I am targeting in Week 9 of the NFL season. Some of them are blue chip players like Ezekiel Elliott, while others are afterthoughts that might just be the players that put me over the top.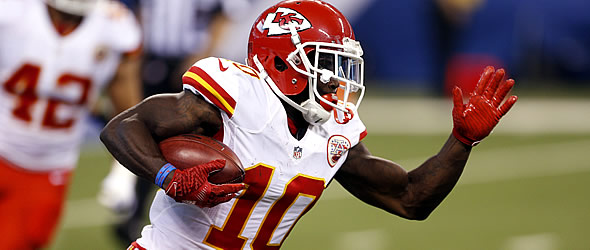 Don't forget about the little guy. Lesser-known players like Tyreek Hill can put you in the money.
Quarterbacks
H2H/Cash - Drew Brees @ San Francisco ($7,200 on DraftKings)
Drew Brees' two worst games of the season came on the road in matchups against the Raiders and Giants, while the future Hall of Famer has averaged an amazing 30.66 points in four home games this season.
Although Brees is playing on the road, his matchup against a 49ers defensive unit that has allowed the 10th most points to opposing quarterbacks is too hard to pass up. If this game was played in the Super Dome, Brees would be the unquestioned number one play of the week regardless of format.
In addition, Brees' impressive 367/3 game against the Chiefs at Arrowhead makes me even more comfortable to play him in head-to-head games. Brees is a lock for two touchdowns and could break out with one of his best games of the year.
Other options to consider - Aaron Rodgers vs. Indy & Dak Prescott @ Cleveland
GPP - Colin Kaepernick vs. New Orleans ($5,600 on DraftKings)
My belief in Brees and the Saints offense against the 49ers is a reason why I am open to the idea of playing Kaepernick in GPP games, as the 49ers will likely be behind and will need Kap to pass often to play catch up.
In addition, Kaps 84 and 66 yards rushing in his two starts of the season make him an attractive option in GPP formats. I don't have the guts to play him as a bye week replacement in my season-long leagues, but his upside in DFS is hard to pass up for owners looking to differentiate.
The Saints passing defense has been middle of the pack in points allowed to opposing quarterbacks in the air this season, but they rank dead last in rushing defense against opposing RBs. Look for Kap to reach his season average of rushing yards on the ground, with a possible rushing TD added as an extra bonus.
Other options to consider - Nick Foles vs. Jax & Ryan Tannehill vs. NYJ
Fade - Derek Carr vs. Denver ($6,300 on DraftKings)
Derek Carr was the top fantasy quarterback in Week 8 after dropping 513 yards and four touchdowns in a shootout against the Tampa Bay Bucs. He will no doubt find in more difficult to deliver numbers even close to what he did last week with the Denver Broncos and the league's best pass defense coming to town.
Always play Carr in good matchups and fade him in bad ones. It doesn't get any worse for Carr than facing the Broncos.
Running Backs
H2H/Cash - Ezekiel Elliott @ Cleveland ($7,900 on DraftKings)
When allocating $7,900 on a running back in a cash game you are counting on a near-sure bet of production that will provide a high floor of points with the possibility of top-tier ceiling production.
Elliott against the Browns is as close to a sure thing as one can get, assuming the rookie from Ohio State does not get hurt or fumble. My apologies to Cowboy fans if my previous statement proves to be a jinx and Elliott does in fact get hurt this week.
With an average of 25 points per game in his last four contests, including 35 points Week 5 against the Bengals, Elliott has been money in the bank for owners willing to pay his high price tag.
Only the Saints have given up more rushing touchdowns this season than the Browns, so I feel comfortable paying that high price tag this week.
Other options to consider - DeMarco Murray @ San Diego & Devontae Booker @ Oakland
GPP - Charcandrick West vs. Jacksonville ($4,400 on DraftKings)
Opportunity often trumps talent when it comes to fantasy football production. I personally have never been blown away by West's talent, but you cannot question the opportunity he may have this week with Jamaal Charles placed on IR and Spencer Ware possibly out with a concussion.
Other options to consider - Tim Hightower @ San Francisco & Darren Sproles @ NYG
Fade - Jay Ajayi vs. New York Jets ($6,000 on DraftKings)
It may sound silly to fade a running back coming off of two back-to-back 200-yard games, but I think Ajayi is going to struggle this week against a Jets defense that has not allowed a rushing touchdown since Week 4.
With as good as the Jets have been defending the run, they have been equally as bad at stopping the pass, as teams have exploited and injured and over the hill secondary. Look for Miami continuing this trend, with Ajayi and the ground game taking a back seat to Tannehill and the passing attack.
Wide Receivers
H2H/Cash - Jarvis Landry vs. NYJ ($7,100 on DraftKings)
His price tag is a little bit high in my opinion, considering the fact that Landry has only one receiving touchdown on the year.
But on PPR sites like DraftKings, players like Landry are cash game gold due to the fact that he will be peppered with targets and catches. The Jets do not have a cornerback that can handle the quick, underneath passing game of Landry's leading me to believe he will deliver a double-digit catch game with the upside of a TD.
Other options to consider - Dez Bryant @ Cleveland & Demaryius Thomas @ Oakland
GPP - Tyreek Hill vs. Jacksonville ($3,400 on DraftKings)
Most people would be shocked to know that Tyreek Hill leads the Chiefs in receiving touchdowns this season with four, two more than Jeremy Maclin and one more than reality TV star Travis Kelce.
I would venture to say that even fewer people know that Hill has scored double digit fantasy points in three of his last four games.
Will Hill be the Albert Almora Jr. of your fantasy team this week and be the unlikely hero to bring you the title? He just may be.
Other options to consider - Sammie Coates @ Baltimore & Corey Coleman vs. Dallas
Fade - Allen Robinson vs. Kansas City ($6,900 on DraftKings)
One of the biggest busts of the 2016 season, Robinson has scored single-digits in three of his eight games this season, while Blake Bortles has continued to struggle at quarterback for the Jags.
Playing at Arrowhead is a tough environment and I anticipate that Robinson and the passing game will struggle. Garbage time points are always a consideration for Robinson and Bortles, but I'd rather spend my money on a player that will receive more volume.
Tight Ends
H2H/Cash - Antonio Gates vs. Tennessee ($3,000 on DraftKings)
I'm going back to the well again on Gates after he came through with a receiving touchdown Week 8.
Both of Philip Rivers starting wide receivers are injured and could be limited, while fellow tight end Hunter Henry missed Thursday's practice with a knee injury.
Rivers will need to throw to someone, and I am banking on Gates being the guy that Rivers will lean on this week against a Titans defense that has allowed the ninth-most points to opposing tight ends.
Other options to consider – Kyle Rudolph vs. Detroit
GPP - Lance Kendricks vs. Carolina ($2,900 on DraftKings)
Kendricks has been the recipient of 7,8, and 9 targets in three of his last four games, including a seven-catch, 55-yard game against the Giants Week 7.
For owners looking for an inexpensive high-volume tight end with a nice matchup, you will be hard pressed to find a better option than Kendricks this week against Carolina. Only the Lions have given up more touchdowns to tight ends this season, and Lance is trending upward as a trusted option for Case Keenum.
Other options to consider - Virgil Green @ Oakland & Eric Ebron @ Minnesota
Fade - Jesse James @ Baltimore ($2,900 on DraftKings)
Although the likely return of Big Ben will be a boost to everyone on the Steelers offense, I am fading James this week against a Baltimore team that has yet to allow a tight end touchdown.
Defense/Special Teams
Chiefs vs. Jacksonville ($3,500 on DraftKings)
With double digit points in their last three games, the Chiefs are once again going to reach that plateau this week against turn-over machine Blake Bortles.