With the landing spots of the 2018 rookie class now determined, it is time to take a closer look at where these players will likely go in your rookie dynasty drafts. Take a look back at my pre-NFL draft rookie draft and compare it with this draft you will see a lot of the same names but in slightly different order, along with a couple new-comers to the first round.

With several months to go before the season starts, the values are bound to change based on camp battles, player progression, and injuries but this should give you a good idea what to expect if your league is drafting in the next month or two.

Note: for this mock I am using a standard scoring, 12 team league.

1.01 RB Saquon Barkley, New York Giants
Previous Pick: RB Saquon Barkley

I mentioned I did not see anyway this pick would change pre and post-NFL draft, and I was right. One of the very best running back prospects of the past decade, Barkley lands in a decent spot, with tons of draft capital (2nd overall pick), a veteran quarterback, and plenty of offensive weapons around to occupy the defense. The knock on the Giants is their lack of a legitimate offensive line, but they improved the unit through free agency and the draft and Barkley has enough pure talent to overcome a lackluster group anyway. Barkley is a no-brainer pick in all formats at this spot.

1.02 RB Derrius Guice, Washington
Previous Pick: RB Derrius Guice

Pre-NFL draft I thought Guice was a lock at this pick, but his stock certainly took a small hit when he fell to the end of the 2nd round, increasing his fantasy risk. With that being said, Guice still has extreme talent and his landing spot does not hurt, as he should be the centerpiece of an offense with nice complimentary pieces but no star power to siphon touches away from the rookie runner. At the very least, Guice is in position to be a short yardage touchdown machine in his first year, similar to his ex-teammate Leonard Fournette. While the risk meter certainly rose because of his draft slide, it is not enough to knock him out of a top 3 dynasty rookie pick, as he offers a comfortable floor and a high ceiling as a power back capable of double digit touchdowns.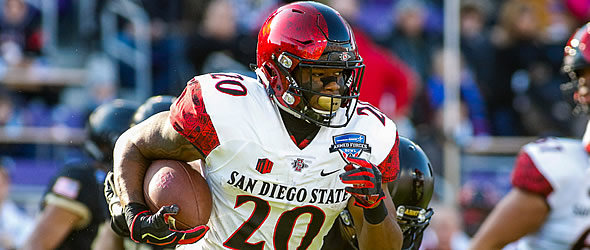 Penny: Seattle has been looking for an early-down pounder ever since Marshawn Lynch left in 2015.
1.03 RB Rashaad Penny, Seattle
Previous Pick: RB Sony Michel

Pick 3 is where the argument begins for many, with three or four viable options firmly in the running. I loved Penny's talent going into the NFL draft but did not imagine he would go in the first round as the second RB off the board. In Seattle, Penny finds himself in an interesting situation. On one hand, the offensive line is well below average and the run game has been among the leagues' worst the past two seasons. On the other hand, the Seahawks obviously love him and the competition is flimsy at best. Penny has the skill set to be a three-down back from day one, and given the draft capital the Seahawks spent, it is likely they envision him in this role. While his efficiency may go up and down this season, Penny will likely get the second most rookie RB touches just behind Barkley.
1.04 RB Sony Michel, New England
Previous Pick: RB Nick Chubb
The landing spot for Michel is a complicated one but when you add in his three-down back skill-set, picking Michel in the top 5 seems like a worthy gamble. As the third RB drafted, and one of just three drafted in the first round, Michel has a lot of draft capital invested in him and is on a team that can run the ball effectively. On the flip side, we know the Patriots' reputation when it comes to running backs. They rotate players through the position and it can be difficult to predict the workload of any one player on a weekly basis. In addition, everyone in the crowded backfield has been effective at one point or another in their respective careers. In the end, the upside of Michel producing at a 2017 Dion Lewis level, which is certainly in his range of outcomes, is too tempting to make him drop out of the top 5 picks in most rookie drafts.
1.05 RB Ronald Jones, Tampa Bay
Previous Pick: WR Courtland Sutton

I was not a huge fan of Jones before the NFL draft but it is hard to deny the possibilities that his landing spot could provide. Not only was Jones drafted relatively high (early 2nd round), but he lands on a team with very little competition in the backfield and more than enough firepower in the passing game to keep defenses distracted. Given his skill-set it would not be a surprise to see the Bucs feature Jones as a three-down back, even if he does not get as many touches as some of the more traditional three-down types. With solid draft capital, open running lanes, and little competition, Jones is very worthy of a top 5 pick in most dynasty rookie drafts.
1.06 RB Nick Chubb, Cleveland
Previous Pick: WR Calvin Ridley

I can see Chubb's rookie draft position being a very polarizing topic in dynasty circles this year, as there are probably two different trains of thought. With his talent being undeniable, taking Chubb in the first round is a no-brainer move but the dilemma lies with Chubb's landing spot. On one hand, Cleveland looks to be an up and coming offense, with a decent offensive line, solid receivers and lots of potential at quarterback. On the other hand, Cleveland already has two running backs (Carlos Hyde, Duke Johnson), with modest, recent success, and at the very least, are going to be more active than Chubb in the pass game. Chubb, at least in 2018, has a wide range of outcomes that could see him riding the bench most of the year, all the way up to being featured at the position and getting 15+ touches per game. Chubb's long-term outlook is likely a feature back but those drafting him may need to prepare for a redshirt first year, meaning he may be unusable most of the 2018 season. You certainly need to weigh the potential risks and rewards when looking to draft Chubb, but don't expect him to fall out of the top 8 picks in rookie drafts.
1.07 RB Royce Freeman, Denver
Previous Pick: RB Rashaad Penny
Freeman jumps in my post-NFL draft rookie mock based on an excellent landing spot where he has a chance to shine as a feature back as soon as this season. In Denver, Freeman will find himself behind an improving offensive line, with a ton of talent at the receiver position, a steady veteran quarterback, and lack of proven competition at the running back position. In my pre-NFL draft mock I described Freeman as fundamentally sound, and I think this will be a key to him playing early and often in his career. While Denver may ease him into a feature role, rather than just hand him the keys, Freeman still projects to contribute early and by the end of the 2018 season, could easily outperform backs drafted higher than him.
1.08 WR D.J. Moore, Carolina
Previous Pick: RB Ronald Jones
As the first wide receiver selected in the NFL draft, Moore gets a lboost here in my post-NFL draft mock. The landing spot is not ideal, as Cam Newton isn't exactly Drew Brees in terms of accuracy, but given where the Panthers took him, and what else they are working with in the passing game, Moore has a chance to contribute early, and eventually lead the team in receiving. Greg Olsen on the down-slope of his career and Devin Funchess provides average production (and a free agent in 2019), making Moore drip with fantasy upside the next several years. He is also polished enough to have his moments as soon as this season. While Moore is not a lock to ever be a fantasy WR1 (no receiver is in this class is), I believe he has the best chance to flirt with WR1 numbers before any other WR in this class, and should be a safe WR2 for several years. After the "safe" rookie running backs are off the board, Moore should be a nice selection in the back half of the first round in rookie drafts.
1.09 RB Kerryon Johnson, Detroit
Previous Pick: RB Royce Freeman
Feelings were mixed on Johnson before the NFL draft, but Detroit liked him enough to select him in the early 2nd round. Johnson has the skill set to be a feature back and despite average athleticism for the position, has drawn Le'veon Bell comparisons from some analysts. In Detroit, Johnson has some familiar names in the backfield with him (LeGarrette Blount, Ameer Abdullah, Theo Riddick), but Blount is well past his prime, Abdullah has severely underwhelmed, and Riddick is not a three-down player. While it is very doubtful Johnson starts the season as the team's bell-cow, he could, by seasons end, could be getting 12-plus touches per game, with upside for more depending on how the backfield shakes out. The Lions possess a dangerous passing game, an improving offensive line, and a supposed re-commitment to the run, giving Johnson an opportunity to be efficient in his role. Top 18 RB numbers could easily follow by the end of the season and by 2019, the backfield could be all his, giving Johnson both short and long-term value, nicely justifying a top 10 pick in rookie drafts.
1.10 WR Calvin Ridley, Atlanta
Previous Pick: WR D.J. Moore
Ridley takes a bit of a fall from pre to post-NFL draft, based on multiple running backs landing in favorable spots. Ridley landed in a favorable spot himself with good draft capital (1st round), a solid veteran quarterback, and an alpha-dog receiver (Julio Jones) to draw defensive attention. While Ridley will not ascend to the WR1 spot in Atlanta (barring injury), he was not that type of receiver to begin with, so having Julio in place should give Ridley an advantage. Ridley might not receive a ton of targets his first year, but should be very efficient with the ones he does get, making for a high ceiling play each week. Look for Ridley to be similar to what Will Fuller was in his rookie year, with about 50 catches for 700 yards and 4-5 touchdowns being attainable, with room to grow in the years to come.
1.11 WR Courtland Sutton, Denver
Previous Pick: QB Lamar Jackson
On the surface, Sutton's landing spot hurt his fantasy status, as he looks to be the Broncos third option, at best, in the passing game this year. Since we're discussing dynasty value, however, savvy owners will realize the massive potential this gives Sutton in the years post-2018. Sutton will learn from Demaryius Thomas - a guy who many analysts compared Sutton to coming out of college. From all accounts, Sutton works hard and takes to coaching, so learning from someone with a similar skill-set gives him an advantage in my book. While a "redshirt" year in 2018 awaits, Sutton will not have much pressure on him and should get some chemistry going with Case Keenum. Fast forward to 2019 and Sutton should jump into, at the very least, the No.2 receiver role, with a good chance he's the number one guy if both Thomas and Emmanuel Sanders are released. In that scenario, Sutton could go from a seldom used role player, to a top 18 fantasy WR with double digit touchdown potential. While fantasy owners may have to wait a year for the payoff, a late first round pick is a small price to pay for this kind of potential.
1.12 WR Michael Gallup, Dallas
Previous Pick: TE Dallas Goedert

I was not a huge Gallup fan before the draft but it is hard to argue with how juicy of a landing spot he fell into. Gallup does not burst off the screen in most areas but has a nice size/speed combo and is tough, competitive, and improving as a technician at the position. The situation is unique in Dallas, as well over 200 targets are available from last season, with the release of Dez Bryant and the retirement of Jason Witten. With a young and talented quarterback and Ezekiel Elliott garnering most of the defenses attention, Gallup should have some nice opportunities as potentially, the teams' most targeted receiver. While nobody should expect a top 20 fantasy season, it's not outside the realm of possibilities of Gallup being an every-week WR3 in his first season. Thanks to an ideal landing spot, Gallup is a fine choice at the end of round one in rookie drafts.
My current 2nd round:

2.01 WR Anthony Miller, Chicago
2.02 WR Christian Kirk, Arizona
2.03 QB Lamar Jackson, Baltimore
2.04 QB Baker Mayfield, Cleveland
2.05 TE Mike Gesicki, Miami
2.06 QB Josh Rosen, Arizona
2.07 WR Dante Pettis, San Francisco
2.08 QB Sam Darnold, New York Jets
2.09 WR James Washington, Pittsburgh
2.10 RB Nyheim Hines, Indianapolis
2.11 WR Tre'Quan Smith, New Orleans
2.12 TE Dallas Goedert, Philadelphia