I've contemplated renaming this piece several times to something like "guys that you have may not have heard of but can get very late in drafts" but it just does not have the same ring to it, so I'll keep it simple.

Let's be honest with each other here, the fantasy football space is oversaturated at this point with 24 hours a day, 365 days a year analysis on every aspect/angle/ on a player. I'm not complaining as when I started playing in the late 90's there was virtually no information other than maybe a yearly magazine that was almost obsolete by the time it was released to newsstands. Nowadays we have all the major news sources plus it's really not hard to dig deep on places like Twitter to get inside information on just about every player in the NFL.

The term "sleeper" in fantasy football used to refer to a guy that few people had even heard of, or most had forgotten about. Today it has evolved to be more likely someone you know about but is not being drafted until late, if at all. The players I present here are all being drafted after the 12th round right now, yet I see great potential in each of them to the point that I have them on my watchlist in all leagues.

Take note that the ADP is based on 12 team Half-Point PPR leagues.
I loved Edwards as a prospect last year and am doubling down one more year. Edwards had a terrific profile coming out of college but in a deep and talented receiver class he was the odd man out.

Edwards had an extremely early breakout age (17.8), a 29% target share in college, and the requisite measurables (6'3'' 215) to project as a great "X" receiver at the NFL level. With a Covid-shortened preseason and an ankle injury hindering him much of the year, he never really got into a rhythm. He certainly showed flashes, including 57 yards and a touchdown in week 17.

The only real change to the depth chart this year is the departure of Nelson Agholor, who was replaced by veteran John Brown. Brown, as you may know, profiles as more of a deep threat and field stretcher, is going into his age 31 season, and often on the injury report.

The training camp buzz has been very positive for Edwards who apparently has been consistently making big plays and has garnered the praise of his quarterback. While the offense will continue to work through tight end Darren Waller, the rest of the targets are up for grabs and the Raiders are likely to be in the top half in passing attempts yet again.

As potentially the most productive wideout in this offense, it blows my mind that Edwards isn't even being drafted in many 15 round drafts. As more training camp buzz emerges, I actually expect Edwards to get drafted in a decent number of leagues so you have been warned. Grab him late and grab him often because in my mind everything is setting up nicely for a breakout year and a top 36 WR fantasy finish.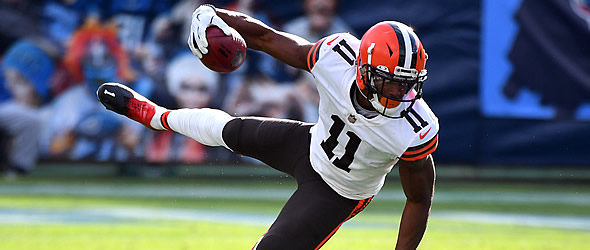 As you can see, I'm a big believer in 2nd year receivers who have yet to break out. Most rookies struggle in their first year but we have been so spoiled by the outlier performances (Justin Jefferson), that we tend to move on and forget about talented players that didn't set the league on fire in their first season.

Donovan Peoples-Jones (DPJ) wasn't a highly drafted rookie due to his lack of college production at Michigan, but as we are slowly discovering, Michigan players sometimes have better pro than college careers and I believe DPJ will be one of these guys.

An awesome athlete with 4.48 40 speed, a 99th percentile burst score, and requisite NFL WR size (6'2'', 215), DPJ didn't catch many balls (14) his rookie season, but averaged nearly 22 yards per catch as a field stretcher for Baker Mayfield. I know what you are thinking, OBJ is back and the Browns don't throw that much anyway. Yes, Odell Beckham Jr. is apparently back but injuries have been an issue three out of the last four seasons.

While the Browns are perceived to be a more conservative offense, they actually started to open up towards the end of 2020. In their first 11 games the Browns only had two games with over 30 pass attempts but in their final five games they had four 30+ attempt games, including a 53 attempt game versus the Jets. As the season went on Mayfield seemed to improve and brought the offense with him.

This offseason DPJ has been getting rave reviews from beat reporters who seem to report a highlight reel play from him every practice. Now, do I think DPJ will be a consistent 7+ target per game guy? No, I do not. With defenses focused on Nick Chubb, OBJ, and Jarvis Landry, I do expect him to make some big plays, have a high yards per catch, and add 5+ touchdowns. I tend to think of DPJ as 2018 or 2019 Will Fuller, (minus the injuries hopefully) in that he may not have a ton of targets and catches, but will do a lot with what he gets and before you know it, he's a weekly starting option.

As a guy that is going undrafted in most leagues, I will take him over low upside options like John Brown, Jamison Crowder, and Emmanuel Sanders just to name a few.

Ollison represents what a true sleeper used to be - a fantasy lottery ticket that may help you hit the jackpot or a pick you throw in the garbage after you find out it wasn't worth anything.

I will not sit here and proclaim Ollison to be an awesome prospect, like I believe Edwards and DPJ might actually be. Ollison had a decent but unspectacular college career and is an average athlete for an NFL running back, although his size (6'1'', 230) is nearly ideal for a bell-cow back.

What I like most about Ollison is his situation and being in a competition for considerable carries in the Falcons offense. While Mike Davis is expected to be the starter, he had exactly one more touchdown than Ollison before last season even though he played 4 more years.

While Davis had a productive fantasy season filling in for an injured CMC, he really was not that efficient as a runner, averaging under 4 yards per carry and only racking up more than 70 yards on the ground twice despite getting the bulk of the carries in 12 games. In other words, Davis was basically a JAG other than receiving sheer volume, something he is not guaranteed to get in Atlanta.

With Arthur Smith coming from Tennessee you know the run game is going to get a boost and the Falcons have the personnel to open up lanes and create a fantasy-relevant contributor at the position. With virtually no other competition in the backfield (Javian Hawkins too small/rookie, Cordarrelle Patterson not a true RB), it looks to be a two-man race with Davis and Ollison and I'll be taking the guy I can get several rounds later or for free on waivers rather than the 28 year-old back that has been inefficient throughout his career.

Sometimes sleepers aren't exactly sexy but sexy doesn't always get the job done either. While Ollison might not project as a league-winner, he plays a position that is ultra-valuable in fantasy and generally very thin so give me that lottery ticket in any league I can afford to roster him.


Every good sleeper list needs a wily old veteran and Gio is one of my favorites. This one may be more for full PPR leagues but I just can't quit Gio as a deep sleeper who is getting very little attention around most fantasy circles.

As a player, Bernard is certainly passed his prime at 29 years of age but in his role as a pass-catching back, he is showing few signs of slowing down, ranking in the top 15 for receptions, receiving yards, yards per reception, and yards per route run among all RB's last season.

While he is likely buried on the depth chart behind Ronald Jones and Leonard Fournette, I fully expect him to lead the backfield in targets, as both guys ahead of him are well below average in the receiving game. Tom Brady is one of the more prolific "dump off" passers of all time, as was shown for multiple years in New England with guys like James White who amassed a whopping 159 receptions in just two seasons from 2017-2019. The Bucs offense was just fine last year, but this particular element of the passing game never really got going and I'm sure Brady is chomping at the bit to add a familiar dimension to his offense.

Barring an injury, Gio likely won't see more than a few carries per game but in the right game script I could absolutely see a few 5+ reception games out of him, giving him some real upside in PPR leagues. The chances of Gio being anything close to a RB1 is near zero, but people are underestimating the kind of role he could have on one of the league's most efficient offenses.

In PPR leagues I am taking Gio as one of my last picks and even half-point PPR leagues I am putting him on all my watchlists to see what kind of floor he has the first few weeks. As Brady himself has shown us, don't count out the old guys before their time is up!

Tight Ends, at least in recent years to me, have been separated into three categories. First you have the studs which go 4-6 deep depending on who you like and how much you trust Kyle Pitts as a rookie.

Second you have another group in the 5-12 range that have some mainstream appeal and will probably produce solid numbers by year's end even though the week-to-week consistency won't be there.

Finally, you have the last group which are basically all sleepers. These guys you may draft late or pickup as a free agent but might drop if they don't do anything for the first few weeks. Trautman fits into this category for me, as he is often being drafted late but is not really getting any sort of serious buzz.

He enters his second year after being taken in the 3rd round of last year's draft. Possessing solid size (6'5'', 255) and athleticism, Trautman was a production monster in college, racking up just over 38% of his team's receiving yards and touchdowns.

With his draft capital and profile being sound, we haven't even discussed the best part yet. The situation for Trautman on the Saints is golden. Jared Cook has departed to the Chargers, Emmanuel Sanders headed to Buffalo, and Michael Thomas will be missing the first few weeks of the season, so the pecking order for targets is wide open, with virtually no established players in the mix other than Alvin Kamara out of the backfield.

While the QB situation is a bit of a question mark, I would tend to bet on any QB coming in favoring a big target in the middle over the speed guys on the outside, which is basically what the Saints have. New Orleans is well coached, have a great line and running back duo, and will find a way to have a good offense, meaning Trautman will play a big role. His current ADP in the 13th round is pretty fair, however I would not blame you at all for grabbing him a round or two before that, as his upside justifies an earlier selection.