Last week's question: Which players will be most valuable in the playoffs, and how will you acquire them?



The laziest response I received to last week's question came from a reader named Matt, who wrote:
I can't be bothered to look up the playoff schedule to answer your question because too much will change between now and then to make it worth the effort. However, since you appear to accept the premise that Newton's Panthers have a favorable schedule, I'll assume that you consider Christian McCaffrey a desirable trade target. Since he's coming off a couple of back-to-back meh performances, maybe you can pick him up cheap, but not in my league, since I already own him.
I don't think it's fair to compare McCaffrey's playoff value to that of Newton. Yes, they're playing against the same teams in the final two weeks of the season (New Orleans and Atlanta), but both of those clubs are in the top 3 for yielding fantasy points to quarterbacks. The Falcons are also in the top 3 in terms of points yielded to running backs, but the Saints have been effective at containing RBs (if only by virtue of surrendering more fantasy points than any other team to WRs).

Even so, Matt makes a reasonable point about the desirability of McCaffrey. It would be nice to know what sort of offer he might be willing to consider for the Panther RB, but I guess he thinks it's unlikely for McCaffrey to be valued fairly after being held to 80 yards or less (and no scores) for two weeks in a row.

Fortunately, an owner named Daryl gave me lots of details on the deal that he made to upgrade at RB for the post-season by trading David Johnson for Leonard Fournette.

We discussed the matter over the phone, so I'll quote a few snippets from our conversation to the best of my memory.
Me: DJ for Fournette? Straight up?

Daryl: No, I have to throw in Philip Lindsay, and he throws in Marvin Jones.

Me: Do you need another receiver?

Daryl: No, I have Thielen, OBJ, Hilton, and Allen Robinson. I don't really care about Jones. It's just a way to help make room on his roster for DJ and Lindsay.

Me: Who does that leave you with at RB?

Daryl: James Conner, who should probably tide me over until Fournette's hamstring heals.

Me: And what if Bell comes back to Pittsburgh before Fournette is ready in Jacksonville?

Daryl: I can go run-and-shoot with Cohen and 4 WRs in my league.

Me: You have some serious ammo at WR, but it seems like you're leaving yourself pretty thin at RB, especially for the playoffs.

Daryl: David Johnson is on a terrible offense that will probably be even more terrible than usual against the Rams in Week 16. Fournette is on a far more functional team, and he plays the Dolphins in Week 16. They are horrible against the run.

Me: The Jags aren't that functional. Bortles just got benched.

Daryl: They're better than the Cards by a mile, and way more likely to be playing for something in Week 16. I know what I can expect from DJ every week, and I'm tired of settling for it.

Me: Still, Johnson & Lindsay for a running back who's currently injured and a receiver you don't even want…

Daryl: Lindsay and Jones are just lubrication for the deal. The headline is DJ for Fournette. You know how hamstrings work. They don't keep guys like Fournette out for the whole season. I'm sure he'll be back by the time my playoffs start. What do you think of the trade?
What do you suppose I said next? What would you have said? In case you need to know about the RBs & WRs on the team that gave up Fournette, the owner has a losing record and is scrambling to make the playoffs with Tevin Coleman, Chris Carson, Lamar Miller, Keenan Allen, Stefon Diggs, Doug Baldwin, and Robert Woods (along with the newly acquired David Johnson and Phillip Lindsay).

It's hard to evaluate trades involving Johnson because even though he's putting up solid RB2 numbers, he was drafted as a high-end RB1. It's even harder to guess at Fournette's value until we see him being productive on the field again. So what do readers think? How does this trade compare to any David Johnson trades you've witnessed in your own leagues?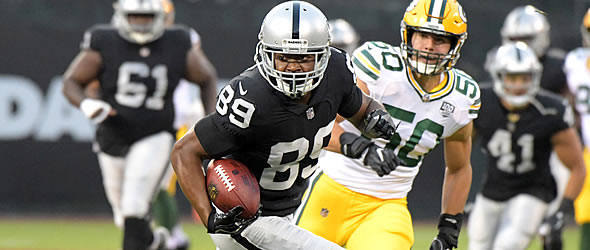 This week's question: What's a fair trade for Amari Cooper?



I don't know if any player in the NFL has a more nebulous value than Amari Cooper right now. The move to Dallas seems like it can't possibly hurt his value, but does it make him worth hanging onto (or even acquiring)? I've already encountered a wide range of opinions on Cooper's prospects as a Cowboy and whether Dak Prescott will be able to exploit his talents more effectively than Derek Carr did. Readers who have an inner sports journalist dying to come out can seize this opportunity to explain why they think Cooper will boom or bust as a Cowboy and what sort of player they would be willing to accept or offer for him in trade.

But I mainly want to hear from readers about actual trades involving Cooper. Part of me suspects he is simply too difficult to evaluate for a trade to be possible—that he's more of a hot potato destined to bounce between the waiver wire and the rosters of owners who will keep him for a week or two before cutting him to make room for someone else. In any case, please share your thoughts on Cooper as trade bait in the comment section below or by emailing me.



Survivor Pool Picks



Trap Game: Dolphins at Texans
The Texans are home favorites by more than a TD vs. the discombobulated Dolphins, who have had to rely on backup QB Brock Osweiler (with starter Ryan Tannehill nursing a shoulder injury). How will Osweiler handle returning to a stadium where Texan fans had such high hopes (and then such dashed expectations) in him as a starting QB in 2016? I don't think we'll know until it's too late to change our bets, which is why I won't be placing any bets on this one.

Pick #3: Colts over Raiders
(6-1; GB, NO, CHI, LAC, CIN, car, TB)

A year ago, the Raiders had Khalil Mack on defense, Marshawn Lynch in the backfield, Michael Crabtree catching TD passes, and Amari Cooper catching (and dropping) other passes. Now Mack is a Bear, Lynch is injured, Crabtree is a Raven, and Cooper is (suddenly) a Cowboy. But hey, at least Oakland has Jon Gruden (for what that's worth). The 2-5 Colts are better than their record suggests (and they've also won twice as many games as the Raiders). The usually porous Colt defense was stout in Week 6 vs. Buffalo, a team with a brand new QB (Derek Anderson) under center. I expect to see an equally stout performance against a Raider team on which a different QB named Derek will be surrounded by backups.

Pick #2: Steelers over Browns
(5-2; no, LAC, hou, GB, CAR, MIN, IND)

These teams tied in Week 1 with Baker Mayfield on the sidelines, so there are doubtless Dawg Pound faithful who believe that with Mayfield under center, the Browns can win in Pittsburgh. That seems unlikely given that Mayfield has no real surrounding cast—certainly nothing to rival the productivity that we see out of Antonio Brown, Juju Smith-Schuster, and James Conner for Pittsburgh. Even if Mayfield's future is brighter than Ben Roethlisberger's past (which we don't yet know for certain, by the way), there's only so much a QB can do in a vacuum. If this weren't a divisional contest, it would be my top choice of the week because of the stark disparity in offensive talent between these teams. The tie 7 weeks ago is from a different (almost unrecognizable) football universe, with Josh Gordon catching a TD from Tyrod Taylor for Cleveland.

Pick #1: Bears over Jets
(6-1; BAL, LAR, min, JAX, NO, GB, LAC)

The Jets have played exactly one good game on the road this season. It was back in Week 1 against Detroit, with the Jet defenders decoding Matthew Stafford's hand signals in a way that left the Lions embarrassed at home. In their other road games (vs. Cleveland and Jacksonville), they were held to the teens. Considering that they were also held in the teens at home by Minnesota and Miami, it seems likely that the impression the Jets made in Week 1 was more of a misimpression. The Bears, on the other hand, have demonstrated that Trey Burton is an excellent tight end, that Tarik Cohen is an explosive pass-catching back, and that Mitch Trubisky is capable of living up to the hype. Gimme da Bears at home.



---
Mike Davis has been writing about fantasy football since 1999--and playing video games even longer than that. His latest novel (concerning a gamer who gets trapped inside Nethack after eating too many shrooms) can be found here.