Last Week's Question: Do you prefer active or passive commissioners?
In Week 6, I explained that a commissioner in one of my leagues has decided to start waiving transaction fees for teams that appear to be out of playoff contention. The logic is simple; if you believe that your $50 entry fee in a redrafter has already been lost because of your 1-5 record, then every $5 transaction that it takes to improve your team probably amounts to throwing good money after bad. Sure, some owners will keep clawing and scratching away out of pride. But a lot of owners in leagues with transaction fees completely lose interest in transactions once they've given up on the season. Different leagues have different mechanisms for discouraging owners from starting a sidelined Amari Cooper, but if Cooper's owner is out of playoff contention and his other receivers are on bye, there's a good chance he will be reluctant to spend the time or money necessary to replace Cooper.

That's the problem the commissioner in one of my leagues decided to tackle by waiving transaction fees on an ad hoc basis for struggling teams. It came as a complete surprise to me, and a shockingly pleasant one (as I reported in Week 6).

A reader named TomJ understood where I was coming from & replied with a thoughtful take on the subject:
Just wanted to comment about your commish and the fee waiving. A lot of people, every time there's a ruling by an official, want to make sure that it is somehow codified going into the future. "If you do this now, that means we must establish a rule so we can fall back on it later in similar situations." But it's problematic to assume that a new rule is needed every time.

For one, what you will inevitably end up with is a bloated bureaucracy. If every one-off ruling necessitates a 'new rule', you will only ever increase the number of rules you have, until eventually the whole operation just grinds to a halt under the weight of a massive rulebook. "Wait, you can't waive that fee, because back in 2005, when we waived that other fee, we decided that a fee could only be waived in these cases when X Y and Z..."

The other consideration is that you have an organization that places trust in individuals, not only in the rules. The more you say "Waive it for one 2-4 team, you must waive it for every 2-4 team", the more you chip away at the discretion--i.e. trust--that you have placed in the person. And the less nuance your system can accommodate. I know for a fact that there are some owners in my leagues who will keep fighting at 0-5, and some who will abandon their teams to the winds. They don't need the same treatment to maintain competition. And no rule could capture that difference--how do you codify a rule that says "owners who will stay competitive don't get a waiver, but owners who would otherwise give up do"?

This is a game--even when it's for money, it's a game. If you don't trust the people you're playing with, particularly the commish, find another league. If the commish makes a move later that you don't like, you have a means of overturning it. But it is *not* necessary to codify everything in order to maintain what you have going. Leave the human judgment calls in place.
My thanks to Tom for this meditation on the value of respecting a commissioner's "discretion" when that commissioner has earned a league's trust. Not all commissioners deserve that trust, but I don't think it takes a boatload of fantasy experience to sense whether a commissioner is acting in the interest of the league as a whole or "playing favorites."
Nonetheless, Tom and I are in the minority on this point, as Zach's response to Tom's comment indicates:
[Rule changes should only be implemented] between seasons. I've been commish for 7 years of my home league. In the offseason I innovate things to make the league better. But it doesn't matter if the league trusts me, if I make a mid-season decision that affects the competitive balance, the group chat is setting on fire. At the end of the day we're gambling; everyone's going to have some skepticism of each other's motives...

That being said, a guy no-call no-showed the draft, so I paused it after two rounds, kicked him out of the league and brought in a guy from the queue to take over mid draft. Now that's an emergency commish decision i made to preserve the quality of the league. But we're not going to do some communist BS just because someone's team sucks. What if they won the league because of my charity and the whole leagues salty about it? What if the guy was my irl homie or cousin, now people are whispering collusion? Keep sh!t by the book and when in doubt, league vote, or make those decisions in the offseason before everyone plunks down their 50 bucks.
I hear Zach's point loud and clear (having made similar arguments in the past against any and all mid-season rule changes). In the case I described, the rules do accord an undefined degree of "discretion" to the commissioner. Whether he has exceeded his authority by waiving fees or not is something that the rest of the league has the right to vote on, but no one is lobbying to bring things to a vote because this league has experienced problems in the past caused by what Zach might recognize as the capitalist self-interest of not wasting money to replace sidelined players. The commish sensed that what Zach describes as "communist BS" was the best measure for preventing an owner from submitting a Week 6 lineup featuring Eli Manning, Saquon Barkley, and Sterling Shepard because he's a Giants fan whose alternative players were on their byes & he didn't want to throw away $15 to replace them in a fantasy season that already seemed lost.
But this isn't an argument about economic ideologies; it's about whether people prefer commissioners to treat rules as having wiggle room or being set in stone. Everyone who responded to me via email came down on the "set in stone" side of things. Dan even used that exact wording:
Rules are set in stone or they are not truly rules. Bend one and people like me wonder if they will be paid if they win. If you are concerned about people quitting, you probably need to play for more money and/or in a keeper league. Just my thoughts.
Dan makes a reasonable point here and clearly speaks for the majority of fantasy enthusiasts. So my conclusion is that as much as I like seeing an activist commissioner using his discretion to improve the competitive experience for everyone else in this particular league, I urge commissioners who are thinking about wielding their powers in this way to assess their leagues very carefully before taking the "activist" plunge. If the people in your league don't already largely trust each other and you as the commish, you will almost certainly set the group chat on fire, as Zach suggests.
My thanks to everyone who responded.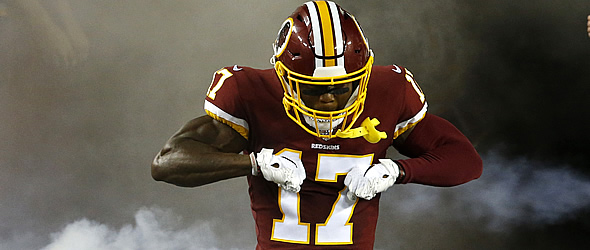 This Week's Question: What were your single best & single worst calls from the preseason?
I wish I could claim to have foreseen the magic of D.J. Chark and/or Terry McLaurin in the preseason. I didn't. Did you? If so, I want to hear from you about how you saw the Jacksonville and Washington offenses as being capable of supporting top-10 WRs.
As for me, my best instinct was probably to avoid the Tampa Bay tight ends (O.J. Howard and Cameron Brate) because I didn't expect Bruce Arians to overhaul his offensive scheme to include TEs, especially with weapons like Mike Evans and Chris Godwin available to Jameis Winston. Plenty of analysts argued that Arians would figure out how to use Howard and Brate just because they're so talented, and I thought, "Maybe so. I'll believe it when I see it." I'm glad I took that wait-and-see approach.
I also avoided Devonta Freeman in all my drafts because I didn't see him as an undervalued RB2 with RB1 upside; I saw him as an overvalued RB2 with RB3 downside (and said so in the preseason). This is a difficult argument to hang my hat on this week (after his best performance of 2019), but I never expected him to be a complete dud. I thought he would have occasional good games against weak defenses (like Arizona), but he doesn't have a lot of weak defenses left on his schedule.
However, I didn't just steer clear of Tampa TEs and Freeman; I also avoided Russell Wilson like the plague. Sure, I saw the magic happen between Wilson and Tyler Lockett last year (with Wilson having a perfect QB rating when throwing to Lockett), but I dismissed that as unsustainable. Between 1) the regression for Lockett that seemed inevitable, 2) the absence of Doug Baldwin, and 3) the fact that Wilson was going to earn a king's ransom whether the Seahawks made the playoffs or not, I reasoned that Wilson lacked both the weapons and the incentive to make the Seahawks as competitive as they have been.
I could not have been more wrong about Wilson. Props to that guy. The next time somebody complains that a fat contract for a QB leaves teams too bereft of talent at other positions to be competitive, remind them that the ability of certain QBs (like Wilson) to do more with less is precisely what makes those fat contracts a good investment for organizations like Seattle.
How about you? Please consider sharing your best and/or worst predictions for 2019 in the comment section below or by emailing me. If you have time to explain what specific details enabled you to see something clearly or distorted your perspective, please do so.
Survivor Pool Picks (courtesy of Matthew Schiff)
#3 Packers over Raiders (5-1; PHI, BAL, SF, lar, NE, WAS)

Note: Last week's #3 pick of the Redskins over the Dolphins worked out (by 1 point), but it was an emergency pick made on Schiff's behalf by Davis because Schiff accidentally picked a team he had already used in this slot. Even though the pick worked out, readers should know that Schiff (who follows Washington more closely than does Davis) didn't think the Redskins deserved that level of confidence. Still, we'll take any wins we can get. This pick of the Packers is eligible and comes (genuinely!) from Schiff, who can see as plainly as anyone else that NFL referees will throw however many flags it takes for Green Bay to win.
#2 49ers over Redskins (3-3; HOU, BAL, NE, ind, kc, lac)

The undefeated 49ers are 10-point favorites in this one … as the visiting team. Gulp. Washington may have gotten its first victory of the season last week, but that came against the winless Dolphins--and just barely at that. The 49ers are currently alone atop the NFC West, but only half a game ahead of Seattle. To stay ahead of the Seahawks, they'll need to win the games they're supposed to win. And unless you're a Dolphin, you're supposed to win the games against the coach- and quarterback-carousel known as Washington in 2019.
#1 Bills over Dolphins (5-1; NE, SEA, DAL, LAC, PHI, dal)

The Bills are as surprisingly good in the AFC East as the Dolphins are predictably bad. Frank Gore has been better than serviceable in place of Devin Singletary, but after a bye in Week 6, Singletary seems probable to return. You read that right: Buffalo is coming off a bye. The Bills are facing a divisional rival in complete disarray, the junior varsity team of the NFL, and they had an extra week to prepare. I'm not just confident for Buffalo; I'm scared for Miami.

---
Mike Davis has been writing about fantasy football since 1999--and playing video games even longer than that. His latest novel (concerning a gamer who gets trapped inside Nethack after eating too many shrooms) can be found here.