This past weekend, we had football! And, not just one game…but sixteen. Granted, it was the first time out of the garage in six months and yes, some teams sat the majority of their players who will be impactful come September…but that's not to say we didn't learn a thing or two (or ten) that might be utilized in formulating fantasy football draft strategies. And, even if you've already drafted, this look back at the weekend could be beneficial for you as well. So, getting back to that car/garage analogy…

1. The Rookie Quarterbacks Were Given the Keys to the Car

By far, the most fascinating part of Week 1 this preseason was seeing all five first-round draft picks at QB get significant playing time. Mac Jones was efficient for New England, completing nearly 70% of his throws, but he also averaged less than 7 yards per completion. Trevor Lawrence was sacked and fumbled on his first snap from scrimmage, but then settled into a rhythm that included several short connections with Laviska Shenault and a 35-yard dart to Marvin Jones. Zach Wilson led the Jets to a field goal on his/their opening drive and demonstrated an ability to move the chains on third down. Trey Lance flashed his big-play potential with an 80-yard touchdown pass against Kansas City. And last, but not at all least, Justin Fields lit up Miami in the second half of that game with a TD passing and rushing. Fields demonstrated why it will difficult for Chicago to keep him off the field even if much of his damage came against second-string defenders. In the end, Fields earned a definite bump in redraft rankings and Lance in dynasty rankings. The rest held their own giving managers no reason to value them less than they did prior to the weekend.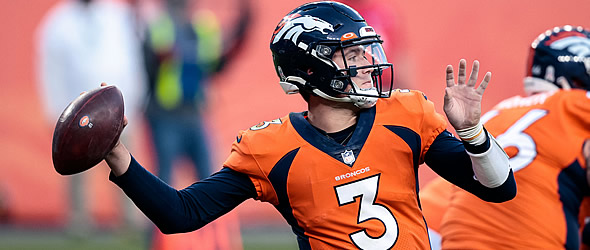 2. We Have a Front-Runner in Broncos Starting QB Race

We can almost all agree that no fantasy managers are losing sleep at night wondering who will be the quarterback in Week 1 for the Broncos. That said, it isnít an insignificant battle as Denver has excellent skill position players who will benefit from one of the QBs emerging with momentum. As of this window in time, that QB with momentum is definitely Drew Lock. Whereas Teddy Bridgewater isnít going to lose games, he rarely has the skill set to go out and win games either. This weekend, Lock looked the part of a QB who can win games with his arm and while he only completed 5 passes vs. Minnesota, the average length of each completed pass was over 30 yards! Like I said, reports out of Bronco camp already have Jerry Jeudy as nearly un-coverable. Imagine if he actually had a QB that could get him the ball downfield. Again, it was only one game, but itís advantage Lock for now and that is encouraging for managers who possess Jeudy, Courtland Sutton, and/or Noah Fant.

3. Two Panther Rookies are Worth Keeping an Eye On… and a Charger, too

We had to wait until Sunday afternoon to see the final two teams competing in Week 1 of the preseason and while little was gained by watching the Colts operate on offense, a couple of rookies stood tall for Carolina in limited action. First and foremost, Terrace Marshall Jr. was electric at the WR position hauling in three of his five targets for 88 yards. Marshall has been a forgotten man in redrafts and dynasty drafts alike as guys like JaíMarr Chase and DeVonta Smith steal the spotlight. But, one doesnít have to go back far to remember another LSU wide receiver who was a bit off the radar last August. Iím not saying Marshall is going to explode like Justin Jefferson did, but the Panthers arenít committed to Robby Anderson beyond 2021 and D.J. Moore may be better suited as a high-end WR2 than a lead guy. As such, Marshall is an excellent dynasty pick-up and a decent redraft pick in later rounds. Elsewhere, Chuba Hubbard ran decisively and powerfully en route to 80 yards only 7 carries. Hubbard will not be a factor in 2021 as long as Christian McCaffrey is healthy, but after Sunday, heís almost certainly needing to be considered a must-handcuff. Finally, another rookie RB is looking to seize the backup job in Charger-land and Larry Rountree took a step towards that with 63 yards on only 8 carries. Rountree III could easily supplant Justin Jackson as Austin Ekelerís primary complement and with Los Angeles not wanting to overwork Ekeler in general, Rountreeís role may take on a life of its own as the season wears on. Keep an eye on these three guys.

4. The Saints Offense is a Work in Progress… to Put it Nicely

Those drafting Saint players based on past years may be in for a rude awakening. Yes, there were always going to be growing pains in the post-Drew Brees era, but SIX turnovers is sloppy, even for Week 1 of the preseason. With Michael Thomas and TreíQuan Smith out, New Orleans is utilizing a patchwork receiving corps right now. And apparently, their veteran backs not named Kamara canít hold onto the football as both Latavius Murray and Devonta Freeman were guilty of lost fumbles. The Saints do have a good defense and as such may employ a fairly conservative game plan this season to give themselves the best shot at winning games. Just donít think for a second that will translate to fantasy relevancy because outside of Alvin Kamara, it wonít. Letís see what Week 2 looks like for this discombobulated bunch.

5. The Pecking Order at Wide Receiver is Still Up in the Air for Several Teams

In May, June, and July, fantasy prognosticators proclaim that the WR pecking order for NFL teams had been figured out. In truth, thatís not accurate. Take Jacksonville for example. New coach. No pre-conceived notions about what role each WR should play. Throw in veterans Tavon Austin and Laquon Treadwell. 6 targets combined for the two veterans resulted in 6 receptions and in Austinís case, a TD. Sure, Marvin Jones and Laviska Shenault are the favorites to get touches, but itís hardly a lock. How about Houston? Again, new coach and a WR1 (Brandin Cooks) that is often injured. Whoís to say that journeyman, Chris Conley, wonít end up leading the team in catches. Finally, just because Las Vegas drafted Henry Ruggs III highly a year ago doesnít mean heíll develop into a WR1Öor even a starting caliber WR. The most productive WRs this weekend for the Raiders were Keelan Doss, D.J. Turner, and veteran Zay Jones. The trio combined for 16 grabs on 17 targets. Itís a depth chart with little clarity and that warrants taking and maintaining a deeper look at whatís actually there beyond the assumed.

6. Where There is No Moss, Singletary Hath Shone

The general consensus has been that if Buffalo is going to take the next step and get to a Super Bowl, they have to become a more balanced offense. That means more rushing attempts this season and ultimately more yards. It has been assumed that Zack Moss would move into the primary RB role while Devin Singletary and perhaps Matt Breida fought for what was left at the table. In reality, Moss has missed time with a hamstring injury and Singletary looked the part on Friday night of a guy who may be able to elevate his game in Mossís absence. Not only did Singletary score in the red zone on a pass play, he also averaged 5+ yards a tote on 8 carries looking quick and decisive as a runner. Years ago, it took Tiki Barber a couple of years to gain his footing for the Giants who brought in Ron Dayne to supposedly reduce Barberís role. In the end, Barber became a fantasy stand-out while Dayneís role was pedestrian. Iím not predicting that, per se, but Singletary is being undervalued in redrafts and might be worth a much stronger look a couple rounds sooner than his current ADP.

7. DeSean Jackson 2.0 is a Man Named Quez
The Eagles were fairly excited last summer about the prospects of Quez Watkins in terms of stretching the field and thus taking on the traditional DeSean Jackson role in Philly. As it turned out, Watkins never got off the ground (no pun intended) due to injuries and thus comes into this season with almost no hype, fantasy or otherwise. On Thursday night, Watkins found himself the recipient of a 79-yard TD from Joe Flacco that was easily the Eaglesí biggest play of the night. With Jalen Reagor performing unevenly last season and DeVonta Smith just as green as Watkins, there exists an opportunity in Philadelphia for someone other than Reagor and Smith to be consistently fantasy relevant. Watkins may not be that guy in PPR leagues as his receptions donít figure to be mind-blowing, but he is someone to watch and possibly target in the later rounds of a draft with deep rosters.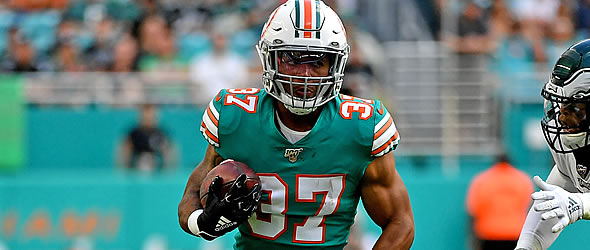 8. Miami's Backfield is a Mess

On Saturday, many eyebrows were raised when Brian Flores, Miamiís outstanding relatively young coach, decided to start Malcolm Brown over Myles Gaskin at running back. With Gaskin playing later in the game, it had nothing to do with Gaskin just getting the night off. Brown ended up impressing no one with 8 yards on 9 carries, leading some to wonder if his fit in the offense too closely mirrors that of former Dolphin, Jordan Howard. And so, Gaskin entered the game after Brown and garnered a respectable 19 yards on four carries. Case closed, right? Not so much. After the game, Flores indicated that he envisions the backfield as being a rotation of three with Salvon Ahmed (who ran for nearly 7 yards a carry) also in the mix alongside Gaskin and Brown. Yuck. I like Myles Gaskin as a player, but just like I think Devin Singletary is being undervalued in fantasy circles right now, Gaskin is almost certainly being overvalued. And, while I donít think Brown will ultimately pass him on the depth chart, the whole situation is cringe-worthy. Remember, Brian Flores worked under Bill Belichick. Enough said.

9. The Rumors About Sony Michel Being Expendable are Going to Grow Louder

Speaking of the Patriots and the running back position, it was hard not to notice the performance of rookie Rhamondre Stevenson last Thursday night. Yes, the 12.7 yards per carry that Stevenson gained on 10 totes were compiled against less than Washingtonís best, but it still signaled that the Patriots drafted him for a purpose. With Damien Harris emerging last season as New Englandís primary early-down back and James Whiteís role remaining unabated, Stevenson is best suited to replace whatever Sony Michel has been reduced to. Michel is a talented enough runner to find a home with another NFL team should the Patriots let him go in the coming weeks. The writing on the wall just seems a little more distinct after Week 1. Stevenson is definitely the better late-round pick in a redraft for now.

10. The Forgotten Opt Out May be Back in Play

Finally, yet another team without an established WR2 is the Green Bay Packers. Marquez Valdes-Scantling and Allen Lazard took turns last season trying to fulfill that role, but in the end neither seized it despite having the leagueís MVP throwing them the football. In Saturdayís game, the Packersí lone bright spot in otherwise dismal performance was the play of Devin Funchess. Once thought of a as a fantasy up-and-comer, Funchess opted out in 2020 due to Covid-19 and many thought he might struggle to make the 53-man roster. While that is still a possibility, Funchessís night (6 receptions, 70 yards) Saturday demonstrated his ability to separate from defenders and present himself in the passing game. Imagine what he could do in a real game with Davante Adams drawing double coverage and Rodgers under center. Again, as with all things preseason, his performance this weekend has to be taken with a grain of salt. Nevertheless, we leave no stone unturned in the preseason here and his is a stone of interest to be sure.

We'll be back next Monday for a look at Preseason Week 2.