The preseason isn't going to change the way you envision value in the first 3-5 rounds of a redraft league. With many top players sitting preseason out this year, it's a truer adage than ever.

That said, what we are learning in August affects targets later in your draft and how the value of players is shifting beyond those first few rounds. Don't think much can be gleaned from what took place over the weekend in what is now a three-game preseason? Think again. Here's what we observed...


1. The Second Act for Zach Wilson Was Better Than the First

The Packers didn't play many of their defensive regulars, so this isn't about Zach Wilson being able to dissect a truly elite NFL defense. That isn't likely to come anytime soon. What was apparent this past weekend is that Wilson can make throws and exhibit poise both in and out of the pocket. Fantasy managers have viewed Jets' players as essentially irrelevant for a number of years and I don't think that mindset is being challenged. But, it is being challenged… by me at least. The most significant loss due to injury this preseason for any NFL team happened with New York last week when DE Carl Lawson ruptured his Achilles meaning he is lost for the season. Lawson's absence will make the Jets defense more vulnerable despite having a coach that actually knows something about that side of the ball. My point? Wilson looked on Saturday like a guy who can grow into the position and even make some tough throws. The Jets' inability to stop opponents is going to force him to have to try to win games from behind…probably every week. The good news for Wilson and for the Jets is that they may have finally found a true WR1…

2. …And Corey Davis Looks Like He's Being Undervalued

It's called the power of perception. A WR like Michael Gallup in Dallas is being drafted by and large ahead of Corey Davis in spite of the former being the third option in his team's passing attack while the latter is the team's projected primary target. We target players in fantasy football who come from teams that score points… and win games - things the Jets haven't done for quite some time. But, anybody who watched Davis play on Saturday can see that not being taken until after Dallas' WR3 would be pure folly. Wilson was dependent on Davis. He looked for him on underneath routes. He looked for him down the field. 4 catches and 70 yards later, Davis took the last three quarters off, but not until he looked the part of what we call in fantasy football a target monster. People seem to have forgotten Davis was a top-5 overall pick in the 2017 NFL Draft and he helped carry the Titans last season when A.J. Brown got off to a slow start. Draft Davis over Gallup. In fact, draft him over 10-15 guys that are currently ahead of him in current "expert rankings". Barring a significant injury, you'll be thanking us for the tip as early as late September.

3. Ja'Marr May Have a Ways to Go… and Other Bengal Concerns

Most football fans realize that Ja'Marr Chase opted out of his 2020 college football season with LSU. That reality didn't scare off many teams in late April when it was draft time. The Bengals hoped that the chemistry between Joe Burrow and Chase enjoyed in 2019 would carry over to NFL stardom sooner than later. Reports out of Cincinnati, however, had been suggesting that Chase's return to action wasn't going as smoothly as likely he and his team had hoped. That rumor appeared to grow some legs after this weekend with Chase dropping not one, not two, but all three balls thrown his way in preseason action vs. Washington. The light may come on for Chase all at once, but until it does, look for a steady dose of Tyler Boyd and Tee Higgins to begin the season. As for Chase's partner in "chemistry", Burrow hasn't played in the preseason yet as he continues his recovery from a season-ending injury in 2020. Reports have suggested that he is uncomfortable in camp during live action. Maybe that will work itself out, but for now, don't overpay for Chase (consider him just outside the top 30 WRs in a redraft) and look to Burrow as a high-upside backup, not a starter you can count on just yet.

4. The Patriots Offense Continues to Look Sharp

I know, I know…New England played the Eagles on Thursday night and the Eagles resemble a rudder-less ship right now, but that doesn't change what I saw watching the game. Cam Newton and Mac Jones combined to complete 75% of their passes to 12 different receivers. I saw the running backs come together to run for 210 total yards with rookie Rhamondre Stevenson backing up his solid debut with another decisive collection of carries that included 60+ yards and 2 TDs. And, I saw Jakobi Meyers consistently get separation from defenders such that he averaged nearly 20 yards a catch and scored a TD. All in all, the Patriots appear to be on the same page this year, which is a far cry from what much of 2020 looked like. The talent of Stevenson is making Damien Harris a riskier pick, but an injury to N'Keal Harry vs. Philly has Meyers looking like a good candidate for a top-25 WR who was only lightly heralded prior to the start of the preseason. This team is re-forming their offensive identity and while it's hard to predict individual successes, team success is looking like a certainty.

5. Pat Freiermuth Looks Like a Red-Zone Stud

On Saturday evening, Eric Ebron dropped the first pass thrown to him, blinked and then witnessed rookie TE Pat Freiermuth haul in two touchdown catches on plays he looked born to make. People say all the time that preseason doesn't matter and yes, you can overvalue some things that happen, but make no mistake about this: Ben Roethlisberger took note of those two plays and his trust this morning in Friermuth is different than it was this time last week. Friermuth is a confident player and with Vance McDonald now retired, the TE job in Pittsburgh was ripe for the taking with only the productive, but also inconsistent Ebron holding down the fort. Has Friermuth already surpassed Ebron in fantasy value based on what we saw on Saturday? The answer is: Yes. Yes, he has. Tight end is a very difficult position for a rookie to learn and I don't think Friermuth is going to be a yardage monster right off the bat. But, 7-9 TDs this season seems about right and that alone makes him worthy of a TE2 role on your fantasy team.

6. Justin Fields Produces Both Good and Bad

It's amazing how different a player can look when they play against a team that actually has an effective defensive scheme. Enter Justin Fields, Week 2, and this time around, Fields looked more like a rookie, completing less than 50% of his passes while clearly feeling the heat from a Buffalo defense that is designed to make quarterbacks feel uncomfortable. All that said, there was some good news coming out of the game. In limited game action, Fields ran for 46 yards on 4 carries, demonstrating that his propensity to get you points on the ground in Week 1 of the preseason was no fluke. The QBs that have really separated themselves, value-wise, in recent seasons all have that additional component to their games. When Fields starts his first game this season (and it's a when, not an if), he should immediately be seen as a borderline QB1. That still leaves him in the QB 14-18 range in redrafts for now, but he's becoming a popular QB2 pick and justifiably so. But, expect some rough outings against better defenses as he makes the jump to NFL starter.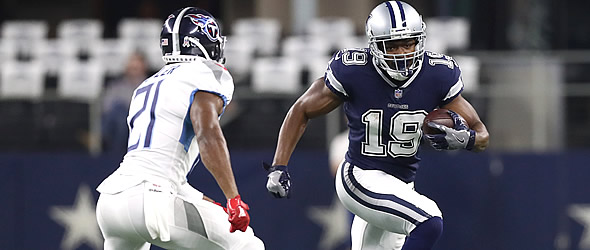 7. 13 Snaps Ain't Much to Go On, But it's a Big Deal just the Same
In the preseason, sometimes the bigger story is not how well someone played in game action, but whether or not they played at all. Teams don't put players into game action during the preseason unless they've grown comfortable with their health status and as such, those mere appearances are significant. The reference here is to Amari Cooper who played this weekend for Dallas and even touched the ball once on a reverse. One of the most fascinating debates of the summer has been who to draft first - Cooper or teammate CeeDee Lamb. It's a difficult decision, but at least it's now a decision you can make without Cooper's health being a primary factor in the decision. It comes down to which guy you think will be more productive. Next up for the Cowboys is getting Dak Prescott back on the field, which is another story for another day.
8. Bridgewater Strikes Back…But Jerry Jeudy Strikes Best

It is fascinating how some teams basically sit their regular season starters for the duration of the preseason and some really let them play. One factor that seems to be legit is that when a QB battle is taking place, everybody plays…at least a good chunk of the first half. In Denver's case, we've seen them execute actual regular season plays in order to get a good look at both Drew Lock and Teddy Bridgewater. Lock appears to have the upper hand, but Teddy was very solid this weekend, completing 9-of-11 passes for 105 yards and a TD. The fact that both QBs have played well this summer bodes well for Denver, but it bodes best for a potential break-out of WR Jerry Jeudy in his sophomore season. Reports out of camp for the past three weeks have noted that Jeudy has been nearly impossible to cover and he has now averaged nearly 25 yards per catch in the first two preseason games. Quarterback play indeed seems to be the only thing standing between him and a serious uptick in production…and for now, QB play continues to be good.

9. Seeds of Doubt are Shrinking in Miami

Much like the Broncos, the Dolphins are employing more comprehensive plays this preseason and involving all healthy participants who are going to be in the starting lineup Week 1. The reason Miami has taken this approach is simple: They are still trying to learn what they have in Tua Tagovailoa given this is more like his rookie season than his second. Miami was concerned last season that Tua was not throwing downfield enough, but may be learning that's not really who he's designed to be. He peppered the Falcons' defense on Saturday with short, accurate throws to underneath receivers and running backs and engineered multiple touchdown drives in the process. There is still quite a bit of evidence suggesting that Tua's fantasy value is capped by his style of play such that he's nothing more than a solid QB2 this season. That said, the Dolphins have looked crisp in the preseason on the offensive side of the ball and should only get better as they get their field-stretching WRs back. One disclaimer: Saturday's output did come at the expense of the one of the league's most porous defenses in Atlanta. After all, Jacoby Brissett followed Tua and was 9 for 9 with a TD throw.

10. The 49ers Seem to Be Liking Lance-A Lot

Whereas Matt Nagy has stated from day one that Chicago will be trotting out Andy Dalton at QB on September 12th, Kyle Shanahan appears to be making no such promises after another solid outing on Sunday night from rookie, Trey Lance. Conventional wisdom is that Garoppolo gives the team the best chance to win right off the bat, but it's hard to overlook what Lance brings to the table skill-wise. One thing is for sure: Lance is worth drafting not only in dynasty formats (obviously), but redrafts as well. Much like Fields, when he is allowed to start a full game, he represents borderline QB1 value and simply makes for a better late-round draft pick than say, Daniel Jones or Derek Carr at this point in time. It will be interesting to see how this ultimately plays out in the weeks ahead.
Next week, we'll take one last look at the Preseason with an examination of what takes place in Week 3 - Until then...