Recently, we've been discussing some 2017 fantasy heavyweights—QBs, RBs, and WRs—who stand a reasonably good chance of frustrating expectations this coming season. Now it's time to discuss those up-and-comers who could conceivably replace them and become the fantasy heavyweights of 2018.

Note: All rankings are based on FFToday's default standard scoring.

A quick reminder of the Top 10 fantasy RBs from last season...




Running Backs Most Likely to Rise in 2018:



Saquon Barkley, NYG: Loyal readers know I'm a contrarian at heart. When everyone's zigging, I'm usually zagging. It would be just like me to go against the grain on Barkley, the sixth RB drafted with a top two pick in the past 30 years and only the third this millennium (Ronnie Brown and Reggie Bush). Why gamble a top-of-the-draft selection, I might say, on a guy who plays the NFL's most dangerous position, a guy who's a couple nasty licks away from mere serviceability and a couple more away from oblivion? I might say that, but I'm not going to. Barkley is worth the risk, especially playing a position of scarcity, and could conceivably be a Top 5 performer in his rookie campaign.

The thing that jumps out about the former Nittany Lion, aside from his redwood-esque thighs, is…well, just about everything. He possesses an uncommonly broad skill set and athletic profile for an NFL player, let alone a brand new one. He has prototypical size and can run inside, outside, or anywhere in between. He can run through contact, make people miss, or run away from them altogether. He can score on any play or you can give him the rock to extend a drive in short-yardage situations. He's an excellent receiver who runs great routes and has soft hands. Oh, and he can also pass protect. Simply put, Barkley checks every single box.

This wouldn't necessarily be obvious had he ended up with an undertalented bottom-feeder, but Barkley had the good fortune of landing in Gotham, where the Giants are only two years removed from an 11-5 finish and a playoff appearance. Adding him to an offense already featuring a HOF-bound QB, the game's best WR, and an emerging young TE should quickly return the G-Men to relevance.

Christian McCaffrey, CAR: McCaffrey, my 2017 rookie RB crush, appeared in this very same space last summer. Though he didn't end up making me look like a genius, he was a lot closer than most people think (16th overall) and he did it in wildly unorthodox fashion. It's not often a guy finishes as a top-end RB2, after all, while carrying the ball more than a HUNDRED fewer times—rather inefficiently, I might add—than all but one of the Top 10 rushers and even fewer than two of his own teammates. So how did the kid pull off such a respectable final ranking?

With guys like McCaffrey and his more celebrated rookie classmate, Alvin Kamara, it's all about usage in the passing game. Though the Saints' sensation snagged two more total passes, it was actually McCaffrey who led the position in targets with 113. That would have been good enough to place him in the top 20 at the wide receiver position and the top 3 at tight end. Can you imagine how valuable Travis Kelce would have been had he also run the ball 100+ times? When you invest in McCaffrey, you're essentially following the advice of any financial planner worth his or her salt: You're spreading around your risk. He won't always provide stellar numbers as a traditional runner, but his floor is so much higher since he almost always contributes as a receiver.

Speaking of McCaffrey the runner, there's reason to believe he'll see a modest, and possibly even significant, increase in opportunities this coming season. The Panthers moved on from Jonathan Stewart finally and added Norv Turner, an OC who knows a thing or two about multi-dimensional running backs. I'm not saying Christian McCaffrey's the second coming of L.T., mind you, but…he'll be more valuable in 2018.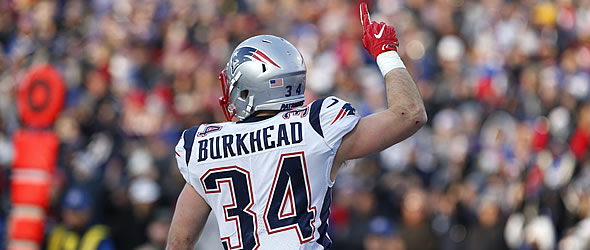 Rex Burkhead: The stars are aligning for this versatile New England running back.


Rex Burkhead, NE: I warned you I'm a contrarian, right? Somewhere, my league mates are LOL'ing (it's a really long story) and I'll be the first to admit Burkhead is unlikely to appear on any projected Top 10 lists this summer. He's a 28-year old plugger playing for a team that just spent a first round pick on a RB despite demonstrating no apparent interest in featuring one of them for at least the last decade or so. And yet...

There are so many things working in the versatile Burkhead's favor as the real games draw nearer. First, that RB the Pats drafted in the first round of April's draft, Sony Michel, has already missed a sizeable chunk of training camp and isn't guaranteed to play a single down this preseason. Second, the guy Michel was drafted to ostensibly replace, Dion Lewis, now plays for the Tennessee Titans. Third, the Pats are for sure going to be without their most productive wideout to start the season, Julian Edelman, who will be serving a four-game suspension. All of which suddenly leaves Burkhead, a sneaky runner and gifted receiver, as a key cog in the league's most prolific offensive machine.

This wouldn't mean anything, of course, if the former Husker performed like a bum, but that's precisely the opposite of what he did last season. Only three other Top 50 RBs scored more fantasy points than they had touches (Alvin Kamara, Chris Thompson, and Austin Ekeler) and none of those guys stands to increase his workload as much as Burkhead does. Six more games of similar production (he only played 10) would have put Burkhead firmly in the Top 15 last year. Add some more production due to an increased role/less competition and…well, Rexy could be downright sexy in 2018.