I've recently been profiling those QBs, RBs, and WRs I think will take a step back this coming season, so now it's time to identify their possible successors. We're always on shakier ground here--much smaller pool of potential dropouts than replacements, after all--but I did bat a cool .500 last summer. Just sayin'...

Note: All rankings are based on FFToday's default standard scoring.

A quick reminder of the Top 10 fantasy WRs from last season...



WRs Most Likely to Rise in 2019:
Try to act surprised, would ya? OK, so this isnít the most out there prediction Iíve made in the many years Iíve been prognosticating for FFToday. Sometimes the best forecast simply IS the most straightforward/likely one, however, the one that requires the least amount of crazy stuff to happen. Call it Occamís razor applied to fantasy football. In five professional seasons, OBJ hasnít once failed to rank in the Top 10 on a FPts/G basis. This despite playing catch with a quarterback way past his sell-by date and suffering through a multitude of injuries. Put another way, had he been more healthy, Beckham Jr. would have ranked in the Top 10 five seasons runningóeven with Eli Manning throwing him footballsórendering this entire conversation moot.

Granted, those injuries make this a very legitimate conversation to be having and are a definite cause for concern. Beckham Jr.ís missed, on average, four games per season since he entered the league in 2014 and has only once made it through an entire slate in one piece. When people question why I consider him the best receiver on the planet, Iím forced to admit thatís only in theory, a theory rarely validated in the real world. Setting aside the question of whether he WILL make it through the 2019 season unscathed, though, what can we expect if he DOES?

Fireworks. Thatís what we can expect. Paired with super-soph Baker Mayfield, a proven wingman in Jarvis Landry, and some honest-to-God excitement and energy in Cleveland (in Cleveland!), the sky is absolutely the limit for OBJ and the Brownies this season. Admittedly, the floor is also pretty low (see above). Donít overpay for him but also donít forget what made us fall in love with him in the first place.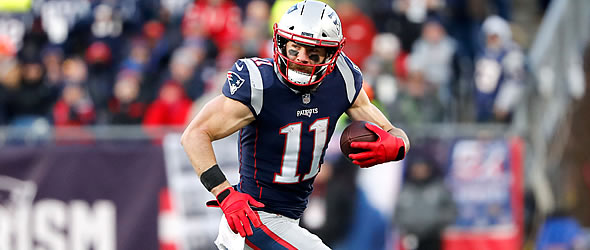 There have been more improbable Super Bowl MVPs (Larry Brown and Nick Foles come to mind) but few, if any, less probable when taking into consideration the whole curriculum vitae. How many former MAC quarterbacks do you know of who have won the award (nope, Big Ben hasnít), let alone those who have done so after transitioning to wide receiver in the professional ranks? Love him, hate him, or donít care about him either way, thereís no denying Edelman is the epitome of a self-made man in todayís NFL.

To be fair, heís had a lot of help and has certainly benefited from playing with the so-called GOAT all these years. Itís still pretty amazing a former Kent State QB has turned into the reigning SB MVP at a completely different position than he played at the NCAA level. Tom Terrific has thrown passes to some great ones since 2001 when he became the Patsí full-time starter (Randy Moss and Gronk, most notably), but only Wes Welker has ever commanded more targets during any of those seasons than Edelman. And that was back when Brady routinely chucked up 600+ passes per year.

Welkerís heyday earlier this century might actually be a good reference point for where Edelman could end up this season, even with the overall downtick in Bradyís passing attempts. The Red Raider great surpassed 160 fantasy points four times as a Pat and thatís despite sharing the spotlight (again, Moss and Gronk). Who does Edelman have to share with this year outside of hybrid RB/WR James White? Anything north of 160 fantasy points, BTW, puts one squarely in the Top 10 discussion most years and I think thatís where Tom Bradyís go-to guy will be when we close the books on the 2019 season.

Iíve played it fairly safe throughout this series, but itís not uncommon for guys to come out of nowhere (hello, Robert Woods!) so time to throw a Hail Mary. Pettisí 2018 rookie year production was strictly scroll-down stuff (76.5 total points) but he still managed to land on fantasy radars and generate some pre-2019 buzz thanks to a solid debut performance (61 yards and a score in Week 1) and another intriguing stretch later in the year when he averaged 14.4 FPts/G (Weeks 12 through 15). Itís a microscopic sample size, agreed, but that per-game rate is identical to what Davante Adams, the WR3, accomplished over the course of the entire season.

So what reason do we have to believe WR61 will more closely resemble WR3 a year later? For starters, Pettisí production needs some context. He missed four games entirely due to knee injuries and didnít even start 5 of the 12 games he did suit up for. Of those 12, mind you, he only played together with Jimmy Garoppolo in 2 of them, meaning he produced most of his points and all of those late-season digits which excited folks with undrafted Nick Mullens running the offense. Seems safe to assume Pettis would be more productive with the Ninerís actual starting QB throwing him passes this year.

Thereís also a few Next Gen Stats goodies to consider. Pettis ranked 10th and 5th at the WR position, respectively, in Separation Rate and Avg. YAC Above Expectation. Translated for dummies like me, that means he was precociously good at losing his defenders and then getting by them once heíd hauled in the pigskin. I think Kyle Shanahanís offense could surprise and if that happens, count on this former Dawg being a huge part of it.