There will be nothing normal about the 2020 NFL season, obviously. There will be no preseason, no fans in some stadiums, no guarantee we'll even make it through a full campaign before losing tons of players to this insidious pandemic. About the only thing we can reasonably count on is that last year's Top 10 performers, should they successfully evade the virus and a sudden league quarantine, won't look anything like this year's Top 10 performers. We know this because I've been providing data for nine consecutive years to support that belief. Welcome to Year 10 of the Top 10 Dropouts series, folks, a deeper dive into which stars disappointed last year and which of them might be primed to do so this coming season.

Note: All rankings are based on FFToday's Non-PPR league scoring.


Who Missed the Cut in 2019 (6/10): B. Roethlisberger, A. Luck, J. Goff, A. Rodgers, D. Brees, & K. Cousins
About a month before he was named Super Bowl LIV's MVP, Patty Mahomes narrowly avoided becoming the second QB1 in three years to drop completely from the Top 10 rankings (Aaron Rodgers in 2018). A dislocated patella almost derailed the wunderkind's sophomore season, but he made a miraculous recovery and ended up missing only two games, or the exact number Ben Roethlisberger, 2018's QB2, ended up playing in at all last year. Big Ben's 16th NFL season was easily his most disappointing to date, spoiled by a Week 2 elbow injury which required season-ending surgery.

Indy fans might be thinking "cry me a river, Pittsburgh" after what befell their Colts squad just prior to the 2019 campaign. Not even two weeks before Week 1 action kicked off, franchise signal caller Andrew Luck announced his retirement from the game after just seven professional seasons, one of which he lost completely to injury. Nobody needs a reminder how rudely the game can treat its best performers, but Luck's is easily the second most shocking early NFL retirement in my lifetime.

The last four QB dropouts of 2019 didn't topple nearly as far as Big Ben or Capt. Luck, but toppled nonetheless. Jared Goff, QB11, ranked only a TD toss behind the SB MVP, but was noticeably less efficient than the year prior (86.5 passer rating v. 101.1 in 2018). Aaron Rodgers, QB12, turned in the worst fantasy numbers of his illustrious career as Green Bay's starter (20.5 FPts/G). Kirk Cousins, QB19, threw a staggering 162 fewer passes than he had in 2018 while Minnesota's shot callers wisely leaned on a stout running game and stingy defense. Finally, Drew Brees, QB25, was done in by a torn thumb ligament—which caused him to miss Weeks 3 through 7—and, in my opinion, the Saints' unwillingness to go any deeper at WR than Michael Thomas. All could bounce back in the 2020 season provided...you know, there is one.
Most Likely Candidates to Fall from the Top 10 This Year: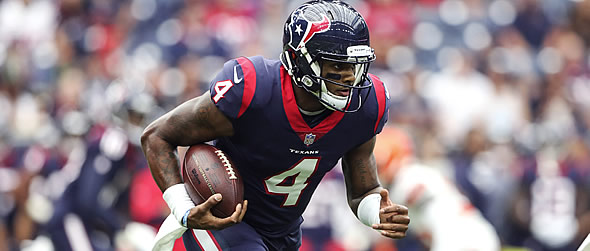 Deshaun Watson, HOU: Outside of Jameis Winston, who's poised to go from QB2 overall to QB2 on his new team, there aren't any obvious candidates for Top 10 relegation heading into the new season. There never are, though, so we trust the (largely unscientific but mostly predictive) process. This means looking for QBs working with new coaches, new battery mates, or behind revamped offensive lines. These seem to be the variables which can drastically affect a QBs fantasy bottom line year over year.

I'd actually be higher on Watson this year if he WERE working with a new coach or behind a new O-line. Bill O'Brien, who doubles as the Texans' GM, somehow continues to be employed by the organization despite some truly puzzling personnel decisions. I say "puzzling" but I actually mean WTF-inducing. Trading DeAndre Hopkins, one of the game's most reliable pass grabbers, was questionable enough. Not getting a first-round draft asset in return, however, makes the trade one of the worst of this century for any franchise. That offensive line, meanwhile, has managed to get Watson dumped on his can 106 times the past two seasons, easily the most of any QB. There were improvements, sure, and new left tackle Laremy Tunsil did end up earning a Pro Bow nod, but Watson's 44 sacks still ranked sixth overall. That's too many if Houston wants to keep its star slinger healthy.

Hey, did I mention Bill O'Brien traded his QB's favorite target away for an injury-prone running back and what amounts to a second-round draft pick, which Houston used to select Ross Blacklock, a DT from TCU? Blacklock better be really good and O'Brien better hope Brandin Cooks can do a passable Hopkins impression on this, his fourth NFL tour stop. I'm not buying it, so downgrade Deshaun.

Carson Wentz, PHI: As a Packer fan, I can't really criticize contending teams for spending high draft picks on backup quarterbacks instead of more urgent, missing pieces. Nevertheless, the Eagles' decision to nab Jalen Hurts in the second round of this past April's draft was certainly...interesting, to say the least. Is Philly worried about Wentz' seeming propensity for catastrophic, season-ending injuries? Are the Birds looking for a more dynamic, dual-threat playmaker, a la Taysom Hill in NOLA, to complement Wentz at the position? Are they looking to develop and then deal the raw but talented Hurts, a star for two of the nation's most storied college football programs?

I don't know the answers to these questions, but find it hard to believe a creative offensive mind like Doug "Philly Special" Pederson won't devise ways to incorporate Hurts into the game plan from the get-go. He's almost the exact same size as the aforementioned Hill, though slightly less speedy, and accumulated almost 1,300 rushing yards and 20 rushing touchdowns in his lone season as a Sooner. Putting him on the field instead of Wentz or maybe even with Wentz makes the Eagles more versatile and, potentially, more difficult to defend. It also, theoretically, eats into Wentz' bottom line.

So would another injury, of course, and Philly's young franchise QB has already missed eight regular season and five post-season games in his short, four-year career. By comparison, Mr. Rodgers has missed 16 regular season and ZERO post-season games in 12 years as the Pack's main man. That's probably not a fair comparison, but it's legit enough to question whether Wentz has staying power as a Top 10 quarterbacking asset. I like the Jalen Reagor addition and expect Philly to be more explosive this year, but I'm still not sold on Carson.

Josh Allen, BUF: Long-time readers know all about my affinity for Ryan Fitzpatrick, the sometimes sublime, sometimes ridiculous journeyman whose panache hardly befits his middling career totals. An argument could be made that Allen is Fitzy's rightful spiritual heir, at least from a purely performance standpoint. He's equally capable of game-winning improvisation and/or disastrously poor judgment/accuracy. Mostly "and," I should say, meaning we often see both Josh Allens in the span of a single game or even series.

Allen's best feature, by far, is the set of legs that makes his fantasy floor unusually high. The Wyoming product rushed for 510 yards last season, trailing only Lamar Jackson and Kyler Murray in the quarterback ranks. More importantly, he rushed for a league-high nine rushing touchdowns. That was two more than Jackson, who merely set the league's all-time mark for rushing yardage by a QB (NBD). There's no real reason to think Allen can't duplicate that rushing TD total this coming season (he had eight in his rookie season, as well), but there may be some competition for those goal-line touches now. Buffalo made Zack Moss, a 220+ pound bruiser, its third-round draft pick in April. Moss is much thicker than incumbent RB1 Devin Singletary and would, presumably, be a more solid option for red-zone running plays.

Even a one-TD drop in rushing production, to that last point, would have kept Allen out of the Top 10 last year and he doesn't have the passing chops to fall back on. Indeed, he's very much a work in progress as a slinger, having finished dead last in completion percentage two years running. Stefon Diggs certainly upgrades the Bills' receiving corps, but receivers don't, in my opinion, appreciably improve a quarterback's accuracy. Pay the right price, and not too much, for this youngster.