We've recently been featuring the star QBs, RBs, and WRs most likely to fall from the Top 10 ranks this coming season. Now we turn our attention to those who seem best equipped to replace them. Historically, I've included a mix of both obvious and not-so-obvious names and, as you're about to see, 2020 is no exception.

A quick reminder of the Top 10 fantasy RBs from last season…

Note: All rankings are based on FFToday's Non-PPR league scoring.


Running Backs Most Likely to Rise in 2020:
Leonard Fournette, JAX: If I told you Fournette was targeted only eight fewer times last year than the Chargersí dual-threat dynamo, Austin Ekeler, would you believe me? Itís a true story, friends, and that means the Jagsí meal ticket jumped from being the 48th most targeted RB in 2018 (26) to the fourth most in 2019 (100). Thatís a phenomenal 400% increase in passing game usage, which probably explains why the former LSU stud trailed only Christian McCaffrey, everybodyís favorite fantasy RB, in aggregate carries plus targets. So why was he RB13 instead of RB2 right behind CMC?

The answer is very simple: Jacksonville stunk. OK, not totally but they stunk enough, especially on offense, to prevent Fournette from scoring a reasonable number of six-pointers. The Jags managed only 18.8 pts/game last year, or 0.3 fewer than the hapless Dolphins. Nobody felt this more acutely than Fournette and the fantasy GMs who employed him. The big guy scored exactly three touchdowns on 341 total touches, a hardly registrable 0.87 TD percentage. By comparison, McCaffrey scored 4.7% of the time, even despite accumulating way more touches than any other player in the league.

If it sounds like Iím basing this whole recommendation on regression toward the mean, I pretty much am. I believe Fournette, even if he were to receive 50-75 fewer looks this coming season (which isnít very likely, I might add) would still be a good bet to double his TD production. If he does, and doesnít experience a concurrent dropoff in yardage and efficiency (he averaged a career best 4.3 YPC last season), heís almost a sure thing to crack the Top 10. His ADP is currently 3.07 (RB18) in standard 12-team leagues, way too low. Get yourself some value, folks!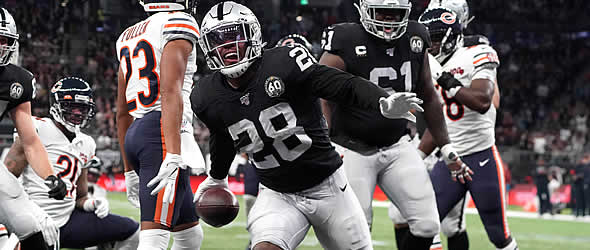 Josh Jacobs, LV: I was too late to the Josh Jacobs party in 2019, stupidly believing a part-time back playing behind an NFL-caliber line in college might struggle in his first year against professional defenders, especially playing for the rebuilding Raiders. Turns out only that ďrebuilding RaidersĒ part was true and still is as the team begins playing in their shiny new desert home, Allegiant Stadium. Things are looking up for Raider Nation, however, and Jacobs is a huge part of their Vegas future.

The rookie scored 23.3 points in his MNF debut against the Broncos and never really slowed down from there until he fractured his shoulder late in the year. There were some duds along the way, as could be expected, but Jacobs scored double-digit fantasy points nine times and ended up the year with a solid 13.4 FPts/G. Had he played all 16 games at that rate, we wouldnít be wasting these words on him.

If the former Bama back has any opportunities for development, itís clearly as a receiver. Though he looks the part of a dual-threat dynamo (is that a thing?), the compact Jacobs didnít produce like one, grabbing only 20 receptions (No.48 at the position) on 27 targets (No.47) in 2019.

Moreover, the Raiders went out and grabbed Lynn Bowden Jr. in the draft, possibly indicating they donít see their meal ticket as a true passing down option. Though Bowden Jr. is more a position-less threatóhe was labeled a running back for NFL Draft purposes, but didnít really play the position at Kentucky (WR and QB a la former Wildcat, Randall Cobb)óheís more likely to eat into Jacobsí production than anyone. That is, unless the super soph can make Aaron Jones-like improvements as a receiver. I wouldnít bet against him.

Cam Akers, LAR: I promised not-so-obvious names, so...how Ďbout this one? Akers was selected by LA in April to, presumably, replace Todd Gurley, who was unceremoniously released about a month prior to the draft. All the rook will be asked to do is fill Gurleyís enormous shoes (back-to-back overall RB1 in 2017 and 2018). Good luck, kid! To be clear, I donít actually think Akers will duplicate that aforementioned feat, but I do think he has a puncherís chance to sneak into the Top 10 RB club his first year as a pro.

The first reason I think this isnít very charitable: Akersí college coach was awful. It should have been obvious to FSU fans early on, as it was to us Duck fans, that Willie Taggart is a horrid Xs & Os coach. Itís no wonder only Charlie Weis, in college FB history, has been paid more to get scarce. The second reason I think the rook can surprise also isnít very charitable: His offensive line down in Tallahassee absolutely reeked. Akers forced the fourth most missed tackles in the country last season, mostly because he had to. Itís a miracle, running behind that line, he was able to average 5.0 YPC. Did I mention heís also a very capable receiver (30 receptions, 225 yds, and four TDs in 2019).

There will be competition from Darrell Henderson and Malcolm Brown and Sean McVay has recently uttered ďhot handĒ when talking about his RB sitch. Thatís coach-speak for ďitíll be a committee until Iíve decided on a go-to guy.Ē My belief is Akers will be that guy, if not immediately then soon enough. If heís no better than RB35 at yearís end (his current ADP in 12-team standard leagues), Iíll take back most of what I said about his college coach.