The only constant at the top is inconstancy, as we've been talking about the past week or so. Regardless of whether I'm right about the who—which top QBs, RBs, and WRs from last year, in particular, will fall from grace in 2021—we already know I'm right about the what: Many, if not most of them, certainly will. The historical data is overwhelming on that point, friends. So who are this season's "disruptors" best positioned to replace last year's studs? Let's break it down.

A quick reminder of the Top 10 fantasy RBs from last season…

Note: All rankings are based on FFToday's Non-PPR league scoring.


Running Backs Most Likely to Rise in 2021:
Austin Ekeler, LAC: There are way more obvious candidates to crack the Top 10 in 2021óMcCaffrey, Barkley, Elliott, Mixon (?)óbut I like living dangerously, so we start with the pride of Western Colorado University. Ekeler missed a huge chunk of 2020 (six full games and most of another), but if we exclude his brief Week 4 appearance, he actually averaged 18.6 touches a game, about 13 rushes and six receptions per. By comparison, Alvin Kamara, last yearís RB2, averaged 18.0 touches a game. Jonathan Taylor and Aaron Jones, RB4 and RB5, respectively, averaged even less.

Itís true all of those backs did more with fewer looks, Kamara in particular (21 total TDs, better per-carry and per-reception averages). Itís also clear the Bolts believe Ekeler can, in fact, be a high-volume RB1 despite his smallish stature. Or I should say DID think that. Anthony Lynn was dismissed and replaced by first-time head man Brandon Staley, who in turn brought on Joe Lombardi as offensive coordinator. Vinceís grandson wasnít overly successful in that role previously (Detroit from 2014-15), but he helped make the Saintsí offense great in two separate stints (2007-13 and 2016-20) as QBs coach and offensive assistant. Presumably, heíll know what to do with LAís most versatile weapon in his second go-around as an OC.

Heíll also know to design that offense around the Boltsí budding superstar under center, Justin Herbert. Herbieís the primary reason Iím high on Ekeler this season, as opponents will be forced to account for that big right arm, not to mention some sneaky escapability. More dangerous quarterbacks make for more dangerous running backs IMHO. Provided he stays healthy this season and commands the touches he did in 2020, I love Ekeler to post Top 10 digits for the second time in three years.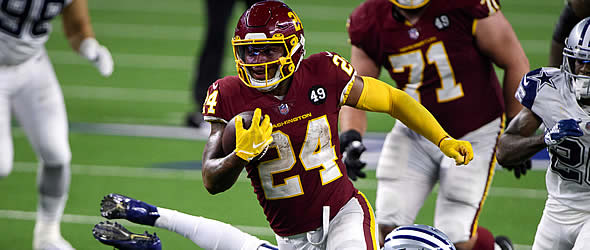 Antonio Gibson, WAS: Ekeler scored 12.2 FPts/G in the nine full games he played (again, excluding that short Week 4 appearance), which is precisely the mark Gibson achieved in his first 14 games as a pro. The similarities donít end there, though the two backs couldnít be LESS similar physically. Gibsonís a full four inches taller (probably more) and at least 20 pounds heavier than his LAC counterpart. Like Ekeler, however, heís just as dangerous in the passing game as he is in the running game. In fact, he was classified as a WR at Memphis before making the formal switch to RB for the Senior Bowl and in preparation for the 2020 draft.

However you want to label him, this much is clear: Gibson can ball. Though Washington didnít use him in the passing game as much as I thought they might, we can probably chalk that up to poor quarterback play. Dwayne Haskins, Kyle Allen, Alex Smith, and Taylor Heinicke combined to average just 17.1 FPts/G, 30th overall at the position. Is it any wonder WFT went out and signed Ryan Fitzpatrick, the itinerant gunslinger making his NINTH NFL tour stop? Fitzyís a huge upgrade over that sorry quartet, despite his advanced age, and should immediately raise all boats in the nationís capital.

Even if you donít believe in Fitzmagic, itís difficult to ignore Gibsonís TD production as a rook. Despite missing two late games due to turf toe and garnering 15+ carries only four times all season, he scored 11 six-pointers on the ground, about one every...15 carries (hint, hint, Riverboat Ron!). Moreover, the only backups are J.D. McKissic (another college wideout) and Peyton Barber, who sports a career 3.5 YPC average. Itís simple: Gimme all the Antonio Gibson shares!

Najee Harris, PIT: Harris is the second rookie runner Iíve tagged for Top 10 stardom in consecutive seasons. Though the first, Cam Akers, didnít quite work out (RB40 in 2020), the young Rams back did end up looking the part late in the year. From Week 12 on, including two playoff games, he averaged 14.7 FPts/G, a better rate than four of last yearís Top 10 rock toters, fellow greenhorn Jonathan Taylor included. Alas, the former Seminole turned it on way too late and now has to sit until 2022 thanks to a season-slaying torn Achilles tendon.

Harris, by contrast, is walking into a much better situation than Akers and, barring a catastrophic injury of his own, could end up being this yearís version of Taylor. Heís big (6í2Ē, 230 lbs), can moveónot to mention move the pileóand is a much better receiver than you think (43 grabs and four scores for the Crimson Tide last year). Simply put, heís a three-down back joining an offense that used to revolve around a similarly sized and skilled meal ticket, LeíVeon Bell.

The Steelersí shot callers have been very explicit about their desire to recapture that running game strength, and it goes higher than coach Mike Tomlin. Hereís what owner Art Rooney II had to say on the subject in March: ďWe don't want to see the Pittsburgh Steelers last in the league in rushing ever again. Ö weíll be looking for ways to improve in the draft. Itís something weíve gotta fix.Ē A month later, Pittsburgh grabbed the first RB of the entire draft with pick No.24, so...draw your own conclusion about how seriously to take Rooney. Hereís mine: Harris is a great bet to tally 300+ touches and crack the Top 10 in his first NFL season.