Note: Predict the top ten picks of the NFL Draft for a chance to win FFToday prizes. Enter our NFL Draft Contest now.

1. Jacksonville Jaguars - Travon Walker, DE, Georgia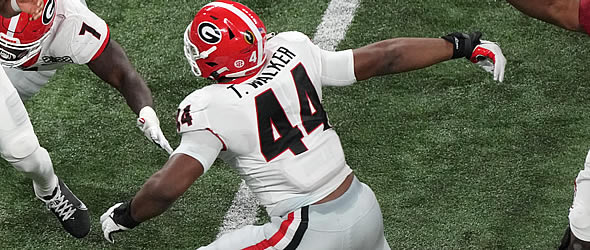 It's taken until my final mock draft, but I've moved off of Aidan Hutchinson as the first overall pick. The odds have shifted in Vegas to Walker, and I'm siding with the odds. Jacksonville needs an edge rusher, and Walker and Hutchinson have seemingly separated themselves from the rest of the players in this draft. Jaguars GM Trent Baalke consistently favored athleticism in his draft picks, and Walker shines over Hutchinson in that aspect. It seems a Georgia Bulldog will be the first overall pick once again.
Previous Pick - Aidan Hutchinson, DE, Michigan

2. Detroit Lions - Aidan Hutchinson, DE, Michigan

Regardless of Hutchinson falling to this pick, I was moving off of Malik Willis for Detroit. Although I believe they may want to draft him, I can't reasonably expect them to select him with this pick. Hutchinson makes this pick all that much easier. He's coming out of Michigan, and it will be a short move to Detroit. He's a high-motor, high-floor defensive prospect that should have plenty of success throughout his career. He's arguably the safest prospect in this draft, although he doesn't have the same ceiling as some other players. Regardless, he's an elite option with this pick.

Previous Pick - Malik Willis, QB, Liberty

3. Houston Texans - Ahmad Gardner, CB, Cincinnati

The problem with Houston is that they could go several different ways with this pick. They currently have Laremy Tunsil and Tytus Howard at offensive tackle, and the other option I'm considering here is Ikem Ekwonu. They have a massive hole at cornerback though, and some believe Gardner could be the best overall player in the draft. He'll immediately step into the starting lineup for Houston, and Gardner has a chance to become one of the best defensive backs in the NFL.

Previous Pick - Ikem Ekwonu, OT, NC State

4. New York Jets - Kayvon Thibodeaux, Edge, Oregon

The Jets are in an elite position with this pick. They need help on the edge, in the secondary, and along the offensive line. There's an elite option at each of those three positions here. Thibodeaux was a tremendous talent early in his career at Oregon before falling off a bit. Still, he's an elite talent, and there was a time when he was seen as the potential number one overall pick. There have been reports that Thibodeaux is moving back up draft boards, and New York will likely have to select him here if they want him.

Previous Pick - Travon Walker, DE, Georgia

5. New York Giants - Ikem Ekwonu, OT, NC State

Iíve held firm on Ekwonu being the first offensive tackle selected in this draft, and thatís the case once again. The Giants need help along the offensive line, and Ekwonu can step in on day one. If the new coaching staff is going to give Daniel Jones a real chance, theyíll need to protect him throughout the season. Ekwonu falling to this pick would be a gift, as he is generally seen as a tier higher than everyone left on the board.

Previous Pick - Evan Neal, OT, Alabama

6. Carolina Panthers - Kenny Pickett, QB, Pittsburgh

This is the most difficult part of the draft to predict at this point. I donít believe Kenny Pickett is good enough to be considered this high, but quarterbacks in this round are likely to be drafted earlier than they should be. I also believe that the majority of teams have Malik Willis graded higher, and he is expected to be the first quarterback selected. With that being said, Iím not predicting trades, meaning Carolina has to make the pick here. They have a massive hole at the position, and Pickett could be the most NFL-ready option on the board. The Panthers' coaching staff doesnít have the luxury of developing someone over the next few years and Pickett gives them the best shot at winning this season.

Previous Pick - Charles Cross, OT, Mississippi State

7. New York Giants - Jermaine Johnson, Edge, Florida State

The Giants already drafted an offensive tackle, and they need to address the pass rush. This feels slightly high for Johnson at this point, but thereís a relatively large drop-off after him. He climbed quite a bit throughout the offseason, and Johnson comes with tremendous upside. Thereís a chance that New York could opt for Kyle Hamilton here, although I expect them to take a shot on a high-upside pass rusher early in this draft.

Previous Pick - Kayvon Thibodeaux, DE, Oregon

8. Atlanta Falcons - Garrett Wilson, WR, Ohio State

The Falcons have as many holes as any team in the NFL. Calvin Ridley is suspended for the season, and their wide receiver room consists of Olamide Zaccheaus, Damiere Byrd, and Auden Tate. They drastically need to get better at the position, and they can select any receiver in this draft. Wilson, Drake London, and Jameson Williams are all options here. Iím banking on Wilson, who comes with the ability to turn into a WR1 at the NFL level.

Previous Pick - Jermaine Johnson, Edge, Florida State

9. Seattle Seahawks - Evan Neal, OT, Alabama

The Seahawks are another team with several holes to fill after trading away Russell Wilson this offseason. They need help along the offensive line, and there was a time when Neal was seen as the potential first overall pick in this draft. Instead, offensive tackles have fallen a bit, and Neal would become an outstanding pick for Seattle. He could immediately slide into either tackle position, and heíll be a cornerstone for the Seahawks' offensive line for years to come.

Previous Pick - Ahmad Gardner, CB, Cincinnati

10. New York Jets - Derek Stingley Jr., CB, LSU

The Jets continue to help their defense early in the draft. They selected a high-upside edge rusher as their first pick, and they can solidify their secondary with this pick. Stingley always boasted tremendous upside, although there were questions about his production later in his collegiate career. He impressed with his metrics at his Pro Day, and Stingley was given a clean bill of health. There's an outside chance that Gardner and Stingley could both be selected in the top 5, although that isn't the case with this mock draft. Instead, they're both selected in the backend of the top 10.

Previous Pick - Derek Stingley Jr., CB, LSU

11. Washington Commanders - Drake London, WR, USC

For whatever reason, Washington was willing to trade for Carson Wentz, solidifying their quarterback for this season. Itís a bit too early to take a shot on anyone left, specifically after giving up picks for Wentz. Instead, they can add another great receiving option to pair with Terry McLaurin. London boasts elite range as a receiver, and heíd be an outstanding complement to the way McLaurin plays. Heíd add a new dimension to the Washington offense that they didnít have last season.

Previous Pick - Drake London, WR, USC

12. Minnesota Vikings - Kyle Hamilton, S, Notre Dame

The Vikings have holes throughout their secondary along with their interior defensive line. With Gardner and Stingley off the board, they can shift away from cornerback, as Trent McDuffie is likely a tier below them. Hamilton and Jordan Davis are both solid options here, as they're the top options at each of their respective positions. Hamilton is seemingly falling a bit at this point in the process, but there was a time when he was seen as a top 5 pick. He has the higher ceiling and can impact the game in a way that Davis can't. For that reason, the Vikings will add a young potential star to the backend of their defense.

Previous Pick - Kyle Hamilton, S, Notre Dame

13. Houston Texans - Charles Cross, OT, Mississippi State

In my first few mocks, I had Houston selecting a tackle with their first pick followed by a cornerback with their second selection. I'm flipping it this time with Gardner third overall and Cross falling here. He's a player that can slide into either tackle position, although he'll likely end up at left tackle long-term. I still don't trust that the Texans are going to keep Tunsil after this season, allowing Cross to take over in the near future.

Previous Pick - Trent McDuffie, CB, Washington

14. Baltimore Ravens - Jordan Davis, DT, Georiga

I mocked Tyler Linderbaum to the Ravens in each of my first two drafts, but I'm switching from the interior offensive line to the interior defensive line. Davis is the best defensive tackle in the draft, and he continues to fly up draft boards. He has the ability to take on multiple blockers, which will free up other positions for one-on-one matchups. Davis has the potential to be a top run-stuffer in the NFL, and he'll make all of Baltimore's pass-rushers around him better. He's the type of player that will immediately help any defense he's playing for.

Previous Pick - Jordan Davis, DT, Georgia

15. Philadelphia Eagles - Jameson Williams, WR, Alabama

Williams is flying up the draft boards as he continues to look healthier as the draft closes in. He wouldíve arguably been the first wide receiver off the board if he didnít suffer a major knee injury. Quite frankly, there is a chance that he could still be the first receiver selected. That isnít the case in this draft, though. The Eagles need a player to pair with DeVonta Smith after Jalen Reagor continued to struggle and JJ Arcega-Whitside shifted to tight end. Smith, Williams, and Hurts are all Alabama products, and they would make quite an offensive trio along with Miles Sanders and Dallas Goedert.

Previous Pick - Garrett Wilson, WR, Ohio State

16. New Orleans Saints - Chris Olave, WR, Ohio State

The Saints traded for this pick, specifically ahead of the Chargers. They both have similar holes, making this pick relatively difficult. I expect the Eagles wanted to stay ahead of New Orleans to have their pick of the wide receivers. With that being said, the class is so deep that the Saints can make that move without worrying about who will be left. Olave is an outstanding prospect that has the ability to stretch the field, which will pair nicely with Michael Thomas. He'll add a high-upside option that the Saints haven't had in recent seasons.

Previous Pick - Chris Olave, WR, Ohio State

17. Los Angeles Chargers - Devin Lloyd, LB, Utah

The Chargers are in a position where they could select an offensive tackle, edge rusher, linebacker, or defensive tackle. Luckily at this point, all of those positions have high-end talent available. Itís a great problem to have, although Iím penciling in Lloyd, who has the potential to be taken in the top-10 depending on how the draft shakes out. Heís a sideline-to-sideline linebacker with the ability to rush the passer. Lloyd will add tremendous versatility to the Chargers defense, making them that much more dangerous.

Previous Pick - Devin Lloyd, LB, Utah

18. Philadelphia Eagles - Trent McDuffie, CB, Washington

McDuffie is a tier below the top two cornerbacks in this draft, but some would suggest he's closer to them than anyone else is to him. It's an interesting position with a lot of depth, but McDuffie is the clear third option. He boasts the potential to become a shadow corner in the NFL, as he's coming off of an elite career at Washington. The Eagles can use help in their secondary, and McDuffie is a player that can help them early in his career.

Previous Pick - Andrew Booth Jr., CB, Clemson

19. New Orleans Saints - Malik Willis, QB, Liberty

Quarterback is the clear position that turns this draft on its head. Do I truly believe the Saints are going to draft Willis? Not particularly. But I also donít believe Kenny Pickett is drafted before him either. Yet thatís how it worked in this draft. The Saints signed Jameis Winston, but they were slightly reluctant in doing so. Itís clear that Willis is likely the top quarterback in this draft, and heís well above everyone outside of Pickett. Thatís why heís the pick here, as New Orleans picks up their signal-caller for the future.

Previous Pick - Trevor Penning, OT, Northern Iowa

20. Pittsburgh Steelers - Desmond Ridder, QB, Cincinnati

The Steelers have several holes to fill throughout their roster. In the offseason, they signed Mitchell Trubisky to take over as their starting quarterback. With that being said, he feels like a bridge option. There have been plenty of rumors that Pittsburgh is searching for their next quarterback of the future. Ridderís been a name connected to them, specifically with Willis already gone. Quarterbacks tend to fly up the draft boards on draft night, and Iím expecting that to be the case once again this year.

Previous Pick - Zion Johnson, G, Boston College

21. New England Patriots - Zion Johnson, G, Boston College

Initially, I was relatively set on New England drafting a defensive player, but that may not be the case if Johnson is available here. The Patriots could use help on the interior offensive line, and Johnson comes with the ability to immediately start for them. Mac Jones flashed throughout his rookie season and the Patriots could give him extra help to continue to grow. They added DeVante Parker in the offseason and adding Johnson would be another step in the right direction for their offense.

Previous Pick - Kyler Gordon, CB, Washington

22. Green Bay Packers - Treylon Burks, WR, Arkansas

The Packers received this pick from the Las Vegas Raiders in the Davante Adams trade. It only makes sense that they use it on his replacement. Granted, Green Bay doesnít draft wide receivers in the first, but they may not have a choice this season. Burks has game-changing potential that he flashed at Arkansas, and Aaron Rodgers could potentially mold him into a high-end wide receiver in the NFL. The Packers could look for a safer player here, but they need to replace arguably the best receiver in the league. Upside is one of the only ways to do that.

Previous Pick - Treylon Burks, WR, Arkansas

23. Arizona Cardinals - George Karlaftis, Edge, Purdue

The Cardinals have a clear need at edge, and Karlaftis is pulling away from players like Boye Mafe at the position. He performed well, consistently getting pressure at Purdue. Karlaftis isnít the flashiest player in the draft, but heíll benefit from playing behind J.J. Watt for at least a season. Heís a player that can add a bit more consistently to their pass rush.

Previous Picks - Boye Mafe, Edge Minnesota

24. Dallas Cowboys - Kenyon Green, OL, Texas A&M

The Cowboys need help along their offensive line, specifically in the interior. Green is expected to play guard in the NFL, and he could be a day one starter for Dallas. With that being said, he boasts the upside to move out to tackle if need be. Green played four different positions throughout his college career, and weíve seen versatile linemen be drafted at a premium in the past. I expect that to be the case once again for Green during the draft.

Previous Pick - Kenyon Green, OL, Texas A&M

25. Buffalo Bills - Tyler Linderbaum, C, Iowa

The Bills are one of the most complete teams in the NFL, and they don't truly need to reach at any position. I could see them grabbing a cornerback here, but Linderbaum is a significantly better prospect than any corner available. He has the potential to become one of the best centers in the NFL later in his career, and he can immediately add depth to the Bills interior offensive line. He's the type of player that can be groomed for the future while giving Buffalo an outstanding option if they're dealing with injuries around playoff time.

Previous Pick - Tyler Linderbaum, C, Iowa

26. Tennessee Titans - Matt Corral, QB, Ole Miss

Itís difficult to write Corral for the Titans here because I donít believe the majority of quarterbacks in this class should be first-round picks. With that being said, the Titans could be nearing the end of Ryan Tannehillís time with the team. Heís looked outstanding in Tennessee, but people are specifically questioning him in the playoffs. Corral boasts plenty of upside out of Ole Miss and could be drafted earlier than expected because of his position.

Previous Pick - Jameson Williams, WR, Alabama

27. Tampa Bay Buccaneers - Devonte Wyatt, DT, Georgia

Tampa Bay quietly has plenty of holes to fill, and they could look to add to their defensive front with this pick. Wyatt comes with elite size, and he can immediately take the pressure off of the other pass rushers. Last season, Wyatt posted 39 tackles, 7 for a loss, and 2.5 sacks for Georgia. He could immediately help Tampa Bayís defensive line impact games in the way they could need this season.

Previous Pick - Devonte Wyatt, DT, Georgia

28. Green Bay Packers - Trevor Penning, OT, Northern Iowa

Oddly enough, it feels as if the Packers could take two first-round wide receivers in this draft. They already grabbed one with their first pick, and I donít believe they go that deep into the position at this point, though. Instead, they need help along their offensive line, specifically right tackle. Penning could be drafted significantly higher than this depending on how this draft shakes out, but he can immediately help Green Bayís offensive line.

Previous Pick - Bernhard Raimann, OT, Central Michigan

29. Kansas City Chiefs - Tyquan Thornton, WR, Baylor

This could be the biggest shock in the entire draft, and I could be looking way too into things. The Chiefs got rid of Tyreek Hill in the offseason, and that is quite a player to replace. Thornton is known for his elite speed, similar to Hill. If they want to get a similar player on a team-friendly contract, Thornton makes sense. This could be a reach for him but we should also remember that Kansas City selected Mecole Hardman over DK Metcalf only a few years ago.

Previous Pick - George Karlaftis, Edge, Purdue

30. Kansas City Chiefs - Dax Hill, S, Michigan

Itís clear the Chiefs need help in the secondary. Hill ended last season with 69 tackles including 4.5 for a loss and 0.5 sacks. He also ended last season with 2 interceptions, 8 pass deflections, and 1 fumble recovery over 14 games. Hill can fill the void at safety or he can shift over to their slot corner position. His versatility can help Kansas Cityís defense immediately.

Previous Pick - Dax Hill, S, Michigan

31. Cincinnati Bengals - Tyler Smith, OL, Tulsa

The Bengals have gotten significantly better along the offensive line, although there is still room for improvement. Smithís a player that is gaining steam heading into draft night. He has the ability to play tackle in the NFL, but he can also shift inside to guard. The Bengals could use extra depth along the offensive line, and thereís a chance that Smith could start on the interior if he performs well through camp.

Previous Pick - Kaiir Elam, CB, Florida

32. Detroit Lions - Sam Howell, QB, North Carolina

TThe Lions skipped on Malik Willis with the second overall pick, but they get one of their guys at the back end of the round. Howell looked elite as a freshman at North Carolina before tailing off a bit, specifically after he lost NFL talent at wide receiver. Heís a player that seemingly didnít have a chance to go in the first round at one point, but thereís now smoke that he could be one of five first-round quarterbacks selected. Heíd benefit from sitting behind Jared Goff for a season before taking over in Detroit.

Previous Pick - Jahan Dotson, WR, Penn State