The fantasy quarterback market was quite efficient in 2021 with Average Draft Position (ADP) doing a good job of identifying the top 12 fantasy producers at years end. The top 11 QBs separated themselves (Josh Allen down to Matthew Stafford) which left the likes of Kirk Cousins, Russell Wilson and Derek Carr hanging on the fringes of startability.
The top of the heap was led by Allen whose rushing ability and lack of time in the blue tent continues to separate him from the rest of the mobile quarterbacks. Tom Brady was the only true pocket passer that was able to crack the top six but it took an insane 719 pass attempts and a league-leading 43 touchdown passes to do so. Fantasy owners have figured out how important rushing stats are to quarterbacks and those QBs that are able to make plays on the ground are going to continue to get rewarded come ranking and draft time.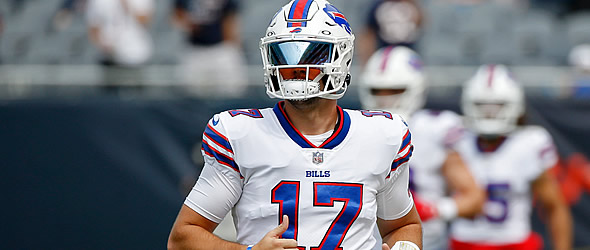 1. Josh Allen, BUF
At 25 years-old, Allen is still in his rushing prime and the Bills aren't likely to move away from a key offensive advantage despite that advantage increasing his risk of injury. His 763 rushing yards in 2021 was a career high while his 6 rushing TDs were a career low. Allen settled in as the QB2 in ADP last season and it's hard to see him falling from that mark in 2022.
2. Patrick Mahomes, KC
In four seasons as a starting quarterback, Mahomes has finished no worse than QB7 in fantasy points per game. Under Andy Reid, the Chiefs continue to operate with a high pass rate and head into another season with their two main weapons intact. Mahomes has enough rushing ability to separate him from pocket passers making him one of the safest high-end quarterbacks in fantasy football.
3. Justin Herbert, LAC
Just one of two quarterbacks to top the 5000-yard mark in 2021 (Tom Brady being the other), Herbert has established himself as a top-notch fantasy QB in just two seasons. He finished 2nd in pass attempts (672) and is a solid contributor in the running game with 8 rushing touchdowns over the last two years. He has plenty of weapons in the passing game but losing free agent Mike Williams would be a concern, although the franchise tag remains an option to keep the big-bodied receiver around one more year.
4. Lamar Jackson, BAL
Jackson's season was marred by an ankle injury missing five games at the end of the season. Prior to the injury he was on pace for his third-straight 1000-yard rushing season but was also on his way to a career high in interceptions (13 INTs in 12 games) as the Ravens threw the ball more than prior seasons thanks to a decimated running back room. His rushing ability is second to none at the position which keeps him in the QB1 conversation if he can play a full season.
5. Kyler Murray, ARI
Murray finished 5th in fantasy points per game among quarterbacks last season but it sure didn't feel like it. A few games missed mid-season with an ankle injury coupled with two games that resulted in zero touchdowns took the shine of Murray's QB5 effort along with an epic fail in the playoffs. Still, 29 total TDs in 14 games is nothing to sneeze at especially considering Murray was without the healthy services of DeAndre Hopkins for a good chunk of the season. He's sure to be one of the top ten quarterbacks off the board in redraft leagues this summer assuming he and the Cardinals get their bad blood resolved.
6. Dak Prescott, DAL
The Cowboys have plenty of weapons on offense which makes it easy for Prescott to post fantasy numbers like he did last season (4449-37-10; 146-1). However, with Michael Gallup and Dalton Schultz hitting the free agent market, Dak could be losing a couple bullets in the chamber. In addition, Prescott's rushing production took a hit as he played his first season back from a serious leg injury. Even with the concerns, the Cowboys quarterback has established himself as a top fantasy option and will be in the mid-range QB1 discussion this summer.

7. Jalen Hurts, PHI
Hurts' fantasy value is carried by his legs as evidenced by his league-leading 782 rushing yards and 10 rushing TDs among quarterbacks last season. While he raised his completion percentage from 52 to 61 year-over-year, Hurts still lacks accuracy and consistency as a passer. The Eagles ran the ball more than any team in 2021 (52.7%) and that should continue to be the approach in 2022.
8. Joe Burrow, CIN
The addition of Ja'Marr Chase is going to keep Burrow in the top 12 consideration for years to come. Look no further than Burrow's two blow-up games (Wks 16 & 17) where Chase rattled off 391 receiving yards and 3 TDs. Tee Higgins is one of the best No.2 receivers in the league and this duo alone will continue to elevate Burrow's fantasy value. Burrow wasn't the most consistent quarterback last season, ranking 12th in our consistency rankings, but you're likely to see more fantasy stability next season especially if the Bengals increase their pass ratio.
9. Aaron Rodgers, GB(?)
Rodgers clocked in as fantasy's QB6 in 2021 thanks to 40 total touchdowns and yet another season light in the interception department. Rodgers has now thrown 8 or fewer interceptions in 11 straight seasons. The big question mark Rodgers is does he play in Green Bay next season or somewhere else? Does he remain paired with Davante Adams or not? Answers to those two questions will go a long way into determining his fantasy value. Still, it's hard not to envision him as low-end QB1 wherever he lands.
10. Trey Lance, SF

Many in the fantasy industry including yours truly thought Lance would get a chance to start meaningful games last season but that scenario simply didn't pan out. Jimmy Garoppolo did enough to keep the 49ers winning, even through multiple injuries. However, with so many QB-needy teams, the likely scenario is a Garoppolo trade this off-season and Lance being the 49ers starter Week 1. San Francisco will continue their run-heavy approach and while Lance yet to show above average passing skills, his talent as a runner is going to keep him in the low-end QB1 conversation.

11. Matthew Stafford, LAR

Stafford is coming off his best fantasy season (4886 yds 41 TDs) since 2011 when he threw for 5038 yards and 41 TDs. This is exactly the quarterback Sean McVay needed and thought he was getting when he shipped Jared Goff to Detroit in exchange for Stafford last off-season. A healthy Odell Beckham Jr. would make Stafford an easy QB1 pick headed into 2022 but his ACL injury and impending free agency takes off some of Stafford's fantasy shine.

12. Kirk Cousins, MIN
Cousins has been a very consistent producer finishing as the QB10 and QB11 the last two seasons settling in around 4200 passing yards and 35 TDs. There are rumors that Cousins could end up on another team this off-season but the recent addition of GM Kwesi Adofo-Mensah and head coach Kevin O'Connell as head coach indicates that Cousins will likely stay in Minnesota as O'Connell and Cousins have previously spent time together in Washington. With TD machine Adam Thielen back for another season and rising star Justin Jefferson entrenched as the clear No.1 receiving option, Cousins is a non-sexy option in the middle to late rounds of redraft leagues.
Just missing the cut: Deshaun Watson, HOU?; Russell Wilson, SEA; Ryan Tannehill, TEN