Years ago, I graduated with a bachelor's degree in psychology. At the time, it was my intent to eventually attend and make it through law school in hopes of becoming in a sports agent. At the very least, if my interest in being the next Leigh Steinberg - the preeminent sports agent at the time - changed, I would transition into becoming a psychologist.

It became pretty clear shortly after graduating and learning more about the world of representing athletes that I had no interest in making my life's work in a sometimes sleazy, often dog-eat-dog business. Even though furthering my psychology education always remained a possibility, I was not in a position then where I wanted to incur the debt that comes along with graduate school either, at least not until I was able to save enough money to make it a possibility.

Suffice it to say the closest I ever got to a cozy office with a plush leather couch for my patients came years later when I became a fan of the show "Frasier" while it was in syndication. (For what it is worth, I didn't like it for most of the time it was actually popular.) Frasier's upbringing and life is almost the polar opposite of the one I have experienced, but the great part of the show for me as a whole was probably how much I could relate to various aspects of it.

At any rate, for those folks wondering where this week's title comes from, it became Frasier's signature greeting for listeners who called into his local (and sometimes regional) radio show at KACL to seek his advice. Unfortunately, there is no Roz Doyle (Frasier's trusty producer) on the other side of the glass to filter my calls or make my life easier.

My desire to help people with their "problems" hasn't changed much over the years, although one could argue that dealing with fantasy football questions is a step down in terms of world importance from my patients' psychoses, although it doesn't always seem that way. Nevertheless, I wanted to use the final Blitz of the season to answer lineup questions to give readers some metaphorical time on the couch as opposed to the "fast-food psychology" Frasier was often accused of dishing out on his radio program and the 280-character limit we are limited to on Twitter.

Continuing my ode to Frasier, I will use the same caller-analyst format his show did throughout the remainder of the column, stretching out my analytical muscles in hopes of providing readers with enough insight to make the one critical lineup decision that helps them take home their league's championship. (PPR scoring will be assumed unless otherwise noted.)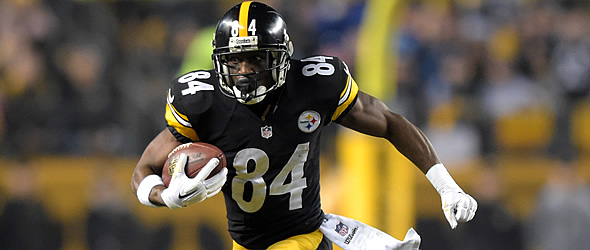 The loss of Antonio Brown has many fantasy owners looking for answers during championship week.

ramz04: Who's the better start for the last two games with Antonio Brown out? Keelan Cole, Dede Westbrook, Mike Wallace or Kendall Wright?

Let's get the negatives for each player out of the way first. While Marqise Lee's multi-week ankle injury theoretically opens the door for the Jaguars to lean on Cole and Westbrook, the return of Allen Hurns from his own ankle injury muddies the water. Westbrook was seeing his role grow every game since his return from IR before last week, when it appeared Lee's absence seemed to sink his fortunes and lift Cole's. I'm not sure that's the case in reality, but a one-week sample is far from enough to make a definitive call and now is not the time of the fantasy season to be guessing if Week 15 was a sign of things to come. Westbrook is the more talented receiver, but can we really just dismiss the fact Cole is fantasy's WR4 over the last three weeks despite limited targets? Likewise, can we just ignore Cole was coming off consecutive three-target games?

Wallace has seemingly emerged as a consistent fantasy option over the second half of the season, but he does not possess near the upside of Cole or Westbrook. While Joe Flacco is playing much better than he was in the first half of the season and has been relying heavily on Wallace (eight or more targets in three of the last four games), the fact of the matter is Baltimore could go ground-and-pound at any point considering its remaining schedule (Colts and Bengals). Wright has inexplicably shot right past Dontrelle Inman over the last two weeks to see 24 targets over that time - three fewer than he had over the previous five games combined.

As productive as Wright has been of late, I find him nearly impossible to trust in Weeks 16 and 17 in a bad offense led by a rookie quarterback who could switch back to Inman as his favorite option at any time with a pair of equally poor matchups awaiting him. Briean Boddy-Calhoun has performed well in the slot for most of the season with the Browns (Week 16) and Terence Newman is no slouch inside for the Vikings (Week 17). It's hard to ignore Wallace given his recent involvement and upcoming matchups, so he's a definite floor play for owners looking for roughly 10 fantasy points from their WR3. While I'm still apprehensive about Baltimore receivers in general, Wallace is the safe play from this bunch.

If I'm an owner who has both Cole and Westbrook, I would strongly consider finding a way to start both in each of the next two weeks, especially if Hurns is limited (which seems likely) and/or ruled out. I have Westbrook in all of the leagues in which I am competing for a title, and will try to execute this strategy in every one. Jacksonville has a passing game that is rolling at the moment, boasts the kind of running game that will scare defenses enough to make play-action effective and the kind of favorable matchups (49ers, Titans) that win fantasy championships. If I have to pick one Jag, it will be Westbrook because of his track record and the likelihood he will see a full complement of snaps even if Hurns plays.

So the long and short of it is this: if I need a safe floor, I'll go with Wallace. If I have two openings and want some upside, I'll gamble on Westbrook and Cole. If I only have one player I can bet on for both weeks, it would be Westbrook.

tampa2cents: With A.J. Green drawing Darius Slay this week, do I start him over Devin Funchess (vs. Bucs), Robert Woods (vs. Titans), Martavis Bryant (vs. Texans) or Stefon Diggs (vs. Packers)?

First of all, I cannot blame any owner for sitting Green this week, although I'm not sure Slay qualifies as a "shutdown corner" this season. Receivers who have lined up against him have been targeted 107 times, which ranks as the third-highest total in the league, so quarterbacks have not been hesitant to attack him even if he is making them pay for it. The bigger issue in my mind is the state of the Bengals' offense and recent play of Andy Dalton, who has attempted a total of 51 passes over the last two weeks and completed 49 percent of them.

If I only had one player to choose from the list above this week, it would be Woods. In the 11 games he has been active, he ranks ninth at his position in fantasy points during those weeks. Woods returned from a three-week absence last week and picked right back up where he left off. He has produced at least 16 PPR points in four straight games and taken full advantage of the two "soft" matchups he has encountered over that span, blasting the Giants for 23 fantasy points in Week 9 before crushing the Texans for 37.1 one week later. The Titans have seemingly stiffened up lately against receivers, giving up only three receiving touchdowns (all to Antonio Brown) over the last five weeks, but it is fair to say the Colts, Texans, Cardinals and 49ers aren't comparable to the Rams in terms of offensive prowess.

Touching on the other options, Funchess' shoulder scares me, as I seem to recall him hurting it multiple times in Week 15. While it is always tricky to predict injuries or in-game aggravations, he would seem to be a good candidate for one. Bryant has a sweet matchup and plenty of room for massive volume without Brown around, but I can't recommend him from this group with so many other good options available. Diggs has steadied the ship of late, but Adam Thielen appears to be Case Keenum's favorite target outside the red zone and Kyle Rudolph seems to be Keenum's top option inside it. Further consider 39.8 percent of Diggs' fantasy production this season came in Week 1 and Week 4. In other words, we've seen his ceiling with Keenum, and it is around 15 fantasy points.

TennisMenace: (Standard scoring) Pick three and flex the fourth - Funchess, Diggs, Wallace, Sterling Shepard (vs. Cardinals), Cole and Marquise Goodwin (vs. Jags).

Since we have discussed all but two of the players already, I'll cover them now and get to my final answer in a semi-efficient manner. Shepard plays roughly 84 percent of his snaps in the slot, while Arizona CB Tyrann Mathieu sets up shop inside 93 percent of the time. Although a matchup against Mathieu is mostly neutral, Shepard had a field day in Week 15 against what was supposed to be a difficult matchup against Patrick Robinson. (To be fair, Shepard saw six of his 16 targets on the first and only full drive the Giants had after Robinson left the game with a concussion, although Shepard had already done most of his statistical damage by that point.) Interestingly, the second-year wideout has posted Odell Beckham Jr.-like production whenever he has seen OBJ-like targets, but two of those three games have come against the Eagles and the other was against the 49ers. Much like Kendall Wright above, however, there isn't much rhyme or reason to the rollercoaster ride of his involvement in the offense. Predicting when his double-digits target games are going to come and weighing that against what games Evan Engram will be the featured attraction is mostly an exercise in futility. And at this point of Eli Manning's career, I'm not sure he is a good bet to make two pass-catchers relevant in fantasy in consecutive weeks.

The arrival and promotion of Jimmy Garoppolo has been a huge boon to the career of Goodwin, who has seen his targets increase in each of the last four weeks and is averaging 11 in three starts with his new quarterback. His 72.7-percent catch rate over that time is very impressive for a receiver who has been labeled a deep threat for the majority of his career. Although Jacksonville has been friendlier to receivers in recent weeks, San Francisco doesn't have Russell Wilson at quarterback and Goodwin is not comparable to DeAndre Hopkins as a receiver. Add to that the fact the Niners have settled for a lot of field goals lately (not to mention the fact Goodwin has only scored once all year) and there's no way I'm going to put faith into Goodwin continuing his roll unless he sees 15-plus targets, which seems unlikely.

Because we are dealing with standard scoring here, my choices for TennisMenace would be Funchess (assuming reports on his shoulder check out), Diggs, Wallace and Shepard. If Funchess is even remotely questionable for Week 16, I would opt for Cole.

bcuzz: Do I start Tom Brady (vs. Bills), Jared Goff (vs. Titans), Matthew Stafford (vs. Bengals) or Case Keenum (vs. Packers)?

As bcuzz pointed out in his forum post, I astutely recommended Aaron Rodgers over Brady last week, so I am officially a genius. (I added the last part.) All kidding aside, this is an embarrassment of riches. Perhaps I am still bummed by him burning one of my best teams in the first round of the fantasy playoffs in Week 14, but it is not a stretch to say we haven't a vintage performance from Brady in three weeks - or ever since he went on the injury report with an Achilles' issue at the same time. He has also thrown an interception in four straight games - matching his longest such streak since October of 2013 - and failed to throw for more than one score in his last three. Considering I haven't liked what I've seen physically from Brady in December, the fact the Bills have yielded only 11 touchdown passes all year and the quality of the other options (specifically their matchups), I would probably opt against Brady this week.

Keenum has established a pretty safe floor of two passing scores since Week 8, throwing for at least that many in six of his last seven games, and he adds a few rushing yards to boot, so he's a pretty safe bet in a good matchup. However, Minnesota isn't overly keen on flexing its offensive muscles just for the sake of doing so and the Vikings shouldn't need to do so against the Packers without Rodgers, so I don't think Keenum is a huge-upside play in what should be a game with plenty of positive game script for Minnesota.

There aren't too many quarterbacks playing better football lately than Stafford, but those numbers haven't been translating into huge fantasy totals on a consistent basis. Over the last seven weeks, the 29-year-old is completing 73.2 percent of his passes and has thrown for multiple touchdowns five times despite facing the likes of the Vikings and Ravens over that time. Be that as it may, Stafford hasn't had a truly explosive game in five weeks. I'm not sure that changes against the Bengals, who may not push the Lions long enough for Stafford to have one of "those" games. I see Stafford this week as a higher-floor play than Keenum but not a week-winner or incredible value play in DFS.

Since getting hammered by the Steelers in Week 11, the Titans have been fortunate to only give up two touchdowns through the air. With that said, Tennessee has surrendered a 365-yard game to Tom Savage and 381-yard effort to Garoppolo (one passing score for each quarterback), so this is a pass defense that can be exploited, especially considering how well the Titans typically stop the run. A closer look at Tennessee schedule this year reveals it has faced only three quarterbacks who were or are considered QB1s: Russell Wilson, Deshaun Watson and Roethlisberger. Each one passed for at least 283 yards and all of them threw for exactly four touchdowns. It's debatable whether or not Goff belongs in that class, but he is close and the Rams still have plenty left to play for in 2017. A 300-yard, three-TD day could be on the horizon.

mont71: I don't trust Jared Cook anymore. Should I replace him Eric Ebron?

Like several of the receivers we have already discussed, there isn't much rhyme or reason to when Cook is going to be a vital part of the offense. In three years with three different teams, Cook has produced consecutive 10-point fantasy games in PPR once (during last year's playoffs). And during his magical postseason run with Green Bay, he was targeted 11 times in the divisional playoffs and 12 times in the conference championship. Cook has always been more of a downfield threat and, for whatever reason, quarterbacks also seem reluctant to throw him the ball in the end zone; he has never scored more than five TDs in his career. Making matters worse for him this week is an Eagles' defense that has given up double-digit PPR totals only to Travis Kelce, Jordan Reed, Vernon Davis, Jimmy Graham and Evan Engram. Cook is not in that class, nor is he featured as much in his offense as the others are in theirs.

In a lot of ways, Ebron is a younger version of Cook with an inconsistent role in his offense to go along with freaky athleticism and questionable hands. With that said, there's not much room to debate the fact he has been more involved in his offense over the last month-plus or that he has a better quarterback throwing him the ball. Ebron has been regularly involved early in games over the last month and was a slight Stafford overthrow away from scoring twice in the red zone in Week 15. It's debatable whether or not his matchup is much better than Cook's this week, but the Bengals have less to play for and the strength of their defense is at cornerback more so than linebacker or safety. Both Cook and Ebron will make you pull your hair out on occasion, but Ebron is the better bet for fantasy championship week.

uwmalcolm: (Half-point PPR) Pick three of the following - Julio Jones (vs. Saints), Keenan Allen (vs. Jets), Tyreek Hill (vs. Dolphins) and Josh Gordon (vs. Bears)

This is what we like to call in the business a "humble brag." At certain points the season, each of these receivers were considered WR1s, although it might be a bit of stretch to say that about Gordon. Jones reportedly suffered an ankle injury on the second play of the game in Week 14, which was probably the last straw for a number of fantasy owners who have been waiting for him to post fantasy numbers on par with his talent. This is another one of those many cases in which owners blame the player because it is easier to do that than figure out what the real problem is. (It's probably one of several reasons why players don't love hearing from fantasy folk about how they let fantasy teams down. Imagine drawing the ire of your fantasy fans at your place of employment when your lack of production is more of a reflection of your co-workers failing to do their job at the peak of their abilities.) One major difference between Jones and a number of other WR1s around the league is their quarterbacks are more willing to force the ball into tight coverage with safety help than Matt Ryan is. At any rate, we can debate the reasons for Jones' "disappointing" year at another time.

When accounting for the ankle injury and the fact he will likely see a lot of Marshon Lattimore for the second time in three weeks, uwmalcolm's doubts about starting Jones this week are not unwarranted. Since I have a lot of faith in Allen and Hill - who has scored at least 8.9 points in this format in six straight games - holding up their end of the bargain, the debate for the final starting spot is between Jones and Gordon.

In Week 14 against Lattimore, who needed to leave the game multiple times to get oxygen following a two-game absence, Jones ran 18 of his 24 routes against the rookie and caught half of his eight targets for 79 yards. In all, Jones finished with a 5-98-0 line. If we knew Julio was fully healthy for this contest, I would probably lean toward using him. But ideal conditions rarely ever exist in fantasy football and this is one of those cases. Gordon is seeing a similar number of targets to Jones - even though it is important to not overlook the fact he isn't catching half of them - has the advantage of "fresh legs" and should draw 5-11 Kyle Fuller in coverage most often this week. It would seem Gordon is also a better bet to score a touchdown since it appears to be asking too much for Ryan to throw a catchable ball to Jones in the red zone. So in the battle of the injured receiver with the better quarterback and worse matchup versus the fresh receiver with the more inefficient quarterback and better matchup, I'll go with the latter. The only thing I can think of at the moment that would sway my decision back to Jones is if wintry conditions - namely high winds - exist in Chicago this weekend.

M.R.: Need an Antonio Brown replacement. Available options include: Mike Wallace, Sterling Shepard, Kendall Wright, Tyrell Williams, Jaydon Mickens, Kenny Stills, Keelan Cole. Kelvin Benjamin on the bench.

Aloysius62: Need an Antonio Brown replacement. Available options include: Randall Cobb, Cole, Nelson Agholor, Wallace, Stills

Because these two Twitter users are basically asking for the same thing with similar options, I'm going to combine their questions. Brown has become such a cheat code in this little game of ours that going without him for one week - especially THIS week - feels like the fantasy gods have it in for us.

Thankfully, we have covered a number of the other options already. For M.R., Wallace is probably the safest option with a high floor, while Shepard has a low floor and high ceiling. As we saw last week, Cole probably owns the highest ceiling but comes with the lowest floor of the three. Because Brown is a WR1 for every one of his current (or former) owners, it's probably fair to say the majority of them need an upside play to give them a possible 20 points as opposed to a high-floor option. As such, I'm going to shoot for the moon with Cole, as only two receivers have reached that plateau against the Cardinals the season (Kenny Golladay and Golden Tate in Week 1). It says here Jacksonville is going to have a hard time putting the genie back in the bottle after Cole erupted for seven catches, 186 yards and one TD last week. As long as owners understand he has been almost too efficient lately - he's caught 13-of-15 targets over the last three games and scored in each one - and big-play dependent, they should be able to live with whatever risk he provides.

For Aloysius, the discussion pretty much begins and ends with Agholor. The third-year pro has been targeted at least nine times in each of his last three games and it was pretty much business as usual with Nick Foles last week. I'm not sure I'm feeling a huge week for the Eagles' passing game this week against the Raiders - they have yielded a total of two touchdowns to quarterbacks in three weeks since DC John Pagano took over for the fired Ken Norton - but slot CB T.J. Carrie is not a matchup to fear even if Philadelphia's ridiculous offensive efficiency takes a bit of a break in Week 16 and Agholor is held out of the end zone. Cole may have a higher upside, but I'd be able to live with myself if Cole outperforms Agholor on my bench. The opposite would not be true.

Big Brown: (Half-point PPR) Marshawn Lynch or Martavis Bryant?

Lynch's usage has been utterly confusing over the course of the season, although it seems to have stabilized in a positive way in recent weeks. It's a good thing, because the Eagles have surrendered far and away the fewest rushing yards to running backs this season (711). Opposing backs have made up for it a bit by catching 83 passes and scoring five times through the air, but suffice it to say most teams do not make a living - at least a good one - trying to run at or through Philadelphia. In half-point PPR, only one runner (Todd Gurley) has scored more than 12.1 points against the Eagles since their Week 10 bye. Considering the likelihood the Raiders will be facing negative game script for much of the second half, one has to wonder if Lynch will be getting any touches late or if he'll be on the sidelines watching DeAndre Washington and Jalen Richard work at that point.

Bryant has settled into a little groove over the last four weeks, attracting at least six targets in each game. Somewhat shockingly, he has averaged 10 yards per catch or less in three of those contests, so he's still not running the same vertical routes that allowed him to take the league by storm in 2015. The absence of Antonio Brown should help in both areas, as roughly 12 targets per game should open up and some Pittsburgh receiver will probably be asked to stretch the defense. While I wonder just how much Bryant's target share will increase, it's hard not to like his Week 16 matchup against the Texans, who served up 28.1 points in this format to Keelan Cole and 20.1 to Jaydon Mickens last week. While I almost always side with the player receiving the most opportunity, this is one time where I will go the other way and put more stock in the matchup. The odds of Bryant scoring a touchdown are much more favorable than they are for Lynch and the yards should be much easier to come by as well.

------

Best wishes to each of you this weekend as you seek fantasy glory. Happy Holidays!
---
Doug Orth has written for FF Today since 2006 and been featured in USA Today's Fantasy Football Preview magazine since 2010. He hosted USA Today's hour-long, pre-kickoff fantasy football internet chat every Sunday in 2012-13 and appears as a guest analyst on a number of national sports radio shows, including Sirius XM's "Fantasy Drive". Doug is also a member of the Fantasy Sports Writers Association.