Every year when it comes time to do this column, I struggle with whether or not I should be bold in terms of shock value or simply deviate from the perceived norm on a handful of players. I still don't have the answer for that this year and I'm not quite sure I ever will. Be that as it may, people love to see "hot takes" and analysts all across the fantasy industry love to cling to the one or two they got right from the season before, so let's saddle up for another round.

I suppose the reason why this task is harder for me than some is because readers have typically been exposed to my Big Boards for around a month by the time this piece comes around, so my secrets are no longer secret. In an effort to make myself feel better, maybe entertain you and reinforce the fact this is NOT a sudden departure from all the Big Boards I submitted last week, I've decided to include how likely I believe my bold prediction will come true. Let's get started: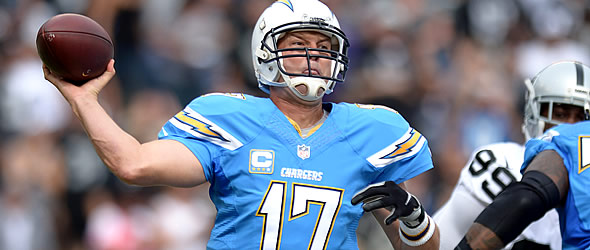 An above average receiving group and a cozy late-season schedule could push Rivers into the top 5.
1. Philip Rivers will throw for at least 4,500 yards and 30 touchdowns and finish among the top five fantasy quarterbacks.
Before I begin, it boggles my mind how underappreciated Rivers has been for most of his career. (Another subject for another time.) Also, I feel pretty good about Tom Brady, Aaron Rodgers, Drew Brees and Russell Wilson finishing inside the top five, so I guess you have your first five options.
Back to the task at hand, this may not seem like a bold prediction per se. but hear me out. For all of his year-to-year consistency (in terms of durability), Rivers has only three top-five fantasy finishes to his credit and only topped 4,500 yards AND passed for 30 touchdowns in the same season once. So why is it going to happen this year?
For starters, this is probably Rivers' best supporting cast since at least 2007 (when he had the likes of LaDainian Tomlinson, Michael Turner, Darren Sproles, Vincent Jackson, Chris Chambers and Antonio Gates - all under 30 years of age). A healthy Keenan Allen gives Los Angeles a short and intermediate option Rivers trusts, while a healthy Travis Benjamin and Tyrell Williams are easily capable of getting behind defenses. Let's not forget about No. 7 overall pick Mike Williams, who may be able to make an impact around midseason if his back cooperates and give the Chargers a size mismatch inside the 10 and 20 at the very least. Hunter Henry and Antonio Gates provide a 1-2 punch at tight end few teams have and should allow Rivers to be one of the more efficient red zone passers in the league this season. Last but not least, Melvin Gordon is a more than capable receiver, as is backup running back Branden Oliver. The offensive line is a concern, but that has been the case for a while now, and this year's front five should be markedly better than the 2016 edition. The early part of the season (two matchups against the Broncos and one each against the Giants and Patriots) is another slight concern, but Los Angeles has a sweetheart of a schedule down the stretch. Starting in Week 11, the Chargers play Buffalo, Dallas, Cleveland, Washington, Kansas City and the New York Jets. So even if Rivers falls just a bit shy of my top-five prediction, he's probably going to help you make the fantasy postseason (and quite possibly win it).
Likelihood of happening: 35 percent
2. Neither David Johnson nor Le'Veon Bell will finish the season as the top running back in fantasy.
Wait, what? You want bold, right? I'm trying to give you bold. We will get to my bizarro-world overall RB1 pick in a second, but first let's discuss why the consensus No. 1 and No. 2 overall picks in most drafts might fail to live up to their lofty preseason status.
Last year, Johnson amassed 373 touches. Over the last 10 seasons, 17 backs have reached that magical mark. Of that bunch, only three did so again the following season (Steven Jackson, Clinton Portis and Tomlinson).Of those three, only Portis increased his production from the following season. Some of the most recent members of the 370-touch club include Bell, who played only six games in 2015 after amassing 373 carries in 2014. DeMarco Murray was blindsided by the Chip Kelly train in 2015 after going bonkers in 2014 and Arian Foster only played more than half of his team's games once over the final four games of his career following his 391-touch campaign in 2012. Johnson is undoubtedly built to take a pounding, but there's a reason so few running backs can string together seasons of 350-plus touches. Beyond workload concerns, there's the likelihood of touchdown regression. Of the 25 instances in which a player scored at least 15 touchdowns in a season between 2007 and 2015, all of them scored fewer times the following year. So what? He can spare a few, right? He had 20 last year, no? That's not really the point. Let's say he loses six scores and settles for 14 TDs this year. At that point, his season becomes only slightly better LeSean McCoy's 2016. Arizona's offense has also become considerably more predictable in recent years, and there is little doubt the NFC West got better this offseason. I'm not telling you to bypass Johnson in your draft - I would take him or Bell almost without fail every opportunity I got - but history shows he carries at least some mild risk.
I think I can sum up Bell pretty quickly. He didn't show up to practice until Sept. 1 and told reporters he felt "a little winded" after the first one was over, but promised he'll be ready for a "full load" in Week 1. Although I believe he was partially kidding, that is not the part that concerns me. There are too many examples of players who pull a hamstring in the first month the season after not reporting for camp and sitting out the preseason. If I'm a Bell owner, I am making sure I am loading up on high-upside backs in the middle rounds in addition to probably adding both James Conner and Terrell Watson late. Bell is such a unique talent that I hope he ends up proving me wrong, but owners should feel happy if they get 12 healthy games out of him this year.
So who's my pick to replace them atop the leaderboard? Devonta Freeman. Yes, I understand this has very little chance of happening, but it honestly wouldn't surprise me if it did. First of all, he's one season removed from doing it. Secondly, he's the only back in the NFL to rush for over 1,000 yards and score at least 10 touchdowns in each of the last two seasons. Add in 50-plus catches in both 2015 and 2016, a supporting cast to keep the box light, an offensive line that remains mostly intact from last year and a schedule I have graded as the easiest for any running back, and there is enough to at least make a case for Freeman. The obvious downside is how much work he figures to share with Tevin Coleman, but do we really know how new OC Steve Sarkisian plans on splitting up the work? Something about that six-year contract worth over $43 million, including $22 million guaranteed, tells me Atlanta has or is about to commit to Freeman more in 2017.
Likelihood of happening: 15 percent
3. Not only will Kareem Hunt finish as a top 10 fantasy running back, but he'll also outscore LeSean McCoy and Jordan Howard.
As we discussed last week, Andy Reid has been a head coach for 18 seasons and placed a running back inside the top 16 in PPR scoring 14 times (including nine top-10 finishes and five top-fives). The four exceptions: Jamaal Charles' 2015 season in which he was lost for the season in Week 5, McCoy's rookie year in 2009 in which he shared touches with Brian Westbrook for half a season, a three-headed backfield in 2003 and, in 2000, when Duce Staley missed 11 games. While it can be debated whether or not Tyreek Hill is ready to be a No. 1 receiver, the threat he poses vertically (as a deep-ball receiver) or while in motion (such as on a reverse or jet sweep) can keep a defense on its heels. Travis Kelce also stretches defense vertically and Alex Smith remains a running threat, so while Smith may never be the most aggressive passer, there are plenty of reasons why Hunt won't be seeing stacked boxes very often. Spencer Ware is no longer around to steal goal-line work, leaving Hunt as the clear top inside runner on the team. Hunt has a finite ceiling, however, as Reid does a good job of making sure his top backs rarely go much beyond 240 carries. Only once did Westbrook or McCoy go over that mark under Reid - both of whom are much more dynamic backs than Hunt - so the rookie's rushing ceiling will probably be just a bit over 1,000 yards, so owners need to hope the rookie pushes 50 catches like Westbrook and McCoy used to do on a fairly regular basis under Reid. OC Matt Nagy may have done late drafters a favor by suggesting Kansas City may employ a committee backfield in Week 1. The Chiefs may very well do that for the first three or four weeks and Charcandrick West is very much worth a late draft pick, but make no mistake: this is Hunt's backfield and any slight reduction of carries he sees in September only figures to help him stay fresh later into the season - always a big deal for a rookie back.
So why am I picking on McCoy and Howard? With McCoy, there are several reasons I dislike him as a first-round pick this year. Among them: age (29), a history of soft-tissue injuries, a supporting cast that has quickly eroded and the looming threat of Tyrod Taylor not holding onto the starting quarterback job very long. (While "Shady" can get his own yards a lot of the time, defenses respect Taylor's running ability and always run the risk of giving up a 10- to 20-yard gain to the quarterback if the weak-side defensive end or linebacker crashes down too hard.) The release of Jonathan Williams makes the case even stronger, as McCoy will almost certainly be asked to carry the ball more often. While fantasy owners are generally happy to hear their stud runner is in line for more work, McCoy has struggled to stay healthy over the last two seasons without a heavy workload. Touchdown regression is also another consideration after visiting the end zone 14 times a year ago for an offense that surprising scored 46 offensive TDs last year. At the moment, Mike Tolbert projects to be the backup in Buffalo. If there is one thing he can probably still do at a decent rate at the ripe old age of 31, it is probably score touchdowns at the goal line. So what we have in the end is a player in McCoy who is getting older, will receive little to no help from his teammates, plays for an offense with uncertainty at quarterback and he may not even be the goal-line back.
What gives with Howard then? I believe he will lose more looks to rookie Tarik Cohen in the passing game than owners expect, but Howard didn't make huge noise as a receiver last year anyway, so that's a minor knock. One of my biggest problems with the second-year pro is touchdown upside. Half of six touchdowns last season came in one game against the most forgiving run defense in the league (fantasy and real-life). The offense projects to be worse overall this year, while the schedule figures to be considerably more difficult. Assuming positive game script, volume will be in Howard's favor, but how often will that happen for an offense that lost last year's top playmaker (Cameron Meredith) and doesn't how long it will be able to count on arguably its best offensive lineman (LG Kyle Long) against the slate of games that includes the likes of the Falcons, Steelers, Packers (twice), Ravens, Panthers and Saints? The teams in that group that don't have great run defenses have some of the league's most explosive offenses. I will admit the Bears' interior linemen (when healthy) - Long, C Cody Whitehair and RG Josh Sitton - are about as good as it gets in the league, as Howard's league-high 996 yards between the tackles last year will attest, so I do question this part of the bold prediction more than I do with McCoy.
Likelihood of happening: 55 percent
4. Jonathan Stewart will finish as a top 30 running back.
As the original conductor of the Christian McCaffrey hype train (unofficial title) in fantasy circles, this prediction may seem a bit odd coming from me. However, anyone who has been tracking my Big Boards knows I am serious. Yes, I still think Easy Ed's son will be a top-15 back in PPR leagues. But Stewart is still the starter, will see a significant portion of the early-down work and be the one of the top two options on the ground at or near the goal line for a Carolina offense that could be very dynamic this season against a rather soft schedule. The fact a potential - if not likely - 200-carry back is coming off the board around the 10th round (and quite often later) as a RB4 or even RB5 after a nine-score season is stunning to me. Stewart's current draft stock seems to be the product of at least a couple of different narratives coming together.
Allow me to explain what I believe is happening and let me attempt to shoot down the most common concerns:
He always gets hurt. Fine, he's played 13 games in each of the last three seasons, but Stewart has never been the most durable player to begin with. (That has already been baked into his ADP for years.) I'd also like to think we know what he is entering his 10th year in the league. Considering the amount of draft capital it takes to acquire him this year, find me another running back after the top 100 picks whose potential range of outcomes could include 200 carries, 800 yards and 10 touchdowns. We should all have such big problems to be without our RB4 or RB5 for three to five games.
McCaffrey will simply take over the backfield. In the scenario, McCaffrey pushes Stewart into the same kind of role Jeremy Hill is expected to have in Cincinnati once Joe Mixon takes over. While there is a decent chance of this happening, why did the team give Stewart a two-year contract extension in March? (Do we really want to believe the Panthers didn't have at least an inkling of what player they might take a month ahead of the draft? (Considering they opted for two very similar versatile threats, I think they did.) And what was the rush to get the deal done? He wasn't a free agent, so the team could have waited on the extension if it didn't expect him to be a fairly big part of the "new" offense.) Carolina has rushed at least 453 times in each of the last three seasons, and the goal all offseason has been to run Cam Newton less in 2017. If McCaffrey does end up as the clear starter, I am quite confident he won't see much more than 200 carries. Newton will continue to run, but I'm willing to bet the Panthers want to keep his attempts in the 70-75 range as opposed to the 90 he had last year and 100-plus that he's typically had.
Newton is not a good short-range passer, so the offense will not take off. It has been well-documented he was the worst-rated passer in the league last season on throws less than five yards downfield. If the detractors believe this narrative wasn't personnel-based and more of a "Cam problem," then McCaffrey is going to struggle, not Stewart. We already saw last year what Stewart can do in a "broken" offense.
OK, so you don't like either one of those explanations/scenarios. How about this one? When is the last time the Panthers haven't used running back by committee when both top backs on the depth chart are healthy? If you don't like Stewart because he is "injury-prone," I get it. Just be aware you could be thumbing your nose at a potential 200-carry back (he reached that mark easily last season in 13 games) with the capacity to run for more than 800 yards and 10 touchdowns for a team that should have more than its fair share of positive game scripts. In a worst-case scenario (at least in my estimation), Stewart will be a 170-carry back with goal-line duties.
Likelihood of happening: 50 percent
5. Julio Jones will overtake Antonio Brown and Odell Beckham Jr. for the title of fantasy's top receiver.
Rather than make a case against Brown or Beckham not finishing No. 1, I'll make the case for Jones to do it. He's arguably the most talented receiver in the game today. He consistently beats coverage designed to stop him. He nearly won the receiving yardage title last season despite missing two games and posting four games with 35 yards or fewer. Owners want to blame him for inconsistency, but he's selfless enough to keep his mouth shut about not getting his looks when just about every other wideout would whine. The most common complaints owners have regarding Jones is durability and an inability to consistently score touchdowns. I'll grant you the first one, although he has played 15, 16 and 14 games the last two seasons and produced an average of 107.7 catches for 1,624.3 yards. (Is he really disappointing owners?) This season, one of first things Sarkisian noted upon his arrival was that while the Falcons ranked sixth in the league in converting red zone trips into touchdowns, he thought one way they could improve was by making sure they took advantage of every opportunity Jones had even a hint of single coverage inside the 10 and 20. As a player who has finished inside the top six at his position in PPR scoring in each of the last three years despite relatively modest touchdown totals, it's not going to take much of a spike in that area to push him to the top given his recent averages in the other categories. But here's the main reason I like this year to be his year:
CHI | GB | DET | BUF | MIA | NE | NYJ | CAR | DAL | SEA | TB | MIN | NO | TB | NO
Of that group, the Patriots and Vikings probably concern me the most. Richard Sherman could shadow, but Jones produced twice against Seattle last year and did so even when Sherman was in primary coverage. At worst, owners are probably looking at three tough days at the office, with potential blow-up spots against teams like the Packers, Bills, Jets, Cowboys and maybe twice against the Saints in the fantasy playoffs.
Likelihood of happening: 40 percent
6. Evan Engram will finish as a top-12 tight end in PPR leagues.
In what was a bumper draft crop at the position this spring, Engram should be considered a heavy favorite to leave the biggest mark on the fantasy landscape as a NFL freshman. But this prediction isn't about out-producing the likes of O.J. Howard and David Njoku, but most of his veteran counterparts as well. By now, we all know trusting rookie tight ends is often a fool's errand. It's the second-most difficult position to learn on offense and the combination of being asked to stay in and block along with the mental demands of the job can often be too much for the kids.
Engram is not your standard tight end, however. If the Giants know what's good for their immediate future, they won't try to put him in a box. (To their credit, it does not appear they are.) The Ole Miss product is a matchup nightmare in virtually every sense, as he runs 4.42 while carrying 235 pounds. He is essentially a younger and faster Brandon Marshall in that regard. But it's more than just about speed. New York seems happy enough with his blocking to use him in-line on occasion, and he is versatile enough to move into the slot or serve as an H-back. Versatility typically allows players to stay on the field, and Engram has it in spades - much more than the traditional young bucks at his position.
However, I still haven't mentioned the real reason why Engram should shine this year. New York's running game may actually be worse than last year when it ranked 29th in rushing and 30th in yards per carry. Something or someone is going to need to pick up yards and first downs over the middle of the field which would usually be achieved by running backs on most teams. While five-yard curl routes aren't exactly Engram's bread-and-butter, Eli Manning may not be a good enough quarterback at this stage of his career to consistently take advantage of the rookie's ability to stretch the seam. Still, Eli's arm is probably a better option than hoping the ground game will carry its weight, so there will figures to be significant volume in the passing game. I'm not going to go crazy and suggest Engram is poised for 60-plus catches, 700 yards and six to eight touchdowns, but a 53-548-7 line allowed Antonio Gates to finish as the TE12 in 2016. It's not unfathomable the rookie could post similar numbers with more yardage and fewer touchdowns.
Likelihood of happening: 30 percent
Every year, I end my Bold Predictions piece with something for the dynasty leaguers. Usually, I share my views about the potential upcoming rookie class, but I was inspired by one player I recently stumbled across already in the league. So here comes one more final prediction:
7. Austin Ekeler will be a player owners want to add before the end of the season.
There are very few true "sleepers" in fantasy anymore, but every so often the preseason yields a player completely off the radar who is worth tracking at the very least and possibly adding in dynasty leagues in short order. Victor Cruz immediately comes to mind with his three-touchdown game against the Jets in 2010. But not all performances can or will be that flashy.
Before we can get to why Ekeler could have an impact on your season, we must first look at what he has already accomplished. The 5-9, 195-pounder was an absolute workhorse at Division II Western State, breaking a number of school records by logging 932 carries for 5,857 yards and 55 touchdowns. He signed as an undrafted free agent in mid-May and proceeded to finish the exhibition season with 87 yards on 15 carries and 72 yards on five catches. In doing so, he essentially stole Andre Williams' roster spot. Ekeler immediately jumped off the tape to me and is a spitting image of a faster and more athletic Danny Woodhead, which is ironic on at least a couple of levels. (The same Chargers' scout that identified Woodhead years ago also "found" Ekeler and Woodhead played at Chadron State - also a Division II school).
There's a pretty good chance Ekeler will do little more than work on the special teams units and possibly return kicks/punts well into the season, so owners don't need to rush to add him at the moment. But it's not hard to imagine a scenario in which he - like Oliver did for a brief spell in 2014 - plays his way onto the fantasy radar, be it as a committee partner to Oliver should Gordon go down, or as a Woodhead-like weapon in the passing game. He's got a future in this league.
Likelihood of happening: 20 percent

---
Doug Orth has written for FF Today since 2006 and been featured in USA Today's Fantasy Football Preview magazine since 2010. He hosted USA Today's hour-long, pre-kickoff fantasy football internet chat every Sunday in 2012-13 and appears as a guest analyst on a number of national sports radio shows, including Sirius XM's "Fantasy Drive". Doug is also a member of the Fantasy Sports Writers Association.